LeMans Hour 20: Toyotas 11 laps ahead, Alonso poised to win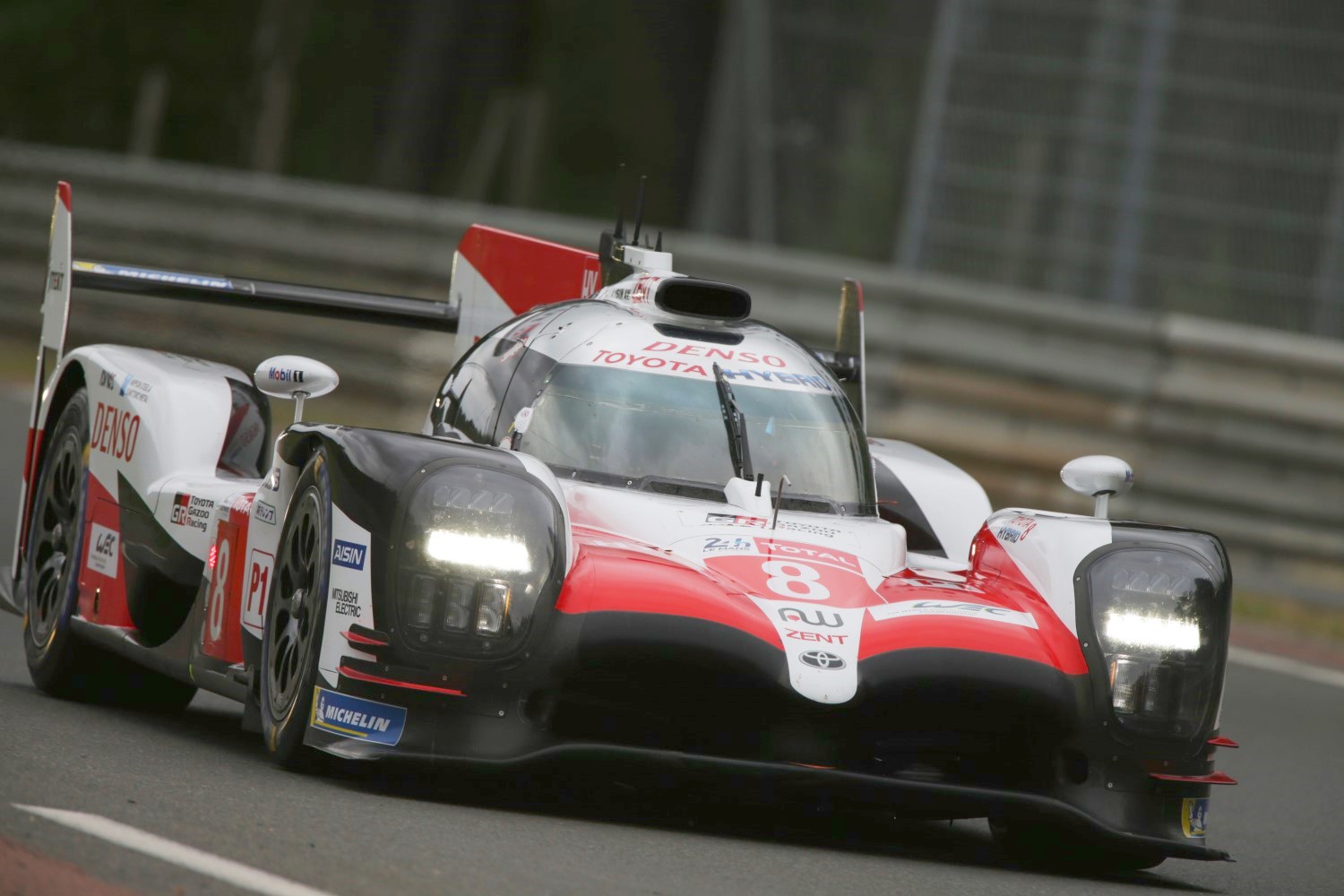 Alonso cruising to victory as planned
After 20 hours of racing the two Toyota TS050 HYBRIDS are still out in front but there has been a change for the lead since our last report. The No.8 Toyota is now leading thanks to Kazuki Nakajima who went past Kamui Kobayashi in the 15th hour, but now Fernando Alonso is at the wheel and poised to win the 24 Hours of LeMans according to plan.
The two Toyotas are 90 miles ahead of the 3rd and 4th place LMP1 Rebellions. It's not even a race, its a Toyota parade as planned by the rules makers so that Fernando Alonso would win and make them headlines. Not taking anything away from Alonso, but when the rules mean you win by over 90 (soon to be 100) miles, something is wrong with the rules, or the fix was in.
After the two Rebellions briefly swapped positions during the previous hour, Bruno Senna is now in an outright third place in the #1 car.
The #1 had reeled in the sister #3 Rebellion-Gibson R-13 earlier in the morning, but Senna was able to leapfrog Matthias Beche when the #3 spent an additional 30s in the pits.
Porsche continues to dominate LMGTE Pro with the No.92 Porsche GT Team entry almost a lap ahead of the No.91 911 RSR as the clock went past the 20-hour point. The No.68 Ford GT of Sebastien Bourdais was lying in third position, right on the tail of the second placed Porsche.
Jan Magnussen was a lap down in fifth in the sole remaining Corvette entry, the #63, after the US squad was forced to retire the #64 car due to engine overheating issues.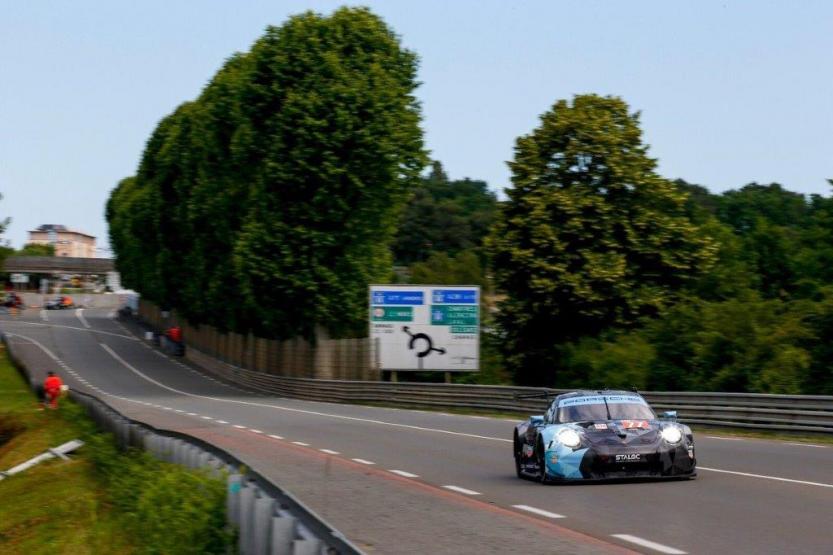 #77 Porsche 911 RSR co-owned by actor Patrick Dempsey leads GTE-AM
G-Drive Racing's No.26 ORECA 07 Gibson holds the lead in the LMP2 class with Andrea Pizzitola in the car. The Russian team is over 3 laps ahead of the second placed car in this class, the No.36 Signatech Alpine A470.
The No.77 Dempsey-Proton Racing Porsche 911 RSR is still out in front of the LMGTE Am class, over 2 laps ahead of the No.85 Ferrari 488 GTE of Luca Stolz.
There were plenty of incidents in the third quarter of the 86th edition of the 24 Hours of Le Mans including stop and go penalties for both Toyotas for speeding under slow zone regulations.
There were several cars that went off track during the night, with some retirements. Notable among the WEC entrants was the No.82 BMW, with Alexander Sims unexpectedly going off into the wall at Porsche Curves. The heavy damage forced the retirement of the car.
The No.88 Dempsey-Proton Competition Porsche from the LMGTE Am class was another retirement after Matteo Cairoli hit the barriers after exiting Porsche Curves, with the No.10 DragonSpeed BR1 of Ben Hanley also going off at Porsche Curves a few minutes later.
Hour 20 Standings
| | | | | | | | |
| --- | --- | --- | --- | --- | --- | --- | --- |
| POS | NO. | DRIVER | CAR | GAP | LAPS | PITS | CAT. |
| 1 | #8 | ALONSO Fernando | Toyota TS050 – Hybrid | 0.000s | 323 | 31 | P1 |
| 2 | #7 | LOPEZ Jose Maria | Toyota TS050 – Hybrid | 1:17.687 | 323 | 30 | P1 |
| 3 | #1 | SENNA Bruno | Rebellion R13 – GIBSON | 11 Laps | 312 | 33 | P1 |
| 4 | #3 | BECHE Mathias | Rebellion R13 – GIBSON | 3.608 | 312 | 32 | P1 |
| 5 | #26 | PIZZITOLA Andrea | Oreca 07 – Gibson | 15 Laps | 308 | 30 | P2 |
| 6 | #36 | THIRIET Pierre | Alpine A470 – Gibson | 18 Laps | 305 | 30 | P2 |
| 7 | #48 | LAFARGUE Paul | LIGIER JSP217 – Gibson | 2:27.279 | 305 | 33 | P2 |
| 8 | #39 | CAPILLAIRE Vincent | Oreca 07 – Gibson | 19 Laps | 304 | 35 | P2 |
| 9 | #32 | MONTOYA Juan Pablo | LIGIER JSP217 – Gibson | 9.931 | 304 | 30 | P2 |
| 10 | #28 | PERRODO Francois | Oreca 07 – Gibson | 50.627 | 304 | 31 | P2 |
| 11 | #37 | TAN Weiron | Oreca 07 – Gibson | 24 Laps | 299 | 33 | P2 |
| 12 | #31 | GONZALEZ Roberto | Oreca 07 – Gibson | 25 Laps | 298 | 34 | P2 |
| 13 | #29 | VAN DER GARDE Giedo | Dallara DALLARA P217 GIBSON | 46.507 | 298 | 30 | P2 |
| 14 | #44 | BERTOLINI Andrea | LIGIER JSP217 – Gibson | 27 Laps | 296 | 31 | P2 |
| 15 | #33 | CHENG David | LIGIER JSP217 – Gibson | 28 Laps | 295 | 30 | P2 |
| 16 | #38 | AUBRY Gabriel | Oreca 07 – Gibson | 29 Laps | 294 | 30 | P2 |
| 17 | #23 | STEVENS William | LIGIER JSP217 – Gibson | 31 Laps | 292 | 29 | P2 |
| 18 | #35 | NEWEY Harrison | Dallara P217 – Gibson | 1:05:04.325 | 292 | 29 | P2 |
| 19 | #92 | VANTHOOR Laurens | Porsche 911 RSR | 37 Laps | 286 | 20 | Pro |
| 20 | #91 | MAKOWIECKI Frederic | Porsche 911 RSR | 2:45.673 | 286 | 20 | Pro |
| 21 | #68 | BOURDAIS Sebastien | Ford GT | 2:45.929 | 286 | 20 | Pro |
| 22 | #67 | PRIAULX Andy | Ford GT | 38 Laps | 285 | 22 | Pro |
| 23 | #63 | MAGNUSSEN Jan | Chevrolet Corvette C7.R | 20.840 | 285 | 20 | Pro |
| 24 | #69 | WESTBROOK Richard | Ford GT | 36.403 | 285 | 20 | Pro |
| 25 | #52 | DERANI Luis Felipe | Ferrari 488 GTE EVO | 3:17.488 | 285 | 22 | Pro |
| 26 | #51 | PIER GUIDI Alessandro | Ferrari 488 GTE EVO | 39 Laps | 284 | 21 | Pro |
| 27 | #66 | PLA Olivier | Ford GT | 41 Laps | 282 | 21 | Pro |
| 28 | #95 | THIIM Nicki | Aston Martin VANTAGE AMR | 2:22.847 | 282 | 20 | Pro |
| 29 | #47 | LACORTE Roberto | Dallara DALLARA P217 – GIBSON | 3:59.863 | 282 | 31 | P2 |
| 30 | #71 | RIGON Davide | Ferrari 488 GTE EVO | 42 Laps | 281 | 22 | Pro |
| 31 | #77 | ANDLAUER Julien | Porsche 911 RSR | 44 Laps | 279 | 20 | Am |
| 32 | #85 | STOLZ Luca | Ferrari F488 GTE | 1:44.640 | 279 | 21 | Am |
| 33 | #54 | FLOHR Thomas | Ferrari F488 GTE | 2:32.048 | 279 | 20 | Am |
| 34 | #56 | BERGMEISTER Jorg | Porsche 911 RSR | 45 Laps | 278 | 21 | Am |
| 35 | #99 | PUMPELLY Spencer | Porsche 911 RSR | 46 Laps | 277 | 21 | Am |
| 36 | #81 | TOMCZYK Martin | BMW M8 GTE | 12.423 | 277 | 23 | Pro |
| 37 | #93 | TANDY Nick | Porsche 911 RSR | 1:16.043 | 277 | 21 | Pro |
| 38 | #80 | BABINI Fabio | Porsche 911 RSR | 1:31.638 | 277 | 21 | Am |
| 39 | #61 | SAWA Keita | Ferrari F488 GTE | 1:54.182 | 277 | 20 | Am |
| 40 | #50 | RICCI Romano | LIGIER JSP217 – Gibson | 47 Laps | 276 | 29 | P2 |
| 41 | #84 | MACNEIL Cooper | Ferrari F488 GTE | 11:06.776 | 276 | 19 | Am |
| 42 | #90 | YOLUC Salih | Aston Martin VANTAGE | 49 Laps | 274 | 20 | Am |
| 43 | #97 | ADAM Jonathan | Aston Martin VANTAGE AMR | 51 Laps | 272 | 19 | Pro |
| 44 | #70 | BERETTA Olivier | Ferrari F488 GTE | 54 Laps | 269 | 20 | Am |
| 45 | #11 | PETROV Vitaly | BR ENGINEERING BR1 – AER | 36.148 | 269 | 26 | P1 |
| 46 | #86 | WAINWRIGHT Michael | Porsche 911 RSR | 58 Laps | 265 | 23 | Am |
| 47 | #5 | ROUSSEL Leo | Ginetta G60-LT-P1 – MECACHROME | 72 Laps | 251 | 28 | P1 |
| 48 | #25 | PATTERSON Mark | LIGIER JSP217 – Gibson | 89 Laps | 234 | 24 | P2 |
| 49 | #22 | DI RESTA Paul | LIGIER JSP217 – Gibson | 35 Laps | 288 | 28 | P2 |
| 50 | #64 | GAVIN Oliver | Chevrolet Corvette C7.R | 64 Laps | 259 | 21 | Pro |
| 51 | #10 | HANLEY Ben | BR ENGINEERING BR1 – GIBSON | 79 Laps | 244 | 26 | P1 |
| 52 | #88 | CAIROLI Matteo | Porsche 911 RSR | 98 Laps | 225 | 17 | Am |
| 53 | #82 | SIMS Alexander | BMW M8 GTE | 100 Laps | 223 | 17 | Pro |
| 54 | #40 | GUTIERREZ Jose | Oreca 07 – Gibson | 126 Laps | 197 | 20 | P2 |
| 55 | #34 | LEDOGAR Come | LIGIER JSP217 – Gibson | 128 Laps | 195 | 20 | P2 |
| 56 | #6 | ROWLAND Oliver | Ginetta G60-LT-P1 – MECACHROME | 186 Laps | 137 | 15 | P1 |
| 57 | #17 | ISAAKYAN Matevos | BR ENGINEERING BR1 – AER | 200 Laps | 123 | 11 | P1 |
| 58 | #94 | DUMAS Romain | Porsche 911 RSR | 231 Laps | 92 | 8 | Pro |
| 59 | #98 | DALLA LANA Paul | Aston Martin VANTAGE | 6:08.912 | 92 | 7 | Am |
| 60 | #4 | KRAIHAMER Dominik | ENSO CLM P1/01 – Nismo | 258 Laps | 65 | 6 | P1 |