LeMans Hour 4: Toyotas 2 laps ahead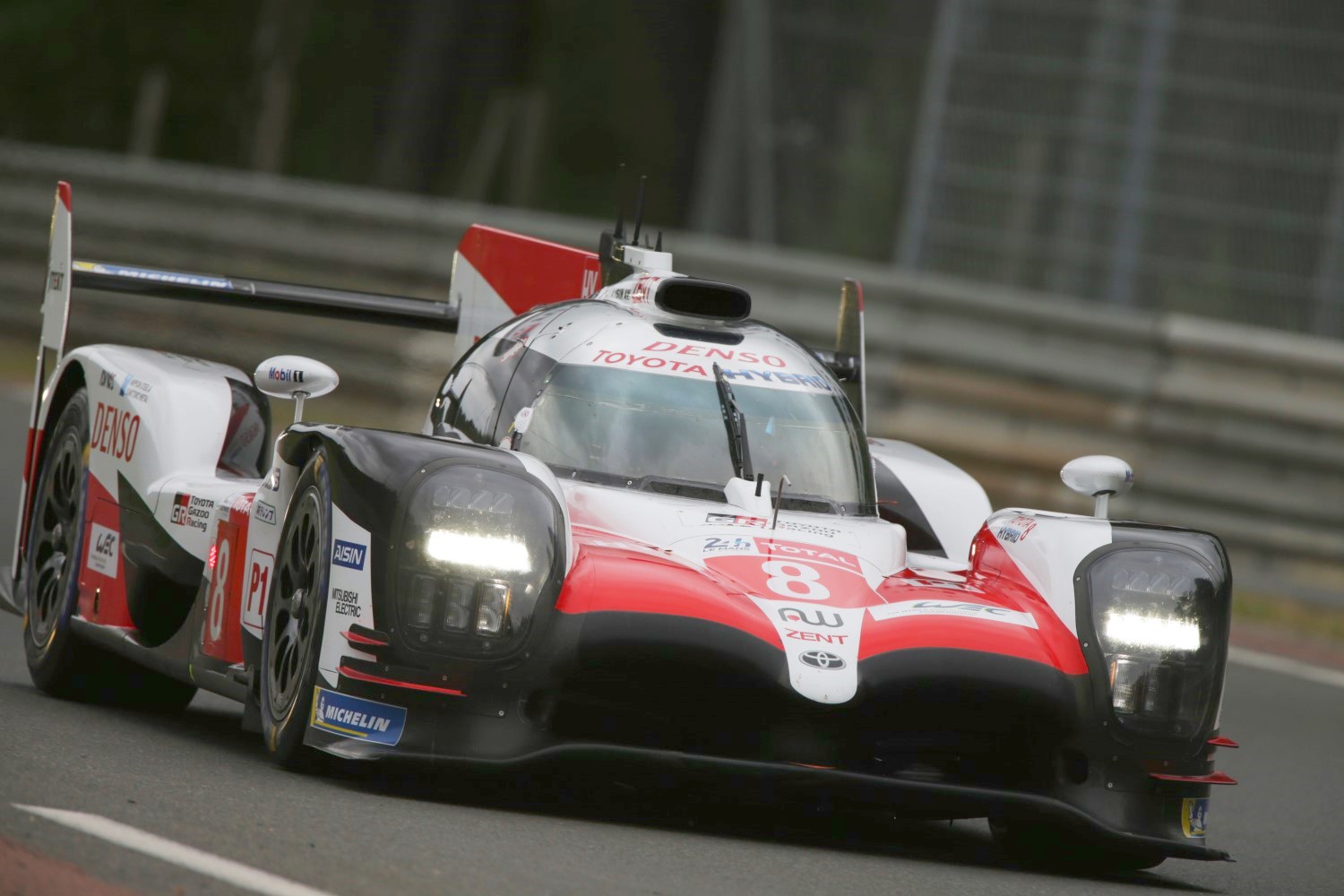 Alonso is chasing down the #7 Toyota
The Toyotas have put 2 laps on the entire field at the end of four hours of the 24 Hours of LeMans and they are not even trying hard, such is the advantage God (the ACO) has given the Toyotas over the other LMP1 cars.
The Japanese team has kept their two cars within striking distance so as not to put the crowd asleep with Fernando Alonso chasing down Jose Maria Lopez.
Alonso led the majority of the fourth hour before a late stop handed Jose Maria Lopez the lead in the #7 Toyota HYBRID TS050.
Alonso enjoyed a comfortable lead after Lopez was forced to pit due to a left-rear puncture and the gap ballooned to several minutes when the two Toyotas were split by a safety car caused by the punctured tire on Gabriel Aubry's #38 Jackie Chan DC Racing ORECA on the Mulsanne straight.
But Alonso pitted within the final minutes of the hour to give Lopez the lead by a few seconds, having previously breezed past him approaching the Porsche Curves
After a caution flag that bunched the field, the battle in GTE-Pro is a back and forth affair between Porsche, BMW and the Ford GTs. God has put the American Chevy Corvette team at such a disadvantage they just cannot keep pace on the long LeMans straights. Their only hope is they can outlast the other makes, but one of their two cars are already 4 laps behind after early trouble.
Hour 4 Standings
| | | | | | | |
| --- | --- | --- | --- | --- | --- | --- |
| POS | NO. | DRIVER | CAR | GAP | LAPS | CAT. |
| 1 | #7 | LOPEZ Jose Maria | Toyota TS050 – Hybrid | 0.000s | 65 | P1 |
| 2 | #8 | ALONSO Fernando | Toyota TS050 – Hybrid | 5.703 | 65 | P1 |
| 3 | #17 | ORUDZHEV Egor | BR ENGINEERING BR1 – AER | 2 Laps | 63 | P1 |
| 4 | #3 | BECHE Mathias | Rebellion R13 – GIBSON | 1:26.759 | 63 | P1 |
| 5 | #1 | SENNA Bruno | Rebellion R13 – GIBSON | 3 Laps | 62 | P1 |
| 6 | #10 | HEDMAN Henrik | BR ENGINEERING BR1 – GIBSON | 5.776 | 62 | P1 |
| 7 | #26 | PIZZITOLA Andrea | Oreca 07 – Gibson | 55.962 | 62 | P2 |
| 8 | #4 | KRAIHAMER Dominik | ENSO CLM P1/01 – Nismo | 1:03.668 | 62 | P1 |
| 9 | #36 | THIRIET Pierre | Alpine A470 – Gibson | 4 Laps | 61 | P2 |
| 10 | #23 | CANAL Julien | LIGIER JSP217 – Gibson | 3.190 | 61 | P2 |
| 11 | #39 | HIRSCHI Jonathan | Oreca 07 – Gibson | 59.251 | 61 | P2 |
| 12 | #48 | ROJAS Memo | LIGIER JSP217 – Gibson | 1:15.270 | 61 | P2 |
| 13 | #28 | PERRODO Francois | Oreca 07 – Gibson | 1:30.777 | 61 | P2 |
| 14 | #34 | HEINEMEIER-HANSSON David | LIGIER JSP217 – Gibson | 2:09.352 | 61 | P2 |
| 15 | #6 | ROWLAND Oliver | Ginetta G60-LT-P1 – MECACHROME | 5 Laps | 60 | P1 |
| 16 | #29 | VAN EERD Frits | Dallara DALLARA P217 GIBSON | 46.100 | 60 | P2 |
| 17 | #35 | NATO Norman | Dallara P217 – Gibson | 3:07.611 | 60 | P2 |
| 18 | #5 | ROUSSEL Leo | Ginetta G60-LT-P1 – MECACHROME | 3:11.761 | 60 | P1 |
| 19 | #40 | GUIBBERT Enzo | Oreca 07 – Gibson | 3:14.628 | 60 | P2 |
| 20 | #32 | MONTOYA Juan Pablo | LIGIER JSP217 – Gibson | 3:17.633 | 60 | P2 |
| 21 | #22 | HANSON Philip | LIGIER JSP217 – Gibson | 3:28.514 | 60 | P2 |
| 22 | #33 | NICOLET Pierre | LIGIER JSP217 – Gibson | 6 Laps | 59 | P2 |
| 23 | #31 | GONZALEZ Roberto | Oreca 07 – Gibson | 2:10.849 | 59 | P2 |
| 24 | #44 | JoNSSON Niclas | LIGIER JSP217 – Gibson | 2:16.256 | 59 | P2 |
| 25 | #47 | LACORTE Roberto | Dallara DALLARA P217 – GIBSON | 7 Laps | 58 | P2 |
| 26 | #25 | KIM Tacksung | LIGIER JSP217 – Gibson | 3:07.545 | 58 | P2 |
| 27 | #50 | DAGONEAU Thomas | LIGIER JSP217 – Gibson | 8 Laps | 57 | P2 |
| 28 | #92 | ESTRE Kevin | Porsche 911 RSR | 7:44.848 | 57 | Pro |
| 29 | #37 | TAN Weiron | Oreca 07 – Gibson | 8:09.908 | 57 | P2 |
| 30 | #81 | CATSBURG Nicky | BMW M8 GTE | 8:51.801 | 57 | Pro |
| 31 | #69 | DIXON Scott | Ford GT | 8:54.525 | 57 | Pro |
| 32 | #52 | GIOVINAZZI Antonio | Ferrari 488 GTE EVO | 8:55.137 | 57 | Pro |
| 33 | #67 | TINCKNELL Harry | Ford GT | 8:57.384 | 57 | Pro |
| 34 | #93 | BAMBER Earl | Porsche 911 RSR | 9:02.208 | 57 | Pro |
| 35 | #94 | MÃœLLER Sven | Porsche 911 RSR | 9:02.989 | 57 | Pro |
| 36 | #68 | HAND Joey | Ford GT | 9:03.336 | 57 | Pro |
| 37 | #91 | LIETZ Richard | Porsche 911 RSR | 9:04.069 | 57 | Pro |
| 38 | #66 | JOHNSON Billy | Ford GT | 9:04.513 | 57 | Pro |
| 39 | #82 | FARFUS Augusto | BMW M8 GTE | 9:07.110 | 57 | Pro |
| 40 | #63 | ROCKENFELLER Mike | Chevrolet Corvette C7.R | 9:10.195 | 57 | Pro |
| 41 | #71 | MOLINA Miguel | Ferrari 488 GTE EVO | 9:10.899 | 57 | Pro |
| 42 | #38 | AUBRY Gabriel | Oreca 07 – Gibson | 9 Laps | 56 | P2 |
| 43 | #51 | SERRA Daniel | Ferrari 488 GTE EVO | 12:53.411 | 56 | Pro |
| 44 | #97 | LYNN Alexander | Aston Martin VANTAGE AMR | 13:05.778 | 56 | Pro |
| 45 | #95 | TURNER Darren | Aston Martin VANTAGE AMR | 13:09.618 | 56 | Pro |
| 46 | #77 | CAMPBELL Matt | Porsche 911 RSR | 13:11.949 | 56 | Am |
| 47 | #84 | GRIFFIN Liam | Ferrari F488 GTE | 14:35.786 | 56 | Am |
| 48 | #98 | LAUDA Mathias | Aston Martin VANTAGE | 10 Laps | 55 | Am |
| 49 | #56 | BERGMEISTER Jorg | Porsche 911 RSR | 0.296 | 55 | Am |
| 50 | #54 | CASTELLACCI Francesco | Ferrari F488 GTE | 4.324 | 55 | Am |
| 51 | #88 | AL QUBAISI Khaled | Porsche 911 RSR | 13.900 | 55 | Am |
| 52 | #99 | PUMPELLY Spencer | Porsche 911 RSR | 1:21.155 | 55 | Am |
| 53 | #90 | EASTWOOD Charlie | Aston Martin VANTAGE | 1:29.710 | 55 | Am |
| 54 | #85 | STOLZ Luca | Ferrari F488 GTE | 1:37.443 | 55 | Am |
| 55 | #80 | MARIS Erik | Porsche 911 RSR | 1:39.460 | 55 | Am |
| 56 | #61 | SAWA Keita | Ferrari F488 GTE | 2:46.366 | 55 | Am |
| 57 | #70 | CHEEVER Edward | Ferrari F488 GTE | 2:57.751 | 55 | Am |
| 58 | #64 | MILNER Tommy | Chevrolet Corvette C7.R | 12 Laps | 53 | Pro |
| 59 | #86 | DAVISON Alexander | Porsche 911 RSR | 14 Laps | 51 | Am |
| 60 | #11 | PETROV Vitaly | BR ENGINEERING BR1 – AER | 47 Laps | 18 | P1 |