LeMans Hour 1: Toyotas in a waltz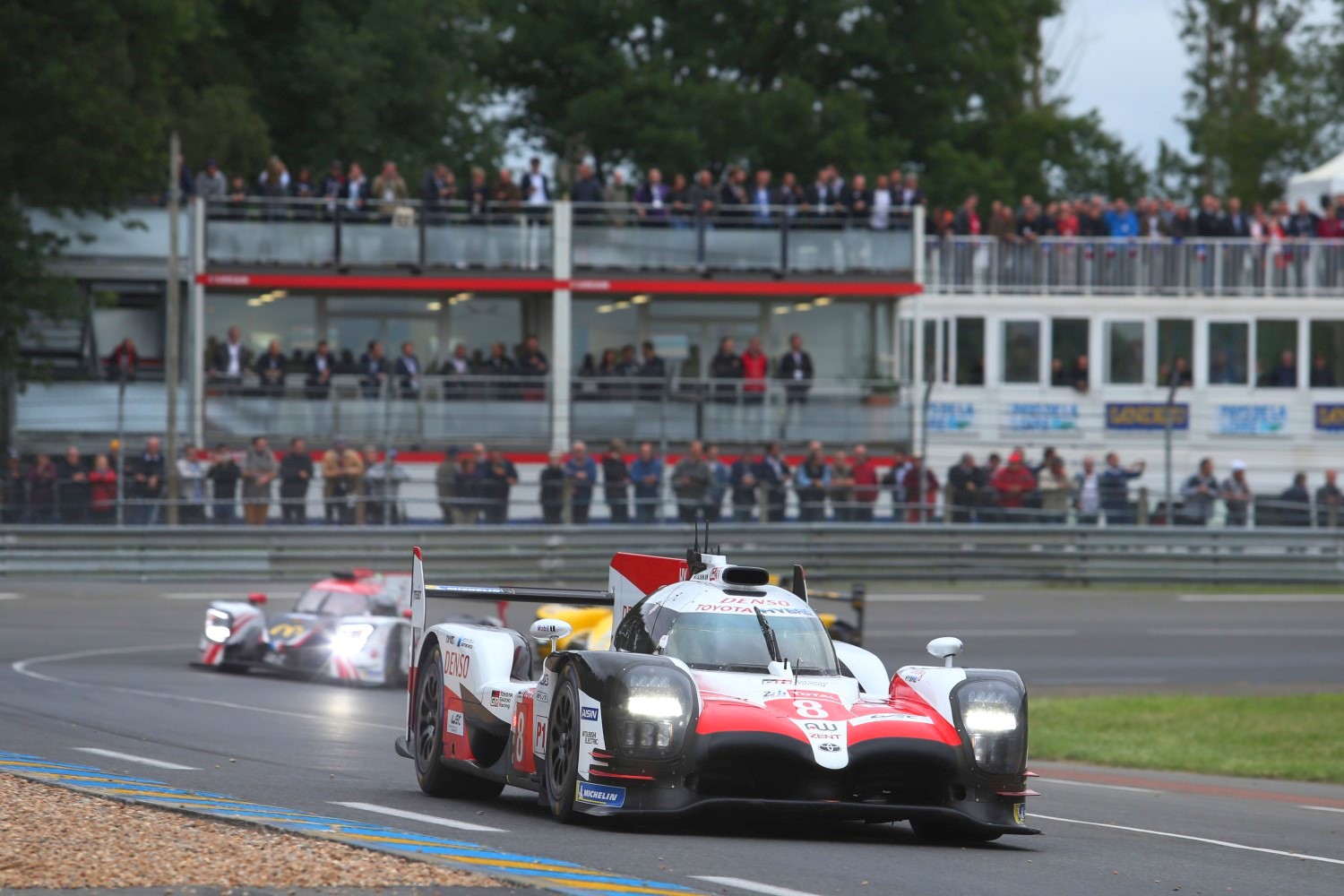 The Toyotas are very far ahead after 1-hour and everything is go to the ACO's plan
There was carnage in the first 15 seconds of the start of the 2018 24 Hours of LeMans when Andre Lotterer in the #1 Rebellion clipped the rear of the #8 Toyota, which sent his nose flying into the Ben Hanley's DragonSpeed car.
However, the race has since settled down and the two Toyotas are walking away from the field because God (ACO) did not give the other LMP1 cars a BoP adjustment. For publicity reasons, they desperately need Fernando Alonso to win and will do whatever it takes to ensure that.
So far it's working with the #8 Toyota far in front of the #7 Toyota after 1-hour of 24.
The #36 Alpine leads in LMP2 and in the hotly contested GTE-Pro category the #92 Porsche leads the #68 Ford GT followed by two more Porsches
Positions after one hour
| | | | | | |
| --- | --- | --- | --- | --- | --- |
| POS | CLASS | CAR | DRIVERS | LAPS | GAP |
| 1 | LMP1 | #8 Toyota | Buemi, Nakajima, Alonso | 17 | + 0.000s |
| 2 | LMP1 | #7 Toyota | Conway, Kobayashi, Lopez | 17 | + 19.978s |
| 3 | LMP1 | #17 BR | Sarrazin, Orudzhev, Isaakyan | 17 | + 1m11.227s |
| 4 | LMP1 | #3 Rebellion | Laurent, Beche, Menezes | 17 | + 1m14.825s |
| 5 | LMP1 | #11 BR | Petrov, Aleshin, Button | 17 | + 1m59.770s |
| 6 | LMP1 | #10 BR | Hedman, Hanley, Van Der Zande | 17 | + 2m46.791s |
| 7 | LMP2 | #26 Oreca | Rusinov, Pizzitola, Vergne | 16 | + 1 Lap |
| 8 | LMP1 | #4 Enso | Webb, Kraihamer, Dillmann | 16 | + 4.695s |
| 9 | LMP2 | #28 Oreca | Perrodo, Vaxiviere, Duval | 16 | + 7.180s |
| 10 | LMP2 | #36 Alpine | Lapierre, Negrao, Thiriet | 16 | + 16.808s |
| 11 | LMP2 | #48 Oreca | Lafargue, Chatin, Rojas | 16 | + 18.682s |
| 12 | LMP2 | #23 Ligier | Buret, Canal, Stevens | 16 | + 24.410s |
| 13 | LMP2 | #39 Oreca | Capillaire, Hirschi, Gommendy | 16 | + 26.020s |
| 14 | LMP2 | #38 Oreca | Tung, Richelmi, Aubry | 16 | + 27.528s |
| 15 | LMP1 | #1 Rebellion | Lotterer, Jani, Senna | 16 | + 28.328s |
| 16 | LMP2 | #29 Dallara | Van Eerd, Van Der Garde, Lammers | 16 | + 31.708s |
| 17 | LMP2 | #22 Ligier | Hanson, Albuquerque, Di Resta | 16 | + 32.943s |
| 18 | LMP2 | #31 Oreca | Gonzalez, Maldonado, Berthon | 16 | + 38.119s |
| 19 | LMP2 | #34 Ligier | Taylor, Ledogar, Heinemeier-Hansson | 16 | + 52.979s |
| 20 | LMP1 | #6 Ginetta | Rowland, Brundle, Turvey | 16 | + 1m12.253s |
| 21 | LMP2 | #32 Ligier | De Sadeleer, Owen, Montoya | 16 | + 1m16.714s |
| 22 | LMP2 | #47 Dallara | Lacorte, Sernagiotto, Nasr | 16 | + 1m52.762s |
| 23 | LMP2 | #40 Oreca | Allen, Gutierrez, Guibbert | 16 | + 2m06.598s |
| 24 | LMP2 | #33 Ligier | Cheng, Boulle, Nicolet | 16 | + 2m08.409s |
| 25 | LMP2 | #35 Dallara | Shaitar, Newey, Nato | 16 | + 2m19.629s |
| 26 | LMP2 | #50 Ligier | Creed, Ricci, Dagoneau | 16 | + 2m52.293s |
| 27 | LMP2 | #25 Ligier | Patterson, De Jong, Kim | 16 | + 3m17.422s |
| 28 | LMP2 | #44 Ligier | Bertolini, Jonsson, Krohn | 15 | + 2 Laps |
| 29 | GTE Pro | #92 Porsche | Christensen, Estre, Vanthoor | 15 | + 1m51.797s |
| 30 | GTE Pro | #68 Ford | Hand, Muller, Bourdais | 15 | + 1m53.596s |
| 31 | GTE Pro | #91 Porsche | Lietz, Bruni, Makowiecki | 15 | + 1m56.464s |
| 32 | GTE Pro | #93 Porsche | Pilet, Tandy, Bamber | 15 | + 2m03.250s |
| 33 | GTE Pro | #51 Ferrari | Pier Guidi, Calado, Serra | 15 | + 2m04.072s |
| 34 | GTE Pro | #63 Chevrolet | Magnussen, Garcia, Rockenfeller | 15 | + 2m05.174s |
| 35 | LMP1 | #5 Ginetta | Robertson, Simpson, Roussel | 15 | + 2m05.291s |
| 36 | GTE Pro | #66 Ford | Mucke, Pla, Johnson | 15 | + 2m05.891s |
| 37 | GTE Pro | #82 BMW | Farfus, Felix Da Costa, Sims | 15 | + 2m06.097s |
| 38 | GTE Pro | #69 Ford | Briscoe, Westbrook, Dixon | 15 | + 2m08.991s |
| 39 | GTE Pro | #67 Ford | Priaulx, Tincknell, Kanaan | 15 | + 2m09.369s |
| 40 | GTE Pro | #64 Chevrolet | Gavin, Milner, Fassler | 15 | + 2m10.711s |
| 41 | GTE Pro | #81 BMW | Tomczyk, Catsburg, Eng | 15 | + 2m11.339s |
| 42 | GTE Pro | #71 Ferrari | Rigon, Bird, Molina | 15 | + 2m15.559s |
| 43 | GTE Pro | #52 Ferrari | Vilander, Giovinazzi, Derani | 15 | + 2m15.996s |
| 44 | GTE Pro | #94 Porsche | Dumas, Bernhard, Muller | 15 | + 2m20.638s |
| 45 | GTE Pro | #97 Aston | Lynn, Martin, Adam | 15 | + 2m46.556s |
| 46 | GTE Am | #86 Porsche | Wainwright, Barker, Davison | 15 | + 2m47.537s |
| 47 | GTE Pro | #95 Aston | Sorensen, Thiim, Turner | 15 | + 2m49.742s |
| 48 | GTE Am | #54 Ferrari | Flohr, Castellacci, Fisichella | 15 | + 2m57.167s |
| 49 | GTE Am | #88 Porsche | Cairoli, Al Qubaisi, Roda | 15 | + 2m58.401s |
| 50 | GTE Am | #61 Ferrari | Mok, Griffin, Sawa | 15 | + 3m08.574s |
| 51 | GTE Am | #84 Ferrari | Griffin, Macneil, Segal | 15 | + 3m15.571s |
| 52 | GTE Am | #77 Porsche | Campbell, Ried, Andlauer | 15 | + 3m18.765s |
| 53 | GTE Am | #90 Aston | Yoluc, Hankey, Eastwood | 14 | + 3 Laps |
| 54 | GTE Am | #99 Porsche | Long, Pappas, Pumpelly | 14 | + 4.687s |
| 55 | GTE Am | #70 Ferrari | Ishikawa, Beretta, Cheever | 14 | + 20.966s |
| 56 | GTE Am | #80 Porsche | Babini, Nielsen, Maris | 14 | + 23.660s |
| 57 | GTE Am | #98 Aston | Dalla Lana, Lamy, Lauda | 14 | + 34.114s |
| 58 | GTE Am | #56 Porsche | Bergmeister, Lindsey, Perfetti | 14 | + 36.289s |
| 59 | GTE Am | #85 Ferrari | Keating, Bleekemolen, Stolz | 14 | + 1m06.771s |
| 60 | LMP2 | #37 Oreca | Jaafar, Jeffri, Tan | 12 | + 5 Laps |