Toyotas 4-seconds clear in LeMans warmup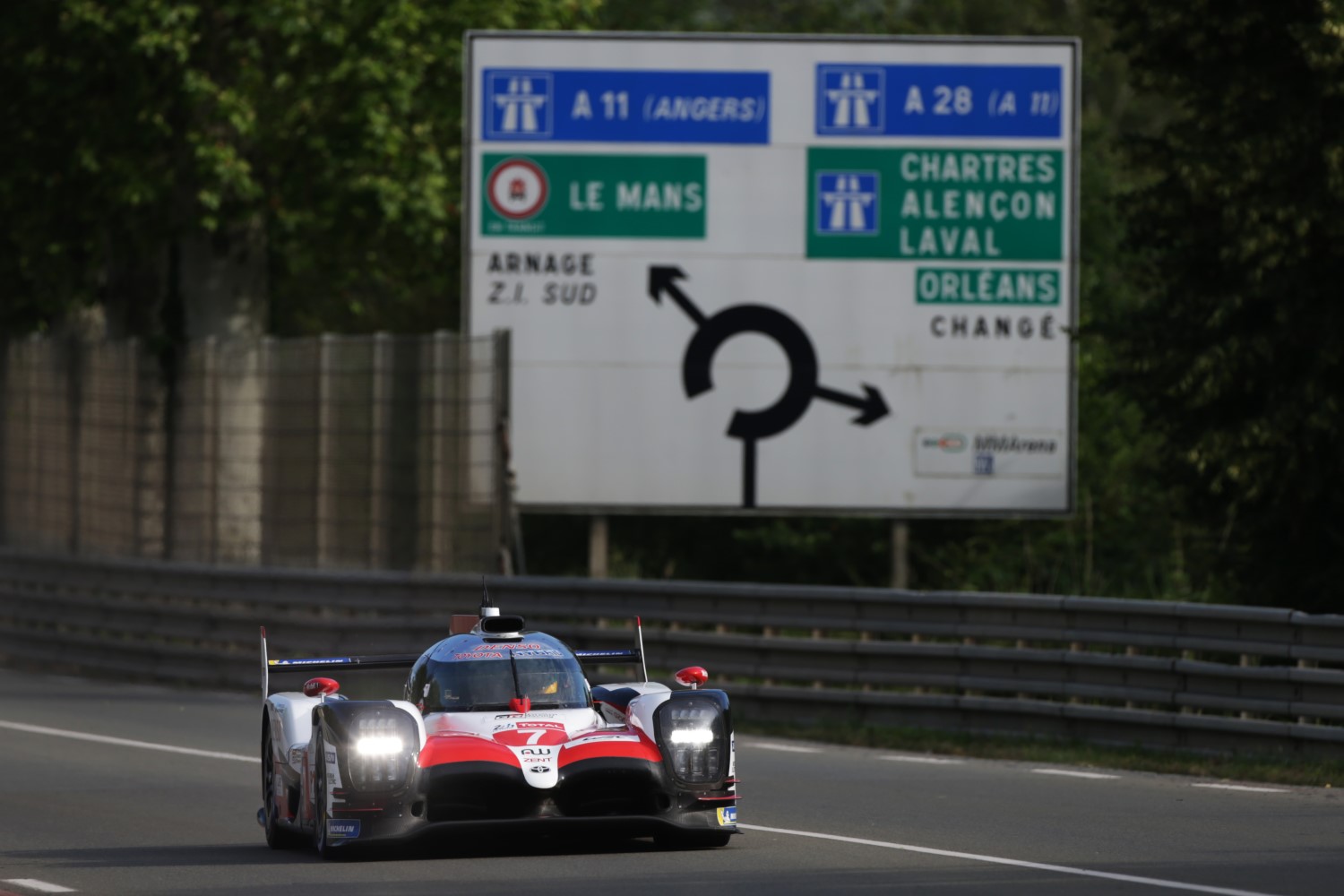 #7 Toyota. The fix is in, Alonso will win. Toyota has zero competition and the ACO won't give the other teams a BoP adjustment because they want the headlines from an Alonso win. It will be a stroker-ace race
Glorious sunshine and barely a cloud in the sky – the perfect start to raceday at Le Mans, although Race Control was predicting "Rain Level 2" from late morning through to midday.
Official Warm-up began at 9 am. There was an enthusiastic take-up, with only seven cars not joining in from the first moments, although the majority of these completed installation laps only.
Mike Conway in the #7 Toyota was first to set a sub 3:20, ten minutes into the half-hour session.
Setting the early pace for LMP2 was Frenchman Jean-Eric Vergne in the #26 G-Drive Oreca, but Ricky Taylor dipped into the 3:29s for Jackie Chan Racing #34 with twenty minutes gone.
The two AF Corse Ferraris, #51 and #52, were among the early front-runners in GTE Pro, both cars clocking 3:50s, while fourth-quickest, and showing improved pace following a BoP change yesterday, was the #97 Aston Martin Vantage #97, posting a 3:52.169 to tuck three-tenths under its best from qualifying. The #95, in the hands of Darren Turner, found a full second to post a 3:52.448. For reference, pole was a 3:47.504 for the #91 Porsche 911 RSR.
Half-way through the session, Buemi posted a 3:19.756 to set the #8 Toyota Hybrid just seven-tenths behind the sister car, and then improved on that next time around with a 3:18.949. Kobayashi topped that towards the end of the session with a 3:18.687 for the #7, although both cars posted faster sector times before pitting – i.e. they were stroking/sandbagging.
Keating Motorsports #85 and the Gulf-colored Porsche #86 both posted times under 3:55, the former bettering its qualifying pace by two-tenths.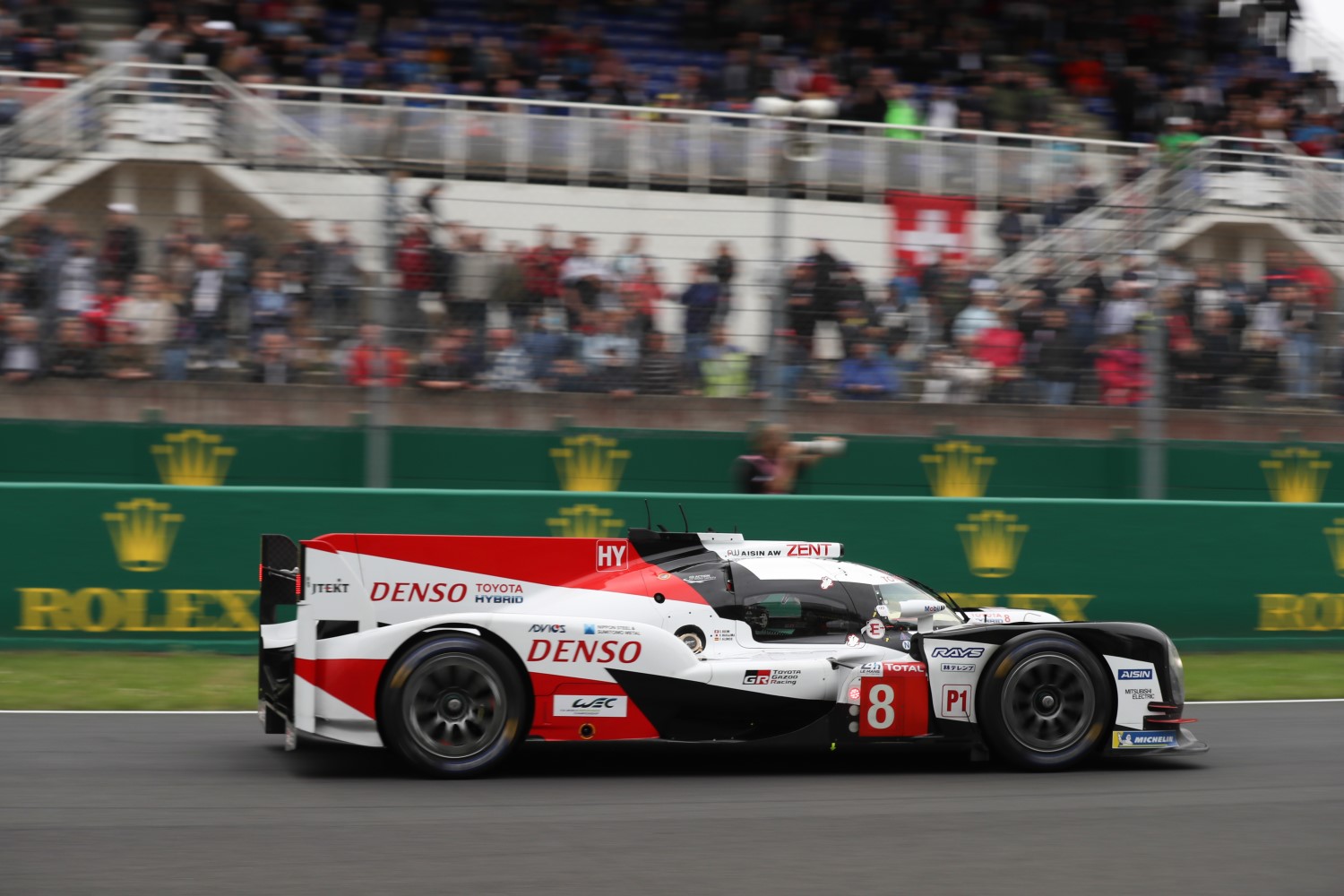 The only question now is which stroker-ace team will stroke best to win, the #7 Toyota or the #8 Toyota
No track showing from the #6 CEFC TRSM Ginetta, and just four laps completed by the #5, with a best of 3:29.305. Also not appearing in Warm-up was the #88 Dempsey Proton GTE Am Porsche, while the Ebimotors Porsche ran just four laps and one flyer. The JMW Ferrari didn't post a lap time, but completed a couple of laps on track.
Perhaps more significantly, the #3 Rebellion LMP1 only ran five installation laps, and failed to post a time. The #48 Idec Sport Oreca-Gibson, which claimed pole in LMP2, ran six installation laps, but didn't set a flying lap. The #47 Cetilar Villorba Corse Dallara, which missed final qualifying after a major accident in the second session, was out on track and posting good times, and completed eleven laps and finished the morning fourth-quickest in the class, with a 3:30.582.
As Warm-up neared the checkered flag, Scott Dixon posted fastest time in GTE Pro for Ford Chip Ganassi Racing, with a 3:50.533, leaving three of the AF Corse Ferraris within half a second.
There were no major incidents, no accidents, and just a handful of off-track excursions during a very clean half-hour.