Rafa Matos on Trans Am Pole at Indianapolis Motor Speedway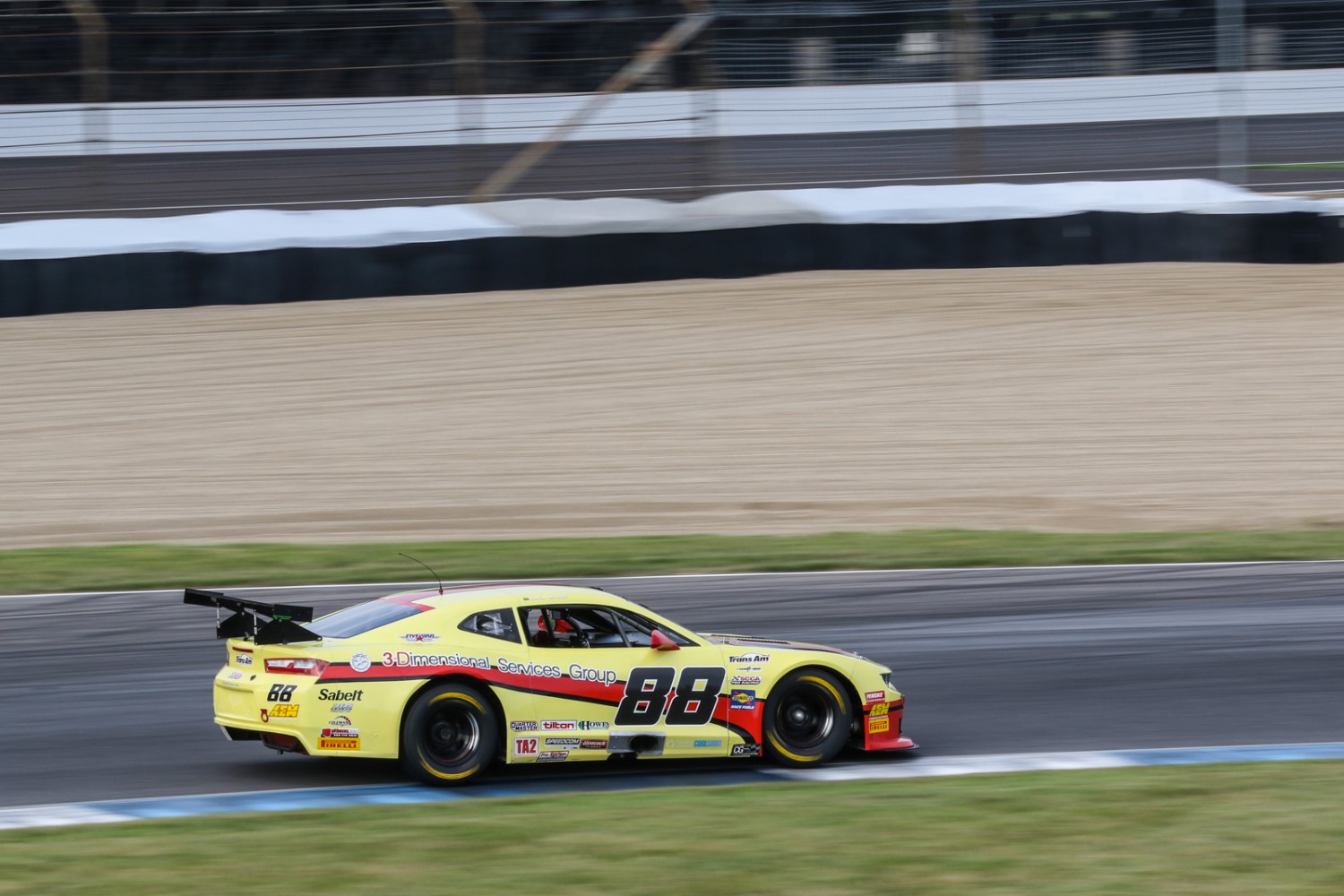 Ex-IndyCar driver Rafael Matos on pole
Rafa Matos captured his second pole of the 2018 Trans Am Series presented by Pirelli season today in TA2 class qualifying action for the Berryman Muscle Car Challenge at Indianapolis Motor Speedway (IMS).
Matos, the current class points leader and driver of the No. 88 3-Dimensional Services Chevrolet Camaro, secured first place starting position by way of a 1:29.671 lap around the 2.43 combined road course at IMS. The pole puts Matos in prime position to continue his hot streak of five consecutive podium finishes on the back of a win last round at the Chevrolet Detroit Grand Prix. Better yet, the pole is another opportunity to race at the fabled speedway for the 2009 IndyCar Series Rookie of the Year.
"Here at Indy I ran twice with IndyCar, and I feel like I have unfinished business," said Matos. "It's extremely important to get the pole position here; we made some changes and last session the car was working really well and I knew I had to nail that lap. It's critical to get the perfect lap here, tire management is really important here; and once you pass that sweet spot on the tires, it's really hard to find that grip again. Our third lap was good enough for pole position. I'm really happy for the whole team, and we'll see if we can bring home another victory."
To secure what would be his fourth win of the season Matos will need to overcome a 28-car TA2 field come tomorrow, while keeping the strong No. 88 and the Pirelli tires underneath it in balance.
"First, we need to keep our nose clean on the start," said Matos. "Even if something happens and we lose a position, it's a long race, 75 minutes, it's all about tire management. It's going to be similar to Homestead-Miami where we really had to take care of the tires. I feel we have a very strong car, and I have to respect the limits of the car and the tires. I can't overdrive it… that's how we can bring home the victory."
Starting alongside Matos will be sports car veteran Shane Lewis, driver of the No. 92 Turnkey Industries/ Surphis Chevrolet Camaro, who qualified second by way of a 1:29.940 lap. Lewis currently resides third in the points and tomorrow's starting position is his second best of the season. Lewis also stands the only driver in the field to podium at IMS in last year's TA2 competition.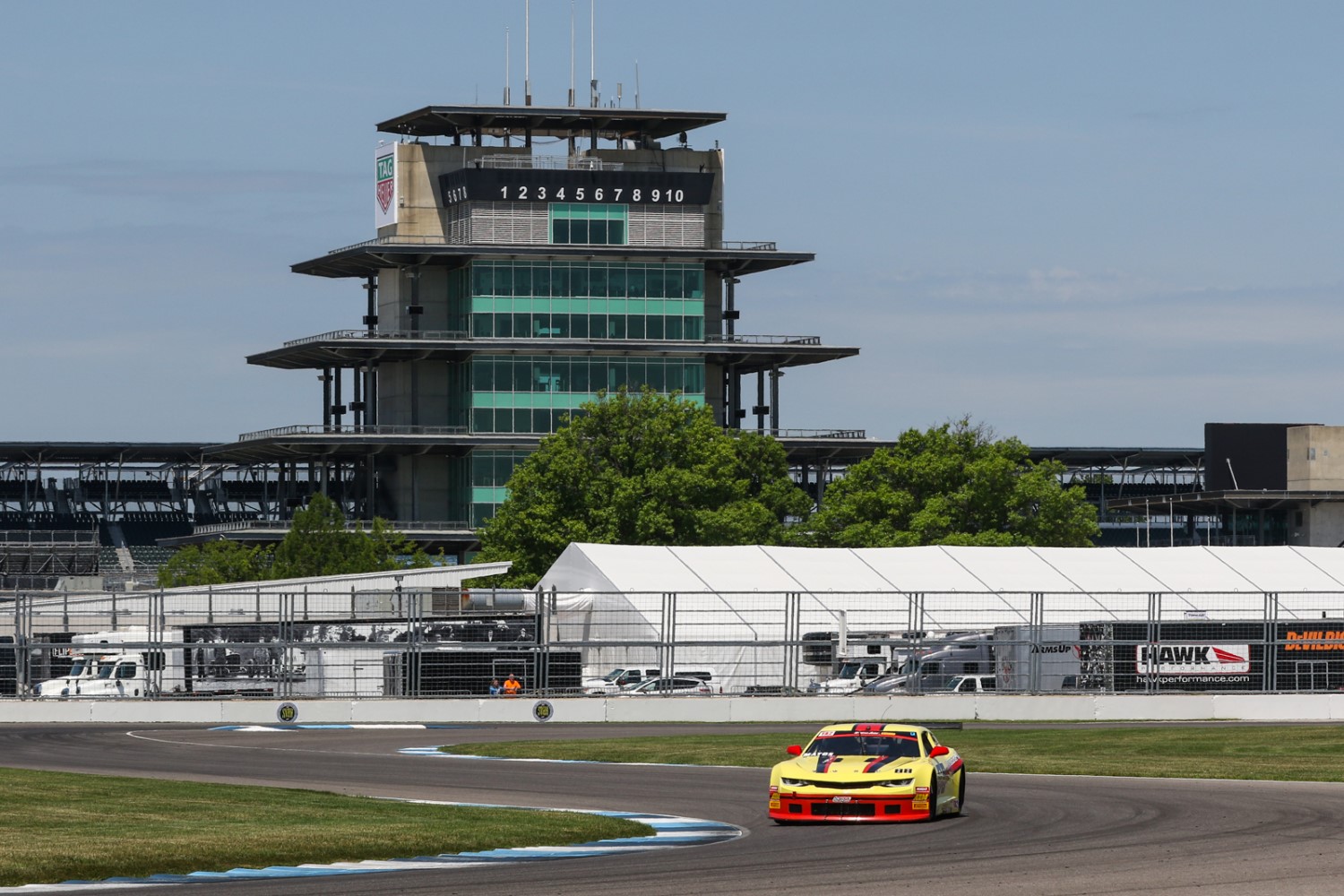 A huge crowd of empty aluminum seats was on hand. Instead of IndyCar closing out its season at the Speedway on the oval, they'll run any other series, even swamp buggies someday, before they figure it out.
Scott Lagasse, Jr., in the No. 95 SLR/ Fields Racing/ M1 Fastrack Chevrolet Camaro, will start on the inside of the second row after a 1:30.312 qualifying effort, with Tony Buffomante, in the No. 34 Mike Cope Ford Mustang, alongside. Buffomante turned a 1:30.720 in the No. 34 and, like Matos, enters the weekend on the backs of a Detroit victory with his coming in the first of the two races on the double-header weekend.
Thomas Merrill, the points leader for TA2's West Coast Championship, qualified fifth in No. 81 Big Diehl Racing Ford Mustang, with a 1:30.970. Merrill already has two Trans Am West wins under his belt in 2018, with victories at Auto Club Speedway and Sonoma Raceway.
The TA2 qualifying top ten was completed by, in order, John Atwell, Joe Napoleon, Ethan Wilson, Paul Tracy and Keith Prociuk.
Paul Tracy returns to Trans Am TA2 action in the No. 87 3-Dimensional Services Chevrolet Camaro this weekend after his Series debut at Road Atlanta where he started in 25th position, driving up through the field to a seventh place finish.
Trans Am's TA2 class will hold their 102.06-mile, 42 lap race at IMS tomorrow, Saturday June 16, at 2:40 PM ET, while the remainder of Trans Am's classes will officially commence their weekend tomorrow with practice at 11:00 AM ET, commencing preparations for their multi-class Berryman Trans American competition on Sunday June 17 at 3:15 PM.
Trans Am also partners on the weekend with the Sportscar Vintage Racing Association, holding their Brickyard Vintage Racing Invitational, bringing the best of motorsport, past and present, to Indianapolis.
Both races will be available for viewing via live streaming on Motor Trend On Demand and will be showcased in a CBS Sports Network broadcast on July 1 at 2:00 PM ET.
All results provisional until posted final.
Live Streaming on Motor Trend On Demand:
Berryman Muscle Car Challenge – June 16, 2:40 PM ET – 3:55 PM ET
Berryman Trans American – June 17, 3:15 PM ET – 4:25 PM ET
Broadcast:
Trans Am's races at Indianapolis Motor Speedway will be broadcast, tape delayed, on CBS Sports Network.
Berryman Trans Am at the Brickyard Recap – July 1 at 2:00 PM ET
Berryman Trans Am at the Brickyard Remaining Event Schedule:
Saturday June 16, 2018
11:00 AM – 11:25 AM TA/TA3/TA4 Practice
2:40 PM – 3:55 PM Berryman Muscle Car Challenge
4:00 PM – 4:15 PM TA Qualifying
4:20 PM – 4:35 PM TA3/ TA4 Qualifying
Sunday June 17, 2018
3:15 PM – 4:25 PM Berryman Trans American
All times eastern
Results
| | | | | |
| --- | --- | --- | --- | --- |
| Pos | No. | Name | Sponsor/Car | Time |
| 1 | #88 | Rafa Matos / Boca Raton Fla. | 3­Dimensional Services Chevrolet Camaro | 01:29.671 |
| 2 | #92 | Shane Lewis / Jupiter Fla. | Turnkey Industries/Surphis Chevrolet Camaro | 01:29.940 |
| 3 | #95 | Scott Lagasse Jr / St. Augustine Fla. | SLR/Fields Racing/M1 Fastrack Chassis Chevrolet Camaro | 01:30.312 |
| 4 | #34 | Tony Buffomante / Naperville Ill. | Mike Cope Racing Ford Mustang | 01:30.720 |
| 5 | #81 | Thomas Merrill (R) / Salinas Calif. | Big Diehl Racing Ford Mustang | 01:30.970 |
| 6 | #02 | John Atwell / Azle Texas | A & J Lab Portal Chevrolet Camaro | 01:31.399 |
| 7 | #91 | Joe Napoleon / Magnolia Texas | Turnkey Industries/Surphis Chevrolet Camaro | 01:31.551 |
| 8 | #49 | Ethan Wilson (R) / Santa Clara Calif. | Berryman/Prefix Dodge Challenger | 01:31.555 |
| 9 | #87 | Paul Tracy (R) / Scottsdale Ariz. | 3­Dimensional Services Chevrolet Camaro | 01:31.567 |
| 10 | #9 | Keith Prociuk / Chicago Ill. | HP Tuners LLC Chevrolet Camaro | 01:31.577 |
| 11 | #97 | Tom Sheehan / Bow N.H. | LTK Insulation Technologies Chevrolet Camaro | 01:31.637 |
| 12 | #14 | Matt Parent / Seattle, Wash. | Mike Cope Racing Ford Mustang | 01:31.916 |
| 13 | #23 | Curt Vogt / Wallingford Conn. | Cobra Automotive Ford Mustang | 01:32.041 |
| 14 | #26 | Lawless Alan (R) / Van Nuys Calif. | Mike Cope Racing Ford Mustang | 01:32.111 |
| 15 | #80 | Jordan Bupp / Ft. Lauderdale Fla. | Bupp Motorsports Ford Mustang | 01:32.225 |
| 16 | #11 | Doug Peterson / Bonita Springs Fla. | 3­Dimensional Services/Prefix Dodge Challenger | 01:32.827 |
| 17 | #04 | Tim Kezman / Franksville Wis. | Fall­Line Motorsports Ford Mustang | 01:33.037 |
| 18 | #76 | Anthony Honeywell (R) / Tulsa Okla. | Honeywell Competition/Prefix Chevrolet Camaro | 01:33.256 |
| 19 | #44 | Aaron Quine / Medina Ohio | ECC / Anchor Bolt & Screw Chevrolet Camaro | 01:33.527 |
| 20 | #12 | Paul Van Terry (R) / Fillmore Utah | Paul Terry Trucks/Prefix Dodge Challenger | 01:33.962 |
| 21 | #57 | Maurice Hull (R) / High Point N.C. | Waukegan Farms LLC Ford Mustang | 01:34.109 |
| 22 | #63 | Bob Lima (R) / Philadelphia Pa. | Lima Company Chevrolet Camaro | 01:34.976 |
| 23 | #55 | Michael Mihld (R) / Temecula Calif. | Track Fanatic Chevrolet Camaro | 01:35.047 |
| 24 | #67 | Chris Pedersen / Mundelein Ill. | C&P Installations Chevrolet Camaro | 01:35.741 |
| 25 | #70 | Samuel LeComte / Flower Mound Texas | Multi Racing Chevrolet Camaro | 01:36.569 |
| 26 | #18 | Richard Diehl (R) / San Jose Calif. | Big Diehl Racing Ford Mustang | 01:36.695 |
| 27 | #82 | Frank Dalene (R) / East Hampton N.Y. | Telemark Inc. Chevrolet Camaro | 01:43.230 |
| 28 | #5 | David Smith (R) / Canada | Shockwave Suspension Seating Chevrolet Camaro | 01:50.968 |