Legendary NHRA Driver Tom "Mongoose" McEwen Passes Away (Update)
John Force
UPDATE
Statements from John Force:
Although the Sunday death of Tom "the Mongoose" McEwen at age 81 reverberated throughout the sport of drag racing, it hit few harder than it did John Force, the 16-time NHRA Funny Car champion. Force spoke at length with his PR representatives Elon Werner and Dave Densmore to collect his thoughts and feelings about McEwen. This is what he wanted us to share with the NHRA community.
As recently as three to four weeks ago, McEwen had called Force to talk about a recent spate of engine explosions and crashes that had left the Hall of Fame team owner and driver battered, bruised and besieged.
The conversation was typically candid. "Force," McEwen said, "are you trying to kill yourself? Let's talk, call me." It was the kind of conversation in which the two had engaged in for more than 40 years.
"He could do that," Force said. "I know, I don't listen like I should because I'm always too busy talking about my kids or my sponsors or something else, but I would always listen to Mongoose. He'd be honest. If he thought I was screwing up, he'd tell me. Sometimes it would piss me off but when I thought about it, he was usually right. He didn't pull any punches. He knew the life."
Without McEwen's vision and his expertise not only as a driver, but as a "marketer and hustler," Force said the sport never would have become what it is today in his opinion. When McEwen partnered with Don "the Snake" Prudhomme and enticed Mattel Toys in 1970 to create the "Snake and Mongoose" Hot Wheels cars, it changed the sport's landscape, transforming it from club sport to mass appeal sport.
"He was a hustler," Force said. "He was the first marketeer (in drag racing). Kenny Bernstein and Raymond Beadle, they sold the sport to corporate America, but Mongoose in my opinion was the first. He was the one who showed the way," said Force.
"He was one of the guys who taught me how to chase money and that the sponsors always had to be taken care of," Force said. "Back in the early days he taught me how to talk to the racetrack promoters and what they really expected of me as a race car driver. Tracks like Irwindale, Orange County, Seattle Bakersfield, Fremont and Phoenix. They wanted a showman, a fast talker, tire smoking, hot cars, and story teller, and he was the king. He would always tell me like it was and I'm telling you, he was the PT Barnum of drag racing. When I won my first round at an NHRA event in Baton Rouge, all he said was "Johnny boy, I'm proud of you".
"Drag racing never would be where it is right now without the Mongoose. My kids would never have the kind of opportunities they have, or the lives they live. It's very emotional for me because I'm losing all my heroes Gene Beaver, Keith Black, Joe Pisano, Raymond Beadle, (Dale) Armstrong, (Steve) Plueger, and now Mongoose.
"I know (death is) going to happen to all of us, we ain't getting out of this alive. But this one is really hard because, to me, the Mongoose was invincible. He loved drag racing, he loved the fans and he loved life. He would come to my shows for hours and sign for the fans. When I was 16 at Lions dragstrip, I knew that all I wanted was to race but I knew it was impossible. But when I saw Hot Wheels with Snake and the Mongoose years later, I saw that you really could make a living in this sport. Mongoose put us on the map."
"We all learned from him and right to the end he was still so big in the sport. People who never heard of John Force know about the Snake and the Mongoose. That's how big they were. I was emotional after hearing of his passing while at Richmond, because the Mongoose was a racer that took care of so many including me. He loved the sport, he loved his family, he loved his friends, he loved his fans and NHRA drag racing."
"I realized something that I had missed. I never said I loved him, but I always did."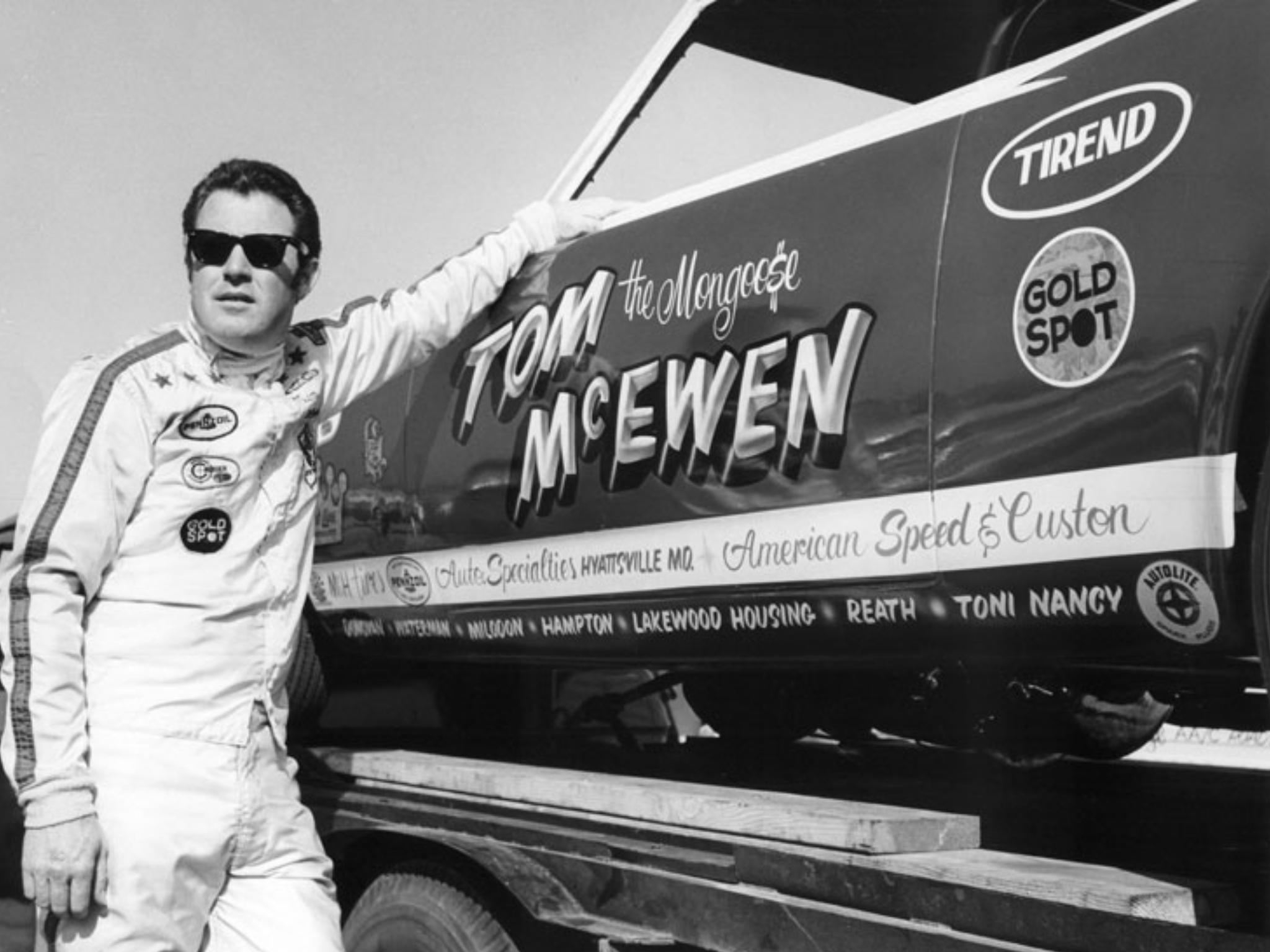 Tom McEwen
06/11/18 Lengendary NHRA competitor Tom "Mongoose" McEwen passed away Sunday at the age of 81.
McEwen, who only won five NHRA national events during his career, was perhaps best known for his relationship with four-time NHRA Funny Car champion Don "the Snake" Prudhomme, who served as the inspiration for McEwen's nickname.
McEwen and Prudhomme faced each other in a match race on Sept. 12, 1964 at Lions Dragstrip in Los Angeles, Calif. with McEwen coming out the victor. The event garnered so much interest it led to two more "Snake and Mongoose" events in 1965.
The two eventually became teammates in 1969, with both drivers sponsored by Mattel's Hot Wheels. Toy versions of their iconic yellow and red race cars were top sellers, and full-sized replicas still make the rounds at car shows and drag racing events to this day.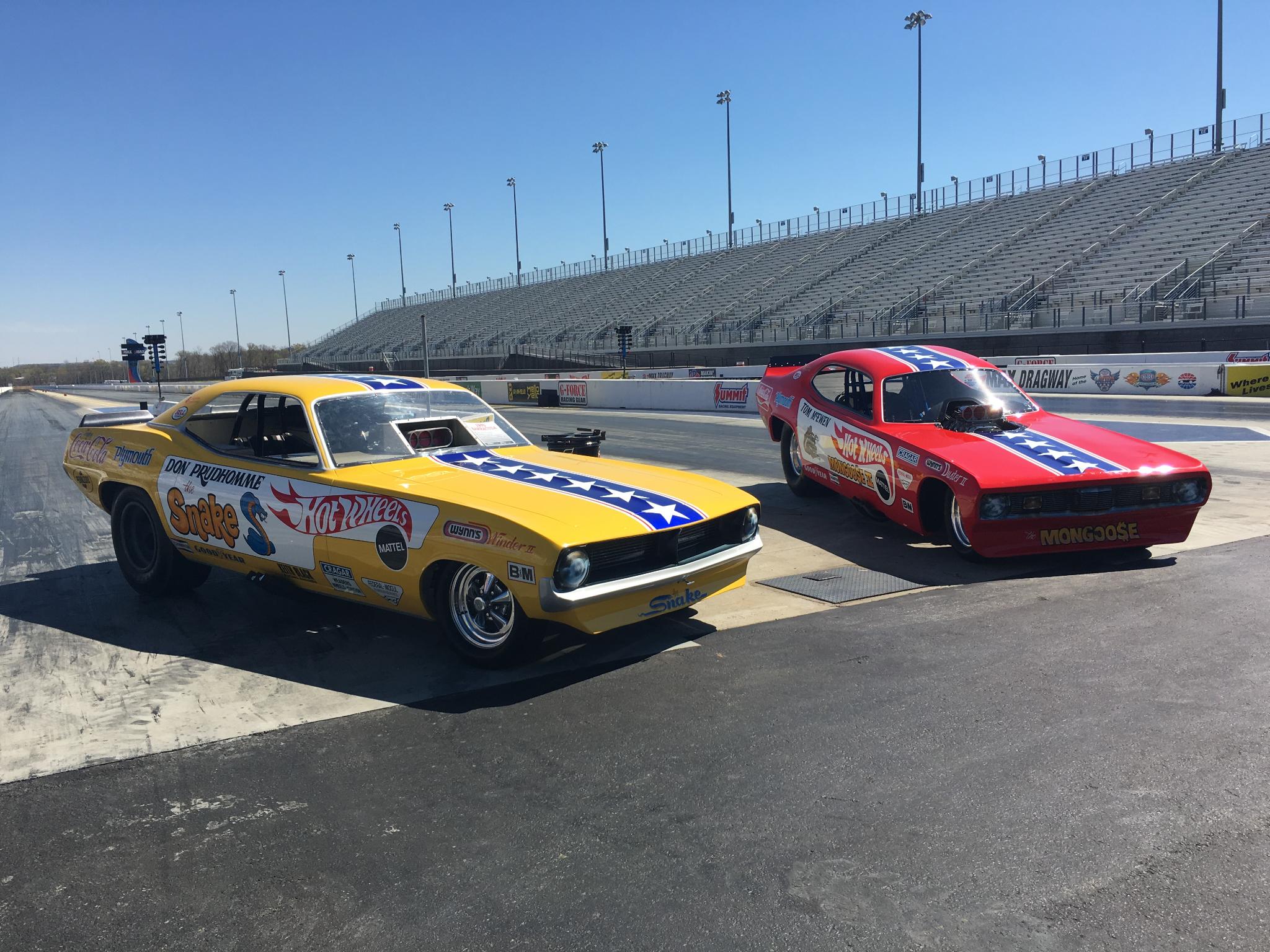 Prudhomme and McEwen's Hot Wheels cars
Their relationship also inspired the 2013 film Snake and Mongoose.
"I was the [BSer] and Prudhomme was the racer," said McEwen. "I'd set up the deals, then we'd go out to the track, and he'd usually beat me. There were times when he was beating me so regularly that the only way I could have beaten him was if he got lost on the way to the track and I got to single.
"We were a good team; we complemented each other. Don was the serious guy, spent a lot of time with his car, and I was more like the wrestlers today; saying how bad I was going to beat him to build interest in the deal."
McEwen and Prudhomme went their separate ways in 1973, but still competed against one another on the Funny Car circuit, including McEwen's victory over Prudhomme in the 1978 U.S. Nationals.
Prudhomme (L) and McEwen
McEwen retired from racing in 1992, and in 2001 was voted No. 16 on NHRA's Top 50 Drivers list. He was also inducted into the International Drag racing Hall of Fame and the Motorsports Hall of Fame of America.
"We are all saddened to learn the news of Mongoose's passing," said NHRA President Glen Cromwell. He was truly one of the most brilliant pioneers of NHRA Championship Drag Racing and continued to support the sport through a number of initiatives including our current NHRA Legends Tour in which he played an instrumental role. Everyone at NHRA will miss him deeply. Our thoughts, prayers and deepest condolences are with the McEwen family at this difficult time."