IndyCar: Wickens & Kanaan lead opening practice in Texas at over 220mph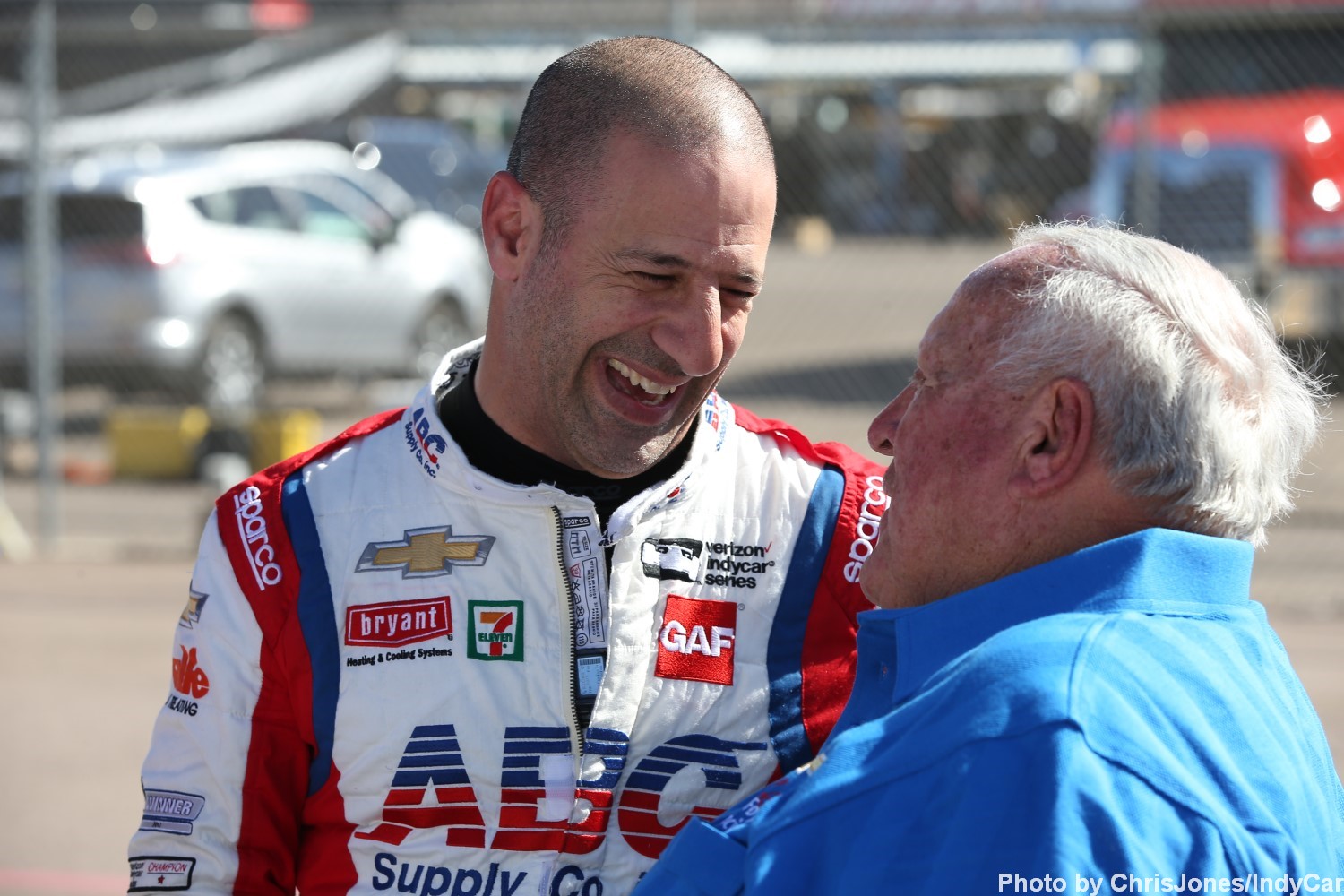 Kanaan with team owner AJ Foyt
In the heat of the Texas afternoon Friday sun, both Robert Wickens (SPM Honda) and Tony Kanaan (AJ Foyt Chevy) turned identical speeds of 220.014mph to top opening practice for the DXC Technology 400 IndyCar race at Texas Motor Speedway Saturday night.
Sebastien Bourdais was third quick in the Dale Coyne Honda at 219.619 mph followed by Alexander Rossi at 219.355 mph in his Andretti Honda.
Gabby Chaves rounded out the top-5 in his Harding Chevy at 219.064 mph.
"It was good," said Wickens, the Schmidt Peterson Motorsports rookie who has posted six top-10 finishes in the past seven races this season. "I think the track started off extremely, extremely low grip, but it came around to us pretty good. At the end, we did a couple (qualifying simulations runs) to get ready for qualifying.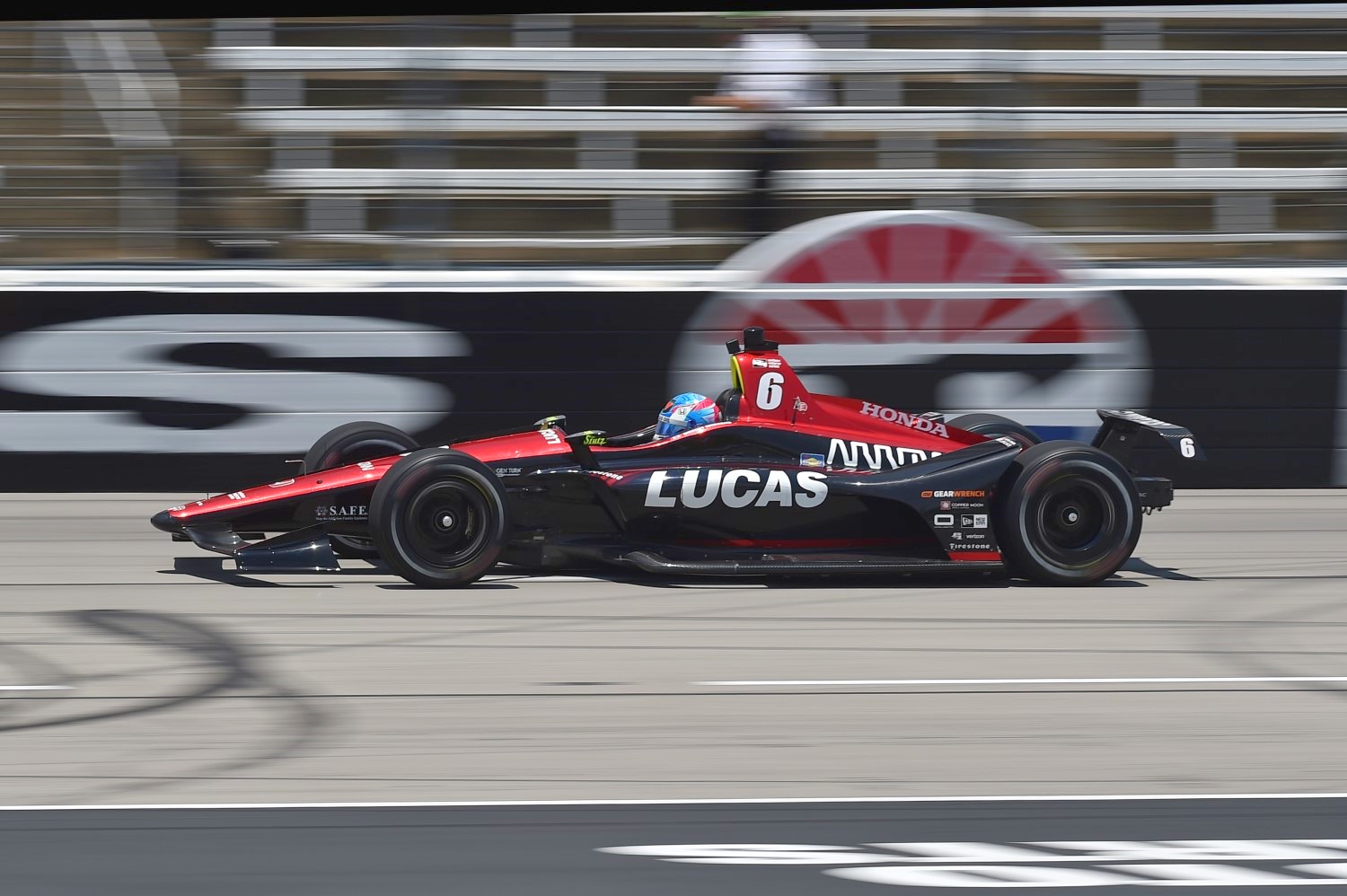 Robert Wickens
"It's hard to know in free practice. It's literally impossible to get a tow-free lap around this place. The Lucas Oil car is doing well so far, but's still early days. We'll see what we've got later on."
Four-time Verizon IndyCar Series champion Scott Dixon logged the fastest lap without aid of a draft, or tow, from a car in front. Dixon, who was sixth fastest on the overall speed chart, had the best no-tow lap of 218.588 mph.
Qualifying begins at 4 p.m. ET and airs live on NBCSN. Live timing and scoring that includes Advance Auto Parts INDYCAR Radio Network audio is available on RaceControl.IndyCar.com.
Race coverage begins at 8 p.m. Saturday on NBCSN and the Advance Auto Parts INDYCAR Radio Network, with the green flag expected to wave at 8:45 p.m.
Practice 1 Results
| | | | | | | | | |
| --- | --- | --- | --- | --- | --- | --- | --- | --- |
| Pos | No | Name | FTime | Diff | Gap | FSpeed | Engine | Team |
| 1 | 6 | Robert Wickens | 23.562 | –.—- | –.—- | 220.014 | Honda | Schmidt Peterson Motorsports |
| 2 | 14 | Tony Kanaan | 23.562 | 0.0000 | 0.0000 | 220.014 | Chevy | AJ Foyt Enterprises |
| 3 | 18 | Sebastien Bourdais | 23.605 | 0.0424 | 0.0424 | 219.619 | Honda | Dale Coyne Racing with VS |
| 4 | 27 | Alexander Rossi | 23.633 | 0.0708 | 0.0284 | 219.355 | Honda | Andretti Autosport |
| 5 | 88 | Gabby Chaves | 23.664 | 0.1022 | 0.0314 | 219.064 | Chevy | Harding Racing |
| 6 | 9 | Scott Dixon | 23.671 | 0.1086 | 0.0064 | 219.005 | Honda | Chip Ganassi Racing Teams |
| 7 | 22 | Simon Pagenaud | 23.687 | 0.1245 | 0.0159 | 218.858 | Chevy | Team Penske |
| 8 | 98 | Marco Andretti | 23.729 | 0.1670 | 0.0425 | 218.466 | Honda | Andretti Herta Autosport with CA |
| 9 | 1 | Josef Newgarden | 23.762 | 0.2003 | 0.0333 | 218.160 | Chevy | Team Penske |
| 10 | 10 | Ed Jones | 23.789 | 0.2271 | 0.0268 | 217.914 | Honda | Chip Ganassi Racing Teams |
| 11 | 30 | Takuma Sato | 23.797 | 0.2350 | 0.0079 | 217.842 | Honda | Rahal Letterman Lanigan |
| 12 | 5 | James Hinchcliffe | 23.822 | 0.2602 | 0.0252 | 217.611 | Honda | Schmidt Peterson Motorsports |
| 13 | 23 | Charlie Kimball | 23.826 | 0.2636 | 0.0034 | 217.580 | Chevy | Carlin |
| 14 | 26 | Zach Veach | 23.832 | 0.2700 | 0.0064 | 217.522 | Honda | Andretti Autosport |
| 15 | 12 | Will Power | 23.866 | 0.3038 | 0.0338 | 217.214 | Chevy | Team Penske |
| 16 | 20 | Ed Carpenter | 23.896 | 0.3335 | 0.0297 | 216.944 | Chevy | Ed Carpenter Racing |
| 17 | 21 | Spencer Pigot | 23.971 | 0.4089 | 0.0754 | 216.261 | Chevy | Ed Carpenter Racing |
| 18 | 28 | Ryan Hunter-Reay | 24.005 | 0.4426 | 0.0337 | 215.958 | Honda | Andretti Autosport |
| 19 | 19 | Zachary De Melo | 24.111 | 0.5485 | 0.1059 | 215.009 | Honda | Dale Coyne Racing |
| 20 | 15 | Graham Rahal | 24.125 | 0.5629 | 0.0144 | 214.881 | Honda | Rahal Letterman Lanigan |
| 21 | 4 | Matheus Leist | 24.413 | 0.8511 | 0.2882 | 212.344 | Chevy | AJ Foyt Enterprises |
| 22 | 59 | Max Chilton | 24.482 | 0.9201 | 0.0389 | 211.746 | Chevy | Carlin |