Verstappen tops Hamilton in opening practice for Canadian GP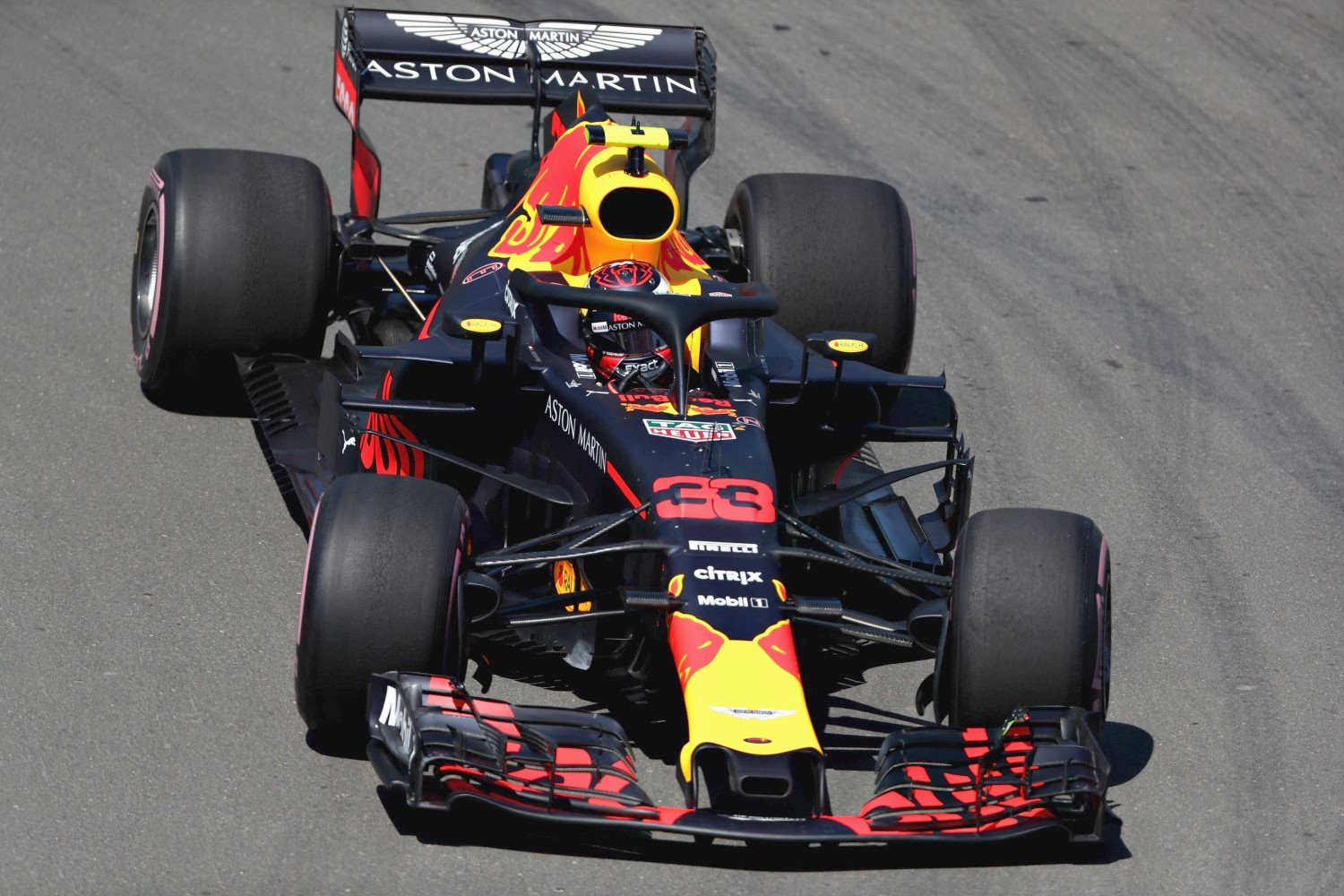 Max Verstappen
Red Bull driver Max Verstappen turned the fastest lap of 1m13.302s to lead opening practice for the Canadian GP in Montreal. His time was just 0.088s quicker than Montreal king Lewis Hamilton(Mercedes) and 0.216s faster than his teammate Daniel Ricciardo.
However, Verstappen set his time on the softest hypersoft rubber while Hamilton set his time on the slightly harder ultra-softs.
Sebastian Vettel was 4th quick for Ferrari 0.272s behind Verstappen and Valtteri Bottas rounded out the top-5 in the 2nd Mercedes.
Less than half a second covered them all. It should be noted, however, that unlike their rivals, Mercedes did not use Pirelli's fastest hypersoft tyre, limiting their running to the supersoft and ultrasoft rubber.
A strong session for McLaren saw Fernando Alonso take seventh ahead of fellow Spaniard Carlos Sainz in the Renault, with team mate Stoffel Vandoorne ninth. Toro Rosso's Pierre Gasly completed the top ten.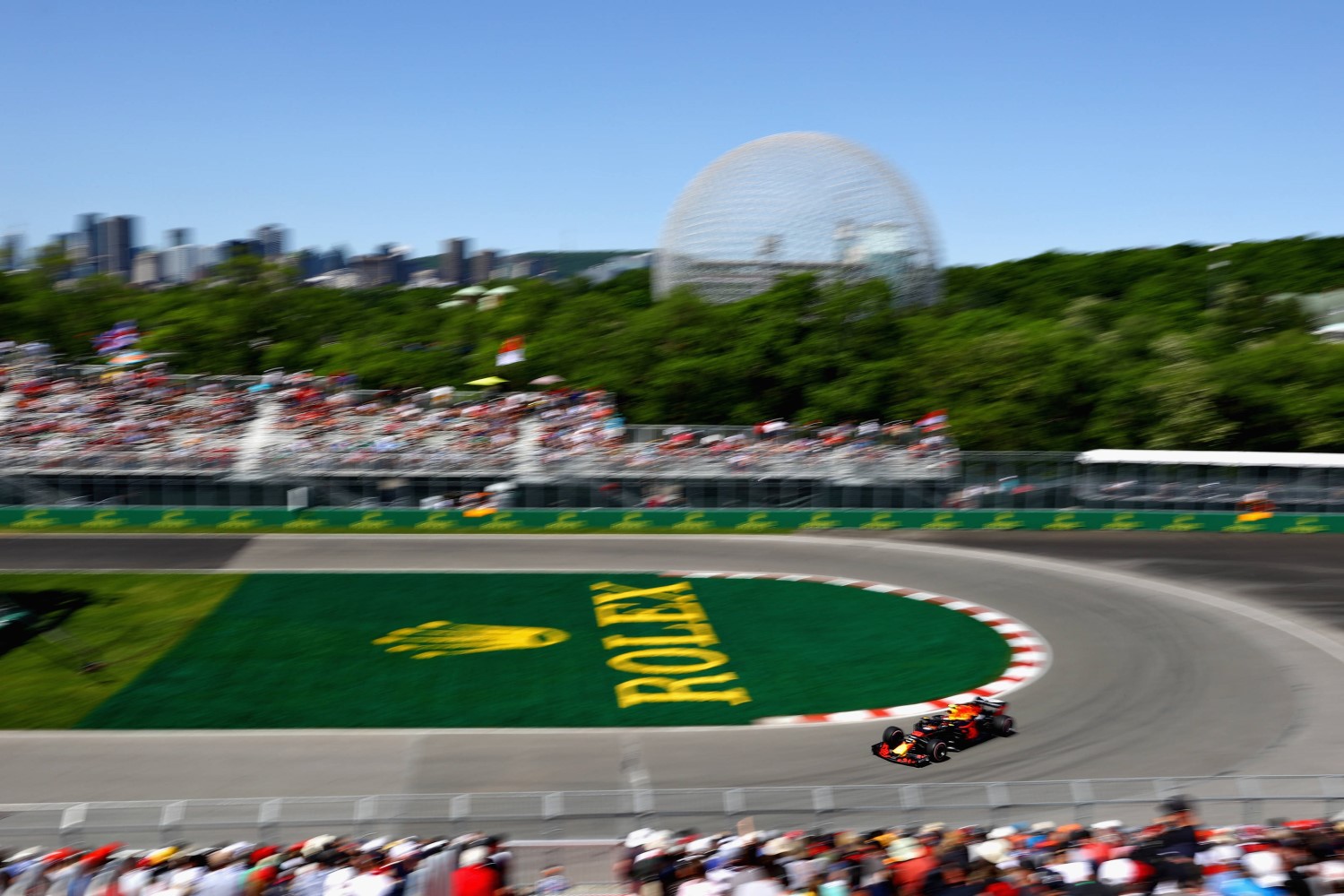 The Montreal Hairpin
Williams' Sergey Sirotkin was the first to set a time around 15 minutes in, but that was about as good as it got for the team, as the Russian backed it into the Turn 6 wall just before the checkered flag.
In their second car, local hero Lance Stroll took the dubious honor of being the first to hit Montreal' infamous Wall of Champions, puncturing his right-rear tyre as he swiped the concrete.
Stroll was not the only Canadian driver in action. Nicholas Latifi stepped into Sergio Perez's car at Force India, as he made his FP1 debut. The 22-year-old from Toronto finished 19th.
It was not a good session for Nico Hulkenberg, whose Renault ground to a halt on track half an hour in with an apparent gear-selection problem, before the German had even clocked a lap time. It prompted first a Virtual Safety Car, and then a 12-minute red-flag stoppage as his stricken car was recovered.
Results
| | | | | | | |
| --- | --- | --- | --- | --- | --- | --- |
| POS | NO | DRIVER | CAR | TIME | GAP | LAPS |
| 1 | 33 | Max Verstappen | Red Bull Racing | 1:13.302 | +0.000s | 26 |
| 2 | 44 | Lewis Hamilton | Mercedes | 1:13.390 | +0.088s | 29 |
| 3 | 3 | Daniel Ricciardo | Red Bull Racing | 1:13.518 | +0.216s | 24 |
| 4 | 5 | Sebastian Vettel | Ferrari | 1:13.574 | +0.272s | 19 |
| 5 | 77 | Valtteri Bottas | Mercedes | 1:13.617 | +0.315s | 31 |
| 6 | 7 | Kimi Raikkonen | Ferrari | 1:13.727 | +0.425s | 28 |
| 7 | 14 | Fernando Alonso | McLaren Renault | 1:13.900 | +0.598s | 27 |
| 8 | 55 | Carlos Sainz | Renault | 1:14.116 | +0.814s | 24 |
| 9 | 2 | Stoffel Vandoorne | McLaren Renault | 1:14.311 | +1.009s | 19 |
| 10 | 10 | Pierre Gasly | Toro Rosso Honda | 1:15.004 | +1.702s | 31 |
| 11 | 31 | Esteban Ocon | Force India Mercedes | 1:15.071 | +1.769s | 29 |
| 12 | 8 | Romain Grosjean | Haas Ferrari | 1:15.119 | +1.817s | 21 |
| 13 | 9 | Marcus Ericsson | Sauber Ferrari | 1:15.386 | +2.084s | 30 |
| 14 | 16 | Charles Leclerc | Sauber Ferrari | 1:15.439 | +2.137s | 30 |
| 15 | 20 | Kevin Magnussen | Haas Ferrari | 1:15.579 | +2.277s | 21 |
| 16 | 28 | Brendon Hartley | Toro Rosso Honda | 1:15.756 | +2.454s | 38 |
| 17 | 35 | Sergey Sirotkin | Williams Mercedes | 1:15.768 | +2.466s | 30 |
| 18 | 18 | Lance Stroll | Williams Mercedes | 1:16.259 | +2.957s | 16 |
| 19 | 34 | Nicholas Latifi | Force India Mercedes | 1:17.145 | +3.843s | 28 |
| 20 | 27 | Nico Hulkenberg | Renault | – | – | 3 |