Latest F1 news in brief – Friday
Monaco winner Daniel Riccardo may not get grid penalty

Ricciardo to escape Montreal penalty

Engine situation could cost Mercedes – Hamilton
Alonso not sure about next racing step
Renault brings 'Halo mirrors' to Canada
Candidates line up to replace Hartley
Haas drivers warned to avoid walls
Verstappen loses cool during press conference
Ricciardo to escape Montreal penalty
(GMM) Daniel Ricciardo looks set to escape a penalty ahead of the Canadian grand prix.
Despite winning in Monaco, the Australian nursed a malfunctioning MGU-K unit to the checkered flag.
Red Bull's Dr Helmut Marko initially said the unit would not have to be replaced, but Adrian Newey disagreed, arguing the damage had been extensive and a change would cost Ricciardo penalties.
But when asked in Montreal if he will take a penalty, Ricciardo answered: "Not yet. Unless something happens in practice. But for today the answer is no."
He admitted that the French GP in a fortnight, however, could be a different story.
"Yes, it could happen at Paul Ricard," said the 28-year-old. "And if I get a penalty, I'd prefer it there because we have momentum at the moment."
On other matters, Ricciardo mischievously refused to answer questions about his future, including whether he has signed a deal with Ferrari or Mercedes.
"Answer one: maybe. Answer two: maybe," he smiled.
And when asked if winning in Monaco drove up his price for Red Bull, Ricciardo said: "Maybe!"
Marko said he is confident Ricciardo will eventually sign.
"We're not rushing and we don't put him under pressure. He knows we really want to extend with him," said the team official.
"Monaco showed us not only how good he is, but also how good we are," Marko told Auto Bild.
But Mercedes may still be an option for Ricciardo, with Williams' Paddy Lowe revealing: "Toto (Wolff) has been talking to Ricciardo for three years."
Ricciardo's teammate Max Verstappen is having a much tougher 2018, and he even told a journalist on Thursday that he will "head butt" anyone who asks tough questions about crashes.
Boss Christian Horner told Bild newspaper: "I understand that Max is in the spotlight right now and everything is under a microscope. But that's the way it is."
Engine situation could cost Mercedes – Hamilton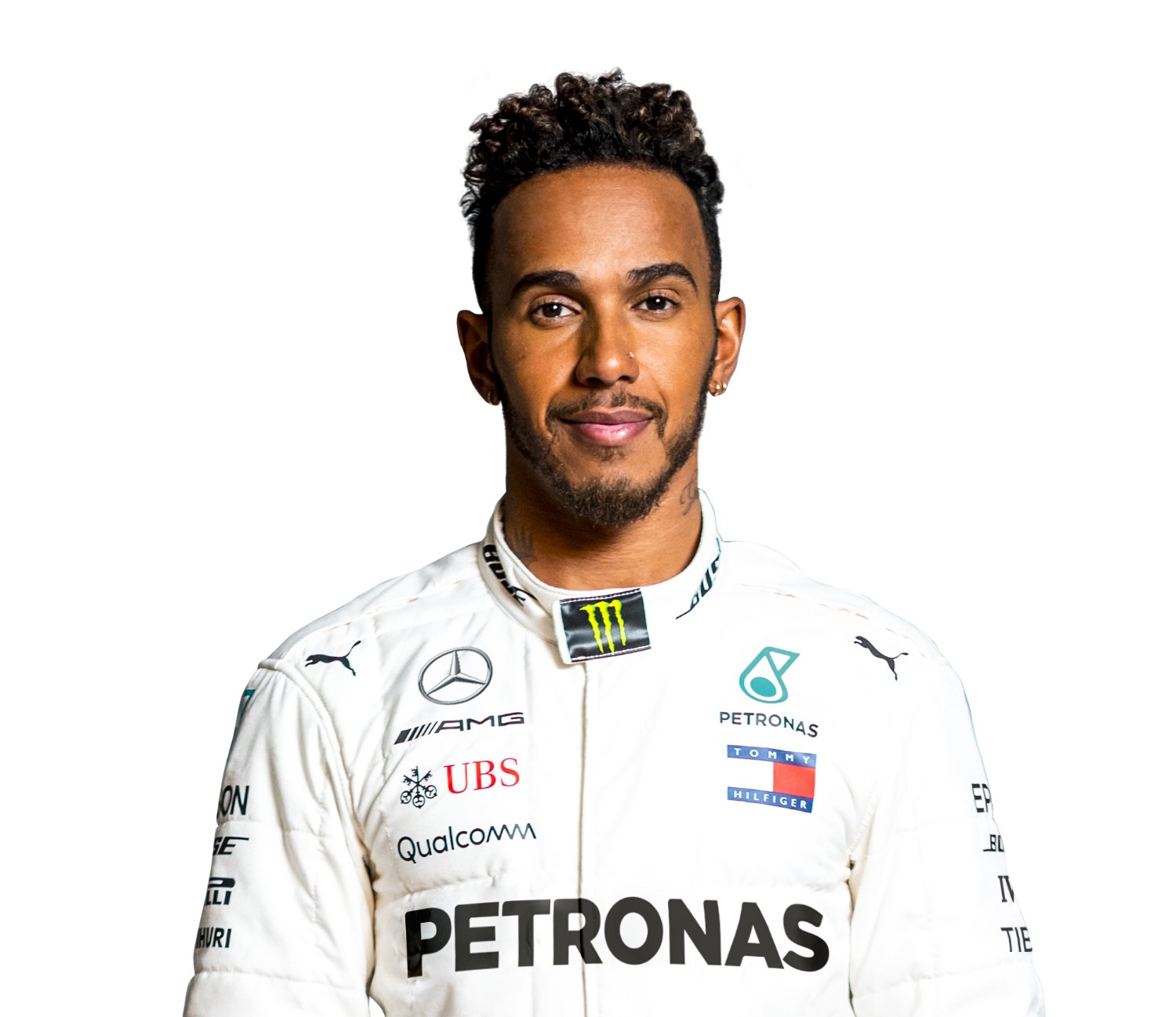 Lewis Hamilton will have plenty of power
(GMM) Lewis Hamilton sounded disappointed when journalists asked him in Montreal about Mercedes' engine situation.
Despite scheduling an upgrade for Montreal, the German marque has delayed it for a fortnight for quality reasons.
"The guys worked hard and gave everything, but in the end we had to take a sensible decision," world champion Lewis Hamilton said.
But he admitted the decision could cost him in Canada.
"It's now the seventh race with the same engine," said Hamilton. "With every mile you lose more and more power. And on a track like Montreal, the effects are even greater."
Not just that, his arch-rival Sebastian Vettel will benefit from a fresh and upgraded Ferrari power unit.
"If Ferrari has a fresh engine that has even more power, then that's one or two tenths and it becomes a difficult task to keep up with them," said Hamilton.
"As a driver, of course I'll try everything."
Vettel, meanwhile, played down any advantage he might have.
"I don't know what Mercedes has or what they gain or lose because of it," he said.
"But I'm sure that all teams eventually bring new parts. The important thing is not what we do here, but whether over the course of the season we develop the car better than the others."
Alonso not sure about next racing step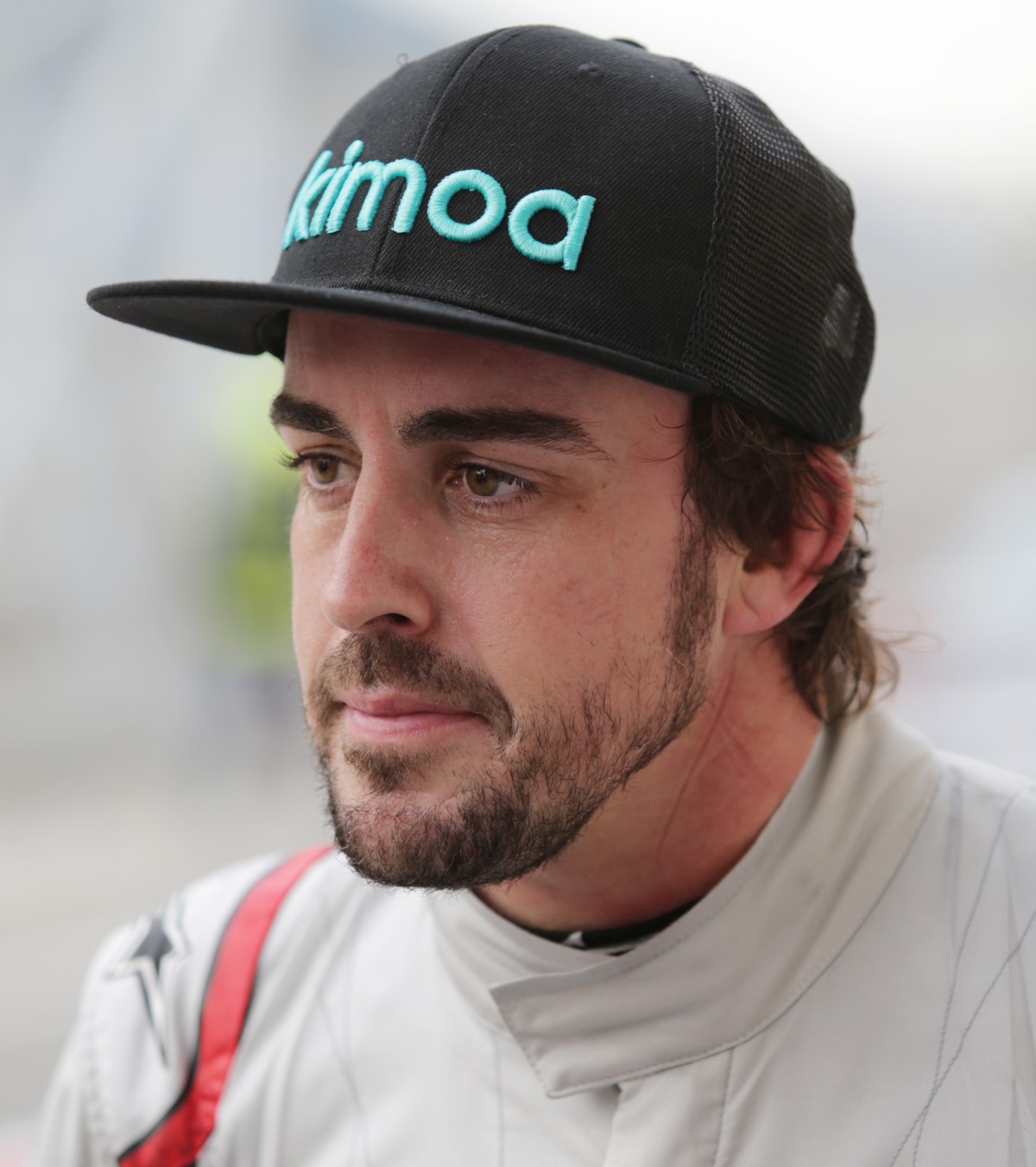 Alonso says he probably won't run next year's Indy 500
(GMM) Fernando Alonso says he is not finished with formula one — even though he admits he is not sure what will happen next.
Next weekend, the Spaniard will race at Le Mans, amid rumors he will then switch full-time to Indycar for 2019.
And he is constantly hinting that he is getting bored with F1.
"No, I'm not bored," the McLaren driver insisted in Montreal.
"Formula one is the top class and we all dreamed of being here when we started in karting.
"The truth is that in recent years, the results have become predictable. Canada is only the seventh race of 21, but we know perfectly well what will happen in the next 14. That's sad for the sport," Alonso added.
Alonso insisted, however, that he still loves racing, and "Last year I signed a multi-year contract".
And when asked if he will follow up his Le Mans tilt next weekend with another Indy 500 bid next year, he answered: "Probably not. I've hardly thought about it.
"I know the team is considering many different options, since the North American market is important for McLaren. Let's see how events will develop."
Alonso passes the 300 race mark this weekend in Canada, which is just a season short of Rubens Barrichello's record.
"When Rubens did that I thought that's a record for eternity," he smiled. "I never thought I'd get close. Will I still be here next year? Who knows."
Renault brings 'Halo mirrors' to Canada
(GMM) Renault is aiming to take a big step forward in Canada — including a new-spec engine, car upgrades, and Ferrari-like Halo-mounted mirrors.
Some are calling it a 'B' car, as the French outfit looks to cement its place as 'best of the rest' ahead of McLaren and Force India.
The most noticeable change in Montreal is the Halo-mounted mirrors.
"We had a first version but it did not comply with the regulations," said technical boss Nick Chester, referring to the sort of winglet design run recently by Ferrari.
More important to Renault are other upgrades and an engine with more power.
"We aim to finish the season half a second behind the best teams," boss Cyril Abiteboul is quoted by El Confidencial.
Candidates line up to replace Hartley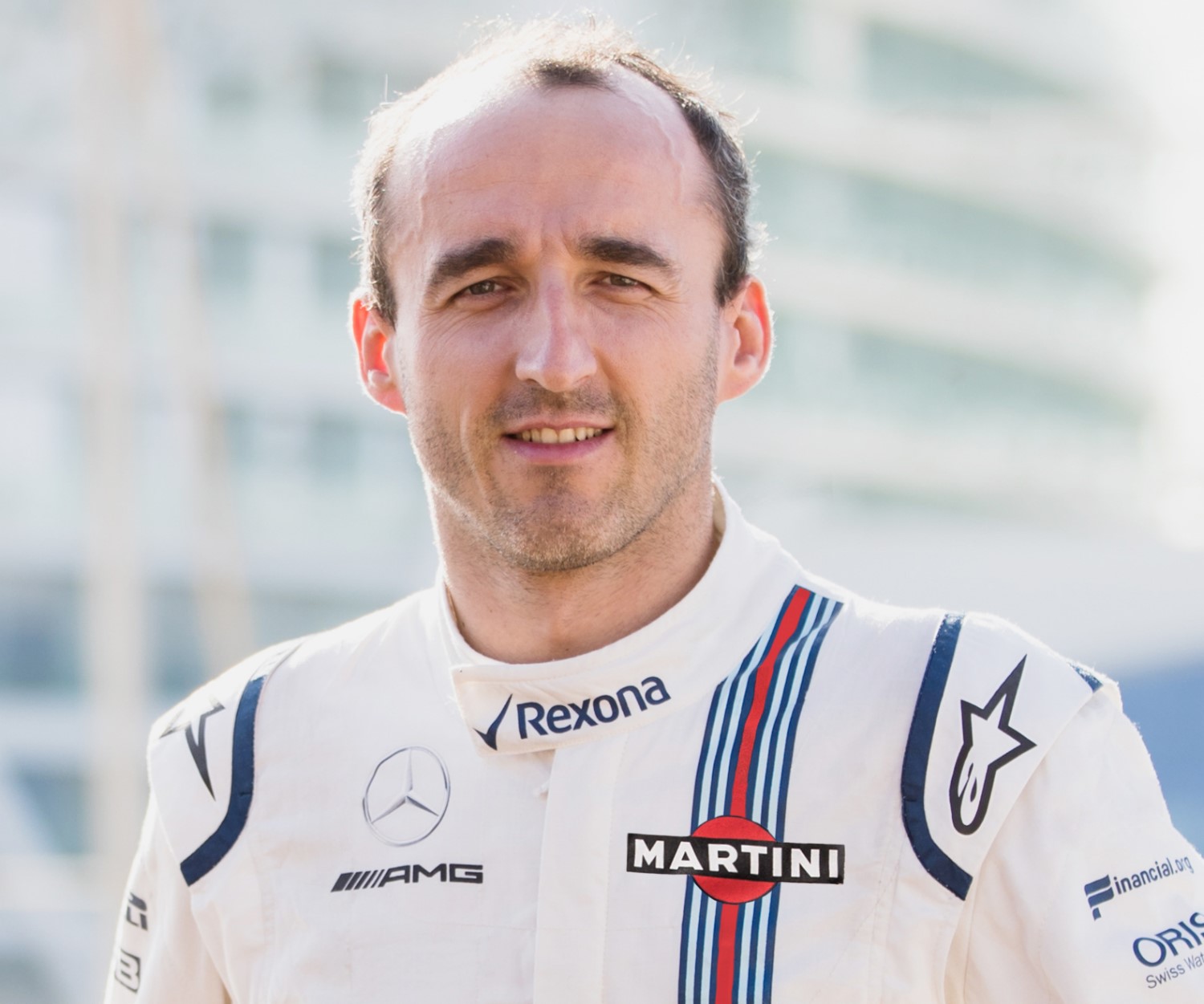 Robert Kubica. If someone's check is larger than Hartley's, Brendon is history
(GMM) The candidates may be piling up, but Brendon Hartley is for now sidestepping rumors he is set to be replaced at Toro Rosso.
In recent days, McLaren junior Lando Norris was linked with the Red Bull-owned team, as New Zealander Hartley struggles.
But another candidate could be Daniil Kvyat, who after his departure from Toro Rosso has suddenly turned up in the Montreal paddock.
"I've never been as well as now," the Russian is quoted as saying.
But sources indicate that Kvyat is merely in Canada as Ferrari's reserve driver, while Antonio Giovinazzi prepares for Le Mans.
Yet another candidate is Robert Kubica.
"I have some insider information, let's say it like that," Russian rally driver Aleksey Lukyanuk told SportFM.
"The manager of our team, who helps us with sponsors, used to work with Kubica. He says Robert is sparing no preparation for formula one."
But for now, Hartley says he is unfazed.
"This is the second weekend I've been asked about rumors," he said in Canada. "They're not worth commenting on. You always have them in formula one.
"I have a contract and I know the terms and I know what my speed and my abilities are. In Monaco I was not lucky in qualifying, but overall I had a good weekend.
"I haven't talked to Franz Tost but honestly I'm totally focused on the weekend and don't see the point of discussing what you want to discuss," Hartley added.
Haas drivers warned to avoid walls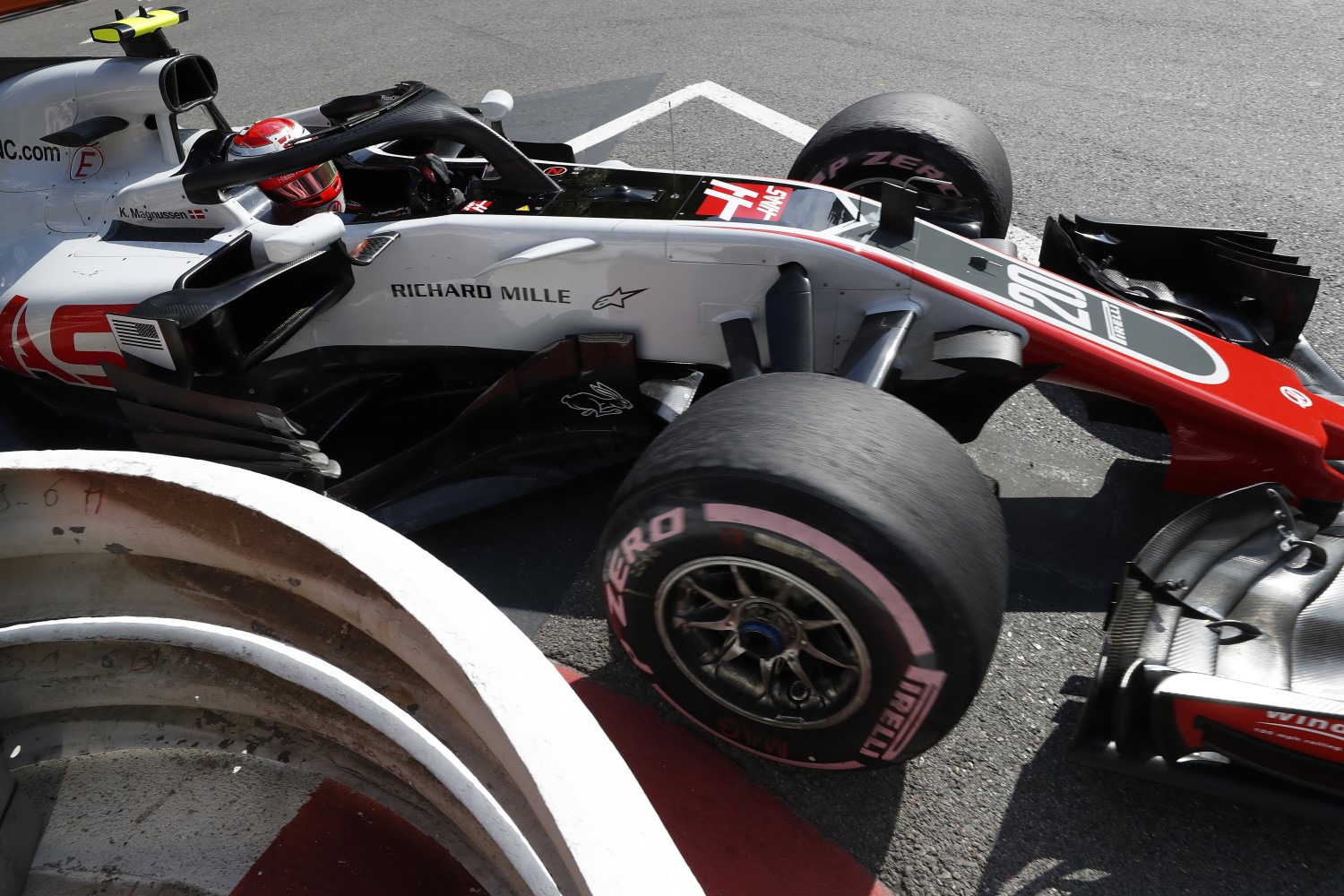 Magnussen close to barrier in Monaco
The parts store at Haas HQ is looking a little threadbare, according to Team Principal Guenther Steiner, and as a result he's given his drivers one guiding principle to get them through the Canadian Grand Prix: "No crashes this weekend!"
Haas's crash-strewn start to the season – in particular with Romain Grosjean, who had significant shunts in both Baku and Barcelona – has left a dearth of spare parts available to be bolted onto the Frenchman's and team mate Kevin Magnussen's VF-18s, with Steiner describing the spares situation as 'very lean'.
"The spare situation with old parts, it's quite bad," he said. "I think with the spares position we are in now, we had a few crashes lately, so that never helps you. And at the same time we were planning to do the upgrades, so you had both things going on and that's why you end up with no parts. It's one of those things."
So thin on the ground are Haas's spares currently that Steiner revealed that the team opted to remove certain parts in Monaco to avoid the risk of damage – something that would explain their lack of pace over the weekend, with Magnussen and Grosjean only managing to finish 13th and 15th places respectively.
"In Monte Carlo, we had issues. We had to take some parts off the car just not to lose them," Steiner said. "We were conscious to not put anything at risk. We know how much downforce we lost with that, so we can get back why we lost the time. It's not like, 'Wow, we performed bad and we don't know why'. We know why, and that's a good thing."
Despite the lack of spares, Haas are bringing a major upgrade to Canada, with Steiner cautiously optimistic about how the alterations would improve the performance of the VF-18, which has proven to be a rapid machine in certain conditions in 2018.
"Quite significant, I would call it," Steiner said when asked about the extent of the upgrade, which includes changes to the front wing and bargeboard. "But I'm always careful with updates because I've never seen a car in the middle of the season do magic. Our car is not bad. We just need to keep up with doing updates… because we need to develop."
Steiner cited Haas's relative newness – they only entered F1 in 2016 – compared to other teams as the prime reason they've ended up in the spare parts situation they find themselves in, and says it's an area they will prioritize going forward.
"Like everything, all the performances need to get better. We need to get quicker," he said. "It's a long process from aero development, to aero sign-off… to structural analysis to production, so… in that span of six to eight weeks, we need to find two weeks to get quicker so we can up the game. And that just comes with experience. We need to go through the learning phase there."
Verstappen loses cool during press conference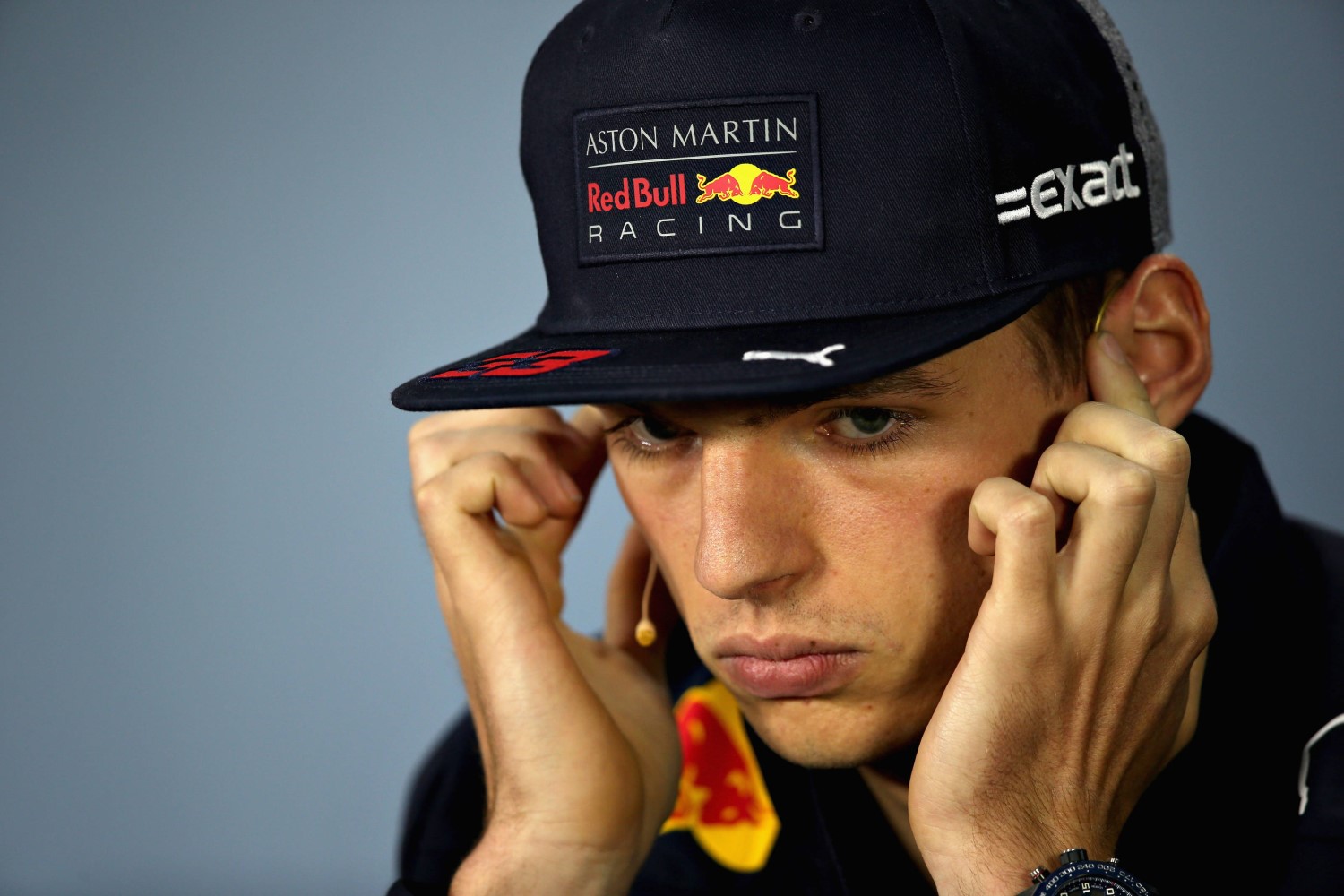 Max Verstappen lost all composure. Who or what will he hit this weekend?
Max Verstappen lost all composure Thursday after being asked to explain why he had crashed on six race weekends in succession.
"I'm getting really tired of all the questions," said the 20-year-old, who has fewer than half the points of Red Bull teammate Daniel Ricciardo ahead of Sunday's Canadian Grand Prix. "If I get any more I might head-butt someone."
The remark was not uttered in jest. Verstappen looked thunderous when reminded of his recent haplessness, which has cost his team crucial points in this year's battle for the constructors' title.
Verstappen took the suggestion that he should try a "modified approach", to use team principle Christian Horner's words, as a personal affront. "I'm tired of all the comments that I should change," he said. "I will never do that, because it brought me to where I am right now." Asked what he needed to do in Montreal to avert a repeat, where the Circuit Gilles Villeneuve's infamous 'Wall of Champions' awaits the unwary, he replied: "Not hit the wall. It's a simple as that. I guess it's just a little bit more finesse. Sometimes s— happens."
The Dutchman's litany of misjudgments means that with less than a third of the season gone, he already trails championship leader Lewis Hamilton by 75 points. Canada offers him scant hope of a reprieve, with this track's long straights likely to leave Red Bull, whose cars are best in high-downforce conditions, struggling behind Mercedes and Ferrari.
Accepting that the task would be daunting without a major performance boost from engine suppliers Renault, he said: "It's very hard. You could see in Monaco that we have a great car and it's very unfortunate that we don't have the top speed to compete all the time." The Telegraph