Pagenaud visits DXC Technology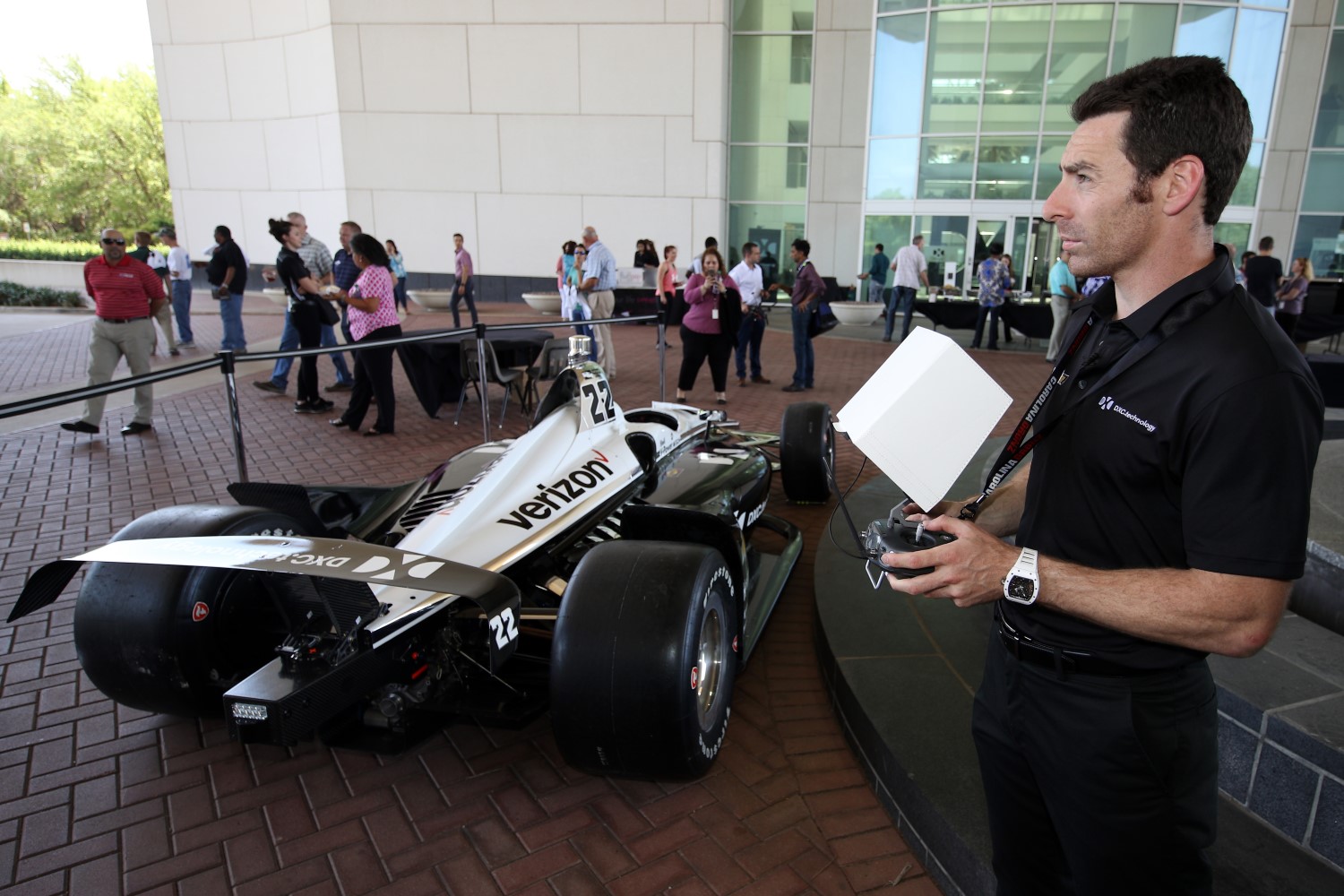 Pagenaud at DXC Technology
Team Penske driver Simon Pagenaud, the 2016 Verizon IndyCar Series champion, was the special guest Wednesday for an outdoor employee event to celebrate the partnership between DXC Technology and Texas Motor Speedway.
DXC Technology, also a sponsor of Pagenaud on his No. 22 Chevrolet, will debut as the entitlement sponsor for Saturday night's DXC Technology 600 Verizon IndyCar Series race at Texas Motor Speedway.
"It's a dream kind of relationship," Pagenaud said. "DXC Technology is going to be the main partner on the race track this weekend at Texas Motor Speedway, which is a first, and I'm going to (have them on my) car, so it's a very exciting event."
A few hundred employees were on hand for the event at the Plano office of the world's leading independent, end-to-end IT services company with some 137,000 employees worldwide. They were treated to an autograph session as well as Q&A with Pagenaud, promotional giveaways and a drone flying exhibition by the Team Penske driver.
A large number of DXC Technology employees are expected to attend the race, which also will include a special pre-race track walk for them. Employees had the opportunity to purchase DXC-branded race t-shirts at the employee event with the proceeds benefiting Speedway Children's Charities-Texas.
The Highlight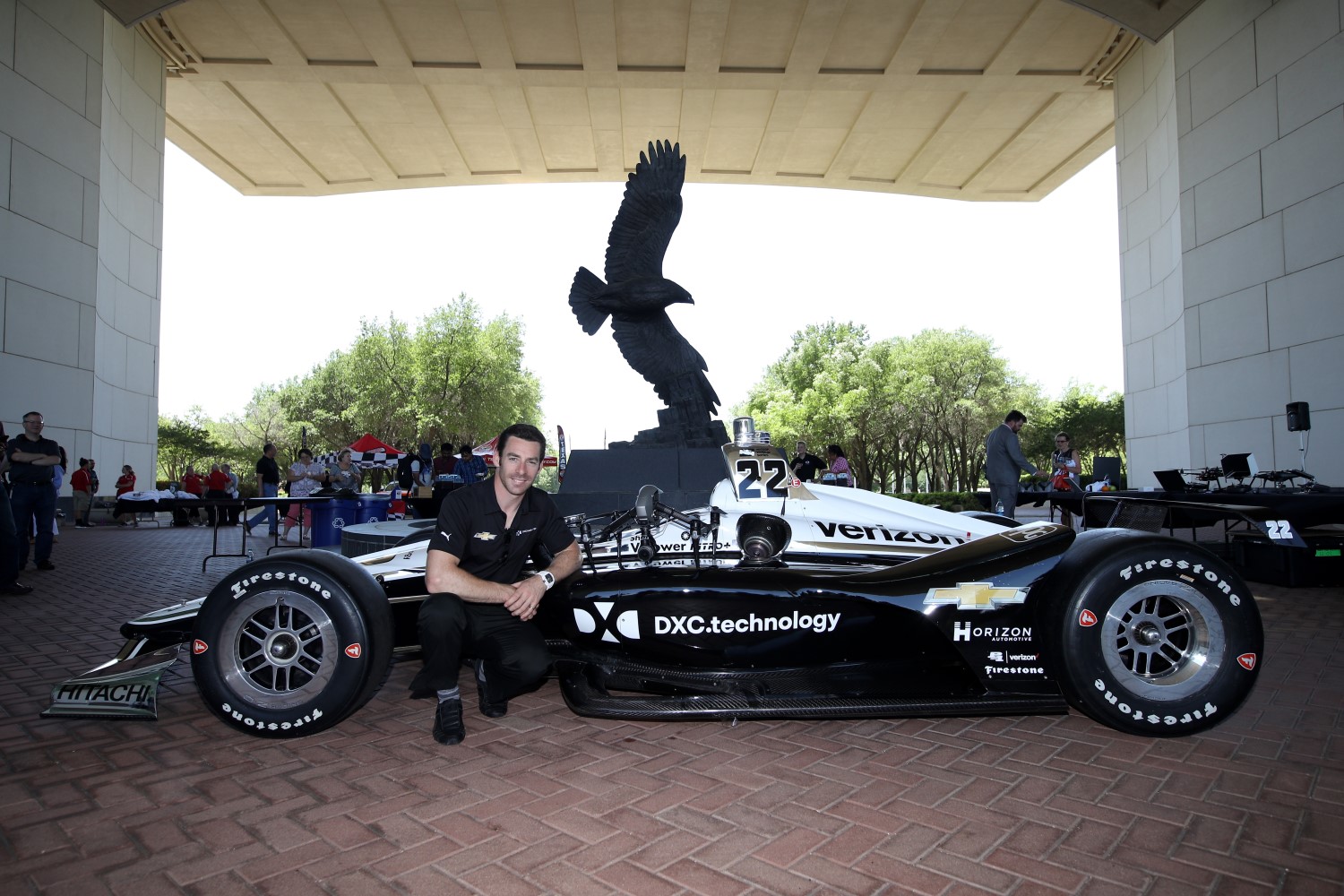 Simon Pagenaud
Pagenaud is accustomed to the technology of an Indy-car, but during his visit he had the opportunity to fly a drone. He maneuvered the drone as deftly as his No. 22 DXC Technology Chevrolet on Texas Motor Speedway's ultra-fast 1.5-mile oval.
"You get to see everything that you'd see if you were on the drone," Pagenaud said of the experience via the drone camera. "It was a lot more stable than I would have imagined and quite easy to fly, really. … It's amazing. I get to do things that I would never imagine I would do as my job. It's quite enjoyable."
Several different drones were on display as DXC Technology is leveraging drone technology to deliver the green flag for Saturday night's DXC Technology 600 (7:45 p.m. CT green flag with pre-race show beginning at 7 p.m., NBC Sports Network).
The Inspire 2 drone will be used for the delivery of the green flag to Honorary Starter Dan Hushon, Senior Vice President, Chief Technology Officer for DXC Technology. The Inspire 2 model has the ability to accelerate from 0 to 50 mph in just five seconds and has a maximum speed of 58 miles per hour.
The drone, which will take off in Turn 3 at approximately 7:34 p.m., will fly through Turn 2 and then Turn 1 before heading down the frontstretch for the flag delivery on the DXC Technology 600 ballfield logo.
"I'm super excited about it because drones show you a different picture than what you're used to," Pagenaud said. "We need to evolve and see something different. We need youngsters to be interested in what we do. If we don't evolve with the society, we're going to be forgotten. This is great news to have the drone carry the flag for the start of the race. I'm really excited to see that happening and that we're allowing new technology to be a part of racing."
DXC Technology, the world's leading independent, end-to-end IT services company, also is pushing the edges of drone technology to explore practical, integrated, business uses.
The company also has produced a drone that has autonomous navigation, voice-activated command capabilities, and 3D landscape reconstruction — all driven from the cloud. The DXC drone is considered to be the world's first with commercial implementation of voice-control. DXC has partnered with what3words to translate GPS coordinates into unique three-word addresses, enabling a licensed drone operator to voice-activate a drone to fly with precision, anywhere in the world.
What They Are Saying
"It's excitement. When you go racing, you mostly want the emotion to be positive. I've never been in this situation before, but it's phenomenal. Three thousand people (from DXC) are coming to watch the race, which is an incredible turnout. Way more than we expected. That really shows that racing is relevant to a lot of people. When you can put your brand on the car and go sit at the race track and it's being sponsored by your company, it makes a big difference." – Simon Pagenaud on his sponsor DXC Technology being on his car as well as the title sponsor of Saturday night's Verizon IndyCar Series race at Texas Motor Speedway.
"Obviously, DXC is a high-technology company that can help us with analytics and data, which is a big part of our industry these days. All the people that we saw today is part of our success at Team Penske and it's very easy to relate to what they do and explain what I need from them at the race track. It's an incredible relationship and really easy to talk about for me." – Pagenaud on the benefits of having DXC Technology as a technical partner of the organization.
"Texas Motor Speedway is one of my favorites. It's very difficult. There's a lot of banking. It's the highest-banked track that we go to. The Indy cars are quite difficult to drive, very slippery. But the advantage of that track is there are different lanes that you can run so you're not boxed in. I love that aspect of it. It's one of my favorite tracks, so I want to win." – Pagenaud on looking forward to Saturday night's DXC technology 600.
Fast Fact
Team Penske owns a track-record nine victories at Texas Motor Speedway, the most recent coming last June when Will Power won the 248-lap event under caution over Tony Kanaan.
Power's teammate Simon Pagenaud has yet to win at Texas Motor Speedway in six career starts, but has enjoyed success along the way. He has three top-four finishes in his last four visits, including a personal-best of third last June.
The Team Penske winners at Texas Motor Speedway consist of Helio Castroneves with four, Power with two and Ryan Briscoe, Sam Hornish Jr. and Gil de Ferran with one each.
Seven of those victories have come in the last 13 races, dating to 2006.
Notebook
Pagenaud currently is 10th in the Verizon IndyCar Series championship heading into Saturday night's DXC Technology 600. Pagenaud owns five top-10 finishes in eight starts this season, including a best of sixth coming at the Indianapolis 500. He is coming off this past weekend's doubleheader at The Raceway at Belle Isle Park in Detroit, where he finished 17th on Saturday and 10th on Sunday. … DXC Technology also has a notable presence in the Verizon IndyCar Series with Team Penske. In its first season as a motorsports sponsor in 2017, DXC Technology became a partner with Team Penske and Pagenaud. DXC Technology extended its partnership for 2018 with the company serving as the primary sponsor on Pagenaud's car for six races, including the DXC Technology 600, and as an associate sponsor on the remaining races for the No. 22 team. The company also provides Team Penske with technology support.