Latest F1 news in brief – Tuesday
The larger wheels will NOT make the racing better, so look for the F1 rules makers to insert their heads and make the change

F1 could have bigger wheels by 2020

Williams will not give up – Claire Williams
Canada GP not worried about Miami
F1 'wants to go to Vietnam' – Carey
F1 is 'core business' for Mercedes – Wolff
Ricciardo facing penalty in Canada – Newey
Canadian GP circuit gets third fake passing zone
F1 could have bigger wheels by 2020
(GMM) F1 could switch to low-profile, 18-inch wheels by 2020.
That is the claim of Auto Motor und Sport, reporting that the change could come a year earlier than the revolutionary new car regulations being planned for 2021.
That's because Pirelli's contract runs out at the end of next year, with potential rival brands wanting to become the sole tire supplier needing to lodge their interest this month.
18-inch wheels would match the "futuristic" image of F1 cars that Liberty Media wants for 2021.
"We once had product designers draw cars of the future," said Pat Symonds, who is heading the group that is coming up with the 2021 rules.
"I assume that in the end we will get something in the middle."
Pirelli looks set to be making plans of its own for 2019 as well, having acknowledged that the tires this year could be improved for better racing.
"One of the problems is that the soft, supersoft and ultrasoft are very close together," Pirelli's Mario Isola admitted to Italy's Autosprint.
"For next year we are working on different compounds to have a bigger gap and create the famous crossover that allows you to have different strategies," he added.
Williams will not give up – Claire Williams
Claire Williams will not give up as long as Daddy Stroll is bankrolling the team
(GMM) Williams is not giving up, despite sitting dead last in 2018.
The once-dominant British team has hit the skids this year as inexperienced drivers Lance Stroll and Sergey Sirotkin struggle with a poor car.
Team deputy Claire Williams denies Williams took too much risk with its 2018 design.
"We did not approach the season thinking we were going to win," she told La Presse.
"We are not naive. We all know deep down that competing with Ferrari, Mercedes and Red Bull – with the constant progress they make, with the budgets, the staff and all the resources they have – is a colossal challenge," Williams said.
"I think we had realistic goals, so to speak now of immense disappointment would be an understatement. But it's not the end of the world. It's sport and all teams have ups and down.
"Now we have to dig a little deeper, work harder, make the changes where they are needed and move forward," added Williams.
Williams denies that being a new mother is complicating her task of leading the team out of crisis.
"It's difficult, but I'm not the first mother to hold an important position and those who preceded me did well," she said.
"It's mostly a question of organization and time management."
And so she said her sporting priority is to lead Williams out of its current situation.
"It's the way you react to a situation that makes the difference," said Williams. "It's not going well? You shake off the dust and move forward, preparing for the next race, the next season.
"We will fight. Be sure of that."
Williams said she is confident in Williams' technical boss Paddy Lowe, even after two of his crucial deputies, Ed Wood and Dirk de Beer, recently left.
"We have a very clear plan of what to fix," she said. "Some changes will be made quickly, others will take longer. But we know where we are going and I can assure you that our ambitions remain very high."
Canada GP not worried about Miami
Canadian GP promoter Francois Dumontier (L)
(GMM) Canadian GP promoter Francois Dumontier says he is not concerned that Miami looks set to join the F1 calendar next year.
F1 chief executive Chase Carey said: "We have never hidden that we want to develop F1 in the United States and eventually we would like several races there.
"We also believe there is growth potential in China."
Following criticism of the recent Monaco grand prix, Carey insisted that races like the one in the Principality are "the foundation" of the sport.
"As far as I am concerned, Europe will always be the basis of the world championship calendar," he is quoted by La Presse.
"But we must also ensure the profitability of F1 and we cannot neglect the United States and China, the two largest markets in the world."
The arrival of Miami, however, might make Montreal's Dumontier nervous about too many local races diluting interest.
But he said: "It would be different if F1 landed in my yard, in New York for example, because then we'd be competing for the same Northeast market. But we're talking about Miami and the West Coast."
New York is on Liberty Media's wish-list for the future, but Carey at least said he doesn't want to push out the calendar beyond March-November.
"The season is very busy from March to November and we certainly do not want to extend it," Carey said. "However, there are ways to organize things differently so that the teams do not have a surplus of work to do."
F1 'wants to go to Vietnam' – Carey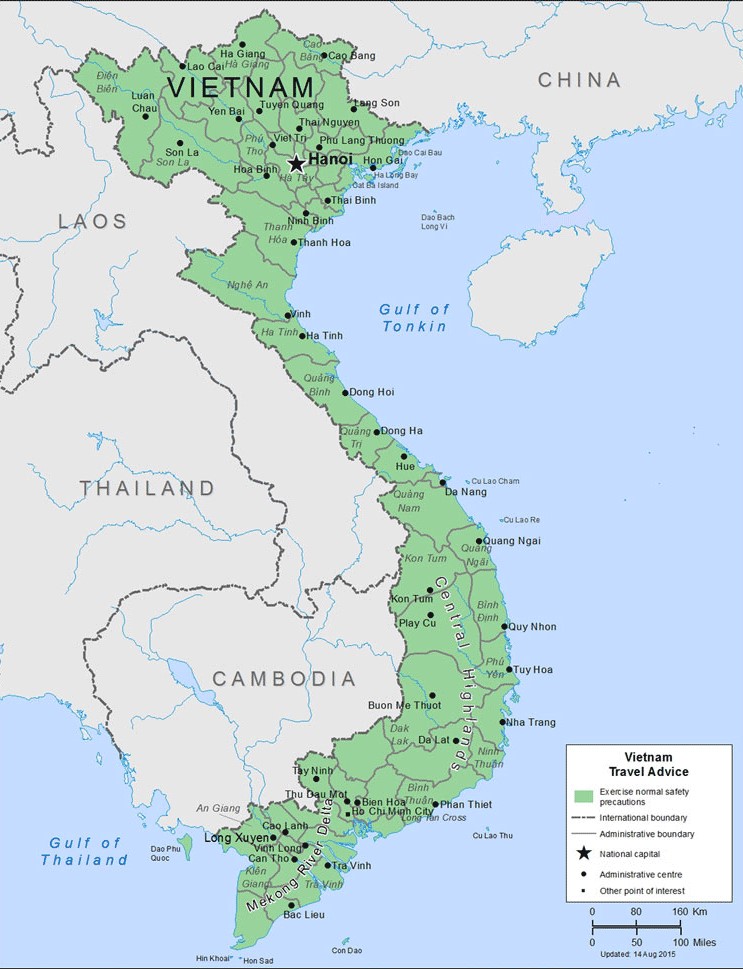 F1 will go anywhere they can find a government to pay
(GMM) Vietnam looks set to join Miami as a new grand prix on the calendar in the near future.
Liberty Media's Chase Carey has said he wants Europe to remain the bedrock of F1 whilst expanding further into America and Asia.
"Vietnam is a very exciting country," Carey is quoted by L'Equipe as saying at an event in Manila.
"It's a country that speaks to our imagination and we want to go there."
It is believed that while Miami will join the calendar next year, Vietnam will follow in 2020.
Carey also said Liberty Media wants to look at the existing races on the calendar and improve them.
"First of all we want to make sure they are suitable tracks for great racing," he said.
"Realistically, there are circuits where we probably need to intervene."
F1 is 'core business' for Mercedes – Wolff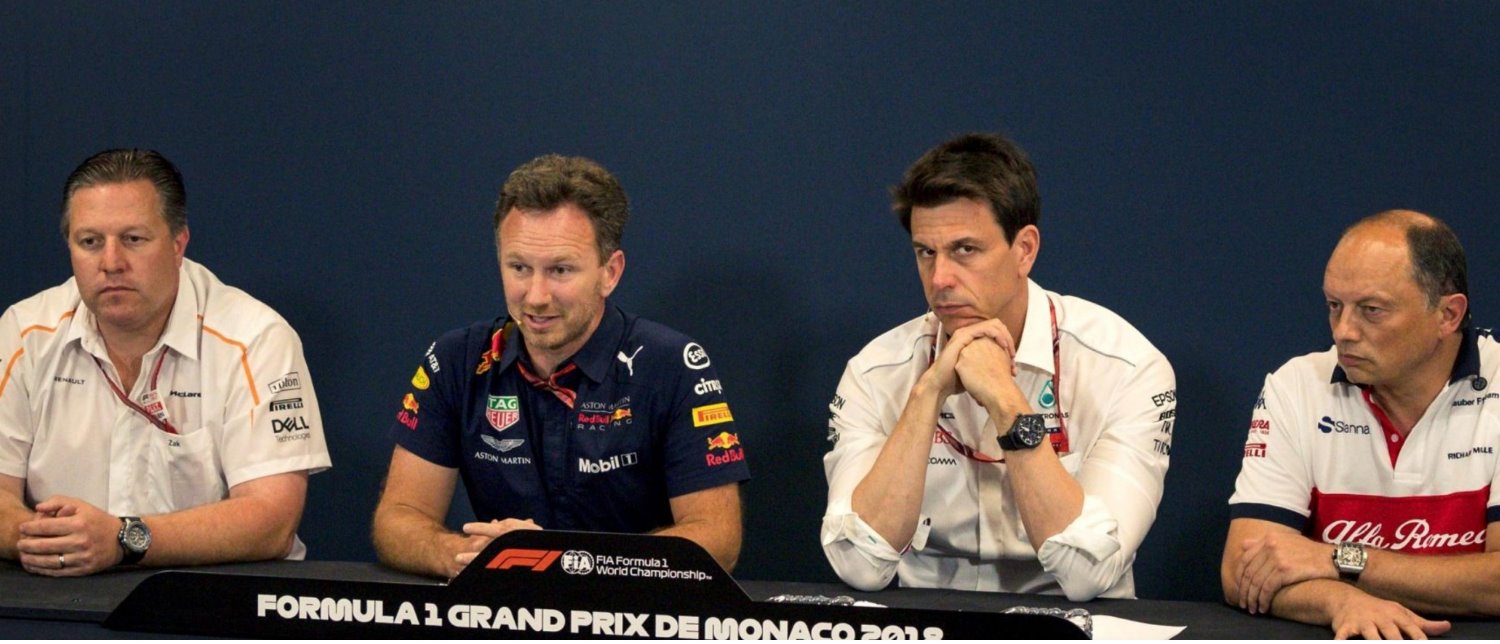 Wolff, 2nd from right, says Mercedes has no intentions of leaving F1
(GMM) Toto Wolff has steered Mercedes away from speculation it could join Ferrari in quitting F1.
Amid the dispute over the 2021 rules with Liberty Media and the FIA, Ferrari clearly threatened to pull out of the sport.
Mercedes, on the other hand, has been supportive of Ferrari but stopped short of issuing a clear quit threat.
Now, team boss Wolff says: "Formula one is part of our core business.
"It's not just a marketing platform for us. There is a direct technology transfer and we associate sport with our brand.
"So we want to stay, because it's the only true global platform that counts for us," Wolff told Auto Bild.
However, Mercedes is joining the ever-growing Formula E series, which some think could one day replace F1.
Wolff insists: "Formula one is clearly the top class in racing. But electrification is happening and it's a good message for every brand.
"Three years ago, I would not have given Formula E a chance, but that has changed. It addresses a young, urban target group. The organisers have done a good job. For us it's like a start-up we're interested in.
"But it is complementary to formula one for us, not a competition to F1," he said.
Ricciardo facing penalty in Canada – Newey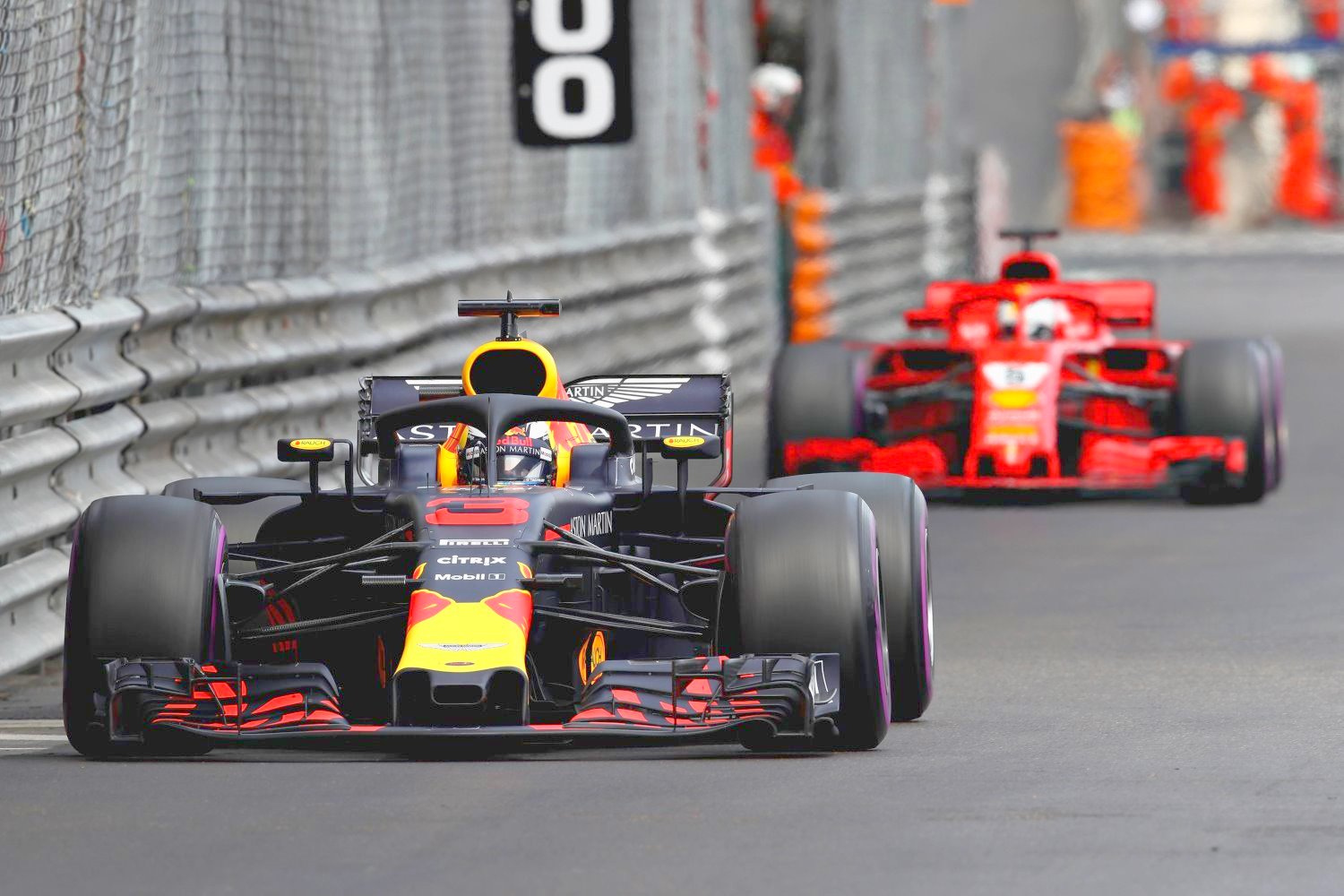 Ricciardo had a fried MGU-H unit in Monaco and still the other drivers could not pass on the Mickey Mouse circuit
(GMM) Daniel Ricciardo may not have escaped the threat of looming penalties this weekend in Canada.
Last week, we reported that after the Red Bull driver nursed his malfunctioning MGU-K unit to victory in Monaco, the technology seemed to have survived.
"It looks like there will be no grid penalty for us in Montreal," Dr Helmut Marko confirmed.
But Adrian Newey, Red Bull's technical boss, does not agree.
"He's probably going to have a penalty in Montreal, but we don't know how many places," he is quoted by France's L'Equipe.
"Depending on whether the battery has been touched or not, the penalty could be heavier," Newey added. "We are waiting for news from Renault, but the MGU-K will be replaced for sure."
Canadian GP circuit gets third fake passing zone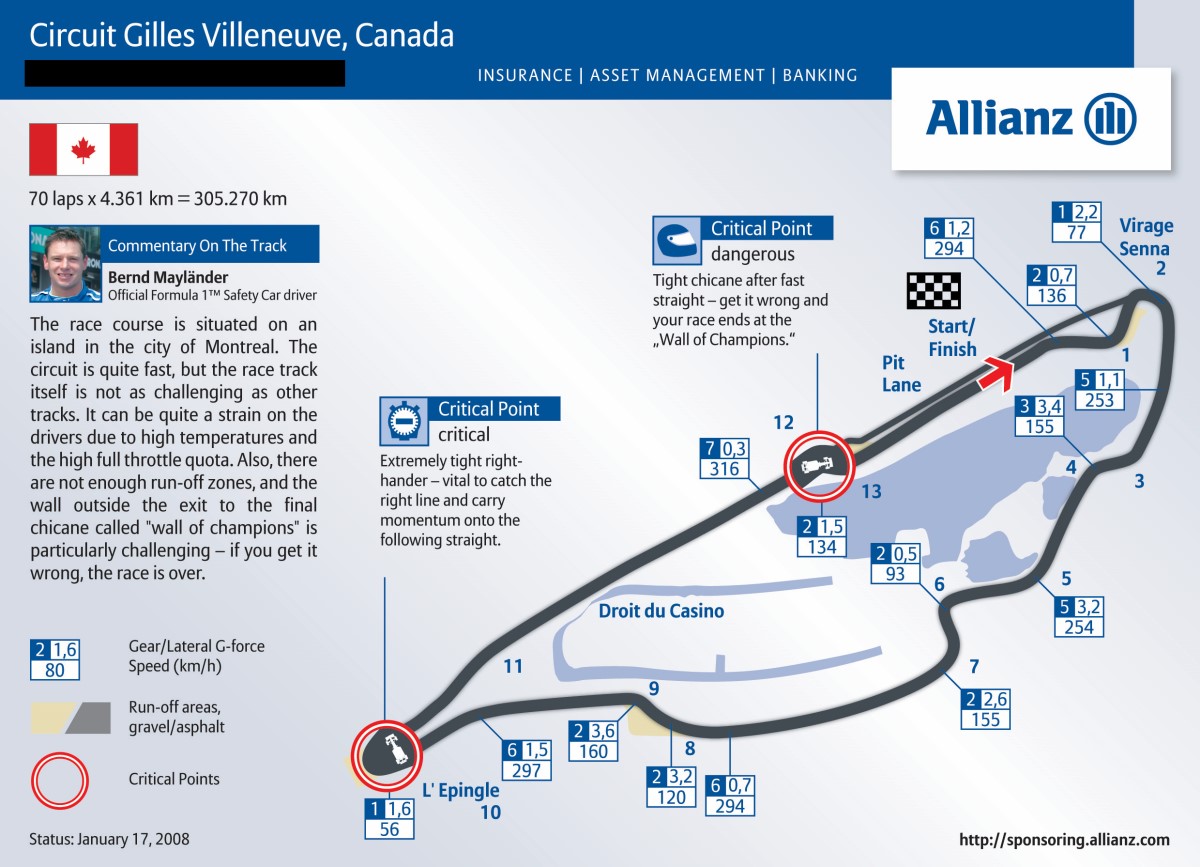 Montreal gets a third fake passing zone
With their wider tires and higher downforce, F1 drivers can hardly pass anyone. So the FIA has added a third DRS zone at the Circuit Gilles Villeneuve in Montreal in a bid to further boost fake-overtaking in Formula 1's Canadian Grand Prix.
With motor racing's governing body eager to do all it can to improve the spectacle this year, an extra DRS zone will run on the straight between the Turn 6/7 and Turn 8/9 chicanes on the far side of the Montreal circuit.
This new area is in addition to the traditional DRS zones down the long straight into the final chicane, and the subsequent start/finish straight.
F1 race director Charlie Whiting said that the FIA was not scared to experiment if there was a chance it could help make a better show with fake DRS zone adjustments.
Speaking in Australia about the extra zone there, Whiting said: "It was just to offer something else. We will try and do something more effective at other tracks where there's more opportunity to do that."