Sunday Morning Update from Detroit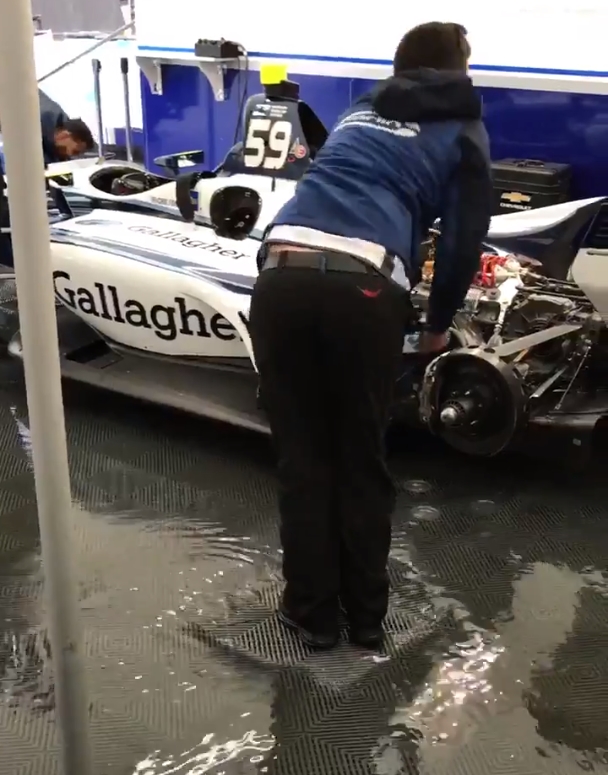 A Carlin mechanic stands in water that has flooded their transporter in the paddock area
UPDATE
It has just been announced that qualifying is still on schedule, even after the downpour we had 15 minutes ago. The rain has stopped. AR1 will go out to the grid and hope that we get to see the new rain tire on the track.
06/03/18
Good morning from Belle Isle. It is a quiet morning with only the two seater on the track. The IMSA series has cleared out and the first thing on track today is the IndyCar Qualifying at 10:45 am. Which is right about the time that rain is predicted. The skies were sunny and it was 60 degrees when I woke up but now the dark, raining producing clouds have moved over the island. They have just issued the inclement weather warning and have suspended all track activities until the weather has passed. And the rain fell heavily for about 15 minutes.
We might get to use the new rain tire for qualifying but the remaining weather for today is 75 degrees for the high with no precipitation after the morning rain fall.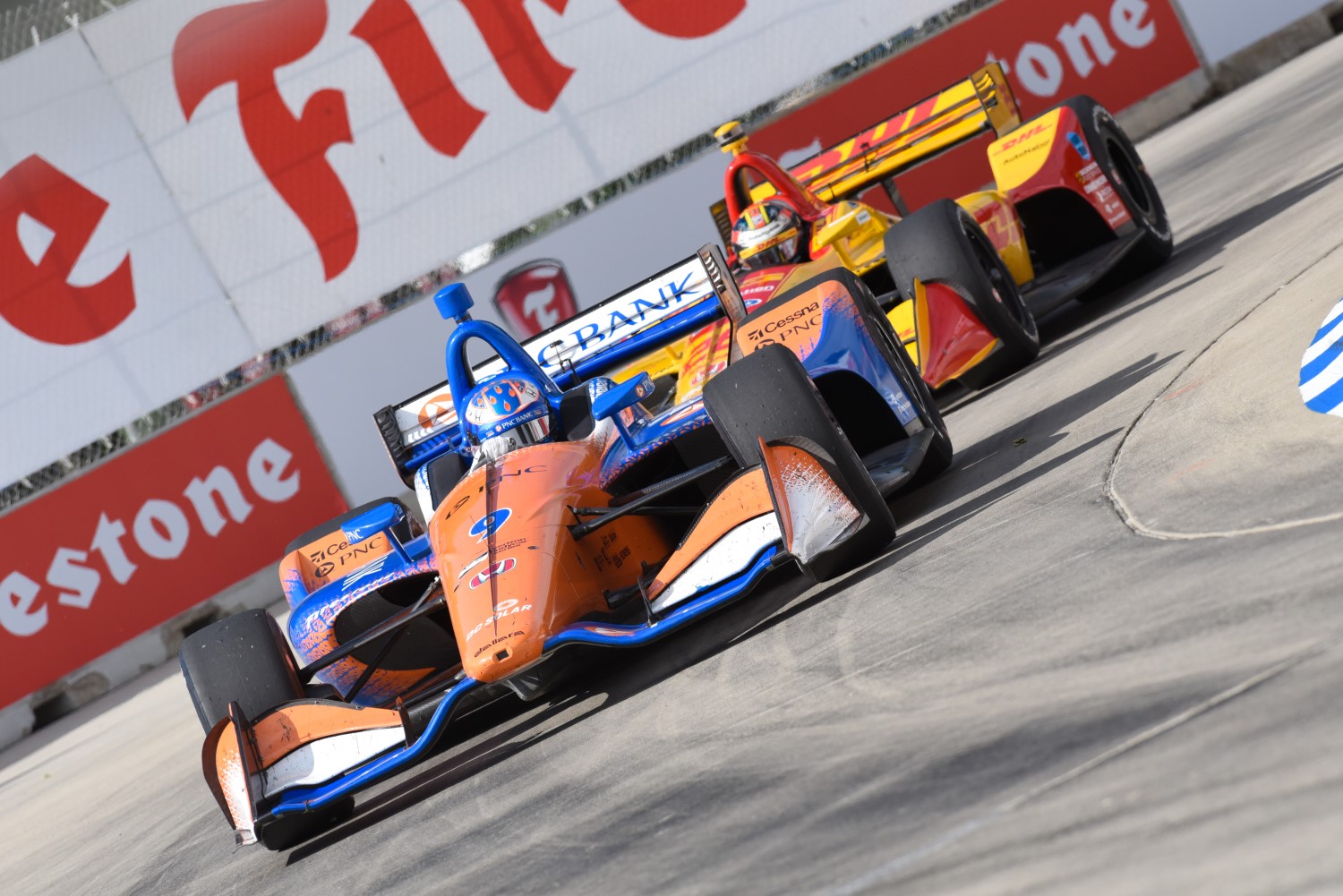 Dixon Edged out Hunter-Reay in Race 1
Scott Dixon, driver of the number 9 PNC Bank sponsored entry for Ganassi Racing, held off the Andretti Autosport team to score a win on the island. The 37 year old New Zealander talked about his win to the media. "It's always nice (to win). I think right now, with the competition in the Verizon IndyCar Series, it's just through the roof. If you look back a few years, you can sort of run off five or six victories in a season, and it seems those days are pretty much gone.'
"I'm super proud of everybody at Chip Ganassi Racing, and obviously PNC Bank's first victory. Finishing third in Indy is nice, but really people only care about who wins at that place, so it's always tough leaving Indianapolis unless you've won. But it's always nice to rebound strong in Detroit. Honda has done a superb job, Top six for them here in the Motor City is a pretty big deal and congratulations to them. We're going to come back and do it all again tomorrow. Would have been nice to celebrate a bit tonight."
With this win, Dixon collected his 42nd victory of his career. The four time IndyCar champion is now tied with Michael Andretti on the all-time list and leaves only fellow legends A.J. Foyt (67 wins) and Mario Andretti (52) ahead.
The Andretti teammates, Ryan Hunter-Reay, who finished second, and Alexander Rossi, who finished third, have a new directive to keep Dixon from passing their team owner's record. Disappointed that they did not add the win to their resume, the two drivers had this to say about Dixon.
Alexander Rossi commented, "It's in our job description and contract to make sure he (Dixon) does not pass Michael."
Hunter-Reay added, "That's our job now. That's what we're going to talk about every morning, not to let him pass Michael."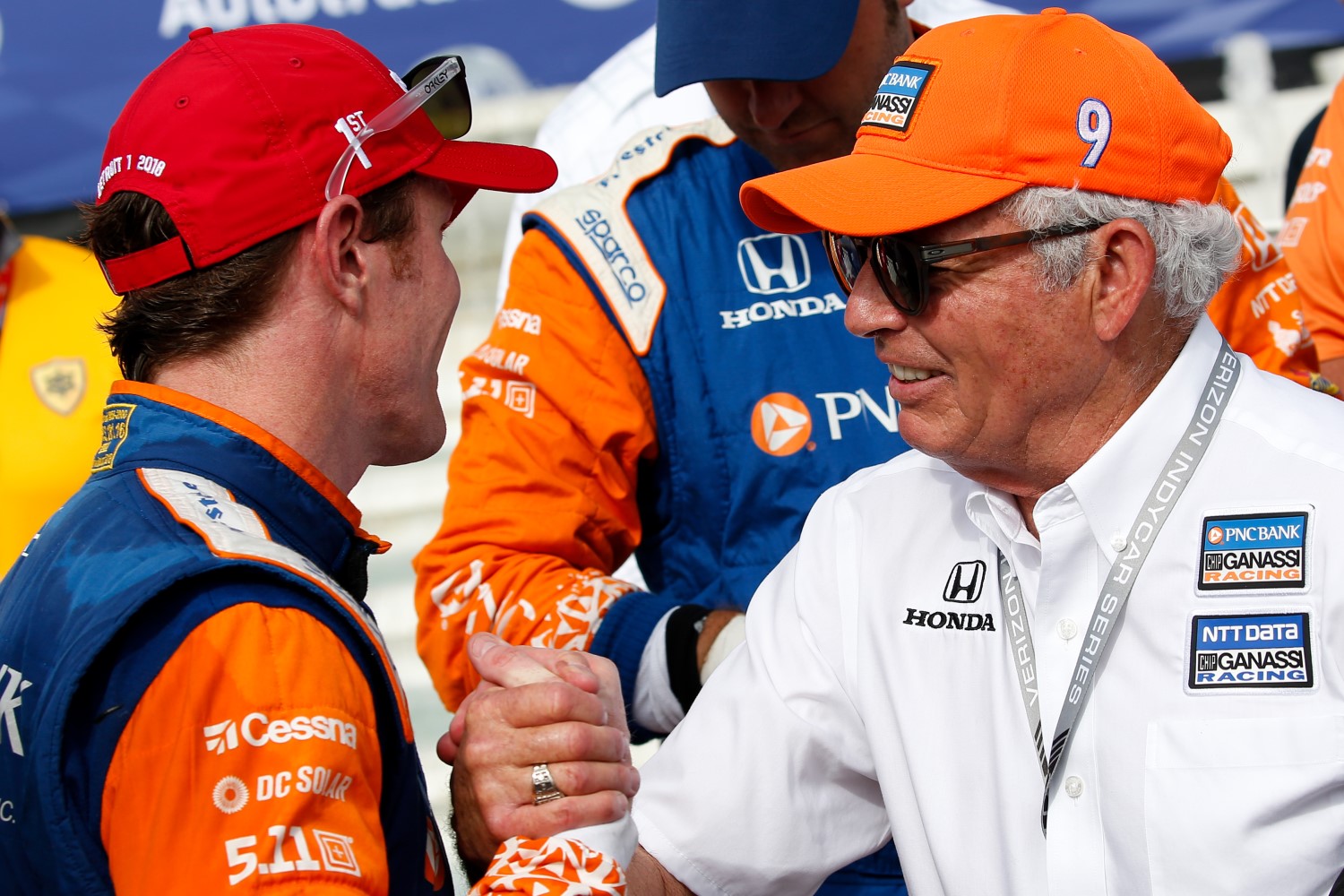 A Happy Mike Hull
AR1 spoke with Larry Foyt, who is still kinda glowing about a strong running at Indy. He confirmed what had been commented earlier, that the Honda motors have more drivability" than the Chevy motors. None of that matters on an oval (like next week at Texas) but certainly at a place like Detroit, where throttle control is key, it really matters.
Detroit is an eye-opener to Rene Binder also. Nothing in GP2, or anything else in his career, prepared the Austrian for the bumpy, slick surfaces of Detroit. Binder is running for Juncos this weekend. He's not sore yet, but he's got another race to go this weekend, and this one might just be on wet pavement. He crashed his car during practice, and finished 21st yesterday, 3 laps down.
Lucille Dust and Tim Wohlford reporting live from Belle Isle