Mercedes dominates at the Hungaroring: Di Resta wins from Auer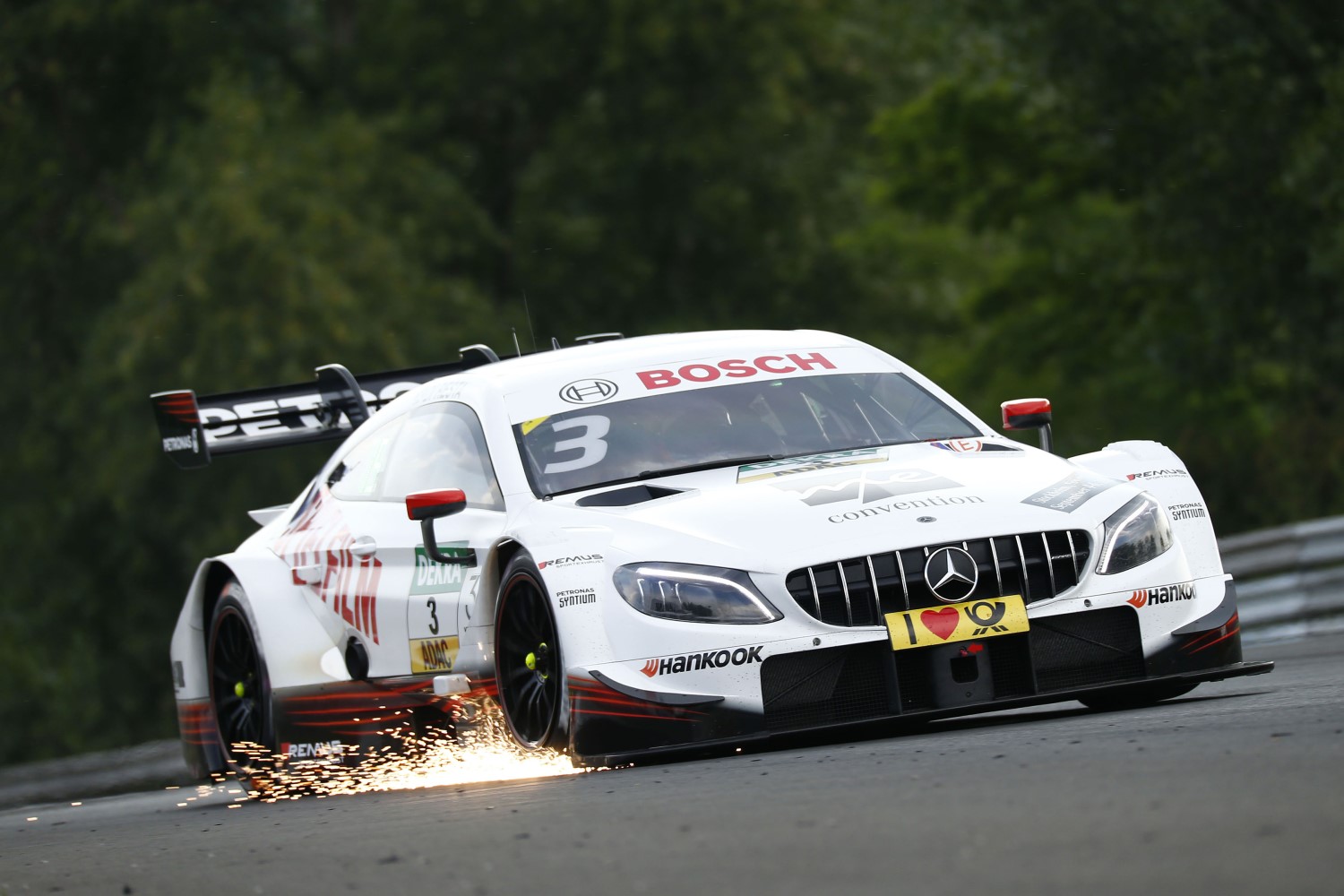 Winner Paul di Resta
Great joy for Mercedes-AMG at the Hungaroring in Hungary: Paul Di Resta won the race on Saturday, the fifth of this season's 20 DTM races, ahead of his fellow Mercedes-AMG driver Lucas Auer. Di Resta had started the race from pole position, but briefly lost first place to the Austrian in the opening stages of the race. Some ten laps later, he claimed back the lead and was first across the finish line. Audi's Nico Muller claimed third place in the first race of the 2018 season outside of Germany. Defending champion Rena Rast (Audi) made his comeback after his heavy accident at the Lausitzring a fortnight ago with fourth place. BMW driver Timo Glock, who came to Hungary as the leader in the drivers' standings, took the checkered flag in 14th place and thus didn't score any points.
"When starting a race from pole position and then winning, there is certainly no reason to complain," race winner Di Resta said after the finish. "The few drops of rain on lap two didn't make us nervous and eventually, the weather remained stable. But even if rain would have set in: our car is strong in wet conditions, too." At the same venue, exactly 350 days ago, it was the last time to date for Di Resta to celebrate from the top step of the podium. He won at the Hungaroring on 18 June, 2017. Auer, who finished 0.587 seconds down on the winner, was also happy. "The small gap says it all," Auer explained. "Now, we are looking ahead to tomorrow. I don't know why, but the Sunday is always more difficult than the Saturday."
Turnaround for Audi
With his first points of the season, Muller led the way in the turnaround for Audi. "Qualifying was rather surprising. We have made a big step forward. Tomorrow, we are in with a good chance once more. We will try everything," Muller said.
After this race, BMW is also hoping for a turnaround as, for the first time this season, none of the drivers of the Munich-based brand managed to score any points in the race on Saturday. Bruno Spengler was the best-placed BMW driver in twelfth place.
In the DTM drivers' standings after five of this season's 20 races, Gary Paffett is now in the lead. He added eight points to his total, now amounting to 79, and thus moved ahead of Glock, who is second with 72 points. Race winner Di Resta is third with 56 points.
Action at the Hungaroring continues on Sunday already. The sixth race of the season starts at 13.30 hrs. The sessions will be streamed live at DTM.com/live and in the DTM apps for iOS and Android.