Tony Buffomante Edges Gar Robinson for Detroit Trans Am Pole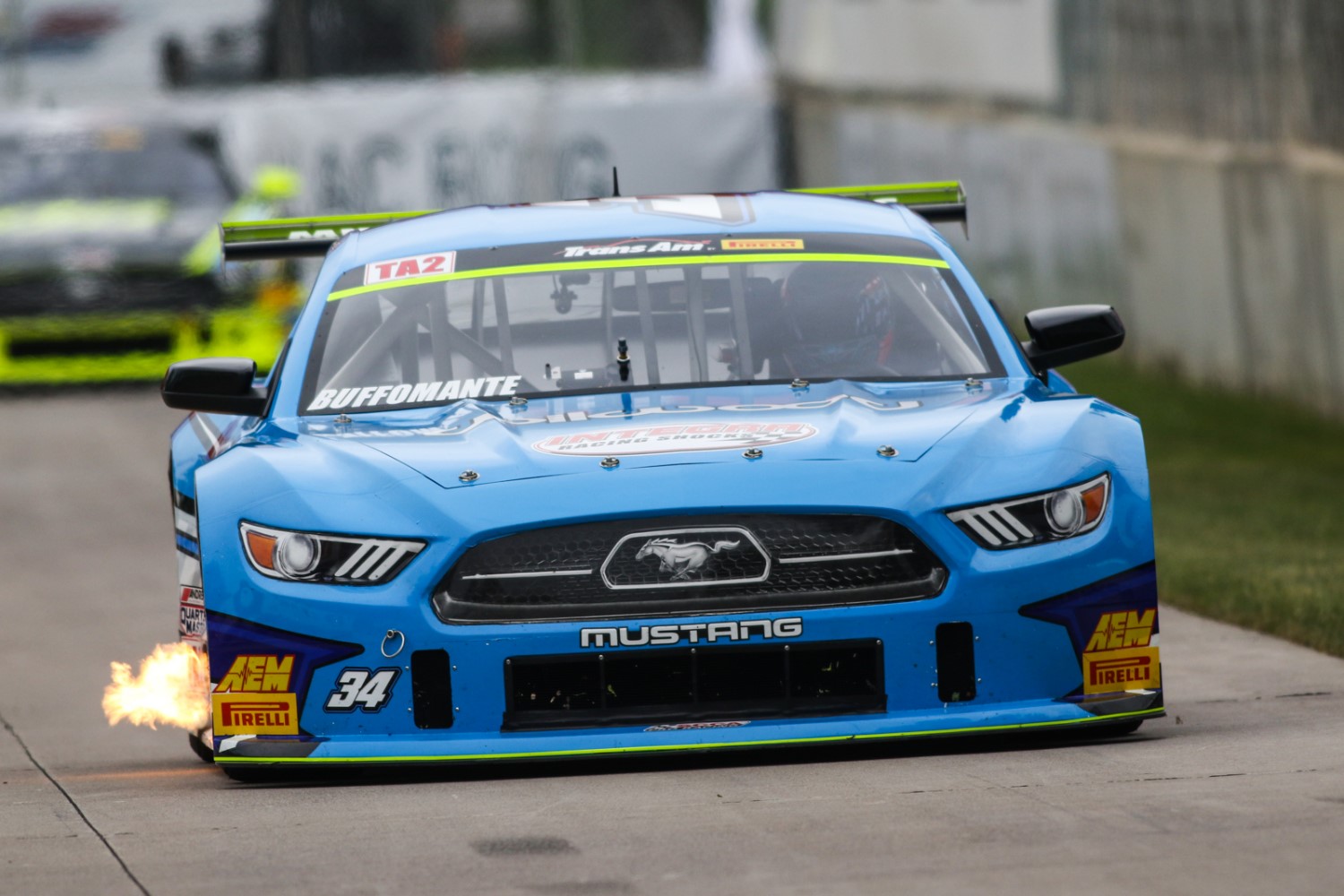 Tony Buffomante
Tony Buffomante and the No. 34 Mike Cope Ford Mustang captured the Trans Am Series presented by Pirelli TA2 class pole for tomorrow's 3-Dimensional Services Muscle Car Challenge, the first of a Trans Am doubleheader this weekend at the Chevrolet Detroit Grand Prix presented by Lear.
The pole, the 13th of Buffomante's Trans Am career, came by way of a new track qualifying record 1:36.664 lap around the 2.35-mile course, just topping the 1:36.683 of Gar Robinson, driving the No. 74 74 Ranch Resort Chevrolet Camaro–creating a front row consisting of the two most successful TA2 competitors in recent years, with 22 wins and three championships between them.
While Buffomante is running for the 2018 championship, Robinson is competing on Belle Isle in one-off capacity, returning to the TA2 class to defend a 2017 victory in his team's home state of Michigan. Now, once more Buffomante and Robinson will vie for the Trans Am win as they have for the past three seasons, as well as last year here at Detroit where Robinson finished victorious and Buffomante third.
"It's great to have Gar and the whole Robinson team back," said Buffomante. "I joked with him a little earlier today that we didn't miss him too much, but they're fantastic competitors. They up everyone's game. I wear this P3 hat from last year's race here to remind me what these guys did to me — Gar started on pole, I got around him for the lead and he later got me back and then Rafa (Matos), who will be starting third, mixed it in and took second. I think it's going to be a street fight for the win. When you look at how close we are, Ford and Chevy up front, it tells you everything you need to know about Trans Am and TA2 and I think it's going to be a great race."
The pole atop the 20-car field also stands as a return to form for Buffomante who, despite currently standing second in the points, is coming off a disappointing ninth place finish last round at Homestead-Miami Speedway.
"We've struggled, candidly, so far this year in the Mike Cope Ford," continued Buffomante. "We pretty much got embarrassed last round with a ninth place finish, one of our worst in a long time. So over the past six weeks the Mike Cope team has been putting a lot of time in working to get us up to speed, and I'm happy to put the No. 34 up front for them."
"Being able to put on a great show for everyone here at Detroit, it's something special," said Robinson. "We just couldn't sit this out. Our crew is based in Michigan, and we have a ton of history here. We're racing the Big Three in Detroit; it's Mustang versus Camaro versus Challenger — it's an amazing opportunity. I'm excited for tomorrow's race; Tony and I have had great battles in the past, side-by-side and never laying a fender on each other, tomorrow will be no different."
Starting on the inside of the second row will be current points leader Rafa Matos, hot off back-to-back wins over the past two rounds. Matos, who turned a 1:36.765 from behind the wheel of the No. 88 3-Dimensional Services Chevrolet Camaro, made his Trans Am debut here at Detroit last year, driving up through the field from 12th starting position to finish second. Now in 2018 he holds a commanding points lead with three rounds complete, 27 points to the better of Buffomante.
Michigan's own Marc Miller, Sebring victor and driver of the debuting No. 77 Berryman/ Prefix Ford Mustang for Stevens-Miller Racing, will start alongside Matos after turning a 1:36.848 lap of his own. Miller, a resident of Holland, Michigan, made his Trans Am debut here at Detroit in 2016, finishing second in a Dodge Challenger for Stevens-Miller.
Completing the TA2 class qualifying top five was Keith Prociuk, in the No. 9 HP Tuners Chevrolet Camaro, also out of the Mike Cope stables with a 1:37.544. The remainder of the TA2 qualifying top ten also included, in order: Shane Lewis, Ethan Wilson, Jordan Bupp, Ernie Francis, Jr., and Joe Napoleon.
With the TA class absent this weekend, Francis, the 2017 TA class champion and current points leader, makes his TA2 class debut, hoping he can capture a similar result to his TA win on Belle Isle last year.
The qualifying session was reduced to 15 minutes in duration due to on track activity being suspended due to inclement weather.
The 20 TA2 competitors will take to the Belle Isle circuit tomorrow, Saturday June 2, at 8:45 AM ET for the 3-Dimensional Services Muscle Car Challenge, a 60-minute race. Trans Am and TA2 will also feature in a second race come Sunday, the 101.05-mile 3-Dimensional Motor City Dash to conclude the Series' double points weekend.
Race order for the 3-Dimensional Services Motor City Dash will be determined by fast lap, quickest to slowest, from the 3-Dimensional Services Muscle Car Challenge.