Friday Morning IndyCar Update from Detroit (2nd Update)
UPDATE
Looks like we will not get to try out the new rain tire this afternoon. The real bad storms passed by the west side of Belle Isle.
The Dual in Detroit
06/01/18
Photo of new rain tire tread pattern added below.
06/01/18
Good morning from the Motor City. The skies are sunny and it 69 degrees now, but it looks like rain clouds will be moving into the area later this afternoon. Rain is also in the forecast for Sunday's race but hopefully the IndyCars will have the opportunity to race on the new rain tires on this tight road course.
Firestone tires will be introducing a newly-engineered Firestone Firehawk rain tire this weekend. "This asymmetric and directional design features a unique pattern on each corner of the car to achieve ultimate water evacuation, braking, acceleration and cornering performance," said Cara Adams,
Chief Engineer, Bridgestone Americas Motorsports. "Racing continues to provide the ultimate proving ground for Firestone technology and this new pattern is our most innovative rain tire to date. We will bring race proven primary and alternate tires, the same used at all street courses in 2018."
The last rain tire was introduced late in the season in 2015. That redesigned thread pattern for the wet was never used in a race until Watkins Glen in 2017. And it was not actually raining as the race started but the track was pretty wet in a couple of corners. IndyCar declared a wet start and so the new rain tire was racing, for about one lap. The tire did not perform well after waiting almost two years to use in race conditions.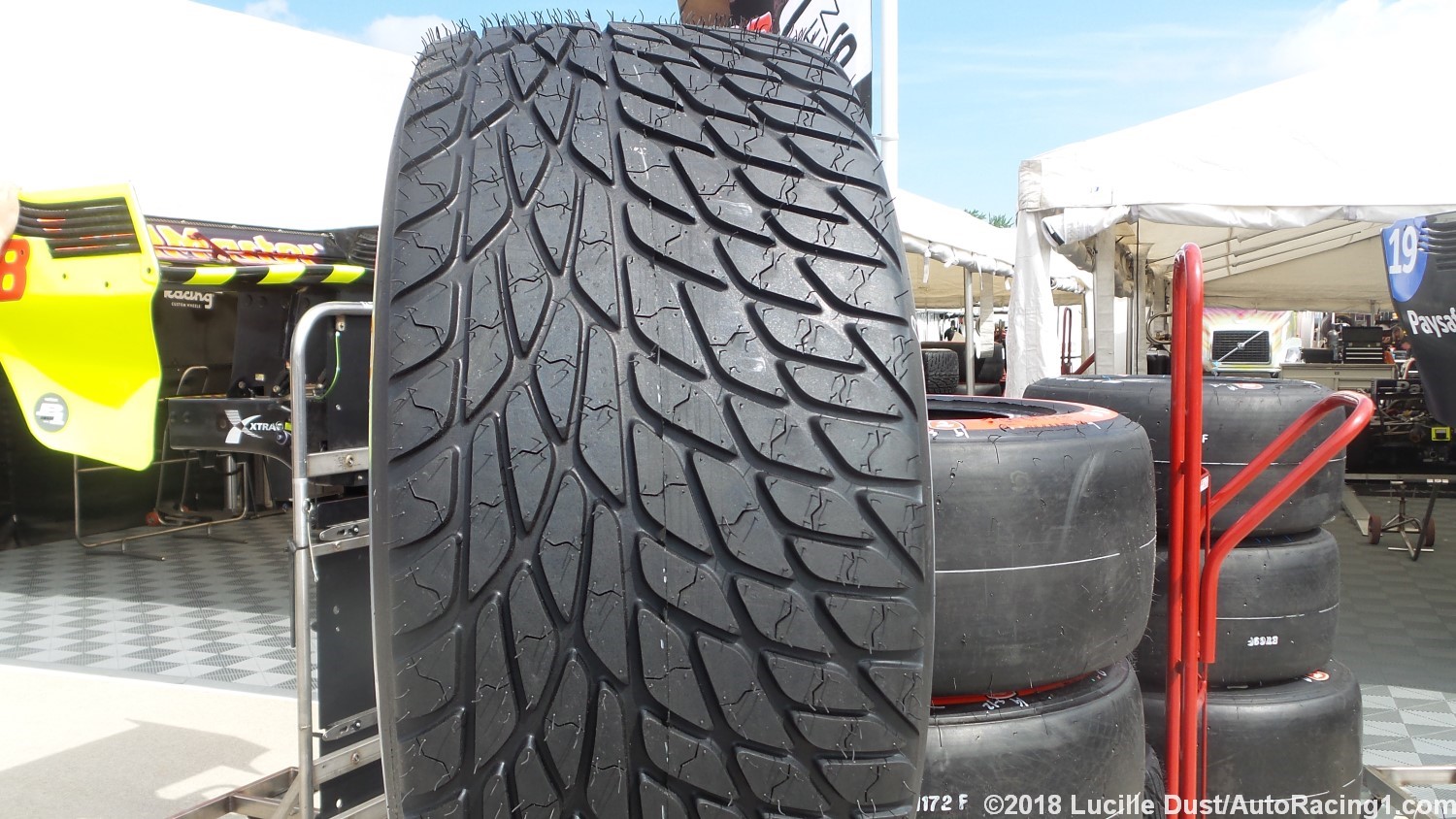 New rain tire tread pattern
Another change for this weekend is the amount of push to pass is reduced from the normal 200 seconds for the race. Drivers may engage their "push-to-pass" for a total of 150 seconds during each race, with a maximum duration of 15 seconds for any one activation. The push-to-pass is not available on the initial race start or any restart unless it occurs in the final two laps or three minutes of a timed race. The feature increases the power of the engine by approximately 60 horsepower.
The Chevrolet Dual in Detroit will be the 24th and 25th Indy car races conducted at the Raceway at Belle Isle Park and the 27th and 28th Indy car races held in Detroit. A 2.5-mile street circuit in downtown Detroit hosted CART events from 1989-1991.
Both Saturday and Sunday races will be on ABC and they will start at 3:30 pm ET both days.
There are two 45 minute practice sessions scheduled for today at 11:20 am and 3:10 pm. Qualifying will be held each morning for that day's race.
Lucille Dust Reporting live from Belle Isle