Bourdais tops opening IndyCar practice in Detroit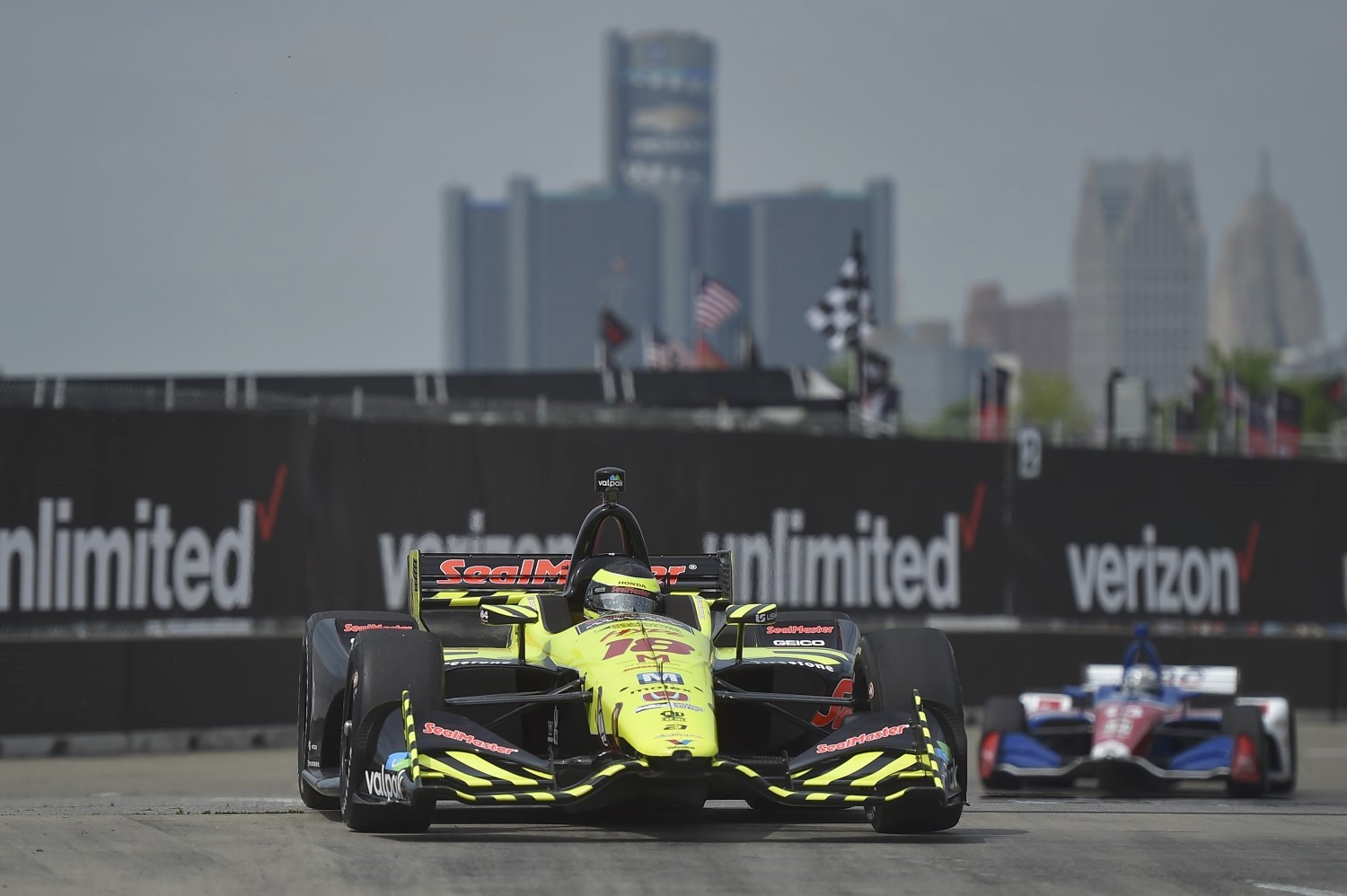 Sebastien Bourdais
After getting beaten fairly badly at the Indy 500 last week, the Honda teams came out strong in the opening practice for this weekend's Detroit GP on Belle Isle.
Dale Coyne Racing's Sebastien Bourdais led the Honda 1 thru 8 sweep with a time of 1m17.855s to nip Scott Dixon by just 0.0623s.
Graham Rahal who won both Detroit races last year was third quick 0.1285s behind.
Andretti Autosport drivers Alexander Rossi and Marco Andretti rounded out the top-5.
The biggest surprise was American F2 driver and Haas F1 reserve driver Santino Ferrucci who was 6th quick.
Practice 1 Results
| | | | | | | | | |
| --- | --- | --- | --- | --- | --- | --- | --- | --- |
| Pos | No | Name | FTime | Diff | Gap | FSpeed | Engine | Team |
| 1 | 18 | Sebastien Bourdais | 1:17.855 | –.—- | –.—- | 108.664 | Honda | Dale Coyne Racing with VS |
| 2 | 9 | Scott Dixon | 1:17.917 | 0.0623 | 0.0623 | 108.577 | Honda | Chip Ganassi Racing Teams |
| 3 | 15 | Graham Rahal | 1:17.983 | 0.1285 | 0.0662 | 108.485 | Honda | Rahal Letterman Lanigan Racing |
| 4 | 27 | Alexander Rossi | 1:18.150 | 0.2959 | 0.1313 | 108.253 | Honda | Andretti Autosport |
| 5 | 98 | Marco Andretti | 1:18.301 | 0.4464 | 0.1505 | 108.045 | Honda | Andretti Herta Autosport with CA |
| 6 | 19 | Santino Ferrucci | 1:18.312 | 0.4572 | 0.0108 | 108.030 | Honda | Dale Coyne Racing |
| 7 | 28 | Ryan Hunter-Reay | 1:18.337 | 0.4821 | 0.0357 | 107.995 | Honda | Andretti Autosport |
| 8 | 26 | Zach Veach | 1:18.353 | 0.4984 | 0.0163 | 107.973 | Honda | Andretti Autosport |
| 9 | 1 | Josef Newgarden | 1:18.400 | 0.5452 | 0.0468 | 107.909 | Chevy | Team Penske |
| 10 | 14 | Tony Kanaan | 1:18.461 | 0.6066 | 0.0614 | 107.824 | Chevy | AJ Foyt Enterprises |
| 11 | 22 | Simon Pagenaud | 1:18.642 | 0.7880 | 0.1814 | 107.575 | Chevy | Team Penske |
| 12 | 30 | Takuma Sato | 1:18.678 | 0.8236 | 0.0356 | 107.527 | Honda | Rahal Letterman Lanigan Racing |
| 13 | 12 | Will Power | 1:18.903 | 1.0482 | 0.2246 | 107.221 | Chevy | Team Penske |
| 14 | 59 | Max Chilton | 1:18.930 | 1.0752 | 0.0270 | 107.184 | Chevy | Carlin |
| 15 | 6 | Robert Wickens | 1:18.972 | 1.1179 | 0.0427 | 107.126 | Honda | Schmidt Peterson Motorsports |
| 16 | 23 | Charlie Kimball | 1:19.091 | 1.2361 | 0.1182 | 106.966 | Chevy | Carlin |
| 17 | 20 | Jordan King | 1:19.172 | 1.3174 | 0.0813 | 106.856 | Chevy | Ed Carpenter Racing |
| 18 | 4 | Matheus Leist | 1:19.193 | 1.3388 | 0.0214 | 106.827 | Chevy | AJ Foyt Enterprises |
| 19 | 21 | Spencer Pigot | 1:19.410 | 1.5557 | 0.2169 | 106.535 | Chevy | Ed Carpenter Racing |
| 20 | 10 | Ed Jones | 1:19.547 | 1.6925 | 0.1368 | 106.352 | Honda | Chip Ganassi Racing Teams |
| 21 | 5 | James Hinchcliffe | 1:19.697 | 1.8428 | 0.1503 | 106.152 | Honda | Schmidt Peterson Motorsports |
| 22 | 88 | Gabby Chaves | 1:20.285 | 2.4308 | 0.5880 | 105.374 | Chevy | Harding Racing |
| 23 | 32 | Rene Binder | 1:21.836 | 3.9818 | 0.7751 | 103.377 | Chevy | Juncos Racing |