Race day morning update from the Indy 500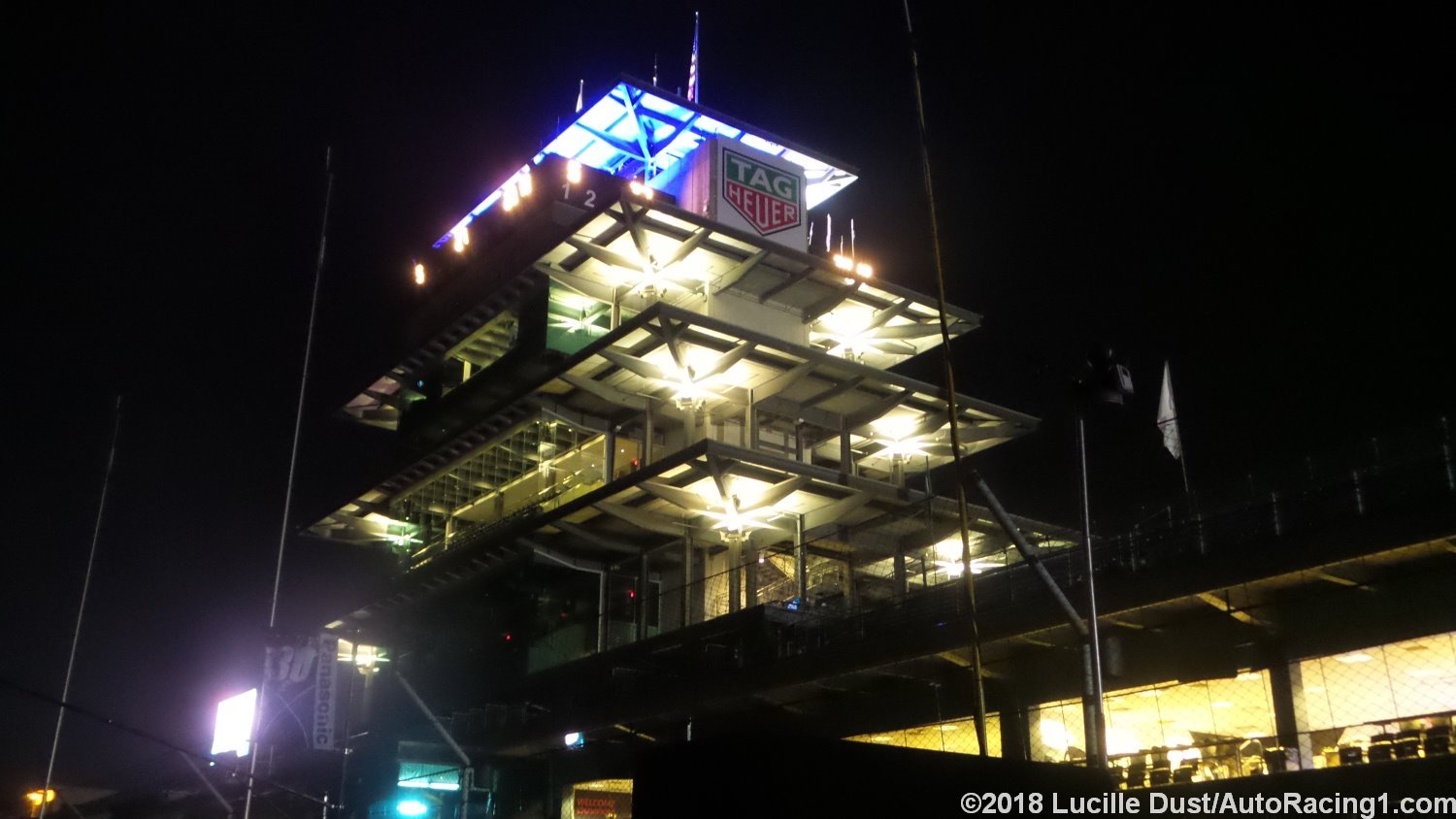 The Pagoda before the sun came up
The sun is up over the Indianapolis Motor Speedway this morning on a bright sunny day. But already you can feel the heat building in the air – the enemy to drivers and engineers looking for every pound of downforce they can find.
Gates at IMS opened at 6 a.m. following the traditional cannon blast.
Warm, humid conditions are forecasted so fans are encouraged to begin hydrating well before they arrive at the track and continue to drink as much water as possible at the track. Fans are permitted to bring coolers no larger than 18" x 14" x 14", with the reminder that no glass bottles are allowed.
"We want to make sure that everybody here is safe," IMS Director of Medical Services Dr. Geoffrey Billows said. "What we recommend is you make sure you hydrate. Don't wait till the day of the event. Start a day or so before. You want to keep your tank full.
"When you're here, make sure you're drinking plenty of water, some type of electrolyte solution, as well. When you come here, we recommend that you would wear very lightweight, light-colored clothing."
Drivers participating in the 102nd running of the Indianapolis 500 await the green flag shortly after noon ET in a race expected to be dominated by the Chevy powered cars
"Race how you want to be raced and take a moment to look around you," the first-year race director said. "You are surrounded by the best drivers on the planet. Good luck, be safe and let's put on a great show for the best fans in the world."
The 102nd Indianapolis 500 will be broadcast live on ABC and the Advance Auto Parts INDYCAR Radio Network, with prerace shows beginning at 11 a.m.
Many of the teams are preparing the backup cars for the road course races in Detroit next weekend.
AutoRacing1.com staff are onsite to bring you all the updates throughout the day.
Lineup
| | | | |
| --- | --- | --- | --- |
| Pos | Car | Driver Name | Engine |
| 1 | 20 | Carpenter, Ed | Chevy |
| 2 | 22 | Pagenaud, Simon | Chevy |
| 3 | 12 | Power, Will | Chevy |
| 4 | 1 | Newgarden, Josef | Chevy |
| 5 | 18 | Bourdais, Sebastien | Honda |
| 6 | 21 | Pigot, Spencer | Chevy |
| 7 | 13 | Patrick, Danica | Chevy |
| 8 | 3 | Castroneves, Helio | Chevy |
| 9 | 9 | Dixon, Scott | Honda |
| 10 | 14 | Kanaan, Tony | Chevy |
| 11 | 4 | Leist, Matheus (R) | Chevy |
| 12 | 98 | Andretti, Marco | Honda |
| 13 | 19 | Claman De Melo, Zachary (R) | Honda |
| 14 | 28 | Hunter-Reay, Ryan | Honda |
| 15 | 23 | Kimball, Charlie | Chevy |
| 16 | 30 | Sato, Takuma | Honda |
| 17 | 32 | Kaiser, Kyle (R) | Chevy |
| 18 | 6 | Wickens, Robert (R) | Honda |
| 19 | 33 | Davison, James | Chevy |
| 20 | 59 | Chilton, Max | Chevy |
| 21 | 29 | Munoz, Carlos | Honda |
| 22 | 88 | Chaves, Gabby | Chevy |
| 23 | 25 | Wilson, Stefan | Honda |
| 24 | 24 | Karam, Sage | Chevy |
| 25 | 26 | Veach, Zach | Honda |
| 26 | 64 | Servia, Oriol | Honda |
| 27 | 66 | Hildebrand, JR | Chevy |
| 28 | 7 | Howard, Jay | Honda |
| 29 | 10 | Jones, Ed | Honda |
| 30 | 15 | Rahal, Graham | Honda |
| 31 | 60 | Harvey, Jack | Honda |
| 32 | 27 | Rossi, Alexander | Honda |
| 33 | 17 | Daly, Conor | Honda |
(R) Rookie