Honda teams at big disadvantage going into Indy 500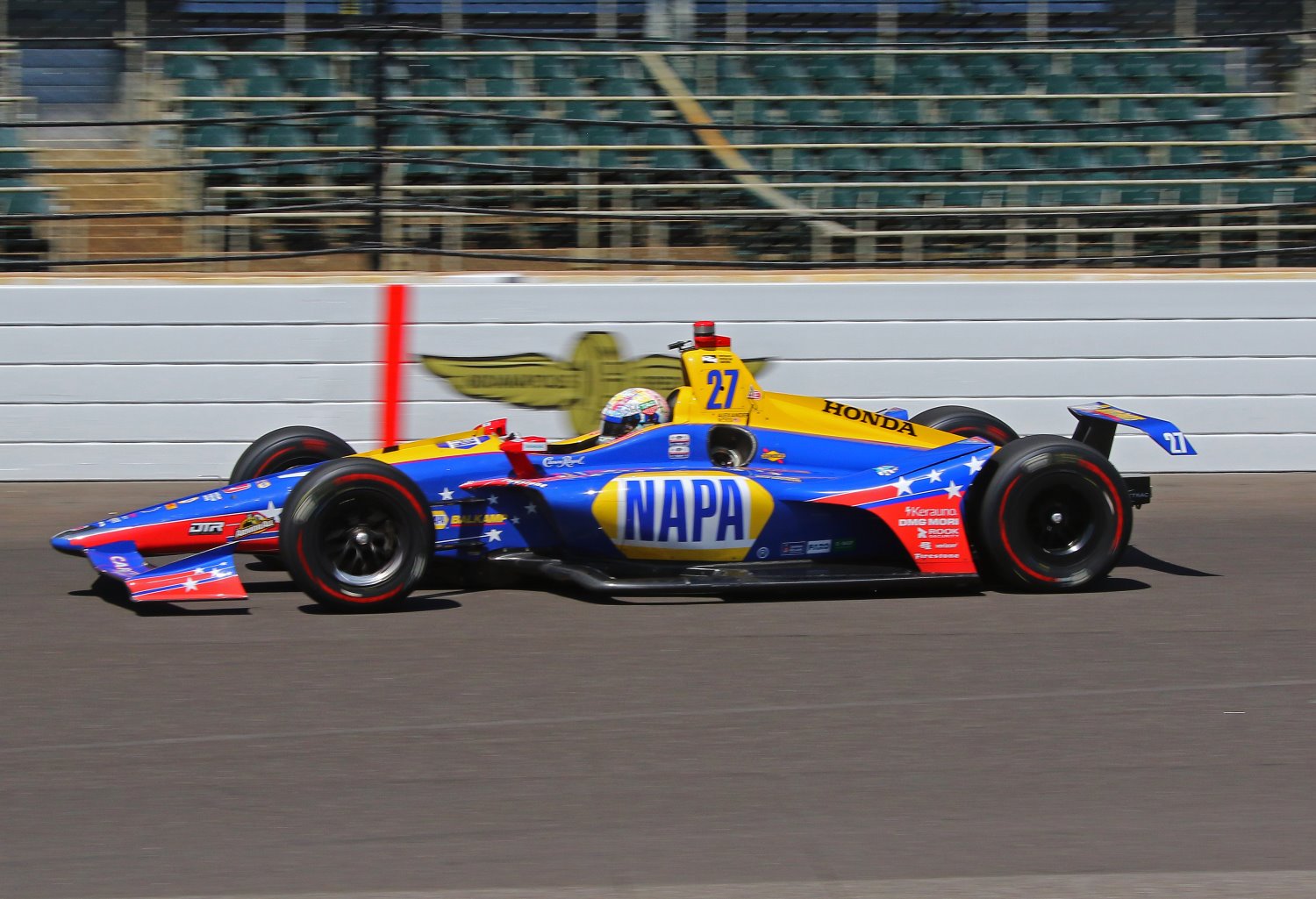 Alexander Rossi was almost slowest in qualifying (32nd) and on Carb Day he was also 32nd. His chances to win the Indy 500 are near zero as are all the Honda teams.
As AutoRacing1.com has reported for two weeks, the Chevy teams have a big advantage going into the Indy 500 Sunday. Chevy has brought a superior engine to the Speedway this year with so much more power than the Hondas their teams can run more downforce to handle better through the turns and still be faster down the straights than the Hondas.
The Honda teams have had to reduce downforce to try and keep up with the Chevys on the straights and their handling is diabolical. In desperation Alexander Rossi tried a lower downforce in qualifying and ended up 32nd fastest and on the last row.
On Carb Day the Andretti team appeared so lost the drivers did not even want to give quotes to the media after the practice session. We observed the Rossi team throwing all sorts of suspension changes at the car to no avail.
And with the heat expected on Sunday for the race, the Honda teams are going to be at an even bigger disadvantage. Some have decide to run maximum downforce for fear of crashing and they'll have to watch the Chevys perhaps even lap them.
In a media gathering Friday at Indy Honda Performance Development president Art St. Cyr has admitted that Chevrolet has improved its engine and is more powerful than the Hondas.
And to make matters worse, the Chevys are getting better fuel mileage and have great reliability.
"Obviously qualifying didn't quite go the way that we were expecting," he said. "The advantage that we've enjoyed over the last couple years is not there right now. Got to give credit to the other side [Chevrolet] on that one.
"We're still confident of our race pace. On Monday, we showed pretty well we were able to drive up on people, we were able to pass. We think that we're going to be okay on this. The teams that we have, like Andretti Autosport, that has won three of the last four Indy 500s, can never be counted out."
"I think the other side has had a disadvantage in the last couple years. They've come back strong with this one. Overall we were down. We need to get to the bottom of that from our side technically. How did that happen? How do we come back from that one?'
"We're already thinking about next year, how we're going to avoid that situation next year. That still involves understanding the chassis as well as the engine, how do make sure those two are matched up to go as fast as possible."
"I think Chevy had a bigger advantage with the boost as used in qualifying]," he said. "Our engine, for some reason, it works better than the Hondas up there. At 130, I don't see that big of an advantage. I expect to have an edge. I want to believe we have one."
Josef Newgarden stated: "We got good fuel mileage and we've had incredible durability.
"We're not really worried about the reliability of the engine. A lot of our performance is down to Team Chevy and what they've brought to the Speedway, so that's great."