Red Bulls run 1-2 in opening practice for the Monaco GP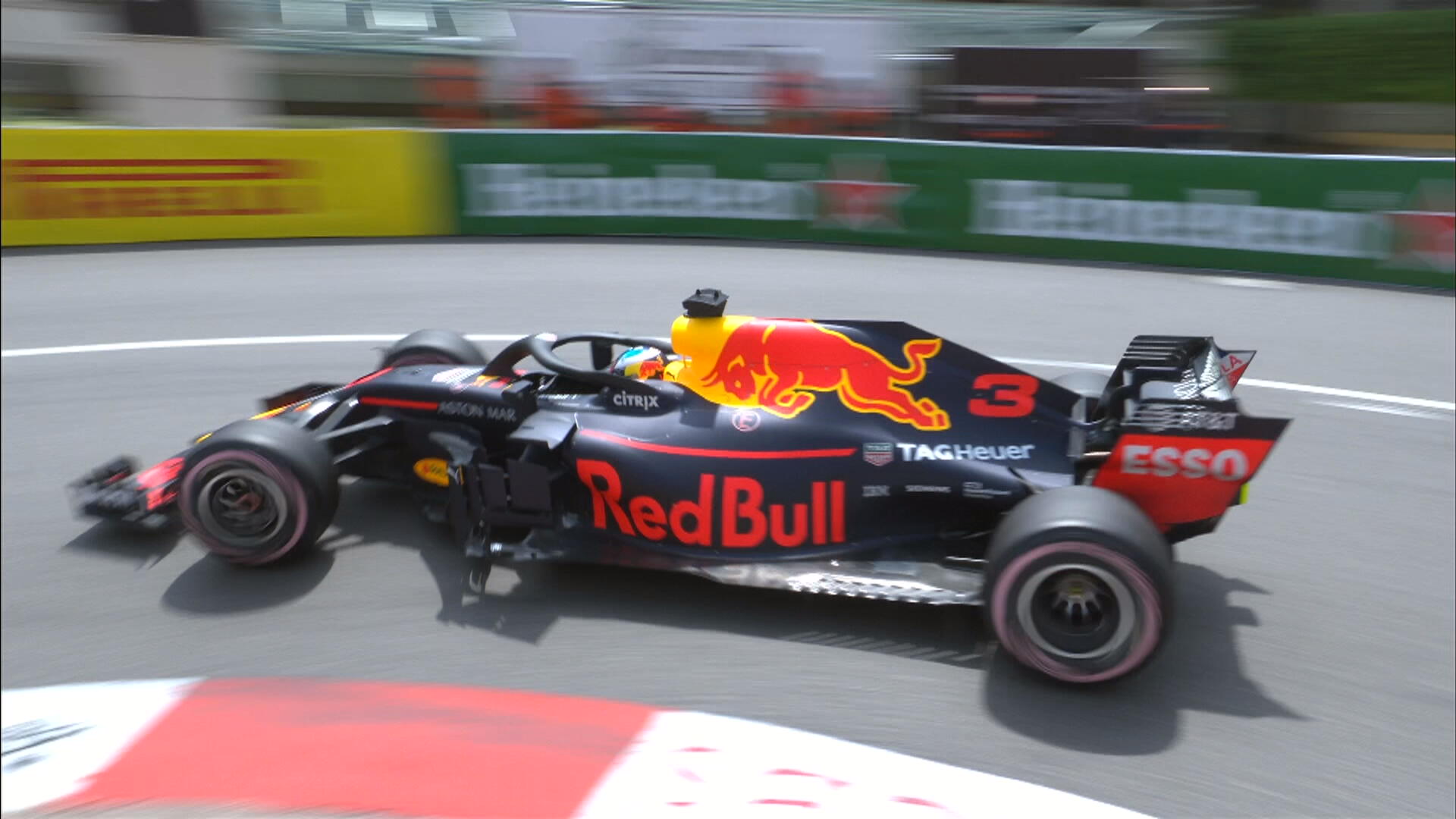 Daniel Ricciardo
Daniel Ricciardo (1m12.126s) and Max Verstappen (+0.154s) led a Red Bull 1-2 Thursday morning in opening practice for Sunday's Monaco GP. Normally this session would be held on Friday but at Monaco, Friday is left free to allow fans to get into Monaco.
Lewis Hamilton (+0.354s) had the third best time for Mercedes ahead of the two Ferraris of Sebastian Vettel (+0.915s) and Kimi Raikkonen (+0.940s).
This session was largely a track cleaning session and a long run test. Outright speeds won't be turned until Saturday.
However, Ricciardo produced a new track record using the new Hypersoft tire, beating Kimi Raikkonen's benchmark from Q3 last year of 1m12.178s.
Results
| | | | | | | |
| --- | --- | --- | --- | --- | --- | --- |
| POS | NO | DRIVER | CAR | TIME | GAP | LAPS |
| 1 | 3 | Daniel Ricciardo | Red Bull | 1:12.126 | +0.000s | 35 |
| 2 | 33 | Max Verstappen | Red Bull | 1:12.280 | +0.154s | 24 |
| 3 | 44 | Lewis Hamilton | Mercedes | 1:12.480 | +0.354s | 33 |
| 4 | 5 | Sebastian Vettel | Ferrari | 1:13.041 | +0.915s | 39 |
| 5 | 7 | Kimi Raikkonen | Ferrari | 1:13.066 | +0.940s | 37 |
| 6 | 55 | Carlos Sainz | Renault | 1:13.456 | +1.330s | 39 |
| 7 | 77 | Valtteri Bottas | Mercedes | 1:13.502 | +1.376s | 38 |
| 8 | 11 | Sergio Perez | Force India Mercedes | 1:13.717 | +1.591s | 38 |
| 9 | 8 | Romain Grosjean | Haas Ferrari | 1:13.943 | +1.817s | 23 |
| 10 | 35 | Sergey Sirotkin | Williams Mercedes | 1:13.962 | +1.836s | 39 |
| 11 | 31 | Esteban Ocon | Force India Mercedes | 1:14.000 | +1.874s | 38 |
| 12 | 28 | Brendon Hartley | Toro Rosso Honda | 1:14.034 | +1.908s | 45 |
| 13 | 27 | Nico Hulkenberg | Renault | 1:14.134 | +2.008s | 37 |
| 14 | 10 | Pierre Gasly | Toro Rosso Honda | 1:14.240 | +2.114s | 37 |
| 15 | 2 | Stoffel Vandoorne | Mclaren Renault | 1:14.291 | +2.165s | 36 |
| 16 | 16 | Charles Leclerc | Sauber Ferrari | 1:14.521 | +2.395s | 38 |
| 17 | 14 | Fernando Alonso | Mclaren Renault | 1:14.637 | +2.511s | 15 |
| 18 | 18 | Lance Stroll | Williams Mercedes | 1:14.782 | +2.656s | 42 |
| 19 | 9 | Marcus Ericsson | Sauber Ferrari | 1:15.206 | +3.080s | 38 |
| 20 | 20 | Kevin Magnussen | Haas Ferrari | 1:18.801 | +6.675s | 7 |