Latest F1 news in brief – Thursday
Steiner (L) defends the non-American drivers he hired

Steiner rejects Grosjean axe rumors

Vettel wants Raikkonen to stay at Ferrari
Williams wants progress by July – Stroll
Hartley 'surprised' by Toro Rosso axe rumors
De Ferran becomes McLaren consultant
Hypersoft to make Monaco 'spectacular' – Ocon
Magnussen would accept top team move
FIA clears up Ferrari oil consumption rumor, Autosport has learned
Axitea becomes Official Partner of the Alfa Romeo Sauber F1 Team
How the Virtual Safety Car works
Steiner rejects Grosjean axe rumors
Romain Grosjean
(GMM) Haas boss Gunther Steiner has rejected rumors that say struggling driver Romain Grosjean will be dumped.
The Frenchman is having a dire 2018 season and is out of contract at the end of the year.
But Steiner said in Monaco there is no truth to the paddock rumors that say Haas is considering replacing him.
"The best way to deal with a rumor like that is to say there is no basis at all," he said. "We haven't talked about it in the team for a second.
"If you have two bad races in a row, it's not worth thinking about," Steiner added.
He said that if there are discussions behind closed doors at Haas, they are about how to support Grosjean.
"For me, the focus is on bringing Romain back to the performance he is capable of. I don't like to kick someone who is on the ground.
"He knows better than all of us that Baku and Barcelona were not good. Can something like that happen here? Yes it can.
"But in such a moment you have to think positively. When you focus on the negative, you only create more negativity. I know very well how Romain can drive."
The contracts of both Grosjean and Kevin Magnussen expire this year, but Steiner says it's not the time to discuss contracts.
"It's not an issue before the summer break in August," he said. "Until then nothing moves in the driver market.
"We have let many points slip through our fingers and that's w
Vettel wants Raikkonen to stay at Ferrari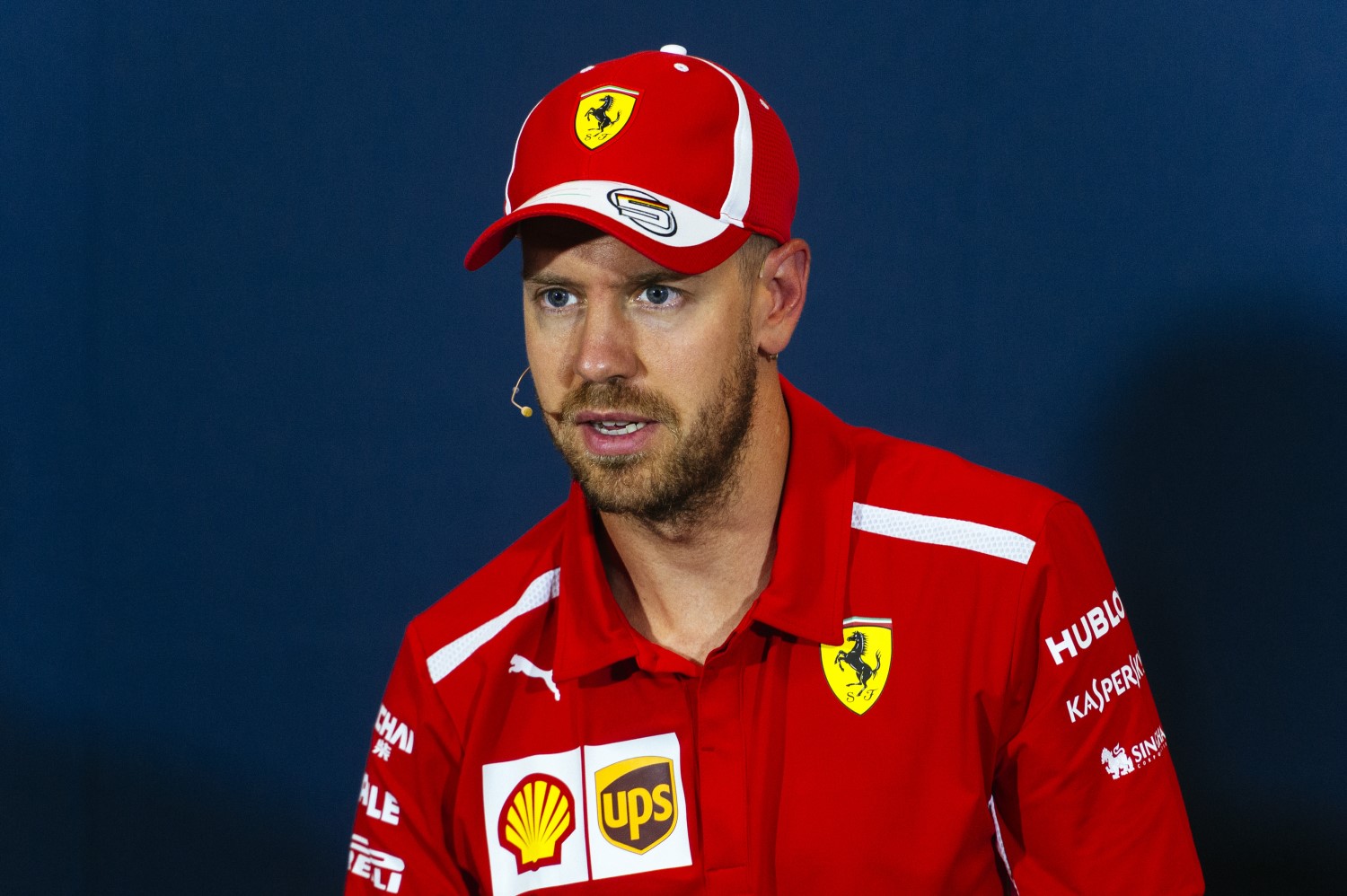 Vettel happy with Raikkonen as a teammate
(GMM) Sebastian Vettel has made clear he wants Kimi Raikkonen to stay as his teammate at Ferrari in 2019.
It is rumored the Maranello team is considering replacing the Finn with either Daniel Ricciardo, Sauber rookie Charles Leclerc or even Lewis Hamilton.
Asked if the much-hyped reigning Formula 2 champion and Ferrari junior Leclerc would make a good teammate, Vettel said in Monaco: "I don't sign who sits next to me. You should probably ask Maurizio (Arrivabene).
"But I don't see why not. I think the hype is absolutely justified. If there's no hype around him, then I don't understand who should be hyped because if you walk through all the categories like that, then you belong here," he added.
As for the Hamilton rumors, the Mercedes driver is yet to sign his delayed contract but admits he doesn't "anticipate" being Vettel's next teammate.
"He (Vettel) has a veto so that wouldn't happen," Hamilton added.
Vettel denies that, but he does admit to Italy's La Gazzetta dello Sport that he is happy alongside Raikkonen.
"We share the same values and have a great respect for one another," said the German.
"What I like most is that I can be myself. There are no mind games as there are with other teammates, and I think that's a win for Ferrari.
"There is no controversy, no distraction, no politics."
But when asked if he thinks Raikkonen will stay in 2019, Vettel answered: "I don't know. It doesn't depend on me.
"One day, Kimi could decide that he doesn't need it any more. But if you ask the question 'Would I rather drive with Kimi than another driver?' then the answer is yes."
Williams wants progress by July – Stroll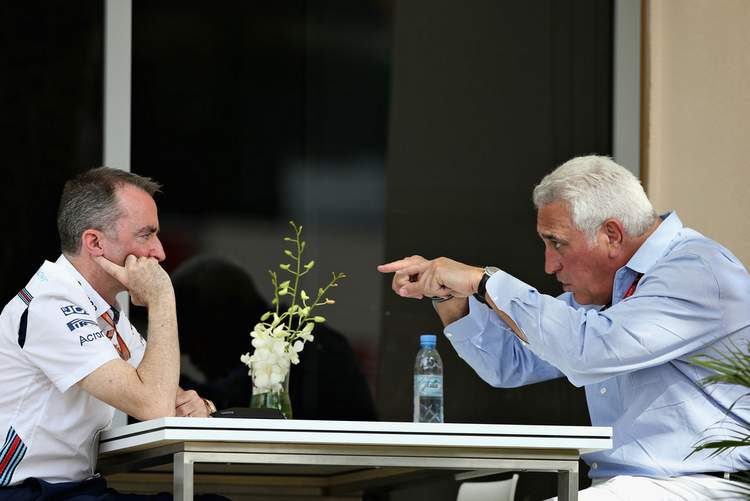 Is Stroll's father Lawrence telling Paddy Lowe if you don't fix the slug you designed by July you're fired?
(GMM) Williams is hoping to make a mid-season recovery, according to team driver Lance Stroll.
The British team's deputy Claire Williams has refuted rumors that the performance problems are so dire that Williams will fail to put together a full budget for 2019.
Canadian Stroll says plans are in the works for a mid-season comeback.
"Our goal is to fight with the midfield teams by the British or German grands prix" in July, he told La Presse newspaper in Monaco.
"We want to start fighting regularly for points."
Until then, Williams' chances are almost nil, but Stroll said the team made progress at the recent Barcelona test.
"It was a good test," he said. "We identified several things. But solving them will take time."
In the meantime, Stroll said he will keep trying to improve himself as a driver.
"It's hard for everyone," he said. "But I'm satisfied with what I've achieved, like my 11th in Spain when we were totally out of the game."
Teammate Sergey Sirotkin agrees with Stroll that Williams is making progress.
"After Bahrain, the situation has gradually improved," he said.
"You don't always see it, and Barcelona was an isolated case when we went backwards for some reason. But we have a great team spirit and everyone is trying hard to make progress."
Hartley 'surprised' by Toro Rosso axe rumors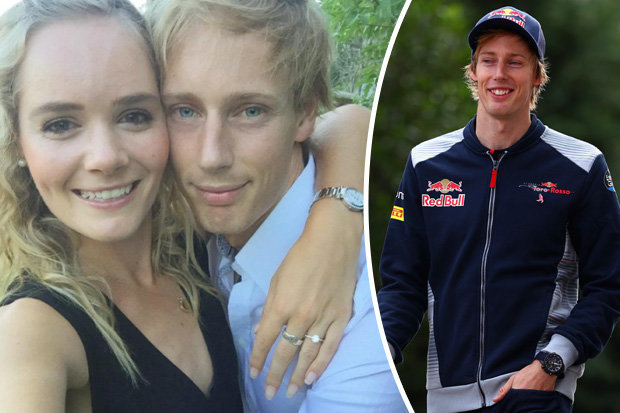 Hartley and Fiancée Sarah Wilson
(GMM) Brendon Hartley says rumors of his impending F1 demise "surprised" him.
After Barcelona, rumors started doing the rounds that Toro Rosso owner Red Bull was considering ousting the New Zealander and replacing him with Pascal Wehrlein or Antonio Giovinazzi.
"I was surprised when I heard that," Hartley said in Monaco. "I have a contract."
The Le Mans winner said he is used to criticism and rumors.
"There are always people to criticize you but as a driver you're always your fiercest critic," said Hartley.
"The last couple of races haven't gone as we wanted, but I got my first point in Baku and in the first three races of the year I was ahead of my teammate twice in qualifying."
Hartley continued: "There are always rumors and as a driver it's a good idea to not read too much.
"I'm a team player and I work very hard behind the scenes. I know what I can do and I think people sometimes have a very bad memory, so the situation changes quickly.
"It could be a whole different story next week," he added.
De Ferran becomes McLaren consultant
(GMM) Gil de Ferran has returned to formula one.
Over a decade ago, the two-time Indycar champion and former Indy 500 winner was the sporting boss at BAR-Honda, but the role was short-lived.
Now, he has been signed up by McLaren as an informal consultant.
"Gil has so much experience in both Indycar and formula one," team driver Stoffel Vandoorne said.
"Yes, he's new to the team but it's always positive when someone new joins us," Vandoorne said of the 50-year-old Brazilian.
"I started working with him in Barcelona, so Monaco will be his second weekend. Let's see how we develop the cooperation."
Hypersoft to make Monaco 'spectacular' – Ocon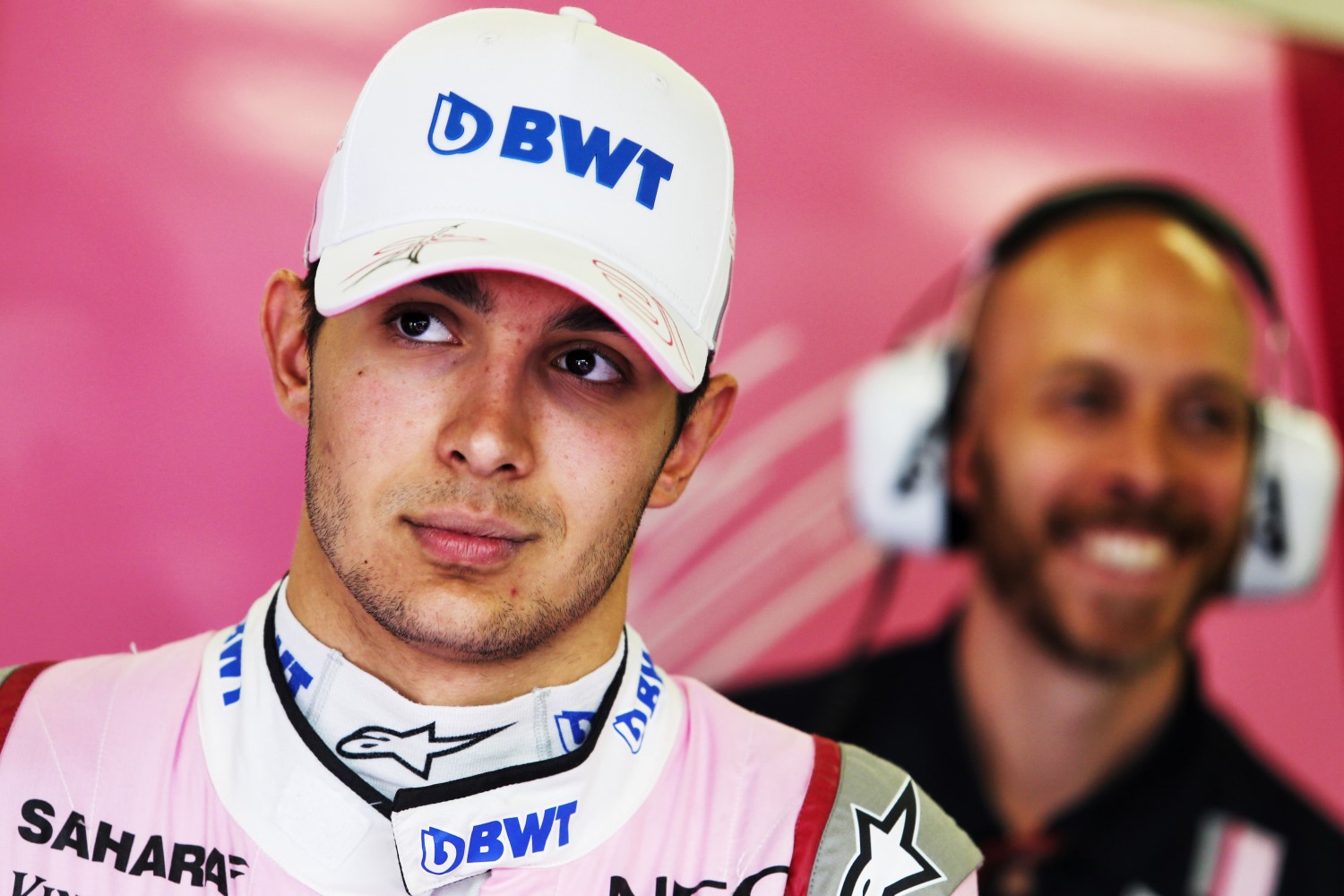 Esteban Ocon
(GMM) F1 drivers are looking forward to a fun weekend on the streets of Monaco.
The Principality is always a challenge, but this year Pirelli has brought its new 'hypersoft' tire, which is tipped to help the drivers smash circuit records.
"The speeds will be spectacular," Force India's Esteban Ocon predicted.
Asked if the grip of the new tires will make Monaco even more dangerous than usual, he added: "I don't think about that, but we will definitely break the record — and by a lot."
Sauber's Marcus Ericsson agreed: "It's the best tire Pirelli has ever made."
Teammate Charles Leclerc said: "The step between the ultra and the hyper is giant. It's the biggest difference ever. And the tires last as well."
Sergio Perez thinks Pirelli should supply the tire at more circuits, even though it will be taken to Montreal.
"That would really spice things up. At the moment the top teams are in their own category but the hypersoft would help the smaller teams," said the Mexican.
Fernando Alonso, though, thinks even the combination of the hypersoft and the unique Monaco layout will not mean a non-top team can make a breakthrough.
"Let's face it — when was the last time we saw a midfield car win the Monaco grand prix?" said the McLaren driver.
Magnussen would accept top team move
Kevin Magnussen looks at timing and scoring to see who he can take out next
(GMM) Kevin Magnussen says he will look around to see if a move to a top team might be on the cards.
Although unpopular among many of his rivals, the Dane has impressed at Haas this year and is outperforming his more highly-paid teammate Romain Grosjean.
"I'm happy to be here even if I don't know what will happen in the future," he told Marca newspaper in Monaco.
"But I feel comfortable with my team and that they appreciate what I do. I really like the environment we have here."
Magnussen's two-year Haas contract expires at the end of the year, and it is believed the American team has the option to renew it for 2019.
Magnussen said: "We are going to see if I have the opportunity to be in a leading team to fight for the championship, as any driver with ambition would accept that opportunity.
"But until that happens, we have a competitive car and I am really happy," he added.
That is despite the fact that many of his F1 rivals have complained about his on-track aggression. There has also been criticism in the press.
"I focus on the team and block all of that out," said Magnussen.
"If I want to put something on social media, I have people who take care of it so I don't need to look. It's all a distraction and it can be frustrating if you let it get into your head."
FIA clears up Ferrari oil consumption rumor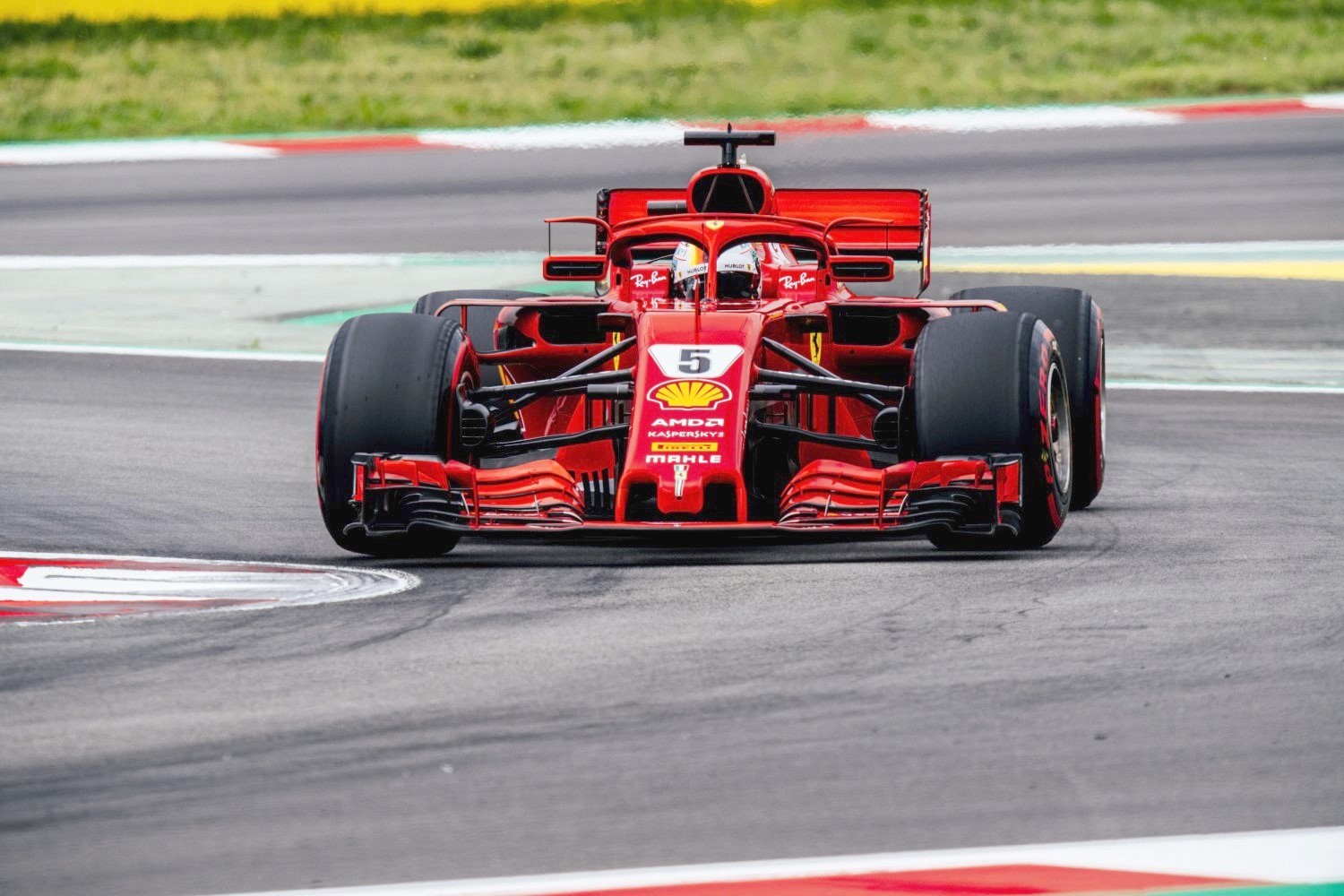 The British F1 media were saddened to hear the Ferrari was again deemed legal
(GMM) F1's governing body has clarified how oil may be consumed by F1 cars.
Earlier, Mercedes team chairman Niki Lauda had said the FIA needed to urgently clarify "grey areas", including a rumor Ferrari illegally consumes oil via the turbo.
That had followed a formal letter to the FIA, in which Mercedes asked Charlie Whiting if the 0.6kg per 100km oil consumption limit applied to the turbo.
"Yes," Whiting answered.
However, Germany's Auto Motor und Sport reports that despite the FIA clarification, Ferrari does not in fact need to modify its power unit.
"Questions about the battery remain," the report added, "but it should be clarified over the course of the weekend."
Sebastian Vettel said at Monaco: "There are always rumors. I trust Ferrari.
"I also trust the FIA that they would intervene if there was something they didn't like."
Axitea becomes Official Partner of the Alfa Romeo Sauber F1 Team
Vasseur lands another sponsor for Sauber
The Sauber F1 team announced that Axitea SpA, a company controlled by the Stirling Square Capital Partners private equity fund, has become a new Official Partner of its team.
As a global security provider, Axitea will deliver its advanced cybersecurity services to the Team, with the goal of protecting the digital assets that increasingly represent a critical element for both corporate strategy and all competition-related activities and initiatives.
Following this announcement, Axitea will be Italy's only cybersecurity provider into the world of F1. Its corporate brand will be displayed on the sidepod floorline (Grands Prix of Monaco and Italy) and sidepod upper side of the C37
Marco Bavazzano, CEO Axitea:
We are proud to take our company to the big stage of F1 together with the Alfa Romeo Sauber F1 Team. Speed, innovation and technology are common values for both the Alfa Romeo Sauber F1 Team and Axitea. We are living the era of data economy, where data are a critical asset to reach success: in such a technology-based scenario, companies need therefore to adopt an advanced security approach to grant their data the highest possible protection.
Frederic Vasseur, CEO Sauber Motorsport AG, and Team Principal Alfa Romeo Sauber F1 Team:
We are very pleased to announce our new partnership with Axitea as a new Official Partner of the Alfa Romeo Sauber F1 Team. Axitea will support us with their advanced cybersecurity expertise, and bring further competitiveness to our team in the challenging environment of motorsport, and in particular in Formula 1. We look forward to this collaboration.
How the Virtual Safety Car works
The Virtual Safety Car is relatively new to F1. Introduced in 2015, it was a means of forcing all the cars to slow down around the track at once.