Volkswagen Andretti Rallycross Enters Americas Rallycross Series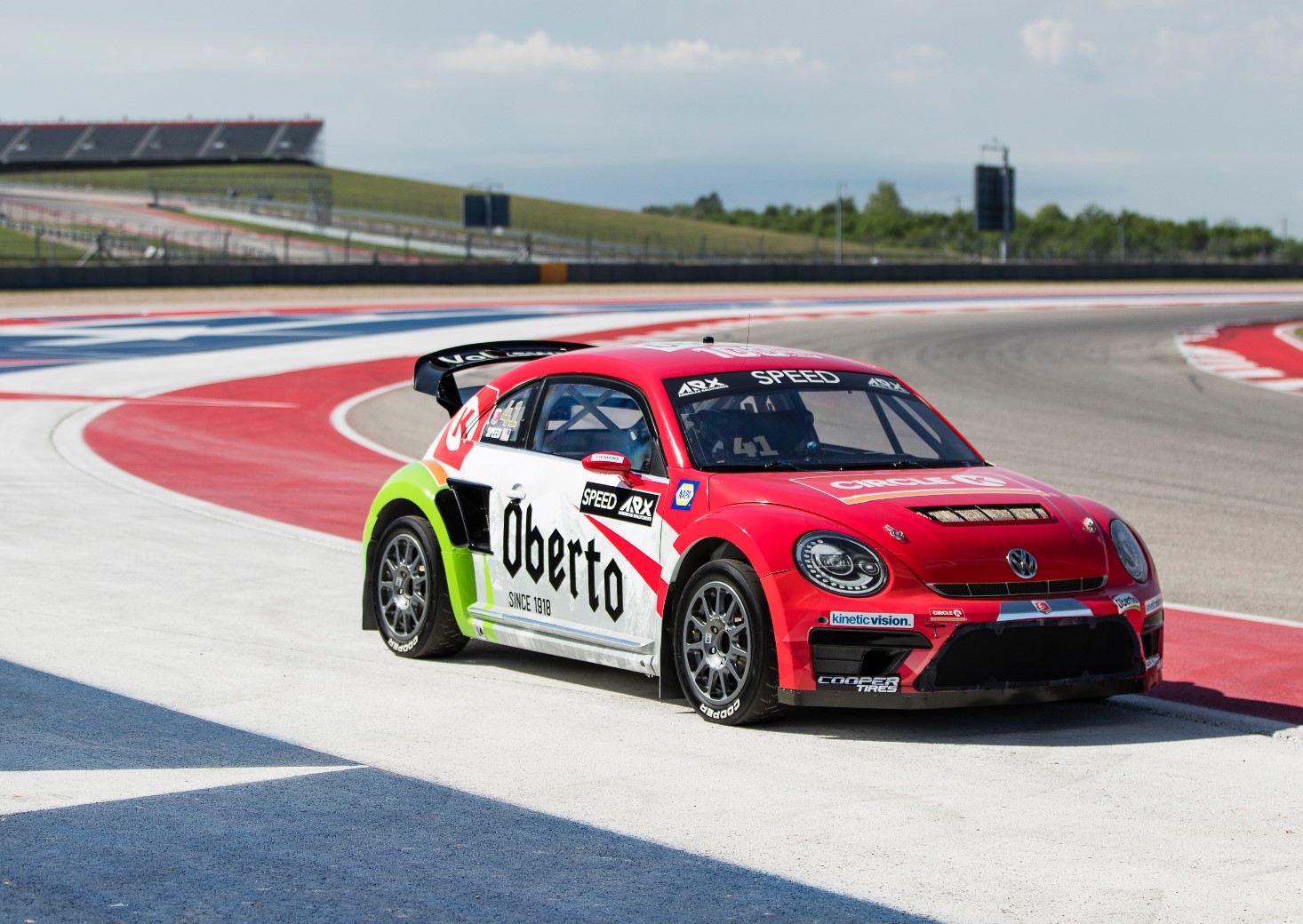 Scott Speed Beetle. After Global Rally Cross went bellyup, Andretti has moved his team to the newly formed ARX until that goes bellyup
INDIANAPOLIS – Volkswagen Andretti Rallycross returns to competition this year, joining the newly-launched Americas Rallycross (ARX) series. The Indianapolis-based team will continue to campaign the Beetles that have earned them multiple championships over the past four years. Drivers Scott Speed and Tanner Foust hope to add to their previous success in this exciting new series.
"Our team has been able to achieve great success in rallycross and we look forward to continuing that legacy with Volkswagen in the new ARX competition," said Michael Andretti, CEO Andretti Autosport. "Scott and Tanner are some of the finest drivers on the planet in this discipline and our cars are ready and better than ever."
The Americas Rallycross season begins May 25-27 in Silverstone, England, on the brand-new Silverstone Rallycross circuit during the Speedmachine festival. The Americas Rallycross opener will be held in conjunction with the British round of the 2018 World Rallycross Championship (WRX).
The American-duo will continue to race in the Beetle Rallycross, which is built by Volkswagen Motorsport in Europe. The cars have been updated to improve their handling characteristics but will race with the same 2.0-liter 560-horsepower turbocharged engines that propelled the team to success in 2017.
The first round of the 2018 Americas Rallycross season will stream via Facebook.com/ARXRallycross with a highlights show set to air on CBS Sports.
After Silverstone, the series will continue with three events:
• July TBC, Austin, TX – Circuit of the Americas
• August 4-5, Trois Rivieres, Canada
• September 29, Austin, TX – Circuit of the Americas
Oberto Beef Jerky and Circle K Reunite on Speed's No. 41 Beetle Rallycross
Oberto All-Natural Beef Jerky and Circle K Convenience Stores are once again joining forces with Scott Speed, this time as the Volkswagen Andretti Rallycross team enters competition in the newly formed Americas Rallycross series (ARX).
Tom Hernquist Oberto Brands CEO said, "Oberto is thrilled to again partner with Scott Speed, Andretti Rallycross and our retail partner Circle-K for this fantastic new series. The effort and determination Scott and the Andretti team put into succeeding in this growing sport mirrors our efforts to make the best tasting meat snacks in the world. No doubt this partnership will continue to be a winning combination."
In addition to his three-consecutive Rallycross championships, the 35-year-old boasts one of the most diverse backgrounds in racing, including stints in IndyCar, Formula E, NASCAR and Formula One.
"I'm excited to compete with ARX and stoked to welcome back Oberto and Circle K," said Speed, driver of the No. 41 Oberto Circle K Beetle. "The competition is going to be tough, but we've been working hard, and our Beetles are ready – you get out what you put in, and we're putting our best in! I think this new series will be a great place to push our team and the cars in 2018."
Rockstar Energy Drink Continues VARX Partnership
Continuing their presence in the rallycross world, Rockstar Energy Drink will once again join forces with Foust, Speed and the Volkswagen Andretti Rallycross team.
Foust is ready to return to the world stage at Silverstone, having won races in the 2011 and 2012 European Rallycross Championship, the first American to do so.
"Having World Rallycross expand its reach to the U.S. is going to make the competition so much more accessible for fans to better understand the sport," said the No. 34 Rockstar Energy Drink Beetle Rallycross driver. "ARX will be a great platform to find new fans and spread the word about rallycross, and I'm excited to have Rockstar back on board with the myself, Scott and the team as we help build this exciting new series."