Freedom 100 Indy Lights Test Session Curtailed by Rain Monday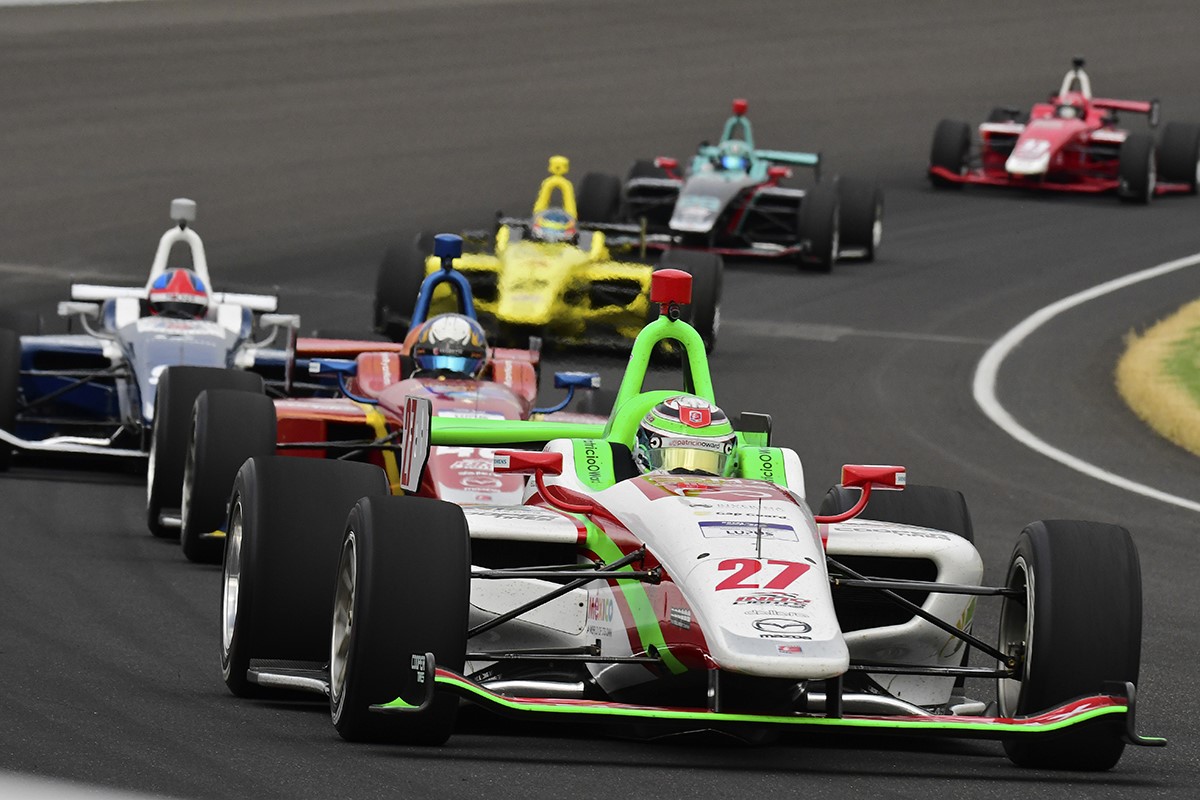 Patricio O'Ward leads group of cars. Only nine cars will start the top feeder series to IndyCar – a complete embarrassment to the sport
Indianapolis-based Canadian Dalton Kellett posted the fastest lap at 198.005 mph during 90 minutes of testing this morning as the Indy Lights Presented by Cooper Tires competitors prepared for the crown jewel in their season, the Freedom 100. The 40-lap race will take place on Friday, May 25, immediately after the final Carb Day practice for this weekend's 102nd Running of the Indianapolis 500.
A second 90-minute session, scheduled for this afternoon, was canceled due to persistent light rain. In order to make up for the lost track time, Indy Lights officials have reworked the schedule for Media Day on Thursday with a pair of official practice sessions now slated for 9:30-10:00 a.m. and 11:00-11:30 a.m. EDT. Single-car qualifying for the following day's race will take place at 1:30 p.m.
Nine drivers completed a total of 318 laps this morning, although the test was cut short by an incident in Turn Two when rookie Chris Windom spun and crashed his Belardi Auto Racing Dallara-Mazda IL-15. Windom, 27, a two-time USAC champion from Canton, Ill., who had been seeking to make his Indy Lights debut, escaped without injury but his car was badly damaged and he will not compete in Friday's race. Teammate Santiago "Santi" Urrutia, who was running close behind, also spun and lightly clipped the wall.
"Obviously, I am extremely disappointed for myself, the team and all the sponsors that gave me this opportunity," said Windom. "I just lost the back end of the car off of Turn 2 with little to no implication it was coming. It was a very unfortunate circumstance, but that is the rollercoaster of being a race car driver. This one hurts a little more than normal, but we will be back soon."
Kellett, 24, who has finished third in each of his two previous Freedom 100 starts, took advantage of a tow from his Andretti Autosport teammates to set the pace this morning. His unofficial lap at 198.005 mph compares to the existing race lap record of 198.104 mph, set last year by Urrutia.
"We were all running pretty hard out there, so everyone seems to have figured that out nicely," said Kellett. "But I'm sure that caused some heart problems on the timing stand. We were flat-out right out of the box, so we worked some on qualifying trim but mostly on the race car. It reinforced what I've learned here: how to time passes, when you have to lift, what the spacing needs to be. I feel really good about this weekend. I like this style of racing and the ovals suit my driving style. But none of us know how it will play out on Friday."
Andretti Autosport teammate Patricio O'Ward, who leads the championship by a solitary point from Andretti-Steinbrenner Racing teammate Colton Herta, 145-144, set the second fastest lap today at an average speed of 196.190 mph.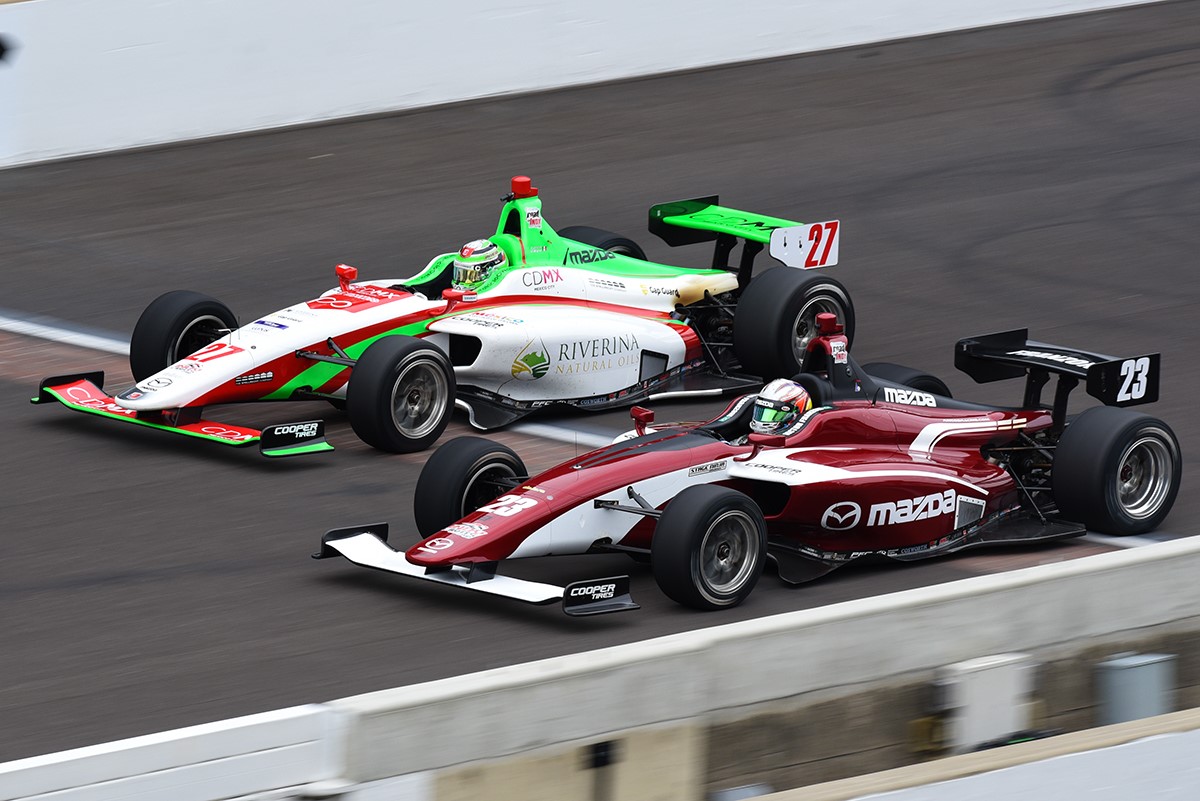 #23 Franzoni and #27 O'Ward
"On my first lap, this place seemed so huge," exclaimed O'Ward, who has won three of the six races held so far but is driving for the very first time on the famed "Brickyard" oval. "It was cool. But I was full-throttle by the second lap, trying to go flat. We did race runs this morning, to get an idea of what the car would be like both by yourself and in the draft. I've never been on a super speedway in the Lights car, so it was a learning experience. The car feels very different when you're running by yourself than when you're running in a group, in dirty air – it really buffets the car around, which can turn into understeer. You have to find at least some clean air to settle the car. We have to work on that for race trim, but we have a very good base car, which is what I expected, since Andretti has been so strong in this race in the past.
"It was really fun with other cars, dicing with my teammates and with some of the other cars," O'Ward continued. "The most important thing is to be comfortable. If you're comfortable with the car, going flat and trimming out as much as you can, you'll be fine."
Second-generation racer Davey Hamilton, Jr., who made his Indy Lights debut at the Laguna Seca Raceway road course in 2016, posted the sixth fastest speed (194.181 mph) on his Indy Lights return with Team Pelfrey.
"I had butterflies this morning just being at the Indianapolis Motor Speedway, and I took the first lap to enjoy the view for the very first time," said Hamilton, a veteran of oval track competition in a variety of cars. "After that, it just felt like a racetrack to me. I got after it pretty quickly, got confident with the car, and it felt good. Nothing is really comparable to an Indy Lights car at IMS but I'm used to going fast on an oval, so the speed didn't feel like a big jump. I'm disappointed that the second session got rained out, because we were going to try a few things that would help us in qualifying but overall, it was a good day."
Results
| | | | | | | |
| --- | --- | --- | --- | --- | --- | --- |
| Rank | No. | Driver Name | Time | Speed | Diff | Gap |
| 1 | 28 | Kellett, Dalton | 00:45.4534 | 198.005 | –.—- | –.—- |
| 2 | 27 | O'Ward, Pato (R) | 00:45.8738 | 196.190 | 0.4204 | 0.4204 |
| 3 | 23 | Franzoni, Victor (R) | 00:45.9394 | 195.910 | 0.4860 | 0.0656 |
| 4 | 48 | Norman, Ryan | 00:46.2028 | 194.793 | 0.7494 | 0.2634 |
| 5 | 33 | Windom, Chris (R) | 00:46.2179 | 194.730 | 0.7645 | 0.0151 |
| 6 | 2 | Hamilton Jr, Davey (R) | 00:46.3486 | 194.181 | 0.8952 | 0.1307 |
| 7 | 5 | Urrutia, Santi | 00:46.9707 | 191.609 | 1.5173 | 0.6221 |
| 8 | 98 | Herta, Colton | 00:47.0207 | 191.405 | 1.5673 | 0.0500 |
| 9 | 9 | Telitz, Aaron | 00:47.6218 | 188.989 | 2.1684 | 0.6011 |