Latest F1 news in brief – Tuesday
Artem Markelov says Dr. Helmut Marko (above) ruins drivers careers

F2 driver would refuse Toro Rosso call-up

Leclerc plays down Senna, Schumacher comparisons
Todt plays down complaints about 2019 rules
Pirelli drop supersoft tire from Germany line-up
Lawrence Stroll: This is a rude awakening
Lowe: 'No guarantees' as Williams begins recovery program
FIA close another oil burning loophole
F2 driver would refuse Toro Rosso call-up
(GMM) A Formula 2 driver has counted himself out of speculation about the second Toro Rosso seat.
With Brendon Hartley struggling for pace in 2018, rumors suggest Red Bull could entice Pascal Wehrlein out of DTM to replace him at the junior team Toro Rosso.
"That's not the intention at the moment," Red Bull's Dr Helmut Marko told Auto Motor und Sport.
But Honda-powered Toro Rosso's team boss Franz Tost has admitted he has his eye on Japanese Formula 2 driver Nirei Fukuzumi.
Another F2 driver, though, says he isn't interested in Red Bull or Toro Rosso.
"Would I agree to go in the place of Hartley?" Renault development driver Artem Markelov told Sport FM.
"If Renault gave the go-ahead it's possible, but of my own volition I would not sit in the Toro Rosso.
"Knowing Dr Marko, knowing how he ruins the careers of young drivers, I don't need that," Markelov continued.
"There are also rumors that Christian Horner could leave Red Bull, and that Red Bull wants to leave formula one. So they're just rumors but I don't know what the prospects of being at Toro Rosso and Red Bull are," he said.
Leclerc plays down Senna, Schumacher comparisons
Charles Leclerc, the next Senna? We think not
(GMM) Charles Leclerc has played down any comparisons being made between him and true F1 greats.
The Monaco-born driver made his formula one debut this year with Sauber amid suggestions he is set to become a future Michael Schumacher or Ayrton Senna.
"Of course it's a great honor to be associated with those names already," Leclerc, 20, said ahead of his first home grand prix in the Principality.
"But I try to ignore this sort of thing because I still have a lot to learn in formula one," the Ferrari-backed reigning F2 champion added.
But even Alain Prost, a F1 legend and quadruple world champion, has praised Leclerc.
"That gives me a lot of confidence as well," Leclerc said in an interview with Blick newspaper. "We've known each other for a long time because he has a house in the south of France."
And he said dueling on track with another great like Fernando Alonso is also helping him.
"When you fight with such an aggressive driver and a two-time world champion, you will learn twice as much as you do with most other drivers," said Leclerc.
"And Fernando started at the back too, with Minardi," he smiled.
2018 actually didn't start easily for Leclerc, but he says he is finally getting up to speed in formula one now.
"The more information you have about the car, the more confidence you get," he said. "Maybe that was missing in the first two races. You make mistakes.
"In addition, the jump from Formula 2 to formula one is much bigger than you can imagine. The tire management is a science in its own right," Leclerc added.
Todt plays down complaints about 2019 rules
Jean Todt
(GMM) Jean Todt has played down criticism of the incoming changes to the F1 regulations for 2019.
A majority vote by the teams means that significant aerodynamic changes will be added to the rules next year, with a new front wing in particular designed by boost overtaking.
But some voted against the move, and Red Bull's Christian Horner was even furious.
"This sport is very good at shooting itself in the foot," he said.
"These are not small changes. If you change the front wing, you have to change everything behind it."
Horner questioned if the changes are necessary.
"There has never been much overtaking in Melbourne and Barcelona," he said. "Otherwise, we had three great races this year."
Mercedes boss Toto Wolff said of the recent strategy group meeting in which the changes were voted through: "I thought Christian was going to have a heart attack.
"We thought the suggestions and the direction looked right so he wanted to support it," he told Auto Bild.
FIA president Todt agrees, backing Liberty Media's vision.
"When you realize that something is wrong, you should find a solution," he said. "We all want a better show and a better sport, so we've done something."
As for the argument that it will cost teams millions to make changes next year and then more again in 2021 for the next regulations, Todt answered: "If we wait until 2021, that's almost three years when we know that there is a problem."
Todt also dismissed Horner's charge about the changes being ill-considered.
"We talked to many engineers and asked them what we should do to make the sport better. These are the suggestions," he said.
Pirelli drop supersoft tire from Germany line-up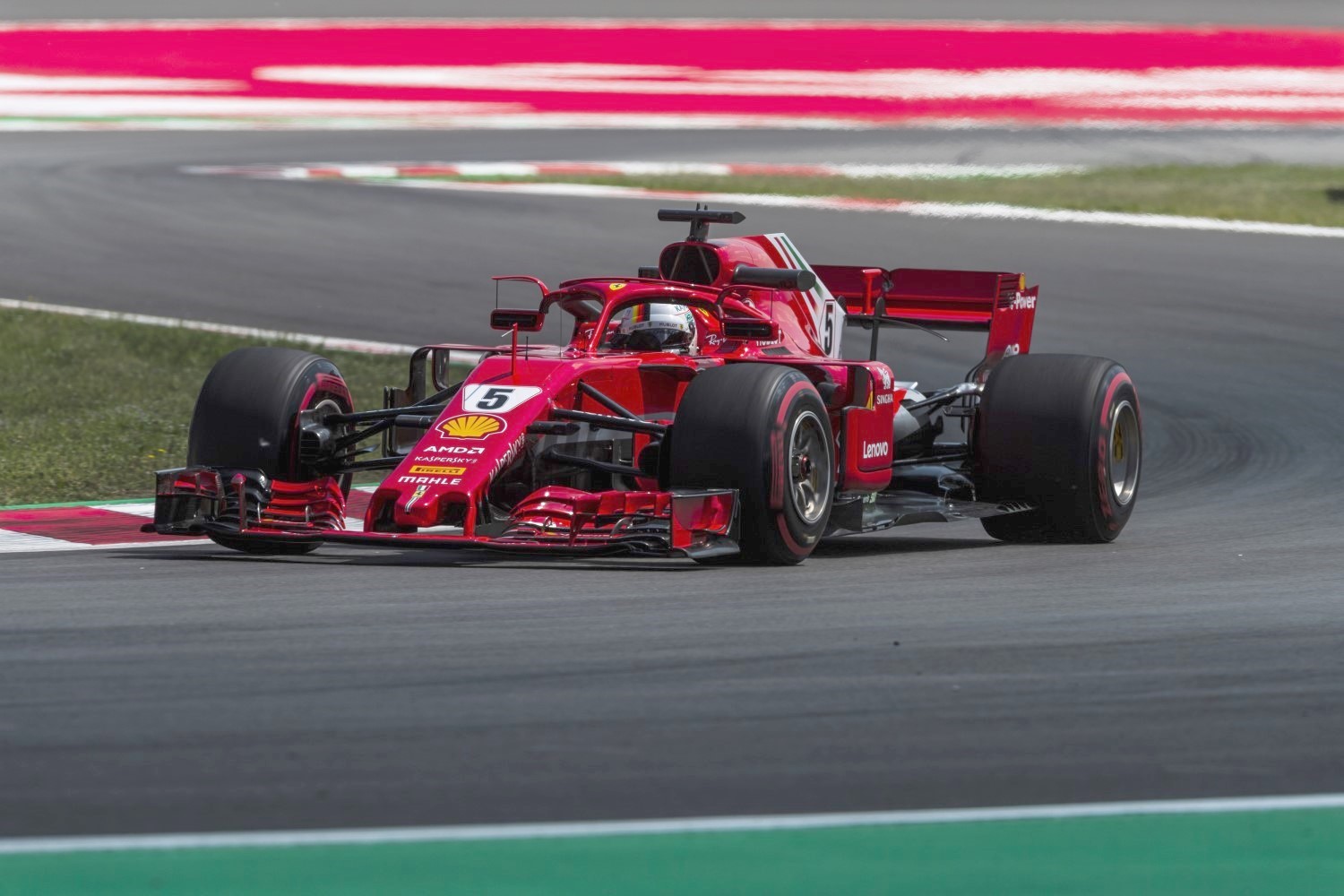 No red supersofts for Germany
Pirelli have left the supersoft tire out of the three compound line-up for the German Grand Prix in July.
The race weekend at Hockenheim will see the white-striped medium tires, yellow-striped softs, and the purple-striped ultrasofts.
It is only the second time that Pirelli have gone for a 'non-consecutive' selection of tires, with the Chinese Grand Prix seeing the same three compounds chosen.
Pirelli said this week during testing at the Circuit de Barcelona-Catalunya that drivers had asked for compounds to be left out more often.
This comes after Haas driver, Romain Grosjean, was critical of the supersoft compound during the Spanish GP weekend.
Grosjean said: "The super should go faster [than the soft]. Obviously you expect more degradation, but it is just a harder tire to drive."
The supersoft will now have missed three weekends after Germany, as it was not taken to Shanghai. It will also miss out on Silverstone, as well as Hockenheim.
The Monaco Grand Prix will see the first outing of the pink-striped hypersoft tire, which will also make an appearance in Canada as well.
Lawrence Stroll: This is a rude awakening
Daddy Stroll (R) spent all that money for son Lance (L) to run at that back
Lawrence Stroll, whose many millions have helped bankroll his son into Formula 1 has admitted, that Lance's second year has been a "rude awakening" however he keeps the faith the Williams will bounce back from one of the bleakest periods in their history.
After a season of learning in 2017 with veteran Felipe Massa in the Williams garage next to him, this year young Stroll is now partnered with rookie Sergey Sirotkin – the pair not helped by the fact that the former world champion team have provided them with a lemon of a car – perhaps the worst on the grid.
Stroll senior said in an interview with Motorsport Network, "I believe in Williams, I believe in the team. Clearly, they got it wrong so far. I do believe this is a rude awakening, and hopefully, it will bring the best out of the people, and they'll fix it."
"It's sure not as quick as we'd like, and not as quick as they'd like either, but we're not going anywhere else. Obviously, the car clearly isn't where we hoped and wanted to be, it's quite a way off. It's pretty apparent to the eye what's wrong with the car."
"I gather everyone is trying their best, there's a great sense of urgency in the team. It's not that they don't recognize the problem, everybody does. A blind person could see the problem. I know they're working hard to fix it."
Behind the scenes Stroll senior has been lobbying to align Williams more closely with Mercedes, "I'm not a board member, I don't own one share of this team, I'm simply Lance's father. Whatever they can do to make the car go better, I'm in favor of, let's put it that way."
Stroll junior has struggled with the car and has not been shy to let the paddock know, while his father continues to believe, "I think his performance, based on the car he has, has been phenomenal. He can't qualify the car much better than where he qualifies it, but he does amazingly well on that opening lap."
"He's beaten his team-mate all five times, and beaten a lot of people that the car is not capable of beating. So from a performance point of view with Lance, we couldn't be happier."
"Obviously we'd like a better car to be at the front of the grid, but with the equipment he has, I don't think he could be doing a better job," added Stroll senior.
Lowe: 'No guarantees' as Williams begins recovery program
Paddy Lowe is responsible for Williams being dead last
Williams chief technical officer Paddy Lowe has admitted that the team has made some serious mistakes in the development of this year's FW41.
"The pace is really quite bad," he told reporters this week in Barcelona. "The car isn't good enough, it's not what it should be.
"There are some issues with it, which fortunately we think we understand," he added. "There is something that is really disrupting the drivers' ability to drive the car anywhere near the limit."
Williams missed out on the points in the Spanish Grand Prix. And the team continued to struggle during two days of in-season testing at the Circuit de Barcelona-Catalunya during the week.
"We're very busy doing a lot of work to fix those issues," he said. "None of those fixes are in place [at the moment] unfortunately.
"We haven't yet brought anything that solves those," he continued. "That's why we were struggling so much at a circuit which is an unforgiving track for underlying car performance.
"We shouldn't expect it to be any better. But we will do in due course."
Lowe insisted that the car had its plus points too, and said that the team was far from giving up on 2018.
"We are not writing off this season. From the minute this car ran, it was clear there were some issues we had to deal with," he said.
"There are many things that are good about the car and they are unable to show themselves, because the car is let down particular aspects."
The team's long-time chief designer Ed Wood left the team earlier this month but Lowe was quick to say that Williams' current struggles were not down to Wood. Instead, he preferred to take the hit himself.
"We have to accept we haven't done a good job," Lowe acknowledged. "We just lost our way in some critical areas, which we now understand.
"I haven't done a good enough job in making the right level of progress. I've been with the team 12 months, and there are things which we should have responded to earlier."
Among the changes that have been made in recent months have been the hiring of Ferrari's Dirk de Beer as head of aerodynamics, and McLaren's Doug McKiernan coming on board as chief engineer.
Lowe said that the personnel changes were all part of a bigger plan of get Williams back on its feet.
"We have put in place a program with the team, which we call a recovery program," he said.
He explained that the idea was to "bring back the car back to the level we intended to operate" but admitted that it was still early days and a work in progress.
"That program is timed up to the midseason point. I can't guarantee anything."
FIA close another oil burning loophole
As F1's oil burning saga rumbles on, the FIA have closed yet another loophole after Mercedes requested clarification regarding the oil used in the "pressure charging [turbocharger] system".
With rivals accusing one another of burning oil to increase performance, the FIA have taken steps over the past months to close various loopholes while limiting oil burning.
The latest relates to the turbocharger.
According to Autosport, Mercedes' head of product engineering capability at Brixworth Chris Jilbert recently wrote to F1 race director Charlie Whiting seeking clarification.
In the letter he asked: "With the exception of transformer oils used within ERS cooling circuits, and hydraulic oils used for PU actuators (both of which should have zero consumption in operation), do all oils (and specifically, any oil used in the pressure charging [turbocharger] system) used in the power unit need to comply with article 20?"
Article 20 covers all things oil and states that "no competitor may use more than one oil in a given engine during an event."
Mercedes also questioned whether the turbo system oil was considered part of the set 0.6-litres/100kms oil consumption limit.
The FIA responded with a yes to both questions.
The FIA's response has closed a possible loophole that some teams may have exploited although as yet there has been no suggestion that anyone has been doing so.