Hunter-Reay leads Andretti 1-2-3 in Sunday morning practice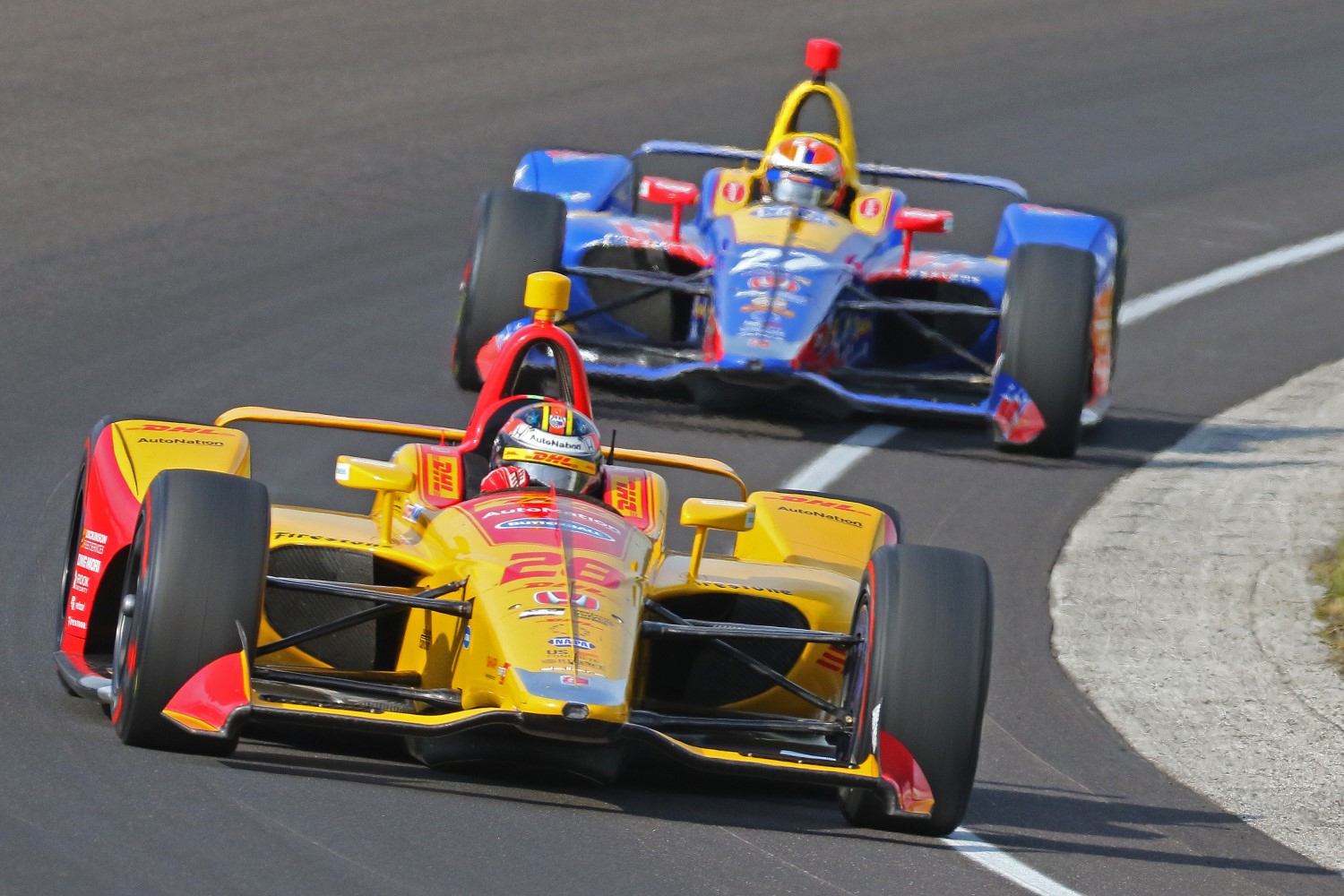 Hunter-Reay leads Rossi
Ryan Hunter-Reay led an Andretti Autosport 1-2-3 in Sunday Morning practice ahead of final day of qualifications for the 102nd Indy 500. Hunter-Reay's lap of 230.507 nipped his teammates Marco Andretti and Alexander Rossi.
However, the Andretti team's times were set with a tow and they remain slower than the Chevys.
The Fast Nine Teams are ready to practice next.
Results
| | | | | | | | | |
| --- | --- | --- | --- | --- | --- | --- | --- | --- |
| Pos | No | Name | FTime | Diff | Gap | FSpeed | Engine | Team |
| 1 | 28 | Ryan Hunter-Reay | 39.044 | –.—- | –.—- | 230.507 | Honda | Andretti Autosport |
| 2 | 98 | Marco Andretti | 39.086 | 0.0415 | 0.0415 | 230.263 | Honda | Andretti Herta Autosport |
| 3 | 27 | Alexander Rossi | 39.217 | 0.1722 | 0.1307 | 229.495 | Honda | Andretti Autosport |
| 4 | 14 | Tony Kanaan | 39.287 | 0.2428 | 0.0706 | 229.083 | Chevy | AJ Foyt Enterprises |
| 5 | 23 | Charlie Kimball | 39.344 | 0.2998 | 0.0570 | 228.751 | Chevy | Carlin |
| 6 | 19 | Zachary Claman De Melo | 39.353 | 0.3089 | 0.0091 | 228.698 | Honda | Dale Coyne Racing |
| 7 | 4 | Matheus Leist | 39.361 | 0.3167 | 0.0078 | 228.653 | Chevy | AJ Foyt Enterprises |
| 8 | 66 | JR Hildebrand | 39.387 | 0.3428 | 0.0261 | 228.501 | Chevy | Dreyer & Reinbold |
| 9 | 6 | Robert Wickens | 39.396 | 0.3517 | 0.0089 | 228.450 | Honda | Schmidt Peterson Motorsports |
| 10 | 7 | Jay Howard | 39.482 | 0.4379 | 0.0862 | 227.951 | Honda | Schmidt Peterson Motorsports |
| 11 | 29 | Carlos Munoz | 39.492 | 0.4473 | 0.0094 | 227.897 | Honda | Andretti Autosport |
| 12 | 25 | Stefan Wilson | 39.549 | 0.5049 | 0.0576 | 227.565 | Honda | Andretti Autosport |
| 13 | 30 | Takuma Sato | 39.579 | 0.5348 | 0.0299 | 227.393 | Honda | Rahal Letterman Lanigan Racing |
| 14 | 26 | Zach Veach | 39.583 | 0.5384 | 0.0036 | 227.372 | Honda | Andretti Autosport |
| 15 | 24 | Sage Karam | 39.613 | 0.5688 | 0.0304 | 227.198 | Chevy | Dreyer & Reinbold |
| 16 | 59 | Max Chilton | 39.644 | 0.5996 | 0.0308 | 227.021 | Chevy | Carlin |
| 17 | 60 | Jack Harvey | 39.729 | 0.6850 | 0.0854 | 226.533 | Honda | Meyer Shank Racing |
| 18 | 64 | Oriol Servia | 39.822 | 0.7777 | 0.0927 | 226.006 | Honda | Scuderia Corsa with RLL |
| 19 | 15 | Graham Rahal | 39.882 | 0.8377 | 0.0600 | 225.666 | Honda | Rahal Letterman Lanigan Racing |
| 20 | 88 | Gabby Chaves | 40.333 | 1.2887 | 0.4510 | 223.142 | Chevy | Harding Racing |