Andretti leads Honda 1-2-3-4 on Wednesday at over 227 mph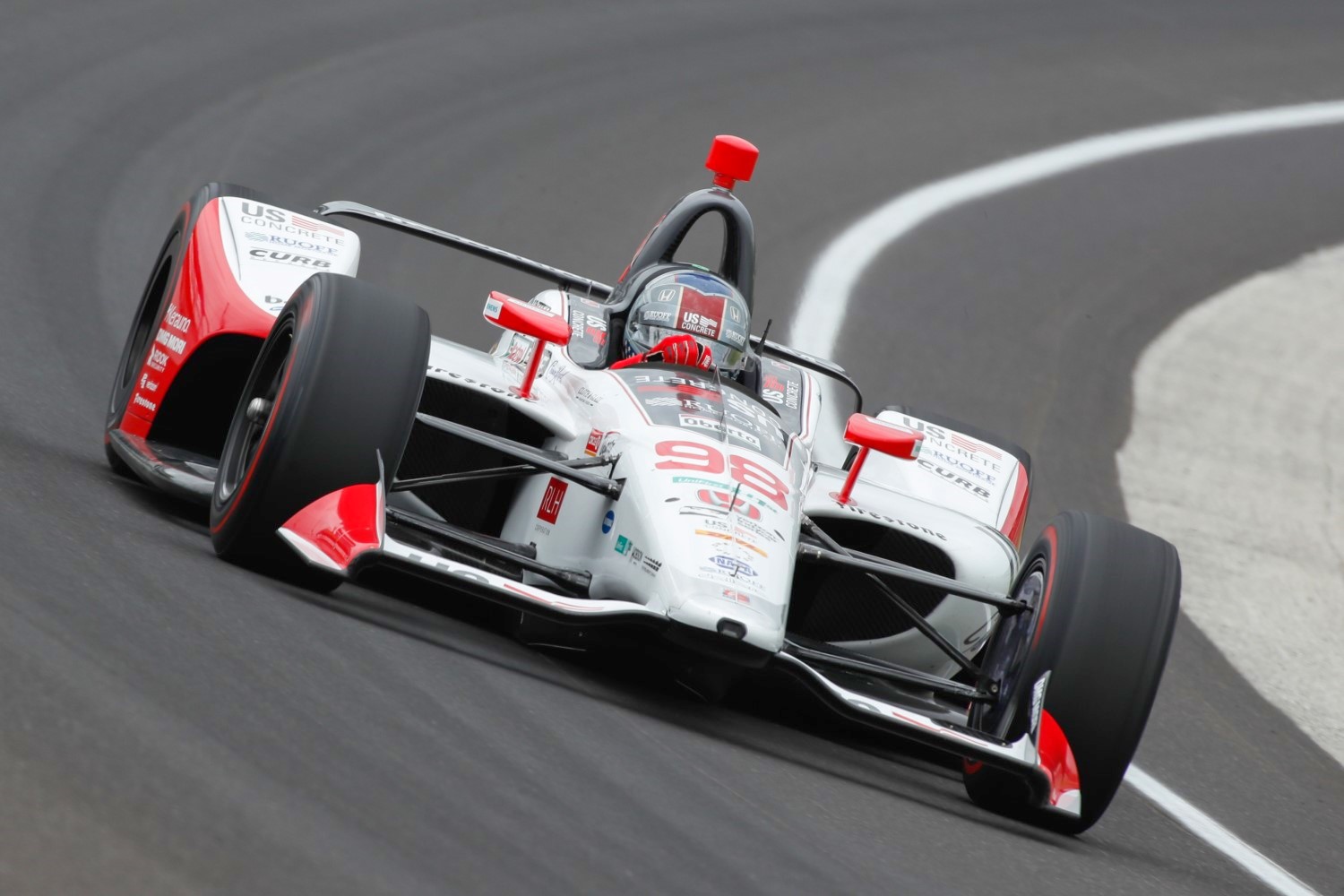 Marco Andretti
Marco Andretti turned the fastest lap of 227.053 mph to lead three other Hondas in practice at Indy Wednesday. Scott Dixon was 2nd quick at 226.329 mph followed by Takuma Sato and Robert Wickens all over 226 mph.
This week's four scheduled days of practice lead up to qualifying for the 102nd running of "The Greatest Spectacle in Racing" on Saturday and Sunday, when the grid will be set and bumping one's way into the 33-car field is expected for the first time in seven years. Indianapolis 500 race day, featuring the world's largest single-day sporting event, is set for Sunday, May 27 (11 a.m. ET, ABC and Advance Auto Parts INDYCAR Radio Network).
Andretti, chasing his 13th straight Indy 500 start and first win in the race, was pleased with the progress his crew has been making.
"It was a pretty productive day," Andretti said. "We got the car to 'almost there' in traffic. We're not there yet, but I'm sure everybody's dealing with a similar thing. But we think we have a direction, which is positive."
Scott Dixon, the 2008 Indy 500 winner and four-time Verizon IndyCar Series champion, was second fastest on the day, with a lap of 226.329 mph in the No. 9 PNC Bank Chip Ganassi Racing Honda.
"I think the car was decent," Dixon said. "The conditions were probably more favorable around lunchtime. (In) the heat of the day, we went through some struggles, went through some pretty big changes.
"A long story short, we ended up finding a couple of good changes. The second-to-last run was fairly decent as far as being comfortable in the car, kind of being very consistent. That was nice. We just ran full downforce all day and tried to work with the car and find better combinations just for being comfortable in traffic and trying to get the car a little more grip."
Defending Indy 500 winner Takuma Sato was third on the day at 226.108 mph in the No. 30 Mi-Jack/Panasonic Honda for Rahal Letterman Lanigan Racing, with rookie Robert Wickens fourth in the No. 6 Lucas Oil SPM Honda at 226.086 mph. Charlie Kimball was tops in the Chevrolet camp and fifth overall with a lap of 225.887 mph in the No. 23 Fiasp entry for Carlin.
Danica Patrick, completing her stellar INDYCAR and NASCAR racing career at this year's Indianapolis 500, was 12th on the speed chart in the No. 13 GoDaddy Chevrolet for Ed Carpenter Racing (224.570 mph).
"I ran in traffic virtually all day," Patrick said. "I feel like that's going to pay off in the long run. We still have to make the car better, but me getting more comfortable is also going to help that process. So, all in all, it was another good, productive day."
All 35 entered drivers saw track time, totaling 3,349 laps without incident. Fifteen drivers turned more than 100 laps each, led by James Hinchcliffe with 129 in the No. 5 Arrow Electronics SPM Honda.
All of the fast laps were completed with the aid of the aerodynamic tow from leading cars in a group. The best lap of the day recorded without a tow went to Tony Kanaan, at 223.048 mph in the No. 14 ABC Supply AJ Foyt Racing Honda.
Quotes
JOSEF NEWGARDEN (No. 1 Verizon Team Penske Chevrolet): "It was a good, productive day with the team. We all worked together really well. I think all of us put in a lot of work on many different tires, which is good, because it looks like we're going to have rain on Friday. We're still trying to make our race cars a little better. We still need a little bit of work but I think we're close, and the Verizon guys are working hard. I'm happy about that."
HELIO CASTRONEVES (No. 3 Pennzoil Team Penske Chevrolet): "We continue to develop a strategy to run in traffic with our Pennzoil Chevy. Obviously, still trying to understand the new car and working together with our other teammates. That is what happens – one day might be a good day and then comes a challenging day. Today was one of those challenging days."
MATHEUS LEIST (No. 4 ABC Supply AJ Foyt Racing Chevrolet): "Today was a great day. The car is feeling pretty good for our qualifying run. We still have some work to do on race trim. It was a really good first day. We tried a lot of new things and learned a lot. I'm looking forward to the rest of the week. I think we're moving in the right direction. Hope we can have a great month. However, we still don't have a great car for running in traffic. We're focusing on qualifying and what we can do to have the best setup for qualifying. Every time I'm in the car, I learn something new. With today being my first day back at the Speedway, I'm having fun."
JAMES HINCHCLIFFE (No. 5 Arrow Electronics SPM Honda): "Another good day on track. We focused a lot on the race car today, trying to make it work in traffic. We did a couple long runs with our teammates, which is definitely a benefit to having four cars on a team. We can kind of run our own program in that sense, and not just have to rely on when basically Andretti (Autosport) goes out and drags the whole field out. I think we got through a lot of stuff today with the Arrow Electronics car, and we have a lot of information to look through tonight. Really just one more day of practice like this before we switch into qualifying mode, so we'll have to make sure we hit the ground running tomorrow with a car we think we can tune into a good place for the race."
ROBERT WICKENS (No. 6 Lucas Oil SPM Honda): "I think it was a pretty productive day. We still have issues that we need to work through, but I see the positive in that. The Lucas Oil car is not exactly where we need it to be, and I know I still have to work on a lot of things – my lines and everything could be more consistent. We got a really good tow lap and ended up P4, so I think we're in the window without a tow and we're there with the tow."
JAY HOWARD (No. 7 One Cure SPM Honda): "Two solid days for the One Cure car. Just working through things with our race car, and I think, collectively as a team, we're doing a good job. We will keep up the hard work and hopefully, we can stay up near the top half of the charts."
SCOTT DIXON (No. 9 PNC Bank Chip Ganassi Racing Honda): "Not a bad day today. We worked on a number of things with the PNC Bank car. One of the most important was running in traffic out there with some other cars. We'll get as much data as we can from those runs today, take a look at what we find and then apply it to the next steps for preparing the car for the race."
ED JONES (No. 10 NTT DATA Chip Ganassi Racing Honda): "I wouldn't say I was 100 percent happy with the NTT DATA car today. We're continuing to focus and work on the balance of the car. That's really the main thing. There are so many variables and things to try to make it fast, and we have quite a bit of practice time here before next week. We'll just keep trying to improve the car and try things out to be ready for qualifying this weekend."
WILL POWER (No. 12 Verizon Team Penske Chevrolet): "We have our car in a good window. It's definitely tough to get exactly right. We will think about it again tonight and see what we can find tomorrow."
DANICA PATRICK (No. 13 GoDaddy Chevrolet): "It was another productive day for the GoDaddy team. I think the main area that was improved was just my comfort level in traffic. I ran in traffic virtually all day. I feel like that's going to pay off in the long run. We still have to make the car better, but me getting more comfortable is also going to help that process. So, all in all, it was another good, productive day."
TONY KANAAN (No. 14 ABC Supply AJ Foyt Racing Chevrolet): "Today was a productive day. We took today to learn different things about how the car is working, tried a few different things. It's just another day at the Speedway, really just going through the motions. We are trying to put together what I call "our cookbook." Throughout the month, you put together a cookbook, then, on race day, you go through your cookbook, and see what recipe suits you the most. We will continue to move forward from here. All in all, today was a good day."
GRAHAM RAHAL (No. 15 United Rentals Honda): "It wasn't a great day obviously. The car isn't very close so we will keep working on it. We spent the first few hours working on qualifying sims and did two of them. So we knew that early in our day was committed to that but certainly it wasn't the finish to the day that we were looking for."
CONOR DALY (No. 17 United States Air Force Honda): "The best part about today is that we got more laps in the No. 17 U.S. Air Force car than yesterday. We still have quite a bit to learn about this car. I think everyone is still trying to get on the same page, just us as a team. We found some things that worked and we found things that didn't work, so we have to try and put the pieces together for tomorrow and try to improve the overall package moving forward."
ZACHARY CLAMAN DE MELO (No. 19 Paysafe Honda): "We worked a lot on our race car today. I was getting used to running in traffic and we were figuring out where we are in a group. We never really pushed hard to put in a really fast lap so while the times might not look great, that wasn't our goal for today. A lot of the times are deceiving with the tow speeds and no-tow speeds. We ran through our test program today and now we know some of the things that work and some that don't. I think every day getting to sleep on it, it's a big help. I feel more and more comfortable every day I come back and today was a good day."
ED CARPENTER (No. 20 Ed Carpenter Racing Fuzzy's Vodka Chevrolet): "I'm starting to like what I'm feeling in the Fuzzy's Vodka car. We've had two good days, we haven't gotten it perfect – not everything that I want – but everyone is working really hard right now to try and get that feel out of the race car. For me, I feel like we've had two productive days, we're inching our way closer to the feeling I want to get out of the car. I'm happy with where we're at, feeling good with the speed we have in the car; I'm just looking for that last little bit to make me feel good. I would like to feel pretty content by tomorrow night as to where we're headed with an actual race car into Memorial Day weekend. If we could have another day tomorrow like we had today, I think we'll be pretty close."
SPENCER PIGOT (No. 21 Preferred Freezer Service Chevrolet): "We made a lot of changes today. Some of them helped, some of them not so much. Our main focus is just trying to build a better race car; we know what we need from the car, we just have to try and pick the right changes to get it. Once we are able to do that, we should be pretty good."
SIMON PAGENAUD (No. 22 Menards Team Penske Chevrolet): "It was an interesting day; we're learning a ton. This new car is quite a bit of a different animal than what we've been used to. There's still a lot to learn to get the car where we want it to be for the race, but we're getting there."
CHARLIE KIMBALL (No. 23 Fiasp Chevrolet) : "Another solid day for the team and the No. 23 Fiasp Chevrolet. This place is just such a challenge because you don't always know where you are, relative to others speed-wise. Most of the big numbers come from big tows, but at the same time, we were pretty happy with our pace and speed out on our own. Going into the next couple of days I think we have a solid plan of what we need to work on and on Friday we'll have an eye toward Saturday with the high booster level and qualifying spec. Tomorrow afternoon we'll work on that. This afternoon, we did some race stuff. We have some ground to cover and could make some progress there, but I know that we've learned a lot. We'll apply it tomorrow morning and start looking at the weekend's setup in the afternoon."
STEFAN WILSON (No. 25 #Driven2SaveLives Honda): "It was a challenging day. We were obviously in the traffic quite a bit more today, and just generally we were trying and exploring some changes with the car and found some things that didn't necessarily work. I feel like we ticked some items off the checklist regarding some changes to make. We'll go back and look at the data tonight with the teammates and hopefully make even better changes tomorrow."
ZACH VEACH (No. 26 Group One Thousand One Honda): "Overall I'm really happy with today. I think we've made good progress over what we had yesterday. We still have a lot left to be found, but with how things are going it's hard to pinpoint exactly where you are at this stage in the week. But, I'm pretty confident in the car and if we keep making progress the way we did today we should have a pretty good race car come next Sunday."
ALEXANDER ROSSI (No. 27 NAPA AUTO PARTS Honda): "It was another pretty good day. I think we ended sixth on the no-tow list, so we're definitely making some progress. I think the race car needs a little more work, but I think all six of us are having issues, here or there. That's the good thing about having six cars – we can combine our resources and try to figure it out. Overall it was a step up from yesterday and we'll try to do the same thing tomorrow."
RYAN HUNTER-REAY (No. 28 DHL Honda): "We just worked our second day on track in speedway configuration. We're just trying to work with the car in race running. It seems like everyone is struggling with the same thing which is lack of front, or overall, grip at the exit when running deep in traffic. It's definitely different than the past few years – it won't be a draft party like we've had in the past. We'll put our heads together and go faster."
CARLOS MUNOZ (No. 29 Ruoff Home Mortgage Honda): "We ran a lot of laps today and tested a lot of things on the car. Overnight we need to determine what did work and what didn't. I think we're pretty close to the car I would like to race, we just need to do a little more tweaking to be happy with the car, in traffic especially. Today was just running through the changes to see what works for us and tomorrow we'll see what we've got."
TAKUMA SATO (No. 30 Mi-Jack/Panasonic Honda): "I would say it was a very productive day. Mid-day we were struggling a little bit in terms of balance but we were trying to find new philosophies. In the end, in the evening I think we were finally able to do a quite good run in the pack, which was quite encouraging. Still, there are a few bits and pieces we need to get sorted (out) because I had a huge moment in traffic. But I think it was a very good day with the three of us working together. We'll be heads down the next two days and do our jobs and hopefully keep climbing up the chart and make the car faster."
KYLE KAISER (No. 32 NFP / Juncos Racing Chevrolet): "It was a pretty solid day. We got a lot of work in and got to make a lot of changes to the car. We worked in traffic and on qualifying setups, so overall it was a productive day. I am looking forward to continuing the progress we made today for tomorrow. We will probably have a similar program and we will just keep nipping away at it. I know there is still some ground to be made up, but I am really happy with how the team is working and the progress we have made up to this point.''
JAMES DAVISON (No. 33 Jonathan Byrd's 502 East Chevrolet): "Today was a challenging day for the team. We really set out to try and achieve balance in traffic, and as hard as we tried, we just weren't able to. We threw probably 10 to 15 things at the car and never got to where we wanted to be. Tonight is going to be a big debrief and regroup to get on top of it. Hopefully, we will come out of the gates strong tomorrow."
MAX CHILTON (No. 59 Gallagher Chevrolet): "We learned a lot today as a team and we got through quite a few items on our to-do list. We did our first bit of qualifying trimming to the No. 59 Gallagher Chevrolet and we worked on race preparation as well. I'd say we still aren't where we want to be in terms of a qualifying or race setup, but we are getting closer and we were able to achieve exactly what we set out to do today at practice."
JACK HARVEY (No. 60 AutoNation/SiriusXM MSR w/SPM Honda): "We made a lot of progress running in traffic. By the end of the day, I was able to make some legitimate overtakes, which is what the race is going to be about. The team made really good progress today. I got more confident with each lap I had. The combination of me being more confident and the team giving me more of what I needed was a really productive end of the day. Honestly, it was a good day and (I'm) happy about it."
PIPPA MANN (No. 63 Dale Coyne Racing Honda): "I think that overall that was a fairly positive and productive first real day of running for me in the Donate Life Dale Coyne Racing #63 car. We definitely still have some work to do on our race car, but we're happy with the progress we've made and so far it's been encouraging."
ORIOL SERVIA (No. 64 Scuderia Corsa/Manitowoc Honda): "Well today is only Wednesday, there is still a lot to accomplish but it was definitely a way better day than yesterday. We did a couple of runs completely alone this morning to check our balance towards qualifying and we were quite pleased with the car. Towards the end of the day, we did more runs in traffic to see how the car will be in race conditions and we are still not as happy as we want to be on race day but we are definitely making gains. The car is pretty good and no worse than anyone out there. I would say we are a top-10 car right now. We obviously are aiming higher than that and still have a few days to keep working on our goal. Looking forward to tomorrow."
GABBY CHAVES (No. 88 Harding Group Chevrolet): "Day 2 of practice was great because we worked through a lot of things and got a lot of track time. The car was pretty good and progressed a lot and we learned a lot throughout the day. We're still working through our program and we found a few really positive things that can help us come race day. Now we work on expanding upon that and look forward to Day 3 of practice."
MARCO ANDRETTI (No. 98 U.S. Concrete / Curb Honda): "It was a pretty productive day. We got the car to 'almost there' in traffic. We're not there yet, but I'm sure everybody's dealing with a similar thing. But we think we have a direction, which is positive."
Wednesday Times
| | | | | | | | | | |
| --- | --- | --- | --- | --- | --- | --- | --- | --- | --- |
| Pos | No | Name | FTime | Diff | Gap | Laps | FSpeed | Engine | Team |
| 1 | 98 | Marco Andretti | 39.638 | –.—- | –.—- | 117 | 227.053 | Honda | Andretti Herta Autosport |
| 2 | 9 | Scott Dixon | 39.765 | 0.1268 | 0.1268 | 115 | 226.329 | Honda | Chip Ganassi Racing Teams |
| 3 | 30 | Takuma Sato | 39.804 | 0.1656 | 0.0388 | 112 | 226.108 | Honda | Rahal Letterman Lanigan Racing |
| 4 | 6 | Robert Wickens | 39.808 | 0.1695 | 0.0039 | 113 | 226.086 | Honda | Schmidt Peterson Motorsports |
| 5 | 23 | Charlie Kimball | 39.843 | 0.2047 | 0.0352 | 87 | 225.887 | Chevy | Carlin |
| 6 | 14 | Tony Kanaan | 39.869 | 0.2305 | 0.0258 | 85 | 225.740 | Chevy | AJ Foyt Enterprises |
| 7 | 88 | Gabby Chaves | 39.916 | 0.2775 | 0.0470 | 79 | 225.475 | Chevy | Harding Racing |
| 8 | 20 | Ed Carpenter | 39.971 | 0.3326 | 0.0551 | 93 | 225.164 | Chevy | Ed Carpenter Racing |
| 9 | 64 | Oriol Servia | 40.012 | 0.3735 | 0.0409 | 115 | 224.934 | Honda | Scuderia Corsa with RLL |
| 10 | 24 | Sage Karam | 40.020 | 0.3818 | 0.0083 | 82 | 224.887 | Chevy | Dreyer & Reinbold |
| 11 | 1 | Josef Newgarden | 40.042 | 0.4034 | 0.0216 | 90 | 224.766 | Chevy | Team Penske |
| 12 | 13 | Danica Patrick | 40.077 | 0.4383 | 0.0349 | 85 | 224.570 | Chevy | Ed Carpenter Racing |
| 13 | 29 | Carlos Munoz | 40.078 | 0.4397 | 0.0014 | 123 | 224.562 | Honda | Andretti Autosport |
| 14 | 21 | Spencer Pigot | 40.081 | 0.4429 | 0.0032 | 86 | 224.544 | Chevy | Ed Carpenter Racing |
| 15 | 7 | Jay Howard | 40.082 | 0.4438 | 0.0009 | 113 | 224.539 | Honda | Schmidt Peterson Motorsports |
| 16 | 4 | Matheus Leist | 40.088 | 0.4496 | 0.0058 | 59 | 224.507 | Chevy | AJ Foyt Enterprises |
| 17 | 59 | Max Chilton | 40.098 | 0.4595 | 0.0099 | 80 | 224.451 | Chevy | Carlin |
| 18 | 3 | Helio Castroneves | 40.104 | 0.4656 | 0.0061 | 98 | 224.417 | Chevy | Team Penske |
| 19 | 27 | Alexander Rossi | 40.140 | 0.5021 | 0.0365 | 103 | 224.213 | Honda | Andretti Autosport |
| 20 | 66 | JR Hildebrand | 40.156 | 0.5173 | 0.0152 | 69 | 224.128 | Chevy | Dreyer & Reinbold |
| 21 | 12 | Will Power | 40.178 | 0.5395 | 0.0222 | 97 | 224.004 | Chevy | Team Penske |
| 22 | 28 | Ryan Hunter-Reay | 40.186 | 0.5476 | 0.0081 | 112 | 223.959 | Honda | Andretti Autosport |
| 23 | 60 | Jack Harvey | 40.192 | 0.5540 | 0.0064 | 117 | 223.923 | Honda | Meyer Shank Racing |
| 24 | 22 | Simon Pagenaud | 40.228 | 0.5893 | 0.0353 | 97 | 223.727 | Chevy | Team Penske |
| 25 | 63 | Pippa Mann | 40.245 | 0.6062 | 0.0169 | 78 | 223.633 | Honda | Dale Coyne Racing |
| 26 | 26 | Zach Veach | 40.246 | 0.6078 | 0.0016 | 120 | 223.624 | Honda | Andretti Autosport |
| 27 | 10 | Ed Jones | 40.252 | 0.6135 | 0.0057 | 68 | 223.592 | Honda | Chip Ganassi Racing Teams |
| 28 | 32 | Kyle Kaiser | 40.313 | 0.6745 | 0.0610 | 106 | 223.254 | Chevy | Juncos Racing |
| 29 | 5 | James Hinchcliffe | 40.326 | 0.6879 | 0.0134 | 129 | 223.180 | Honda | Schmidt Peterson Motorsports |
| 30 | 18 | Sebastien Bourdais | 40.333 | 0.6942 | 0.0063 | 110 | 223.145 | Honda | Dale Coyne Racing |
| 31 | 17 | Conor Daly | 40.420 | 0.7817 | 0.0875 | 87 | 222.662 | Honda | Dale Coyne Racing |
| 32 | 25 | Stefan Wilson | 40.462 | 0.8238 | 0.0421 | 104 | 222.430 | Honda | Andretti Autosport |
| 33 | 33 | James Davison | 40.462 | 0.8240 | 0.0002 | 74 | 222.429 | Chevy | Foyt with Bryd/Hollinger/Belardi |
| 34 | 15 | Graham Rahal | 40.522 | 0.8837 | 0.0597 | 78 | 222.102 | Honda | Rahal Letterman Lanigan Racing |
| 35 | 19 | Zachary Claman De Melo | 40.573 | 0.9346 | 0.0509 | 67 | 221.823 | Honda | Dale Coyne Racing |
Overall Top Times
| | | | | | | | |
| --- | --- | --- | --- | --- | --- | --- | --- |
| Rank | Car | Driver Name | Engine | Session | Time | Speed | Laps |
| 1 | 98 | Andretti, Marco | Honda | Practice 3 | 00:39.6383 | 227.053 | 174 |
| 2 | 9 | Dixon, Scott | Honda | Practice 3 | 00:39.7651 | 226.329 | 166 |
| 3 | 30 | Sato, Takuma | Honda | Practice 3 | 00:39.8039 | 226.108 | 179 |
| 4 | 6 | Wickens, Robert (R) | Honda | Practice 3 | 00:39.8078 | 226.086 | 165 |
| 5 | 23 | Kimball, Charlie | Chevy | Practice 3 | 00:39.8430 | 225.887 | 133 |
| 6 | 22 | Pagenaud, Simon | Chevy | Practice 1 | 00:39.8605 | 225.787 | 185 |
| 7 | 14 | Kanaan, Tony | Chevy | Practice 3 | 00:39.8688 | 225.740 | 97 |
| 8 | 88 | Chaves, Gabby | Chevy | Practice 3 | 00:39.9158 | 225.475 | 121 |
| 9 | 20 | Carpenter, Ed | Chevy | Practice 3 | 00:39.9709 | 225.164 | 158 |
| 10 | 64 | Servia, Oriol | Honda | Practice 3 | 00:40.0118 | 224.934 | 132 |
| 11 | 24 | Karam, Sage | Chevy | Practice 3 | 00:40.0201 | 224.887 | 143 |
| 12 | 1 | Newgarden, Josef | Chevy | Practice 3 | 00:40.0417 | 224.766 | 150 |
| 13 | 3 | Castroneves, Helio | Chevy | Practice 2 | 00:40.0597 | 224.665 | 165 |
| 14 | 13 | Patrick, Danica | Chevy | Practice 3 | 00:40.0766 | 224.570 | 124 |
| 15 | 29 | Munoz, Carlos | Honda | Practice 3 | 00:40.0780 | 224.562 | 197 |
| 16 | 21 | Pigot, Spencer | Chevy | Practice 3 | 00:40.0812 | 224.544 | 161 |
| 17 | 7 | Howard, Jay | Honda | Practice 3 | 00:40.0821 | 224.539 | 182 |
| 18 | 4 | Leist, Matheus (R) | Chevy | Practice 3 | 00:40.0879 | 224.507 | 59 |
| 19 | 59 | Chilton, Max | Chevy | Practice 3 | 00:40.0978 | 224.451 | 141 |
| 20 | 27 | Rossi, Alexander | Honda | Practice 3 | 00:40.1404 | 224.213 | 196 |
| 21 | 66 | Hildebrand, JR | Chevy | Practice 3 | 00:40.1556 | 224.128 | 125 |
| 22 | 12 | Power, Will | Chevy | Practice 3 | 00:40.1778 | 224.004 | 180 |
| 23 | 28 | Hunter-Reay, Ryan | Honda | Practice 3 | 00:40.1859 | 223.959 | 209 |
| 24 | 60 | Harvey, Jack | Honda | Practice 3 | 00:40.1923 | 223.923 | 224 |
| 25 | 63 | Mann, Pippa | Honda | Practice 3 | 00:40.2445 | 223.633 | 97 |
| 26 | 26 | Veach, Zach | Honda | Practice 3 | 00:40.2461 | 223.624 | 188 |
| 27 | 10 | Jones, Ed | Honda | Practice 3 | 00:40.2518 | 223.592 | 134 |
| 28 | 33 | Davison, James | Chevy | Practice 2 | 00:40.2963 | 223.346 | 95 |
| 29 | 32 | Kaiser, Kyle (R) | Chevy | Practice 3 | 00:40.3128 | 223.254 | 151 |
| 30 | 5 | Hinchcliffe, James | Honda | Practice 3 | 00:40.3262 | 223.180 | 193 |
| 31 | 18 | Bourdais, Sebastien | Honda | Practice 3 | 00:40.3325 | 223.145 | 161 |
| 32 | 17 | Daly, Conor | Honda | Practice 3 | 00:40.4200 | 222.662 | 96 |
| 33 | 25 | Wilson, Stefan | Honda | Practice 2 | 00:40.4451 | 222.524 | 140 |
| 34 | 15 | Rahal, Graham | Honda | Practice 3 | 00:40.5220 | 222.102 | 153 |
| 35 | 19 | Claman De Melo, Zachary (R) | Honda | Practice 3 | 00:40.5729 | 221.823 | 83 |