Stefan Wilson Unveils No. 25 Driven2SaveLives Honda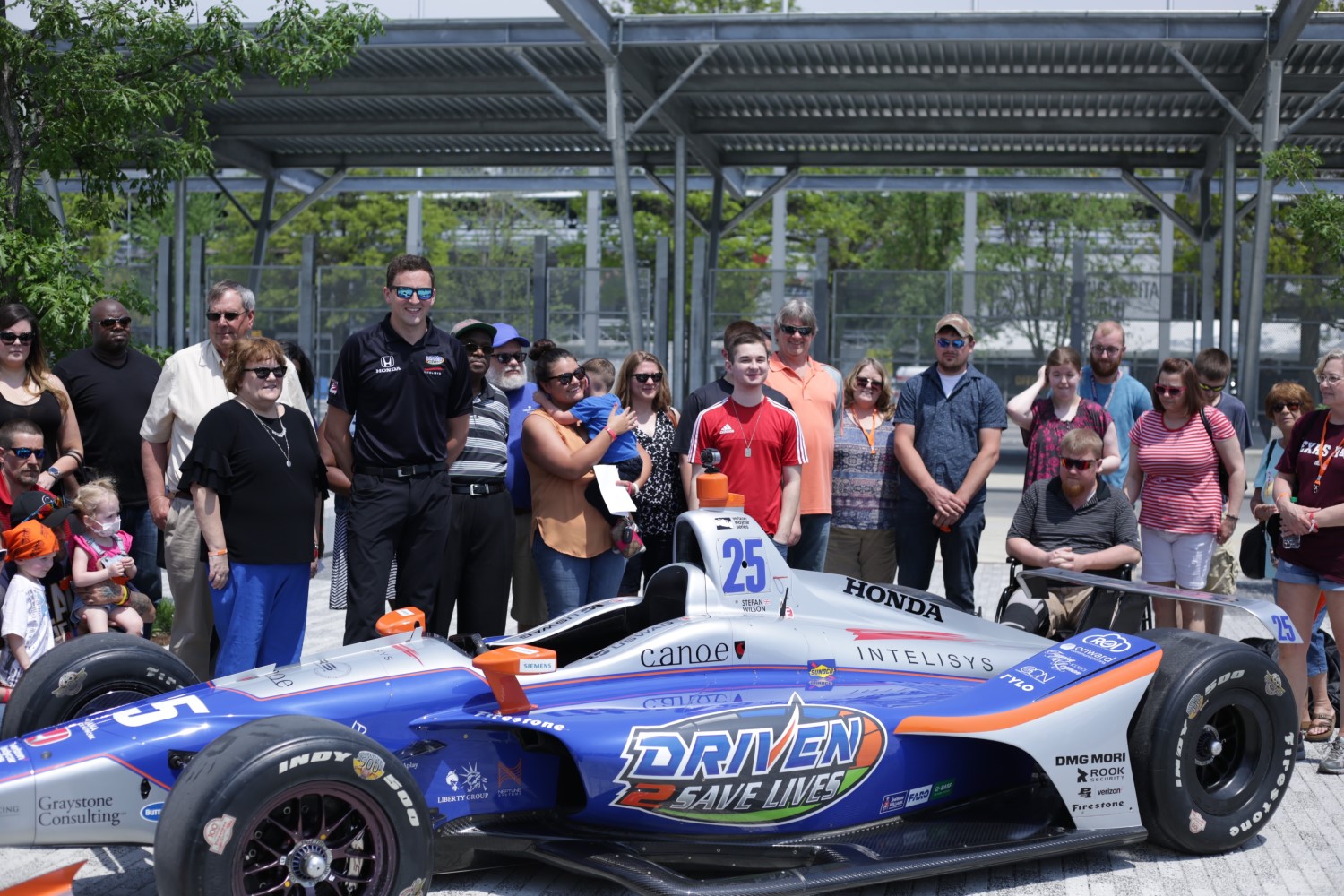 Stefan Wilson's Indy 500 ride
When Stefan Wilson takes the green flag at the 102nd Indianapolis 500, his car – the No. 25 Driven2SaveLives Honda – will carry the names of 25 Hoosiers awaiting lifesaving organ transplants. The patients-in-waiting joined Wilson today, along with representatives from Indiana Donor Network, Intelisys and Andretti Autosport, to unveil the bold and meaningful Indy 500 livery.
"The car looks absolutely stunning," said Wilson, who will be making his second attempt at the world's largest one-day sporting event. "Seeing it in the flesh makes it feel that much more real and I can't wait to get it on track tomorrow. Looking at all the logos on the car, I'm incredibly thankful to all those that made this effort happen. It's been a long road to be back in Indianapolis, but I am determined to pay back all those who have believed in me with a great month of May."
Indiana Donor Network's 'The Why' campaign is set to advance their Driven2SaveLives platform in helping to promote awareness of the importance of organ, tissue and eye donation and transplantation. Since inception, more than 1,000 individuals have made the decision to register as an organ, tissue and eye donor as a result of the Driven2SaveLives campaign. 118,000 people nationwide are waiting for a lifesaving organ donation.
Kellie Hanner, president and chief executive officer of Indiana Donor Network, stated, "Our guests today represent more than 115,000 Americans who today wait – 1,400 right here in Indiana…Each person who today waits represents our 'why,' our mission."
Announced alongside the car unveil today was the addition of three more partners in the form of Inovateus Solar, Three Points Racing Foundation and Rylo.
Inovateus Solar delivers high-quality, personalized solar development, EPC, financing and solar supply services. They first partnered with Wilson's #ThinkSolar initiative and also supported his 2016 Indianapolis 500 run.
Three Points Racing Foundation, an Indiana nonprofit organization, is aimed at helping translate, train and transition military veterans to the motorsports industry. The foundation will partner with Wilson in an effort to generate valuable partnerships with motorsports organizations nationwide to offer up greater opportunities for military veterans.
Rylo is a groundbreaking camera designed with powerful software that makes it easy for anyone to shoot, edit, and share incredibly smooth, cinematic video. With 360° capture, breakthrough stabilization, and a simple app for fast editing on-the go, Rylo produces exceptionally beautiful video every time.
It was announced last week that Intelisys along with its partners, Onward Communications, ROI Communications and Global Communications Networks, will be the co-primary partners on the Briton's race car.
Also represented by Wilson is Graystone Consulting, Canoe Studios, I Am Second, Hull & Knarr, VSRS Motorsports, Neptune Systems, Liberty Group, Gap Guard, USWAG, The Children's TherAplay Foundation, ROI Communications, Onward Communications, Global Communications Network and Topping & Legnon Wines.
Wilson will take the Indy 500's green flag on Sunday, May 27, along with Indianapolis 500 teammates Alexander Rossi (2016 Indy 500 Champion, No. 27 NAPA AUTO PARTS Honda), Ryan Hunter-Reay (2014 Indy 500 Champion, No. 28 DHL Honda), Marco Andretti (No. 98 U.S. Concrete / Curb Honda), Zach Veach (No. 26 Group One Thousand One Honda) and Carlos Munoz (No. 29 Ruoff Home Mortgage Honda).
Live TV broadcast of the 102nd Indy 500 is set for 11 a.m. ET on ABC with radio coverage provided by SiriusXM (Sirius 214, XM 209 and on the SiriusXM app).