Mazda Road to Indy Highlights at IMS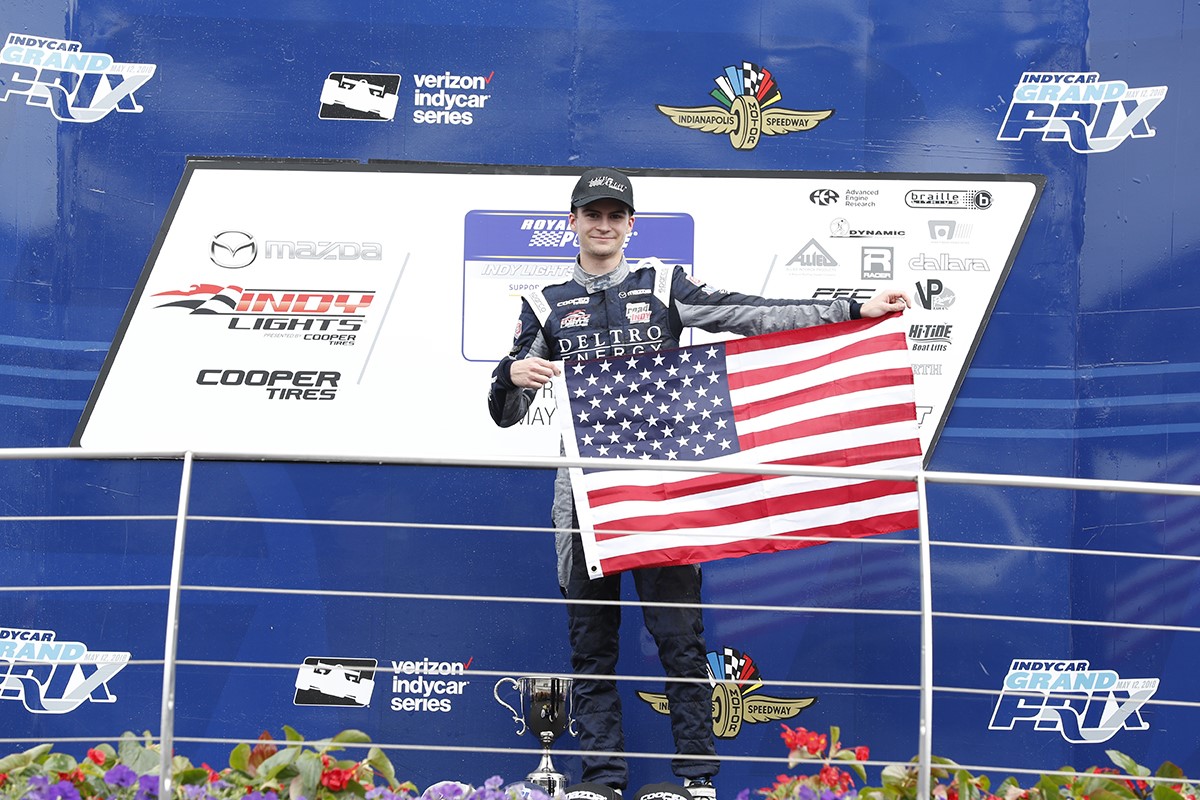 Colton Herta
Second-generation racer Colton Herta (Andretti-Steinbrenner Racing) out-dueled Santiago "Santi" Urrutia to claim a dramatic victory in this afternoon's 35-lap Royal Purple Synthetic Motor Oil Grand Prix of Indianapolis supporting the Lupus Foundation of America.
For the second day in a row, Herta, from Valencia, Calif., had to work hard for his laurels. After falling from second to fifth on the opening lap, the 18-year-old son of 1993 Indy Lights champion Bryan Herta gradually worked his way toward the front, then emerged in the lead following a late clash with Urrutia.
Wisconsin's Aaron Telitz continued to make up for a miserable start to the season (he failed even to complete a lap in each of the first three races) by finishing second for Belardi Auto Racing. Victor Franzoni, who in 2017 succeeded Telitz as winner of the Pro Mazda Championship Presented by Cooper Tires, claimed his second Indy Lights podium finish in third.
After snaring the pole position during a separate qualifying session earlier this morning, championship leader Patricio "Pato" O'Ward duly led away on the opening lap. Herta, meanwhile, found himself elbowed wide at the first corner. The youngster fell briefly to fifth but lost no time in making up for lost ground.
Herta moved back ahead of Franzoni by the end of the first lap, then dived to the inside of Telitz at Turn One next time around. It was a late move which forced Telitz back to sixth and also allowed Franzoni to sneak back ahead of Herta into third.
Up ahead, Urrutia had somehow managed to squeeze past O'Ward for the lead in Turn Seven. The two leaders remained virtually tied together for the next 20 laps, with Urrutia, from Miguelete, Uruguay, turning a string of impressively consistent laps to remain just out of O'Ward's reach.
Herta, meanwhile, snuck past Franzoni for third on Lap Seven, then set about whittling away at a deficit of more than 2.5 seconds to the two leaders. By Lap 16, the three leaders ran nose to tail, with Herta clearly intent on making even more progress.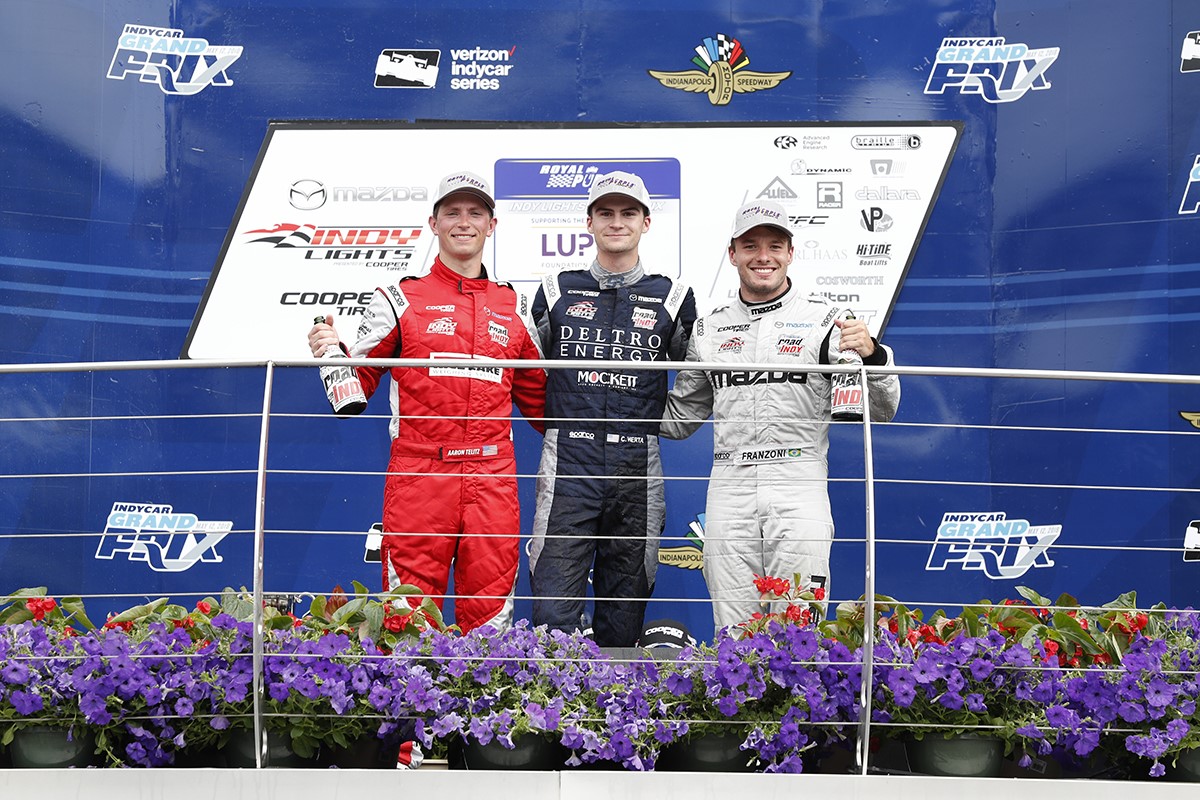 Lights Podium
On Lap 22, O'Ward briefly locked up his brakes while under pressure from Herta in Turn One. As the Mexican slid wide, Herta gratefully moved up to second. O'Ward quickly fell away in third until his flat-spotted left-front tire let go on Lap 29 and he headed for the pits for a replacement.
Urrutia continued to lap consistently in the lead, but it seemed only a matter of time before Herta would make his move.
The outcome was settled at Turn One with three laps to go when the two leaders went side-by-side into Turn One, each of them absolutely on the limit of their cars' braking capabilities. Neither was willing to give the other an inch. Some form of contact was inevitable. It came as they attempted to occupy the same piece of asphalt at Turn Two, and it was Urrutia who came off worst as he spun to the outside. Herta was through and away to another impressive victory.
Telitz, who at one stage was as much as nine seconds behind the leaders, finished second, just 4.1968 seconds adrift at the checkered flag and narrowly ahead of Franzoni, who secured the Tilton Hard Charger Award after starting in sixth.
Urrutia recovered to finish fourth, shadowed by dueling Andretti Autosport teammates Ryan Norman and Dalton Kellett.
O'Ward, who finished a lap down in seventh, retains merely a one-point championship lead over Herta as the Indy Lights field prepares for its first oval race of the season – the Freedom 100 at the Indianapolis Motor Speedway – on May 25.
Colton Herta (#98 Andretti Steinbrenner Racing Curb Mazda Dallara-Mazda IL-15): "I can't believe it. I have not swept a weekend on the Mazda Road to Indy, and we needed it to get back into the championship. To get two wins at Indy is just spectacular – now I want to win the Freedom 100 and sweep the month! I knew the start would be tough, so I tried to slot in behind Aaron and move my way forward. I haven't seen a replay so I don't know exactly what happened with Santi, but from my side I was ahead going into the corner and he pushed me off into the grass when we were side by side. He didn't leave me any room coming back onto the track, so we made contact. It was an all-or-nothing move for me because it was my last push-to-pass, but as far as I'm concerned, it was a racing incident."
Aaron Telitz (#9 Rice Lake Weighing Systems-Belardi Auto Racing Dallara-Mazda L15): "My car was not so great early in the race, and Colton and I did some rubbing and I fell to the back of the field. I made my way through the field and up to Victor. Once I got around, I started putting together the best laps I could as my car just kept getting better and better. Given everything that's happened to me this season, it's great to finish second. I've finished fourth, third, and now second so if I keep that trend going, I should be first at the Freedom 100."
Victor Franzoni (#23 Mazda Motorsports-Juncos Racing Dallara-Mazda IL-15): "I am learning more and more about the Indy Lights car; each race is getting better. I wasn't fast early in the race, but I got much faster as the race went on. Third is good for the points and we still have a lot of racing to go. Working with the Juncos Racing team, we are improving all the time. I'm happy to get the fastest lap in the race. We just need to put everything together and we'll be good."
————-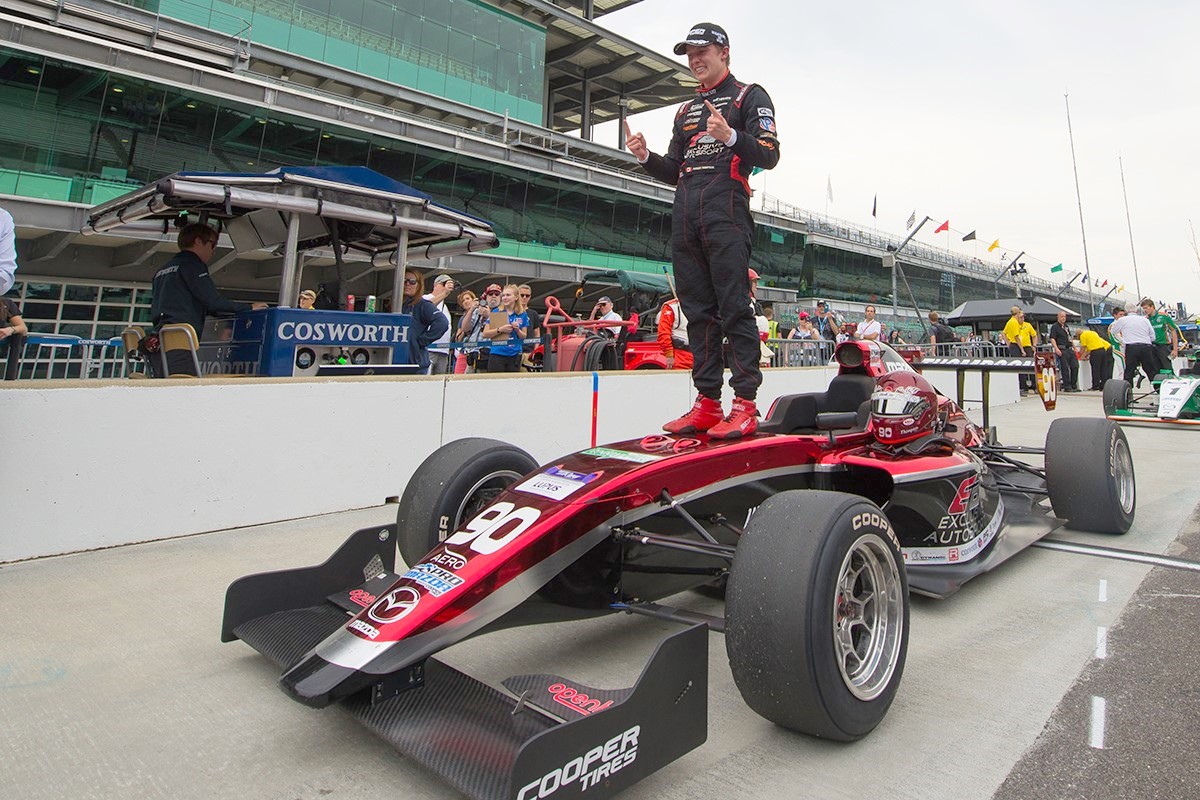 Parker Thompson
Canadian Parker Thompson secured a hard-earned victory this morning for Exclusive Autosport on the Indianapolis Motor Speedway Grand Prix road course. The native of Red Deer, Alb.'s third victory of the season moved him back into the lead of the Pro Mazda Championship Presented by Cooper Tires after six of the 16 races. Up for grabs is a Mazda Scholarship worth close to $800,000 which will assist the champion in progressing to Indy Lights Presented by Cooper Tires – the third and final step on the Mazda Road to Indy – in 2019.
Brazilian Carlos Cunha led almost half of the 25-lap race before finishing second for Juncos Racing. Sting Ray Robb, 16, from Payette, Idaho, claimed a career-best third for Team Pelfrey.
Oliver Askew (Cape Motorsports), the winner of last year's Cooper Tires USF2000 Championship Powered by Mazda, led away from pole position at the start. Behind him, there was drama as outside front row qualifier Harrison Scott, the winner yesterday for RP Motorsport Racing, and Chicago's David Malukas, who had started third for BN Racing, collided while trying to tuck into Askew's draft. Championship leader Rinus VeeKay, who had lined up in fifth for Juncos Racing, was left with nowhere to go, ending his race with severe suspension damage.
Teammates Robert Megennis, from New York, N.Y., and Cunha took advantage by moving into second and third place at Turn One, only for contact between the pair at Turn Two to leave an aggrieved Megennis in the gravel trap.
After a lengthy full-course caution, Cunha, who had started seventh, made a bold move around the outside of Askew under braking for Turn One to take over the lead. Askew immediately lost several places as incidental contact caused some minor damage to his car's front suspension. Unfortunately, in his haste to make up time, Askew's attempt to relieve Italian Lodovico Laurini's RP Motorsport Racing Tatuus from fourth place in Turn 12 resulted in a drive-through penalty for avoidable contact.
Laurini continued, but only for another few laps before his race was ended by contact with yet another rival.
Cunha, Thompson and Scott enjoyed an exciting battle for the lead through the middle stages of the race until Scott suffered an electrical failure while running in second place. Thompson then placed Cunha under increasing pressure. Finally, on Lap 17, Thompson made his move to the inside of Cunha under braking for Turn One. He then posted a series of fastest laps to cement the victory in fine style. Thompson posted a new race lap record for good measure, and Exclusive Autosport gained the PFC Award as the winning team.
Cunha remained unchallenged in second place, while Robb made a bold pass on Mexican teammate Andres Gutierrez for third on the final lap at Turn Seven. Askew, who had recovered well from his earlier penalty, also took advantage of the maneuver to nip ahead of Gutierrez for fourth.
Gentleman racer Charles Finelli, from Locust Valley, N.Y., steered clear of all the drama to claim the Tilton Hard Charger Award after rising from 14th on the grid to a career-best seventh at the flag.
Thompson's third win of the season enabled him to open out a substantial points lead over VeeKay, 150-128, as the series heads next to Lucas Oil Raceway in nearby Brownsburg, Ind., for the first of two oval races this season.
Parker Thompson (#90 Exclusive Autosport Tatuus-Mazda PM-18): "I was tearing up at the checkered flag and my engineer, Tim Lewis, was just screaming on the radio. It was so awesome to get a win here – it doesn't get much better than winning at the Racing Capital of the World! It was tough out there today. We made a gamble on a low-downforce setup and it played out. I avoided the melees at the start and kept everything intact. We set fastest lap after fastest lap and that makes weekends like this so special, starting from back in sixth and taking the victory. This win is dedicated to my Exclusive Autosport team and to Elite Engines, because without them we wouldn't have been able to qualify yesterday. We did an engine swap between qualifying sessions yesterday because of a part failure that was no one's fault, really. It's amazing that they were able to do that in such a short amount of time."
Carlos Cunha (#1 Juncos Racing Tatuus-Mazda PM-18): "It was crazy – like yesterday, but more! I saw two cars take off at the start and I just tried to avoid everything. I did a good job on the restart and kept a strong pace and distanced myself from the guys behind, but we had another yellow which took my lead away, then I had a problem with the brakes after the restart and I couldn't hold the position. It's hard – I'm always there but we can't break through for the win. But we have 10 more chances, I will just keep at it."
Sting Ray Robb (#82 Trademark Dental/Munk Family Dental/Intervention.com-Team Pelfrey Tatuus-Mazda PM-18): "Being here is amazing and being on the podium is even more amazing. To make a move on your teammate to take a podium at IMS, it's such a range of emotions. I'm still learning, so to finish on the podium was great. I was on the verge of tears on the in-lap, from excitement and relief to finally get my first podium. I've had so much support this weekend and that helps you do even better."
————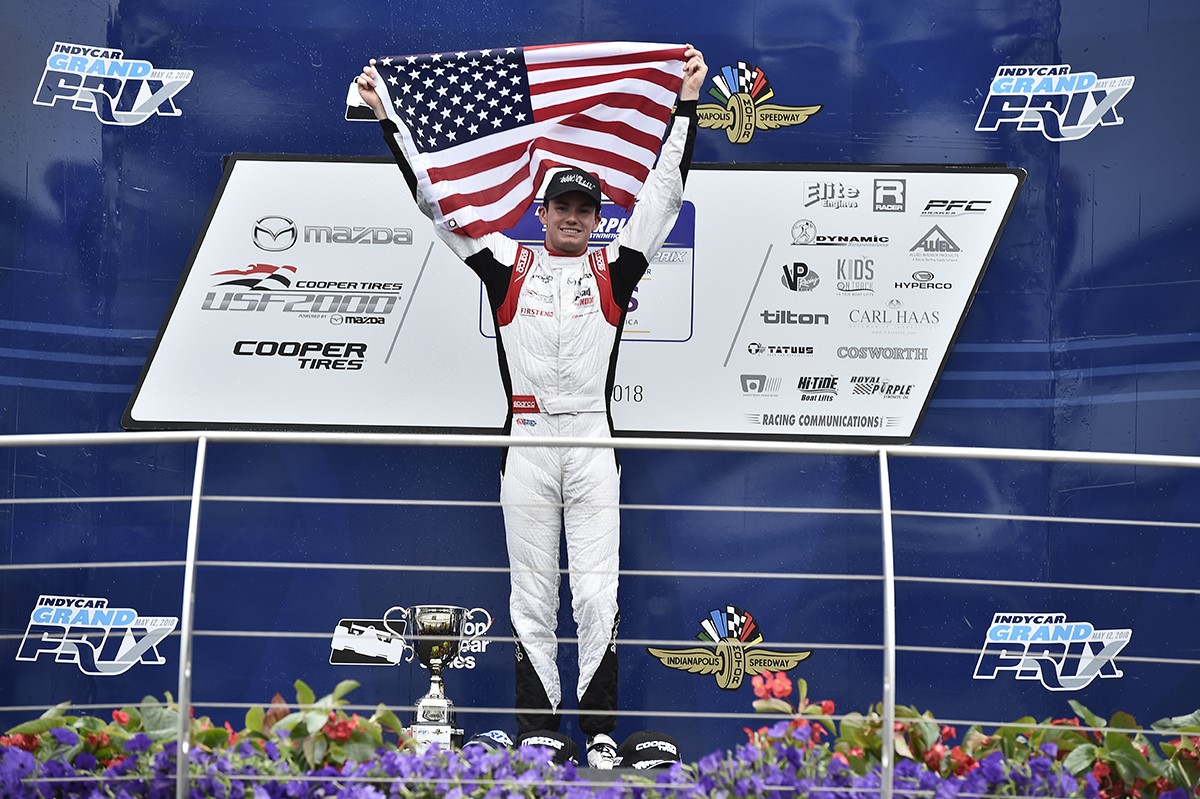 Kyle Kirkwood
Kyle Kirkwood, from Jupiter, Fla., drove a textbook race to win from the pole for Cape Motorsports in this morning's incident-packed Royal Purple Synthetic Motor Oil Grand Prix of Indianapolis supporting the Lupus Foundation of America.
The 26-car Cooper Tires USF2000 Championship Powered by Mazda field once again provided plenty of thrilling action at the Indianapolis Motor Speedway Grand Prix road course, especially for yesterday's winner, Anglo-Frenchman Alex Baron, who recovered from a spin on the second lap and drove all the way through the field to finish second and maintain his championship challenge for Swan-RJB Motorsports.
Swedish rookie Rasmus Lindh finally earned a result commensurate with his speed as he finished third for Pabst Racing.
After starting from the pole position for the second straight day, Kirkwood drove immediately into the lead, which he maintained throughout the 20-lap race. Even a couple of full-course cautions failed to interrupt his rhythm as last year's Formula 4 US champion claimed his second win of the season – and the second PFC Award for brothers Dominic and Nicholas Cape as the winning car owners.
Behind, though, there was drama aplenty. It began on the third lap when contact between the second and third-placed cars of Baron and Jamie Caroline (BN Racing) at the exit of Turn Seven sent Baron spinning all the way to the back of the field.
Caroline, who won last year's British F4 Championship, continued in second, chased by all four Pabst Racing Tatuus-Mazda USF-17s running initially in the order of Brazilian Lucas Kohl, Lindh, Guyanan Calvin Ming and Potomac, Md., teenager Kaylen Frederick.
Greenfield, Ind., native Zach Holden (DEForce Racing) and Irish debutant James Roe (Swan-RJB) also were in the midst of a fraught battle which saw positions shuffling on a regular basis until Lap 10, when Holden's fine run ended following some contact in Turn One. Moments later in Turn Four, another coming together between Caroline and Frederick ended with suspension damage for the Englishman and the unfortunate Frederick deposited into the gravel trap. Cue a full-course caution.
Shortly after the restart, with Kirkwood maintaining a much reduced advantage over Lindh, the yellows waved again following more contact further down the field.
The track was cleared in time for a one-lap dash to the checkers. At least, that was the plan. Unfortunately, another spate of incidents – including one even before the green flag was flown when Brazilian Bruna Tomaselli (Team Pelfrey) was punted into a spin at Turn 12 – caused the caution flags to wave once again and the race to finish under yellow.
It made little difference to Kirkwood, whose fine drive was rewarded with the win. Behind, a magnificent charge by Baron saw him pass Lindh for second place at Turn One. A strong run by Keane was rewarded by fourth, followed by Roe, Kory Enders (DEForce Racing), Kohl, South African Julian Van der Watt (Team Pelfrey) and Mexico City's Manuel Cabrera (Exclusive Autosport), who, after starting 22nd, took home his second Tilton Hard Charger Award in as many days.
Kirkwood's second win of the season enabled him to extend his championship lead to 13 points over Baron as the USF2000 contenders head next to Lucas Oil Raceway in nearby Brownsburg, Ind., for their only oval race of the season on May 25.
Kyle Kirkwood (#8 Firstex/SAFEisFAST.com/Bell Helmets/Sparco-Cape Motorsports Tatuus-Mazda USF-17): "To come here and win in the USF2000 series is unbelievable. (Close friend and fellow Cape Motorsports driver) Oliver (Askew) swept the weekend last year, so I'm disappointed I didn't do that, but it's amazing to win here. I could see Alex, Jamie and Rasmus fighting behind me, which gave me a good-sized gap. I didn't realize what had happened to Alex; I thought it was him behind me, but it was his teammate. I was a bit annoyed to see that last yellow when I had a big lead. He got pretty close to me in Turn One. It's great to get the win and the points, so now I'll start thinking about my first oval race."
Alex Baron (#19 Metalloid-Swan/RJB Motorsports Tatuus-Mazda USF-17): "I can't be totally disappointed with what happened today because only a few days ago, I wasn't sure I'd even make it here. The victory yesterday was a great reward for all the hard work to get me here, and the second-place today is a bit bittersweet because I thought it could be better. I had an unfortunate incident at the start, but I took advantage of the two safety car periods to show what I'm made of, and what the team is made of. I just focused on getting in front of everyone, to get the points back. Now the mindset switches to the oval in two weeks."
Rasmus Lindh (#23 Chicago Pneumatic-Pabst Racing Tatuus-Mazda USF-17): "I was running second early in the race and got hit in the rear which put me back in the pack and made for a pretty interesting race. I knew Alex was there, but I tried to just focus on looking forward and trying to catch Kyle, rather than focusing to the rear, but he was able to pass me on the restart. We've been testing quite a lot and I'm happy with our progress in the early part of the season. It was so nice to stand on the podium at Indianapolis. It's been great to race here and I'm looking forward to seeing the Indy 500 in person."