Dixon tops final Indy GP warmup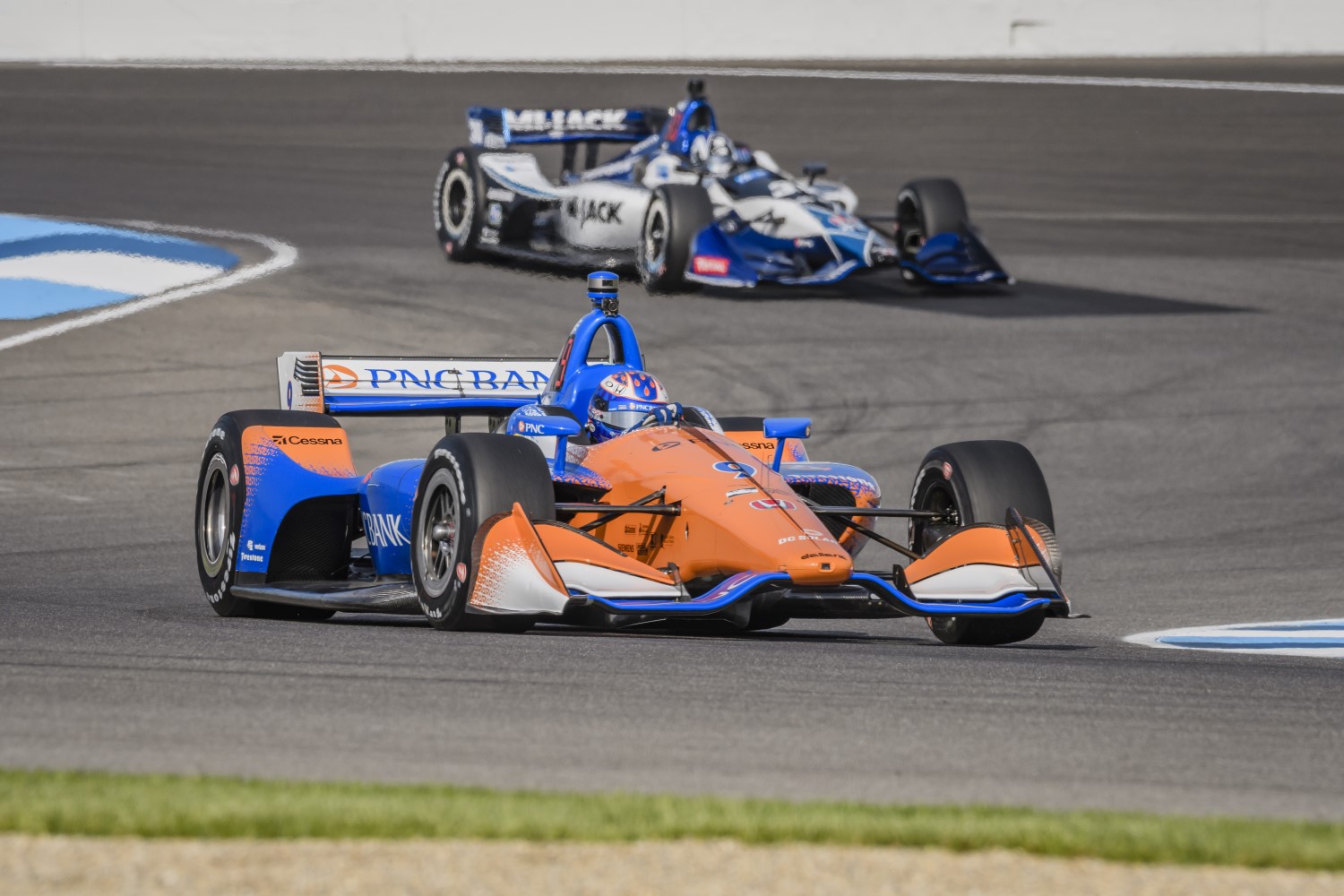 Scott Dixon
Scott Dixon turned the fastest lap in final warmup for today's Indy Grand Prix with a time of 1m10.816s.
Polesitter Will Power, who led every session so far this weekend, was 2nd quick just 0.02s behind Dixon. Ryan Hunter-Reay finally found the handle on his Andretti Honda to go third quick.
Rookie Jordan King was 4th while Max Chilton rounded out the top-5.
Results
| | | | | | | | | |
| --- | --- | --- | --- | --- | --- | --- | --- | --- |
| Pos | No | Name | FTime | Diff | Gap | ST | Engine | Team |
| 1 | 9 | Scott Dixon | 1:10.816 | –.—- | –.—- | 6 | Honda | Chip Ganassi Racing Teams |
| 2 | 12 | Will Power | 1:10.837 | 0.0214 | 0.0214 | 8 | Chevy | Team Penske |
| 3 | 28 | Ryan Hunter-Reay | 1:10.904 | 0.0882 | 0.0668 | 19 | Honda | Andretti Autosport |
| 4 | 20 | Jordan King | 1:10.915 | 0.0993 | 0.0111 | 13 | Chevy | Ed Carpenter Racing |
| 5 | 59 | Max Chilton | 1:11.179 | 0.3632 | 0.2639 | 22 | Chevy | Carlin |
| 6 | 14 | Tony Kanaan | 1:11.182 | 0.3664 | 0.0032 | 9 | Chevy | AJ Foyt Enterprises |
| 7 | 19 | Zachary Claman De Melo | 1:11.300 | 0.4845 | 0.1181 | 12 | Honda | Dale Coyne Racing |
| 8 | 1 | Josef Newgarden | 1:11.312 | 0.4963 | 0.0118 | 1 | Chevy | Team Penske |
| 9 | 18 | Sebastien Bourdais | 1:11.314 | 0.4988 | 0.0025 | 11 | Honda | Dale Coyne Racing |
| 10 | 22 | Simon Pagenaud | 1:11.373 | 0.5576 | 0.0588 | 15 | Chevy | Team Penske |
| 11 | 3 | Helio Castroneves | 1:11.480 | 0.6640 | 0.1064 | 2 | Chevy | Team Penske |
| 12 | 21 | Spencer Pigot | 1:11.522 | 0.7059 | 0.0419 | 14 | Chevy | Ed Carpenter Racing |
| 13 | 6 | Robert Wickens | 1:11.525 | 0.7089 | 0.0030 | 5 | Honda | Schmidt Peterson Motorsports |
| 14 | 15 | Graham Rahal | 1:11.609 | 0.7932 | 0.0843 | 10 | Honda | Rahal Letterman Lanigan |
| 15 | 10 | Ed Jones | 1:11.610 | 0.7943 | 0.0011 | 7 | Honda | Chip Ganassi Racing Teams |
| 16 | 88 | Gabby Chaves | 1:11.653 | 0.8374 | 0.0431 | 23 | Chevy | Harding Racing |
| 17 | 30 | Takuma Sato | 1:11.674 | 0.8588 | 0.0214 | 20 | Honda | Rahal Letterman Lanigan |
| 18 | 27 | Alexander Rossi | 1:11.712 | 0.8959 | 0.0371 | 18 | Honda | Andretti Autosport |
| 19 | 26 | Zach Veach | 1:11.778 | 0.9619 | 0.0660 | 17 | Honda | Andretti Autosport |
| 20 | 23 | Charlie Kimball | 1:11.786 | 0.9701 | 0.0082 | 16 | Chevy | Carlin |
| 21 | 5 | James Hinchcliffe | 1:11.832 | 1.0159 | 0.0458 | 4 | Honda | Schmidt Peterson Motorsports |
| 22 | 4 | Matheus Leist | 1:12.070 | 1.2539 | 0.2380 | 3 | Chevy | AJ Foyt Enterprises |
| 23 | 32 | Kyle Kaiser | 1:12.179 | 1.3631 | 0.1092 | 21 | Chevy | Juncos Racing |
| 24 | 98 | Marco Andretti | 1:37.664 | 26.8482 | 25.4851 | 24 | Honda | Andretti Herta Autosport |