Mercedes again fastest in final Spanish GP practice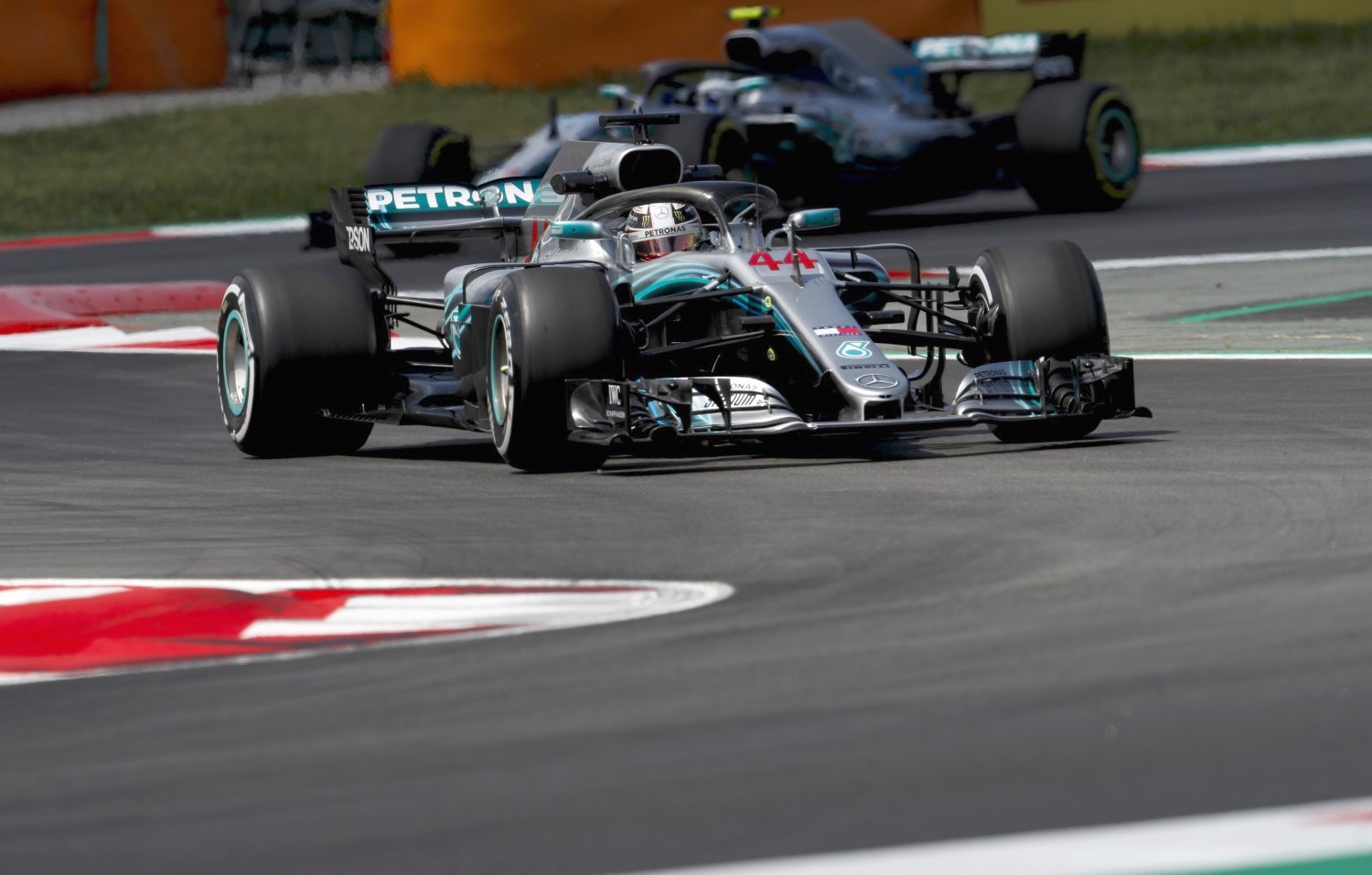 Lewis Hamilton
The two superior Mercedes cars were again fastest in final practice for the Spanish GP ahead of qualifying in 2 hours. Lewis Hamilton set a new track record of 1m17.281s in his #44 Mercedes to beat his teammate Valtteri Bottas who set a near identical time on Supersoft tires just 0.013 sec. behind.
Sebastian Vettel was third quick for Ferrari 0.269 sec slower than the two Mercedes.
Kimi Raikkonen in the 2nd Ferrari, and Daniel Ricciardo in the Red Bull rounded out the top-5.
The session ended 2 minutes early when Brandon Hartley put his Toro Rosso into the Turn 7 barriers
Results
| | | | | | | |
| --- | --- | --- | --- | --- | --- | --- |
| POS | NO | DRIVER | CAR | TIME | GAP | LAPS |
| 1 | 44 | Lewis Hamilton | Mercedes | 1:17.281 | +0.000s | 15 |
| 2 | 77 | Valtteri Bottas | Mercedes | 1:17.294 | +0.013s | 19 |
| 3 | 5 | Sebastian Vettel | Ferrari | 1:17.550 | +0.269s | 16 |
| 4 | 7 | Kimi Raikkonen | Ferrari | 1:17.581 | +0.300s | 17 |
| 5 | 3 | Daniel Ricciardo | Red Bull Racing | 1:17.981 | +0.700s | 16 |
| 6 | 20 | Kevin Magnussen | Haas Ferrari | 1:18.357 | +1.076s | 15 |
| 7 | 8 | Romain Grosjean | Haas Ferrari | 1:18.706 | +1.425s | 16 |
| 8 | 55 | Carlos Sainz | Renault | 1:18.783 | +1.502s | 16 |
| 9 | 14 | Fernando Alonso | McLaren Renault | 1:18.847 | +1.566s | 14 |
| 10 | 10 | Pierre Gasly | Toro Rosso Honda | 1:18.886 | +1.605s | 17 |
| 11 | 27 | Nico Hulkenberg | Renault | 1:18.905 | +1.624s | 16 |
| 12 | 33 | Max Verstappen | Red Bull Racing | 1:19.013 | +1.732s | 5 |
| 13 | 31 | Esteban Ocon | Force India Mercedes | 1:19.121 | +1.840s | 20 |
| 14 | 2 | Stoffel Vandoorne | McLaren Renault | 1:19.236 | +1.955s | 17 |
| 15 | 16 | Charles Leclerc | Sauber Ferrari | 1:19.292 | +2.011s | 19 |
| 16 | 11 | Sergio Perez | Force India Mercedes | 1:19.376 | +2.095s | 17 |
| 17 | 28 | Brendon Hartley | Toro Rosso Honda | 1:19.428 | +2.147s | 23 |
| 18 | 9 | Marcus Ericsson | Sauber Ferrari | 1:19.744 | +2.463s | 17 |
| 19 | 18 | Lance Stroll | Williams Mercedes | 1:19.900 | +2.619s | 15 |
| 20 | 35 | Sergey Sirotkin | Williams Mercedes | 1:19.909 | +2.628s | 13 |