Alex Baron Wins Mazda Road to Indy USF2000 Thriller at Indy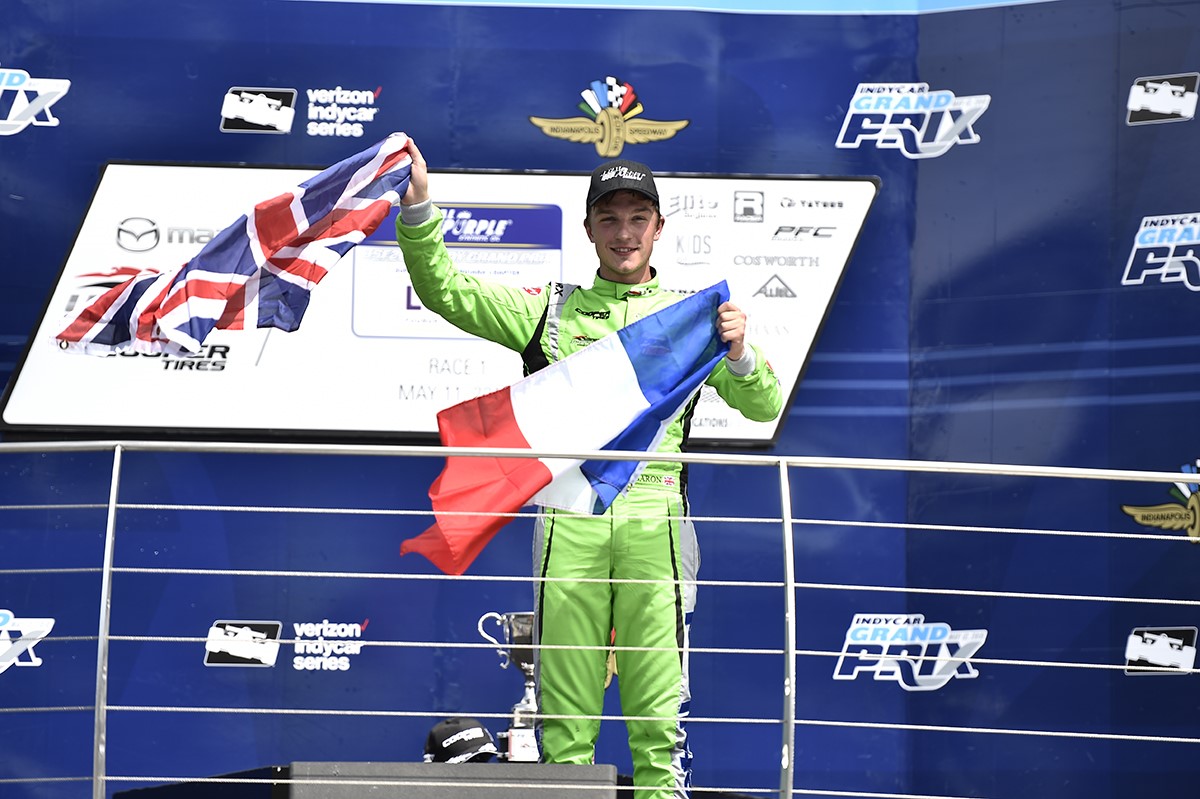 Alex Baron
Earlier this week, difficulties in obtaining a new visa meant that Alex Baron wasn't even sure he would be able to make it to the Indianapolis Motor Speedway for this weekend's Royal Purple Synthetic Motor Oil Grand Prix of Indianapolis supporting the Lupus Foundation of America. Thankfully, the 23-year-old who holds dual French and English citizenship, was granted the correct paperwork on Wednesday. He immediately jumped on a plane from Europe… and ended up with a hard-earned victory this afternoon for Swan-RJB Motorsports.
Cooper Tires USF2000 Championship Powered by Mazda points leader Kyle Kirkwood finished a close second for Cape Motorsports, with Mexico's Jose Sierra taking third for DEForce Racing.
After sharing the wins during the opening two rounds of the season on the streets of St. Petersburg, Fla., Kirkwood and Baron again proved to be the men to beat today by qualifying alongside each other on the front row of the grid. But there were plenty of other challengers who were clearly able and willing to mount their own challenge as the top four in qualifying all set times within one tenth of a second.
Swedish rookie Rasmus Lindh, who qualified third for Pabst Racing, made a move past Baron on the opening lap, which allowed Kirkwood to capitalize on a fine start and establish a clear advantage. It didn't last for long as the full-course caution flags waved just a couple of laps later following an incident involving Lucas Kohl (Pabst Racing) and Darren Keane (Newman Wachs Racing), who had been battling over eighth.
The ensuing restart saw Kirkwood staunchly defending his inside line under braking for Turn One, but it wasn't enough to prevent Baron from braking even later on the outside and taking the lead.
The Anglo-Frenchman remained out in front when the caution flags waved again after eight laps due to more contact, this time in Turn Eight between Oscar DeLuzuriaga (Newman Wachs Racing) and Michael d'Orlando (Team BENIK), whose car briefly flipped over. He emerged unscathed.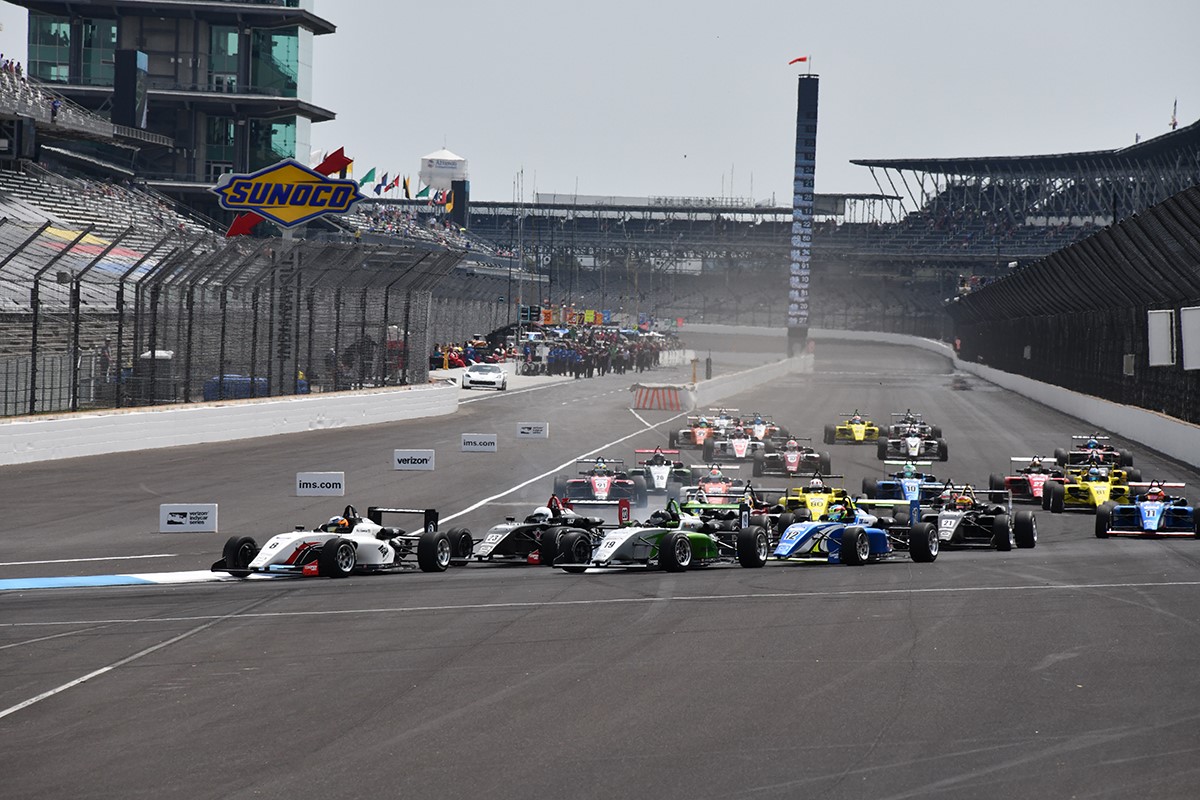 Race start
The race resumed again for what turned out to be an exhilarating four-lap dash to the checkered flag. On lap 13, Kirkwood drafted alongside Baron on the front straight and regained the advantage with a bold late-braking maneuver at Turn One, only for Baron to fight back and redress the balance once again at Turn Seven. The pair remained separated by barely a car length or two before Baron held onto the victory by 0.4344 second to an ensure a second win – and PFC Award – of the season for Swan-RJB Motorsports.
Sierra and 2017 British Formula 4 Champion Jamie Caroline (BN Racing) finished hot on the heels of the top two, with Kory Enders (DEForce Racing), from Sugarland, Texas, crossing the line in fifth after Japanese-born Brazilian Igor Fraga (Exclusive Autosport) slid briefly off the road with just a couple of laps remaining. Enders was chased home by Guyanan Calvin Ming (Pabst Racing), South African F1600 Champion Julian Van der Watt (Team Pelfrey), Fraga, Colin Kaminsky (DEForce Racing), from Homer Glen, Ill., and Mexico City's Manuel Cabrera (Exclusive Autosport), who completed the top 10 and earned the Tilton Hard Charger Award after starting in 20th.
Kirkwood will have another opportunity to go for the win tomorrow after securing pole position during a separate qualifying session this morning. The second 30-minute race of the weekend is scheduled to start at 9:15 a.m. EDT. Coverage can be found on a series of platforms including Road to Indy TV, the Road to Indy TV App and dedicated broadcast channels on demand via Apple TV, Amazon Fire and Roku and, most recently, the Xbox One Official App as well as live streaming and live timing on usf2000.com and racecontrol.indycar.com.
Alex Baron (#19 Metalloid-Swan/RJB Motorsports Tatuus-Mazda USF-17): "Winning over here is quite a privilege, and it's an honor to win at such a legendary racetrack. When I started racing here four years ago, I realized pretty quickly how important this whole month is. Everyone knows about Indianapolis, so to succeed here is quite an accomplishment. It was an adventurous race. I made a good move to get around Rasmus and Kyle in Turn One and then had an intense battle with Kyle all race long. I'm glad to get the win, and the points. We all want to win the championship and it's up to us – the whole Swan-RJB team – to figure out how to make that happen."
Kyle Kirkwood (#8 Firstex/SAFEisFAST.com/Bell Helmets/Sparco-Cape Motorsports Tatuus-Mazda USF-17): "The start went to plan but we didn't plan for all the cautions so it's unfortunate the way it played out. When the green came back out, we were just head-to-head to see who would be in the lead on the last lap: we went back and forth. We didn't have the speed today and luck wasn't in our favor. But I haven't done a race like that since my karting days, so it's awesome to come here and have such a close race – I think we only touched wheels once. It was really cool racing side-by-side for that long."
Jose Sierra (#12 Go-kart mania/RPL Racing/Telcel-DEForce Racing Tatuus-Mazda USF-17): "It was really intense. This is a fun track to have this kind of a fight. The team did an awesome job, the car was mega. We were catching the guys in front, but we just ran out of time. I tried to make a move on Kyle at the end, but he made a move under braking and I had to brake as well because I didn't want to crash on the last lap. But the whole DEForce team finished in the top 10, which is great, but we need that top step."
Results
| | | | | | |
| --- | --- | --- | --- | --- | --- |
| Pos | St | No. | Driver | Lap | Behind |
| 1 | 2 | 19 | Baron, Alex | 15 | –.—- |
| 2 | 1 | 8 | Kirkwood, Kyle (R) | 15 | 0.4344 |
| 3 | 4 | 12 | Sierra, Jose (R) | 15 | 1.2364 |
| 4 | 7 | 28 | Caroline, Jamie (R) | 15 | 2.0410 |
| 5 | 8 | 11 | Enders, Kory | 15 | 3.9397 |
| 6 | 6 | 21 | Ming, Calvin | 15 | 5.8504 |
| 7 | 10 | 80 | Van der Watt, Julian (R) | 15 | 6.1918 |
| 8 | 12 | 91 | Fraga, Igor (R) | 15 | 6.6899 |
| 9 | 16 | 27 | Kaminsky, Colin | 15 | 7.1147 |
| 10 | 13 | 10 | Holden, Zach (R) | 15 | 8.1029 |
| 11 | 20 | 90 | Cabrera, Manuel (R) | 15 | 8.4697 |
| 12 | 15 | 20 | Roe, James (R) | 15 | 8.4942 |
| 13 | 17 | 5 | Soler-Obel, Mathias (R) | 15 | 8.6089 |
| 14 | 3 | 23 | Lindh, Rasmus (R) | 15 | 9.0988 |
| 15 | 21 | 37 | Osborne, David (R) | 15 | 10.6740 |
| 16 | 14 | 81 | Dupell, Kyle (R) | 15 | 10.7012 |
| 17 | 22 | 14 | Peichel, Max (R) | 15 | 16.0014 |
| 18 | 23 | 29 | McDonough, Russell (R) | 15 | 17.2898 |
| 19 | 24 | 82 | Tomaselli, Bruna | 15 | 17.6225 |
| 20 | 25 | 38 | DeLuzuriaga, Oscar (R) | 15 | 18.1201 |
| 21 | 26 | 31 | Cook, Sabre (R) | 15 | 33.0280 |
| 22 | 5 | 24 | Frederick, Kaylen | 14 | – |
| 23 | 11 | 36 | Keane, Darren | 13 | – |
| 24 | 18 | 30 | Donegan, Keith (R) | 8 | – |
| 25 | 19 | 51 | d'Orlando, Michael (R) | 7 | – |
| 26 | 9 | 22 | Kohl, Lucas | 2 | – |