Power over King in Indy GP practice 2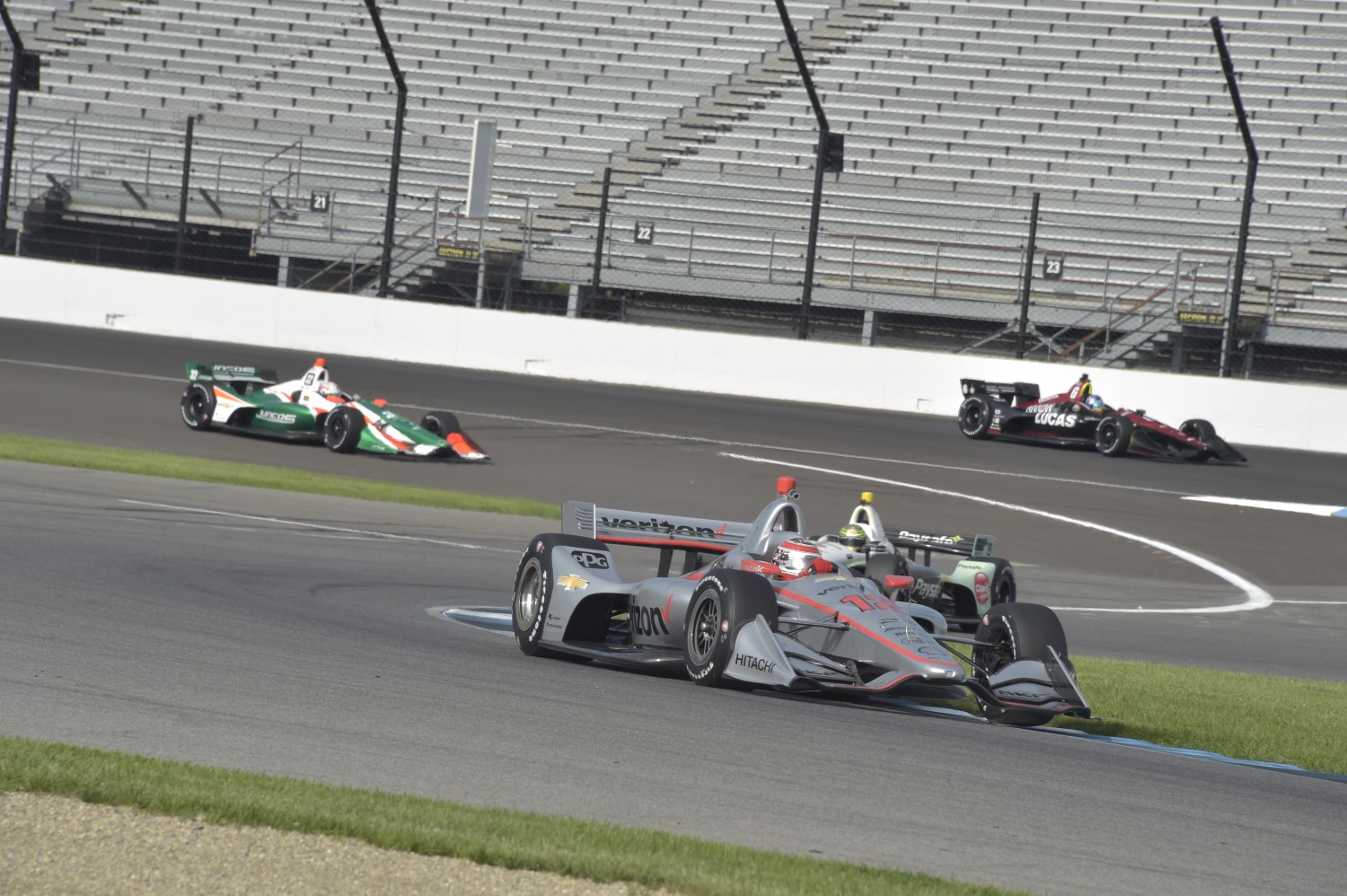 Will Power is the man to beat for pole
Will Power says the Indianapolis Motor Speedway's infield circuit is "probably my favorite road course." It's easy to see why.
The Team Penske driver, a two-time winner and pole sitter at the INDYCAR Grand Prix, was fastest in today's second practice session to set himself up as the favorite to claim the pole again in Verizon P1 Award qualifying later this afternoon.
Driving the No. 12 Verizon Team Penske Chevrolet, Power navigated the 2.439-mile, 14-turn road course in 1 minute, 9.8759 seconds (125.657 mph) to lead the field of 24 entries during the 45-minute session. Power also was fastest in the morning practice.
"I love this track," Power said. "It's probably my favorite road course because it's so technical and smooth and European-like.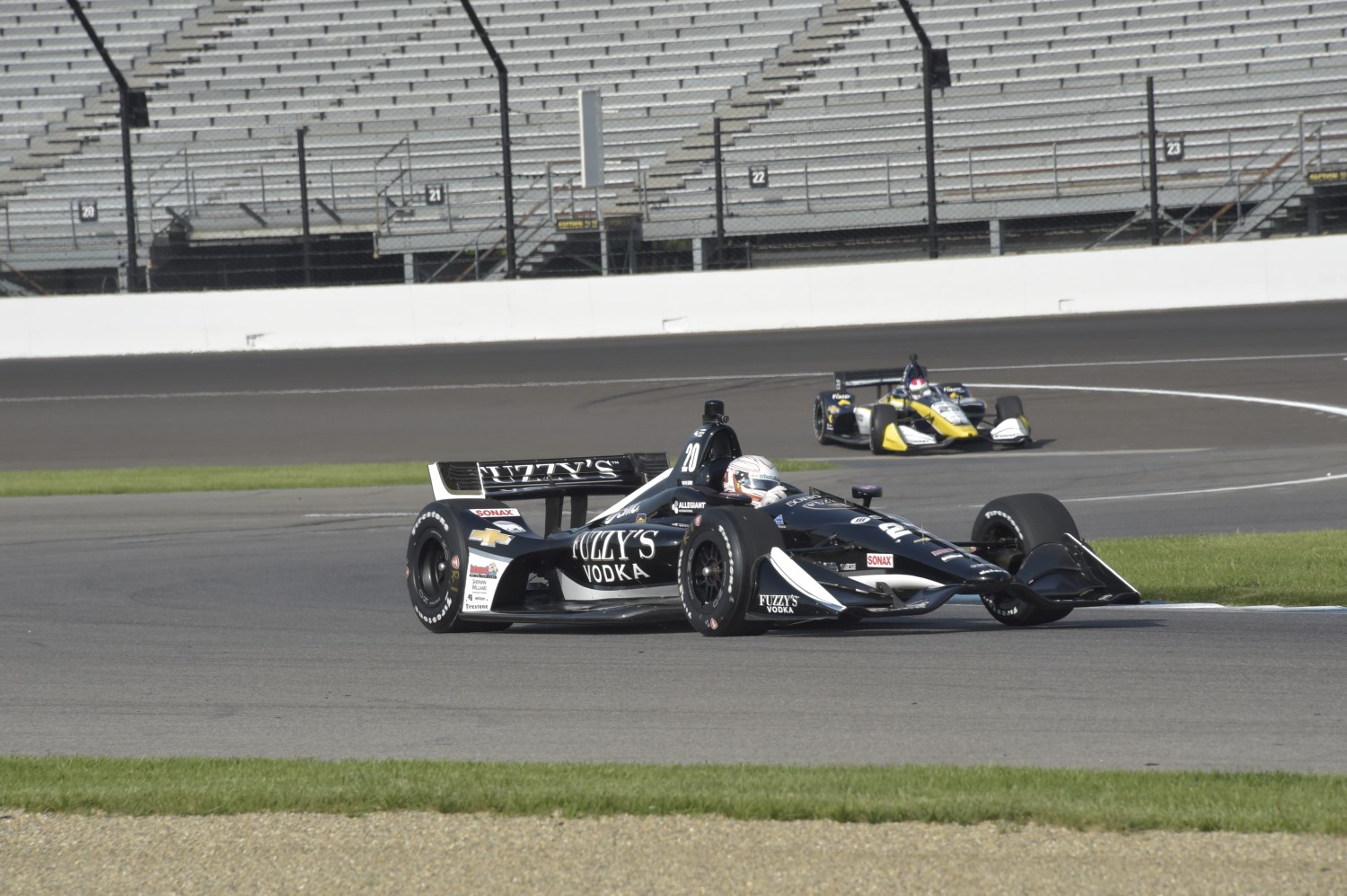 Jordan King, 2nd quick
"But man, they're all corners that lead into complexes. You've got Turn 1-2, so there's give-and-take there, and then you've got the (Turns) 7-8-9 complex, which is really technical. Yeah, all the sets of complexes are all equally fun and interesting."
Verizon IndyCar Series rookie Jordan King (shown above) continued to impress, running second in the second practice with a lap of 1:09.9122 (125.592 mph) in the No. 20 Ed Carpenter Racing Fuzzy's Vodka Chevrolet. Andretti Autosport's Alexander Rossi was third in the No. 27 NAPA AUTO PARTS Honda with a lap of 1:09.9806 (125.469 mph).
Both pre-qualifying practices ran without incident.
Results
| | | | | | | | | | | |
| --- | --- | --- | --- | --- | --- | --- | --- | --- | --- | --- |
| Pos | No | Name | FTime | Diff | Gap | FL | Laps | FSpeed | Engine | Team |
| 1 | 12 | Will Power | 1:09.876 | –.—- | –.—- | 14 | 20 | 125.657 | Chevy | Team Penske |
| 2 | 20 | Jordan King | 1:09.912 | 0.0363 | 0.0363 | 16 | 17 | 125.592 | Chevy | Ed Carpenter Racing |
| 3 | 27 | Alexander Rossi | 1:09.981 | 0.1047 | 0.0684 | 18 | 19 | 125.469 | Honda | Andretti Autosport |
| 4 | 6 | Robert Wickens | 1:10.077 | 0.2014 | 0.0967 | 14 | 16 | 125.296 | Honda | Schmidt Peterson Motorsports |
| 5 | 22 | Simon Pagenaud | 1:10.078 | 0.2016 | 0.0002 | 15 | 18 | 125.296 | Chevy | Team Penske |
| 6 | 3 | Helio Castroneves | 1:10.089 | 0.2132 | 0.0116 | 16 | 19 | 125.275 | Chevy | Team Penske |
| 7 | 18 | Sebastien Bourdais | 1:10.107 | 0.2313 | 0.0181 | 15 | 16 | 125.242 | Honda | Dale Coyne Racing |
| 8 | 21 | Spencer Pigot | 1:10.135 | 0.2588 | 0.0275 | 15 | 17 | 125.193 | Chevy | Ed Carpenter Racing |
| 9 | 14 | Tony Kanaan | 1:10.225 | 0.3489 | 0.0901 | 16 | 17 | 125.033 | Chevy | AJ Foyt Enterprises |
| 10 | 1 | Josef Newgarden | 1:10.228 | 0.3520 | 0.0031 | 16 | 21 | 125.027 | Chevy | Team Penske |
| 11 | 98 | Marco Andretti | 1:10.272 | 0.3966 | 0.0446 | 13 | 17 | 124.948 | Honda | Andretti Herta Autosport |
| 12 | 15 | Graham Rahal | 1:10.283 | 0.4069 | 0.0103 | 15 | 19 | 124.930 | Honda | Rahal Letterman Lanigan Racing |
| 13 | 9 | Scott Dixon | 1:10.292 | 0.4158 | 0.0089 | 18 | 19 | 124.914 | Honda | Chip Ganassi Racing Teams |
| 14 | 10 | Ed Jones | 1:10.333 | 0.4567 | 0.0409 | 19 | 21 | 124.841 | Honda | Chip Ganassi Racing Teams |
| 15 | 59 | Max Chilton | 1:10.339 | 0.4630 | 0.0063 | 13 | 16 | 124.830 | Chevy | Carlin |
| 16 | 28 | Ryan Hunter-Reay | 1:10.413 | 0.5367 | 0.0737 | 16 | 16 | 124.699 | Honda | Andretti Autosport |
| 17 | 30 | Takuma Sato | 1:10.486 | 0.6102 | 0.0735 | 13 | 19 | 124.569 | Honda | Rahal Letterman Lanigan Racing |
| 18 | 5 | James Hinchcliffe | 1:10.582 | 0.7059 | 0.0957 | 16 | 17 | 124.400 | Honda | Schmidt Peterson Motorsports |
| 19 | 26 | Zach Veach | 1:10.651 | 0.7755 | 0.0696 | 12 | 17 | 124.278 | Honda | Andretti Autosport |
| 20 | 4 | Matheus Leist | 1:10.740 | 0.8638 | 0.0883 | 11 | 14 | 124.123 | Chevy | AJ Foyt Enterprises |
| 21 | 88 | Gabby Chaves | 1:10.798 | 0.9217 | 0.0579 | 13 | 14 | 124.021 | Chevy | Harding Racing |
| 22 | 23 | Charlie Kimball | 1:10.967 | 1.0910 | 0.1693 | 15 | 17 | 123.725 | Chevy | Carlin |
| 23 | 32 | Kyle Kaiser | 1:11.112 | 1.2356 | 0.1446 | 14 | 20 | 123.474 | Chevy | Juncos Racing |
| 24 | 19 | Zachary De Melo | 1:11.183 | 1.3071 | 0.0715 | 10 | 10 | 123.350 | Honda | Dale Coyne Racing |