Hamilton over two Red Bulls in practice 2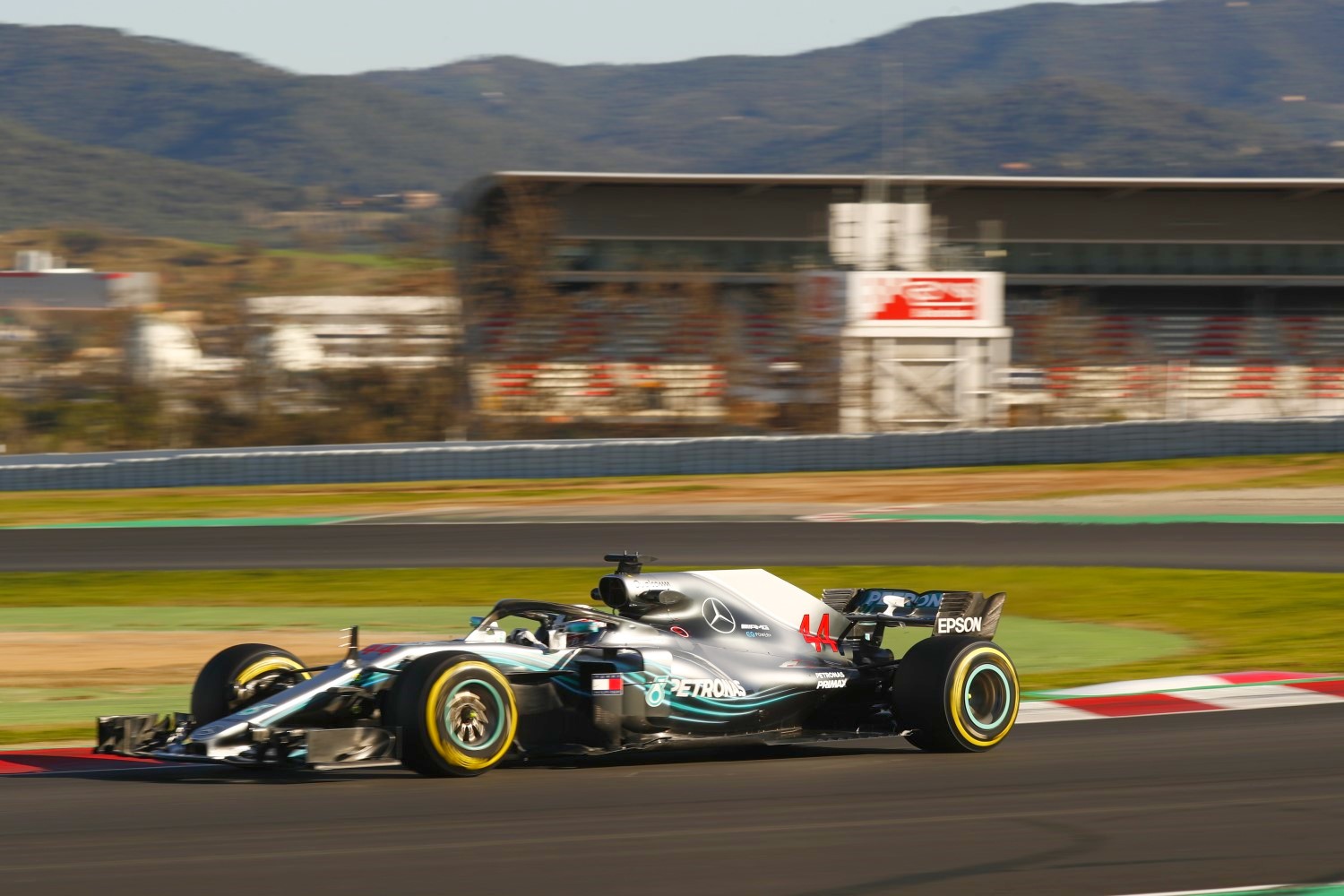 Lewis Hamilton
Lewis Hamilton kept the Mercedes at the top of the practice timesheets in FP2 for the Spanish GP in Barcelona.
Hamilton's time of 1m18.259s was 0.1sec. slower than teammate Valtteri Bottas in FP1 this morning, but still fast enough to beat the two Red Bulls of Daniel Ricciardo and Max Verstappen. Crashstappen did not hit anyone in this session but he did lose control and slide into the pea gravel.
Sebastian Vettel was 4th for Ferrari with Bottas and Kimi Raikkonen rounding out the top-6.
The top-6 were all fairly close, separated by just 0.57s.
There was a strong showing from Haas as Romain Grosjean recovered from an early spin into the gravel to post the seventh fastest time, less than a tenth quicker than teammate Kevin Magnussen.
Stoffel Vandoorne was nearly 1.5s adrift in ninth place for McLaren, ahead of Sergio Perez, who rounded out the top 10, having pipped Force India teammate Ocon by just 0.062s. The Mexican came to a halt in the closing stages with a loose wheel following a pitstop.
Local-favorite Fernando Alonso was unable to replicate his top 10 showing from FP1 as he ended up a low-key 12th as McLaren continued to run the updated aerodynamic package it introduced in Barcelona.
Overall though, the 90 minutes saw most drivers keep out of trouble. One of FP1's victims, Ricciardo, bounced back to demonstrate Red Bull's pace, keeping in sight of Hamilton throughout the session.
Verstappen was also able to stay ahead of the Ferrari pair of Vettel and Raikkonen, a reminder that another triumph in Spain could well be within Red Bull's reach should they avoid a repeat of their Baku collision.
For Ferrari though, they were unable to break into the top two in either session. However Vettel, who lost his world championship lead in Baku, was only three-tenths slower than Hamilton in this session and will be desperate to display his race-winning potential on Saturday.
Meanwhile, Haas will be the happier of the teams in the middle of the pack, and McLaren can take positives from Vandoorne's top-ten finish, though Fernando Alonso had to settle for a P12.
Force India were right behind Haas, though their session ended on a sour note when Perez was forced to stop with a loose front wheel shortly after a pit stop. Further down the pack, Renault and Toro Rosso had fairly low-key sessions.
Sauber saw Marcus Ericsson come home in P15 and team mate Charles Leclerc one place behind, but it was another disappointing run out for the two Paddy Lowe Williams, who saw Lance Stroll and Sergey Sirotkin finish bottom of the pile.
So, it's Mercedes who go into Saturday's sessions as arguably the happiest of the top three teams. Red Bull showed they should be a real threat this weekend by staying right behind the Silver Arrow of Hamilton – but it seems there's plenty of work to do for Ferrari, especially on Raikkonen's car.
More to follow….
Results
| | | | | | | |
| --- | --- | --- | --- | --- | --- | --- |
| POS | NO | DRIVER | CAR | TIME | GAP | LAPS |
| 1 | 44 | Lewis Hamilton | Mercedes | 1:18.259 | +0.000s | 39 |
| 2 | 3 | Daniel Ricciardo | Red Bull Renault | 1:18.392 | +0.133s | 41 |
| 3 | 33 | Max Verstappen | Red Bull Renault | 1:18.533 | +0.274s | 39 |
| 4 | 5 | Sebastian Vettel | Ferrari | 1:18.585 | +0.326s | 34 |
| 5 | 77 | Valtteri Bottas | Mercedes | 1:18.611 | +0.352s | 39 |
| 6 | 7 | Kimi Raikkonen | Ferrari | 1:18.829 | +0.570s | 16 |
| 7 | 8 | Romain Grosjean | Haas Ferrari | 1:19.579 | +1.320s | 24 |
| 8 | 20 | Kevin Magnussen | Haas Ferrari | 1:19.643 | +1.384s | 39 |
| 9 | 2 | Stoffel Vandoorne | Mclaren Renault | 1:19.722 | +1.463s | 32 |
| 10 | 11 | Sergio Perez | Force India Mercedes | 1:19.962 | +1.703s | 28 |
| 11 | 31 | Esteban Ocon | Force India Mercedes | 1:20.024 | +1.765s | 38 |
| 12 | 14 | Fernando Alonso | Mclaren Renault | 1:20.035 | +1.776s | 35 |
| 13 | 27 | Nico Hulkenberg | Renault | 1:20.183 | +1.924s | 43 |
| 14 | 10 | Pierre Gasly | Toro Rosso Honda | 1:20.373 | +2.114s | 32 |
| 15 | 9 | Marcus Ericsson | Sauber Ferrari | 1:20.501 | +2.242s | 37 |
| 16 | 16 | Charles Leclerc | Sauber Ferrari | 1:20.514 | +2.255s | 29 |
| 17 | 55 | Carlos Sainz | Renault | 1:20.672 | +2.413s | 31 |
| 18 | 28 | Brendon Hartley | Storo Rosso Honda | 1:21.265 | +3.006s | 34 |
| 19 | 18 | Lance Stroll | Williams Mercedes | 1:21.556 | +3.297s | 35 |
| 20 | 35 | Sergey Sirotkin | Williams Mercedes | 1:22.060 | +3.801s | 36 |