Race 1: Paffett wins DTM season opener at Hockenheim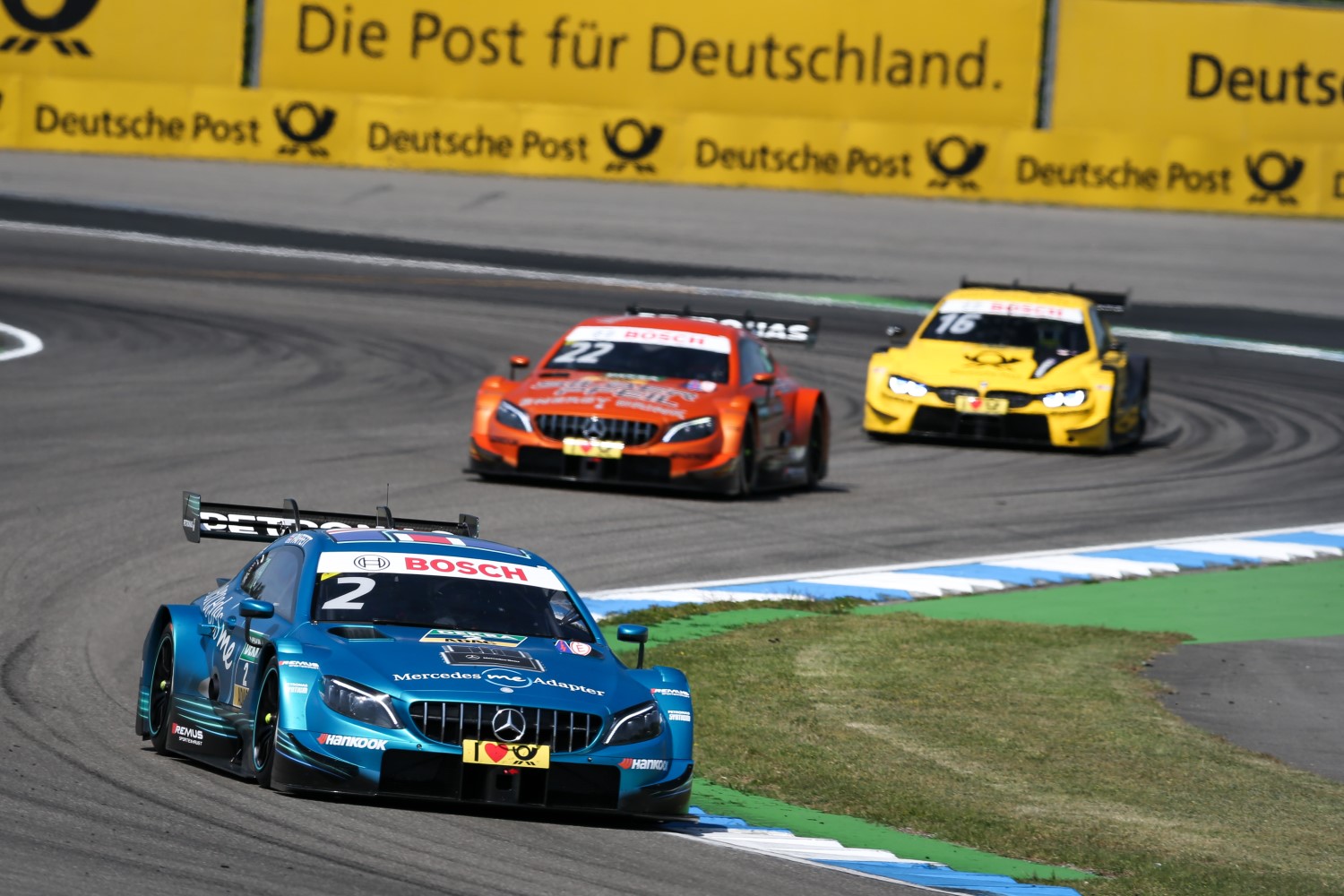 Paffett leads
With an enthralling and spectacular opening race, the DTM got its new season underway at the Hockenheimring Baden-Wurttemberg. Eventually, the most experienced driver in the field emerged as the winner: after 36 laps, Gary Paffett was first across the finish line. The Mercedes-AMG driver won the first of this season's 20 DTM races with a margin of 1.449 seconds from his fellow Mercedes-AMG driver Lucas Auer, who came second. Third place went to BMW driver Timo Glock. Classified ninth, defending champion Rene Rast was the best-placed Audi driver.
Gary Paffett had to wait long for his 21st DTM race win. No less than 1,784 days have passed by since 13 June, 2013, when he scored his most recent win at the Lausitzring. "After this long drought, this victory is a really special one," Paffet said. "I am really delighted both for myself and for the team. Today, the early pit stop was the key to success. The car was really great."
In the opening stages of the race, Auer had temporarily taken the lead from Paffett, but eventually had to admit defeat. "Of course, that is a pity, because I was in front of Gary before the pit stop and I was behind him after it. But tomorrow is another day, I want to beat him on Sunday," Auer said. Third-placed Glock admitted to having had no chance to put the two Mercedes-AMG drivers up front under pressure. "That did annoy me a little bit," Glock commented.
Defending champion Rene Rast ended up ninth as the best-placed Audi driver. "That wasn't an easy race, we got the maximum out of it. At the start, I almost stalled. After the pit stops, I managed to overtake a few cars, but it wasn't like we had planned. We still have some work to do there."
After the first race, Gary Paffett is leading the drivers' standings with the maximum number of points (28) from, Lucas Auer (18) and Timo Glock (16).
There is not much time to relax: on Sunday, the action continues with third free practice, qualifying (from 11.25 hrs) and the race (from 13.30 hrs). On Sunday, SAT.1 will be broadcasting the second race of the season from Hockenheim from 13.00 hrs live, ORF1 will be broadcasting live in Austria from 13.15 hrs.
Race 1 Results
| | | | | |
| --- | --- | --- | --- | --- |
| POS | DRIVER | CAR | LAPS | GAP |
| 1 | Gary Paffett | Mercedes | 36 | 0.000s |
| 2 | Lucas Auer | Mercedes | 36 | 1.449s |
| 3 | Timo Glock | BMW | 36 | 6.514s |
| 4 | Edoardo Mortara | Mercedes | 36 | 8.198s |
| 5 | Pascal Wehrlein | Mercedes | 36 | 11.391s |
| 6 | Bruno Spengler | BMW | 36 | 15.758s |
| 7 | Paul Di Resta | Mercedes | 36 | 16.600s |
| 8 | Daniel Juncadella | Mercedes | 36 | 16.969s |
| 9 | Rene Rast | Audi | 36 | 18.268s |
| 10 | Loic Duval | Audi | 36 | 19.646s |
| 11 | Marco Wittmann | BMW | 36 | 20.740s |
| 12 | Joel Eriksson | BMW | 36 | 21.294s |
| 13 | Nico Muller | Audi | 36 | 22.421s |
| 14 | Mike Rockenfeller | Audi | 36 | 23.987s |
| 15 | Augusto Farfus | BMW | 36 | 28.724s |
| 16 | Philipp Eng | BMW | 36 | 29.486s |
| 17 | Mattias Ekstrom | Audi | 36 | 30.649s |
| 18 | Robin Frijns | Audi | 36 | 31.660s |
| 19 | Jamie Green | Audi | 36 | 44.973s |