McLaughlin goes from 19th to race win in Perth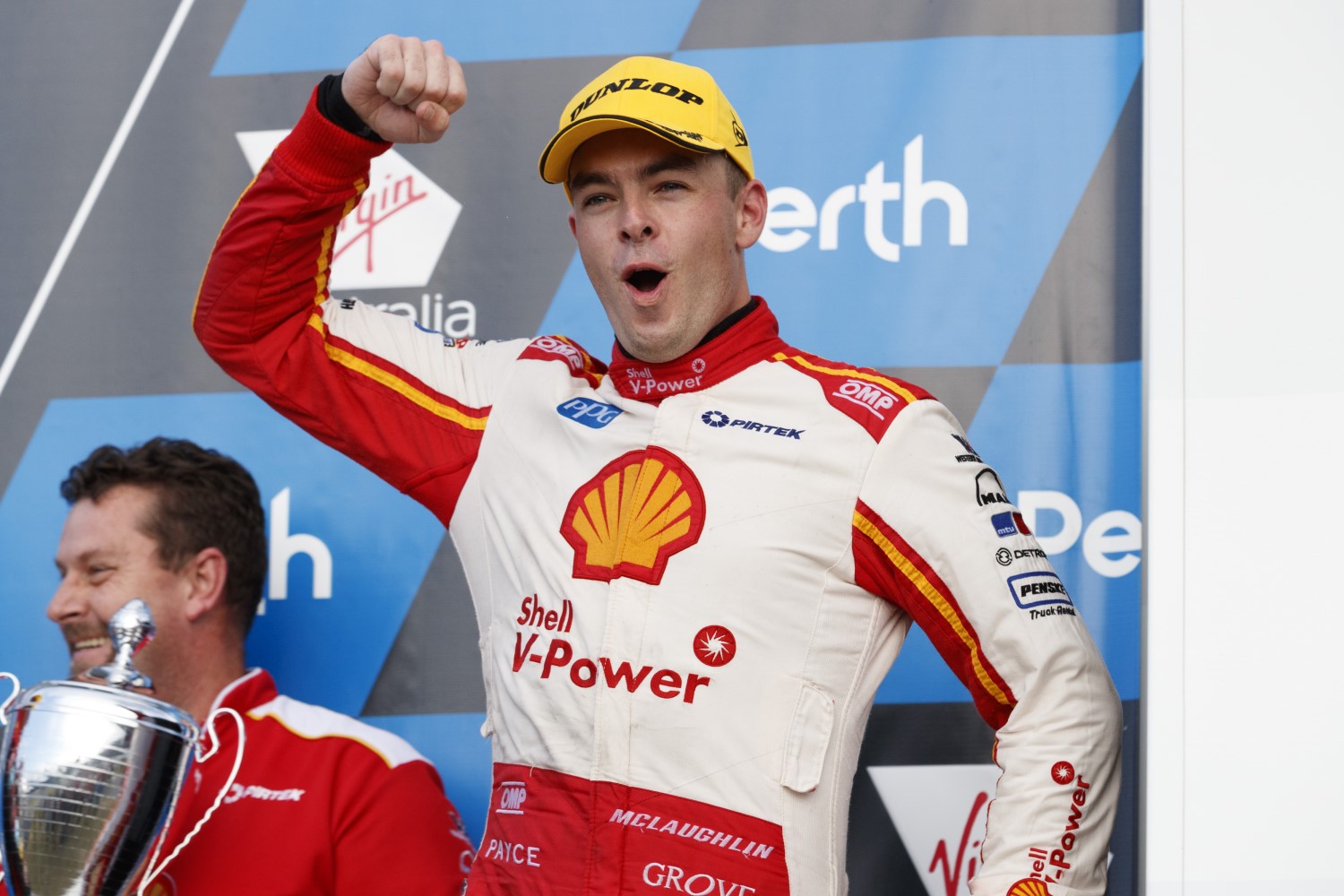 A pumped Scott McLaughlin
A tactical masterstroke and extraordinary drive secured Scott McLaughlin four straight wins in Perth when the Kiwi made up a staggering eighteen positions in an amazing Supercars race in Barbagallo.
Shell V-Power Racing's McLaughlin held out Erebus Penrite Racing's David Reynolds with a performance that was built on strategy and executed with a faultless drive.
There was only one other which matched or bettered McLaughlin's on the day. That was Craig Lowndes going from second last on the grid to third. Boost Mobile Racing's James Courtney was fourth, unable to hold off Lowndes on the final lap.
But the champagne went to McLaughlin who is now the unofficial Mayor of Perth. His victory after starting from 19th betters the record previously held by Supercars greats Peter Brock and Larry Perkins, who both came from 12th to win at Barbagallo. Brock came from 12th twice to win in Perth in 1978, Perkins did it in 1997.
"I am stoked, I couldn't believe it," he said. "These guys gave me an incredible car and the strategy was on point. We made it difficult for ourselves but we brought it back.
"I joked to DJ (Dick Johnson) before we went out and said, 'I reckon we could win this thing' thinking maybe I could but I didn't think it was going to happen."
Veteran Lowndes also danced on strategy having started dead last. Midway through the race he was fifth and looking in great shape, aligned with all of the others on a three-stop strategy.
"Garth (Tander) and I had a bit of fun before the race joking about it down the back. I said to Irish (engineer John MacGregor) you call the shots and I will drive the wheels off it. I think we did that today," Lowndes said.
"All the guys on our side did a great job. The car was really good. We had good battles throughout but I can't thank the guys and the girls enough for giving me a car to do what I did.
"When you have got a car that works and operates in the window you want it's much easier."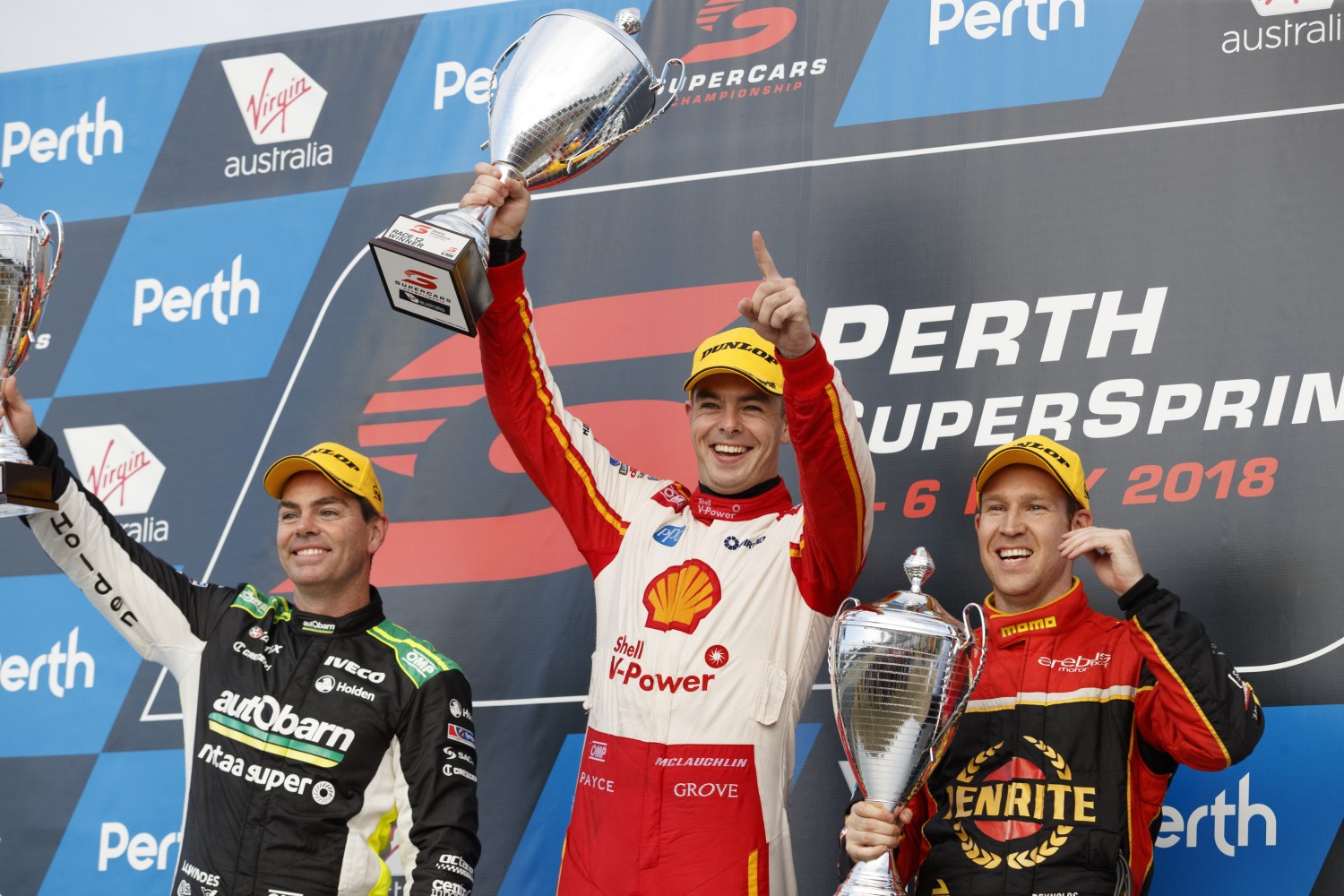 Top-3 finishers – McLaughlin flanked by Reynolds and Lowndes
Jamie Whincup and Shane van Gisbergen went backwards from locking out the front row of the grid, finishing in sixth and seventh.
An early safety car started the mayhem for some and jubilation for others with the tight pit lane creating plenty of hard luck stories. Any cars in front of their pit boom partners got a massive jump while the rest had to wait behind, losing valuable seconds sitting in the pits.
Chaz Mostert was the biggest winner initially but it also enabled McLaughlin to get up to the front. Andre Heimgartner, the fastest Nissan Altima at the time, also got a jump on the rest.
Sparking the race of the year was qualifying when the grid was turned on its head from the opening day with Whincup (14 yesterday) and Van Gisbergen (12) locking out the front-row and arch enemies McLaughlin (19) and Fabian Coulthard (17) in their Shell Falcons.
In fact, Saturday's top four qualifiers – McLaughlin, Cameron Waters, Coulthard and Mark Winterbottom – lined up 19th, 22nd, 17th and 18th, making for a fascinating tussle before the race even got underway.
Almost as astonishingly was veterans Tander and Lowndes starting from dead last. It created multiple strategies, which the early safety car triggered.
McLaughlin has now extended his Championship lead to 158 points from Van Gisbergen and Reynolds. Lowndes is now fourth.
Supercars will now travel 3500km across Australia for the sixth round of the Championship, the Winton SuperSprint from 18-20 May.
Results
| | | | | |
| --- | --- | --- | --- | --- |
| Pos | No. | Driver | Team | Behind |
| 1 | 17 | McLaughlin | Shell V-Power Racing Team | +0.000s |
| 2 | 9 | Reynolds | Erebus Motorsport | +7.980 |
| 3 | 888 | Lowndes | Team Vortex | +10.648 |
| 4 | 25 | Courtney | Mobil 1 Boost Mobile Racing | +12.161 |
| 5 | 97 | Van Gisbergen | Red Bull Holden Racing Australia | +17.696 |
| 6 | 1 | Whincup | Red Bull Holden Racing Australia | +18.797 |
| 7 | 8 | Percat | Brad Jones Racing | +19.982 |
| 8 | 7 | Heimgartner | Nissan Motorsport | +24.558 |
| 9 | 19 | J. Le Brocq | TEKNO Woodstock Racing | +24.915 |
| 10 | 15 | R. Kelly | Nissan Motorsport | +28.230 |
| 11 | 55 | Mostert | Supercheap Auto Racing | +31.772 |
| 12 | 78 | S. De Silvestro | Nissan Nismo | +33.230 |
| 13 | 6 | C. Waters | Monster Energy Racing | +33.467 |
| 14 | 33 | Tander | Wilson Security Racing GRM | +33.918 |
| 15 | 2 | S. Pye | Mobil 1 Boost Mobile Racing | +41.866 |
| 16 | 12 | Coulthard | Shell V-Power Racing Team | +42.275 |
| 17 | 14 | Slade | Brad Jones Racing | +45.091 |
| 18 | 18 | Holdsworth M. Brabham | Preston Hire Racing | +45.274 |
| 19 | 56 | R. Stanaway | Monster Energy Racing | +48.598 |
| 20 | 400 | Davison | Milwaukee Racing | +53.925 |
| 21 | 5 | Winterbottom | The Bottle-O Racing Team | +1 Lap |
| 22 | 35 | T. Hazelwood | Bigmate Racing | +1 Lap |
| 23 | 99 | A. de Pasquale | Erebus Motorsport | +1 Lap |
| 24 | 21 | Blanchard | CoolDrive Racing | +2 Laps |
| 25 | 34 | J. Golding | Wilson Security Racing GRM | +8 Laps |
| 26 | 23 | Caruso | Nissan Nismo | +15 Laps |