Rebellion Tops Final Free Practice At Spa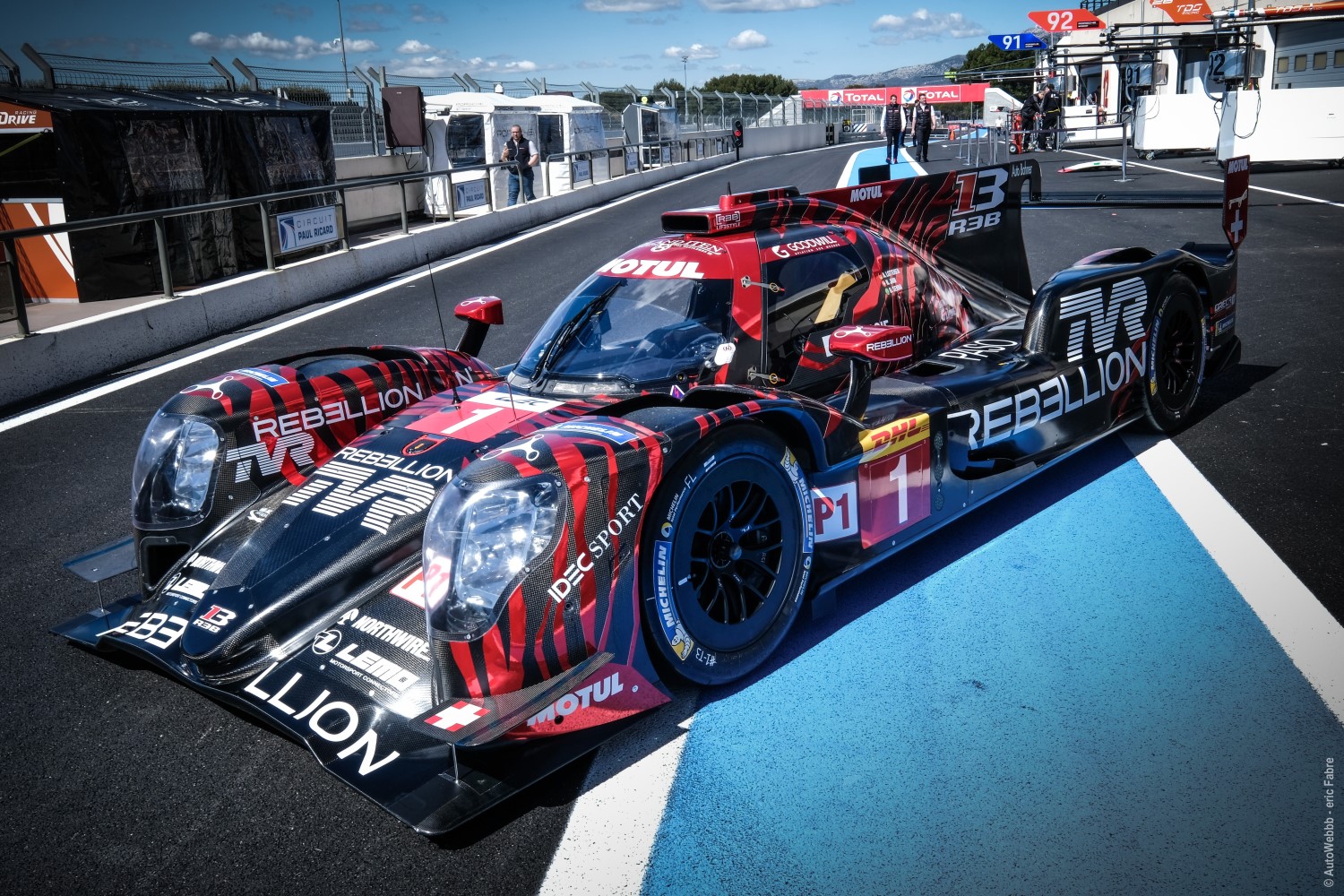 #1 Rebellion
2016 FIA World Endurance Driver's Champion Neel Jani set the fastest time for Rebellion Racing with a 1m57.120s lap in No.1 Oreca-Gibson. The Swiss driver's time was just under one second slower than fastest lap of the meeting so far set by Mike Conway yesterday. The no7 Toyota Gazoo Racing car finished the final 60-second practice session in second as Kamui Kobayashi laps on 1m57.939s.
Andy Priaulx continued to keep Ford at the top of the time sheets in LMGTE Pro with a 2m13.693s in no67 Ford GT. BMW Team MTEK set its fastest lap of the weekend so far as Tom Blomqvist peaks on 2m14.225s in new No.82 BMW M8 GTE.
Pastor Maldonado made it three from three as he once again went quickest in LMP2 for DragonSpeed. The Venezuelan set a 2m02.281s lap of Spa-Francorchamps. Jean-Eric Vergne was second for G-Drive Racing and the no38 Jackie Chan DC Racing entry was third fastest.
Matt Campbell was fastest for Dempsey-Proton Racing in the LMGTE Am category, the no77 911 finishing ahead of sister No.88 Porsche. Newcomers TF Sport place third with Euan Hankey setting lap in the Aston Martin Vantage.
Qualifying for the Total 6 Hours of Spa-Francorchamps will take place today, Saturday 4th May, beginning at 15h00 with the LMGTE category followed at 15h35 for LMP.
Practice 3 Results
| | | | | | | | |
| --- | --- | --- | --- | --- | --- | --- | --- |
| Pos | No. | Drivers | Car | Class | Time | Behind | Gap |
| 1 | 1 | N.Jani/ A.Lotterer/ B.Senna | R13 – GIBSON | LM P1 | 1:57.120 | – | – |
| 2 | 7 | M.Conway/ K.Kobayashi/ J.Lopez | TS050 – Hybrid | LM P1 | 1:57.939 | +0.819 | +0.819 |
| 3 | 3 | M.Beche/ T.Laurent/ G.Menezes | R13 – GIBSON | LM P1 | 1:58.124 | +1.004 | +0.185 |
| 4 | 17 | S.Sarrazin/ E.Orudzhev/ M.Isaakyan | BR1 – AER | LM P1 | 1:58.398 | +1.278 | +0.274 |
| 5 | 8 | S.Buemi/ K.Nakajima/ F.Alonso | TS050 – Hybrid | LM P1 | 1:58.473 | +1.353 | +0.075 |
| 6 | 11 | M.Aleshin/ V.Petrov | BR1 – AER | LM P1 | 1:59.147 | +2.027 | +0.674 |
| 7 | 10 | H.Hedman/ B.Hanley/ P.Fittipaldi | BR1 – GIBSON | LM P1 | 1:59.719 | +2.599 | +0.572 |
| 8 | 4 | O.Webb/ D.Kraihamer/ T.Dillmann | CLM P1/01 – Nismo | LM P1 | 2:01.341 | +4.221 | +1.622 |
| 9 | 31 | R.Gonzalez/ P.Maldonado/ N.Berthon | 07 – Gibson | LM P2 | 2:02.281 | +5.161 | +0.940 |
| 10 | 26 | R.Rusinov/ J.Vergne/ A.Pizzitola | 07 – Gibson | LM P2 | 2:02.481 | +5.361 | +0.200 |
| 11 | 38 | H.Tung/ G.Aubry/ S.Richelmi | 07 – Gibson | LM P2 | 2:03.357 | +6.237 | +0.876 |
| 12 | 36 | N.Lapierre/ A.Negṛo/ P.Thiriet | A470 РGibson | LM P2 | 2:03.414 | +6.294 | +0.057 |
| 13 | 28 | F.Perrodo/ M.Vaxiviere/ L.Duval | 07 – Gibson | LM P2 | 2:03.524 | +6.404 | +0.110 |
| 14 | 37 | J.Jaafar/ W.Tan/ N.Jeffri | 07 – Gibson | LM P2 | 2:03.544 | +6.424 | +0.020 |
| 15 | 29 | F.van Eerd/ G.Van der Garde/ J.Lammers | DALLARA P217 GIBSON | LM P2 | 2:04.732 | +7.612 | +1.188 |
| 16 | 50 | E.Creed/ R.Ricci/ J.Canal | JSP217 – Gibson | LM P2 | 2:06.401 | +9.281 | +1.669 |
| 17 | 67 | A.Priaulx/ H.Tincknell/ T.Kanaan | GT | LM GTE Pro | 2:13.693 | +16.573 | +7.292 |
| 18 | 82 | T.Blomqvist/ A.Felix da Costa | M8 GTE | LM GTE Pro | 2:14.225 | +17.105 | +0.532 |
| 19 | 66 | S.Mücke/ O.Pla/ B.Johnson | GT | LM GTE Pro | 2:14.249 | +17.129 | +0.024 |
| 20 | 92 | M.Christensen/ K.Estre | 911 RSR | LM GTE Pro | 2:14.363 | +17.243 | +0.114 |
| 21 | 91 | R.Lietz/ G.Bruni | 911 RSR | LM GTE Pro | 2:14.367 | +17.247 | +0.004 |
| 22 | 51 | A.Pier Guidi/ J.Calado | 488 GTE EVO | LM GTE Pro | 2:14.568 | +17.448 | +0.201 |
| 23 | 77 | C.Ried/ J.Andlauer/ M.Campbell | 911 RSR | LM GTE Am | 2:15.410 | +18.290 | +0.842 |
| 24 | 97 | A.Lynn/ M.Martin/ J.Adam | VANTAGE AMR | LM GTE Pro | 2:15.457 | +18.337 | +0.047 |
| 25 | 71 | D.Rigon/ S.Bird | 488 GTE EVO | LM GTE Pro | 2:15.460 | +18.340 | +0.003 |
| 26 | 88 | K.Al Qubaisi/ G.Roda/ M.Cairoli | 911 RSR | LM GTE Am | 2:15.586 | +18.466 | +0.126 |
| 27 | 90 | S.Yoluc/ E.Alers-Hankey/ C.Eastwood | VANTAGE | LM GTE Am | 2:15.778 | +18.658 | +0.192 |
| 28 | 81 | M.Tomczyk/ N.Catsburg | M8 GTE | LM GTE Pro | 2:16.185 | +19.065 | +0.407 |
| 29 | 56 | J.Bergmeister/ P.Lindsey/ E.Perfetti | 911 RSR | LM GTE Am | 2:16.493 | +19.373 | +0.308 |
| 30 | 61 | W.Mok/ K.Sawa/ M.Griffin | F488 GTE | LM GTE Am | 2:17.471 | +20.351 | +0.978 |
| 31 | 70 | M.Ishikawa/ O.Beretta/ E.Cheever | F488 GTE | LM GTE Am | 2:17.545 | +20.425 | +0.074 |
| 32 | 54 | T.Flohr/ F.Castellacci/ G.Fisichella | F488 GTE | LM GTE Am | 2:17.662 | +20.542 | +0.117 |
| 33 | 98 | P.Dalla Lana/ P.Lamy/ M.Lauda | VANTAGE | LM GTE Am | 2:17.688 | +20.568 | +0.026 |
| 34 | 86 | M.Wainwright/ B.Barker/ A.Davison | 911 RSR | LM GTE Am | 2:18.363 | +21.243 | +0.675 |
| 35 | 95 | M.SØRENSEN/ N.Thiim/ D.Turner | VANTAGE AMR | LM GTE Pro | 2:18.493 | +21.373 | +0.130 |
| 36 | 5 | C.Robertson/ D.Stoneman | G60-LT-P1 – MECACHROME | LM P1 | | | |
| 37 | 6 | O.Rowland/ A.Brundle/ O.Turvey | G60-LT-P1 – MECACHROME | LM P1 | | | |