McLaughlin quickest in practice in Perth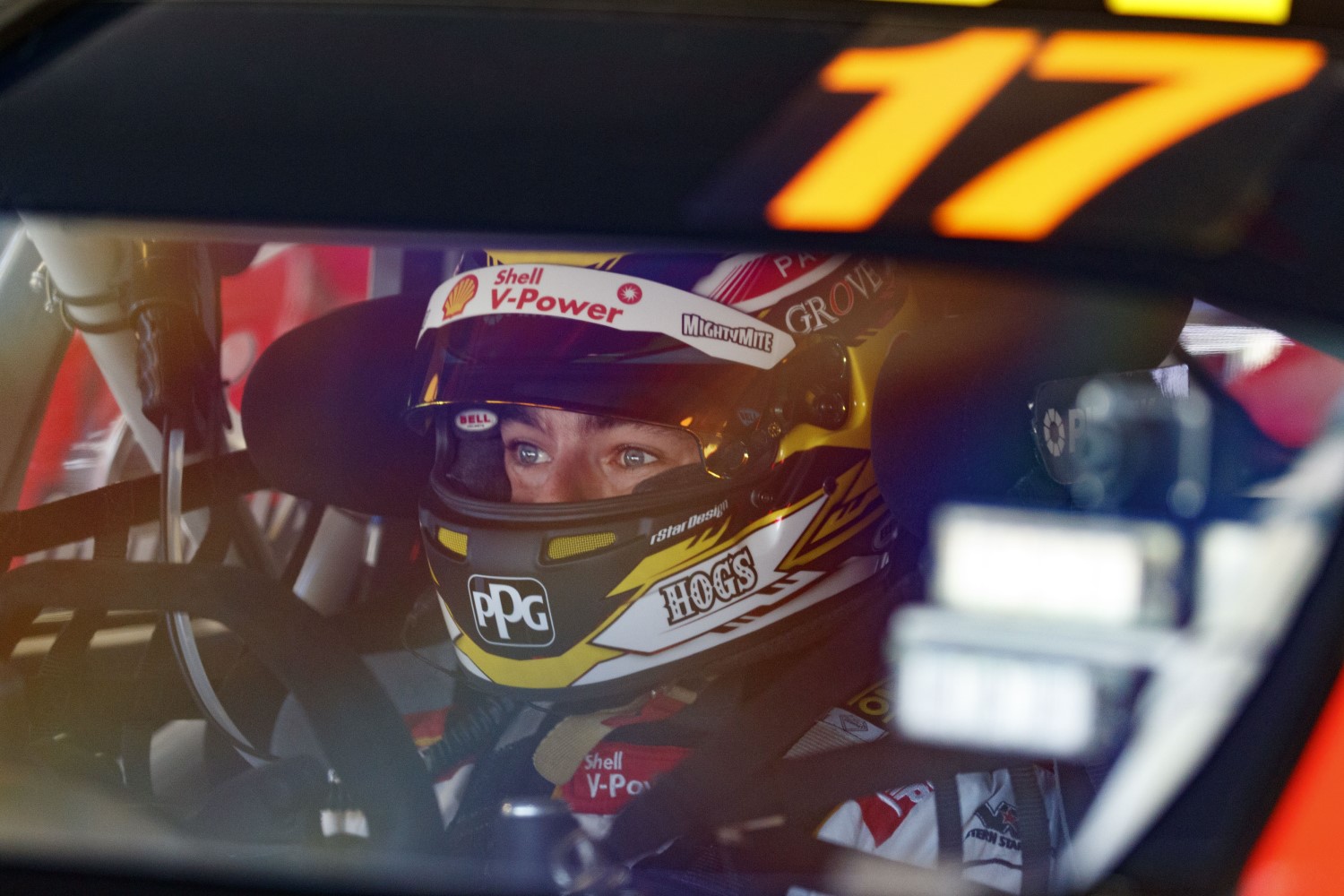 Scott McLaughlin
Scott McLaughlin took the first step to adding to his perfect Perth record of last year with a last lap dash which put the Virgin Australia Supercars Championship leader on top of the table
The current Championship leader was Friday's fastest ahead of the three-tier qualifying session tomorrow having split Armor All Pole Positions with his team-mate Fabian Coulthard last year.
He sat his Shell V-Power Falcon on top by less than a hundredth of a second from Tickford Racing's youngster Cam Waters and Coulthard. They are three of the top ten who advance straight into the second of the ten-minute qualifying sessions tomorrow.
One of the big stories of the day was Simona De Silvestro, Supercars' first fulltime female driver, finished in tenth in one of her best performances of her Supercars career, ahead of Erebus Motorsport's David Reynolds who currently sits second in the Championship.
McLaughlin has vowed to relax more this year and not be results focused after believing he put too much pressure on himself in the title fight he lost to Jamie Whincup last year. But he was far from calm when it came down to a single lap to make the ten.
"I really didn't get a nice banker so I was really nervous about stuffing it up," he said.
"I am stressed out with this qualifying system, it really is full on."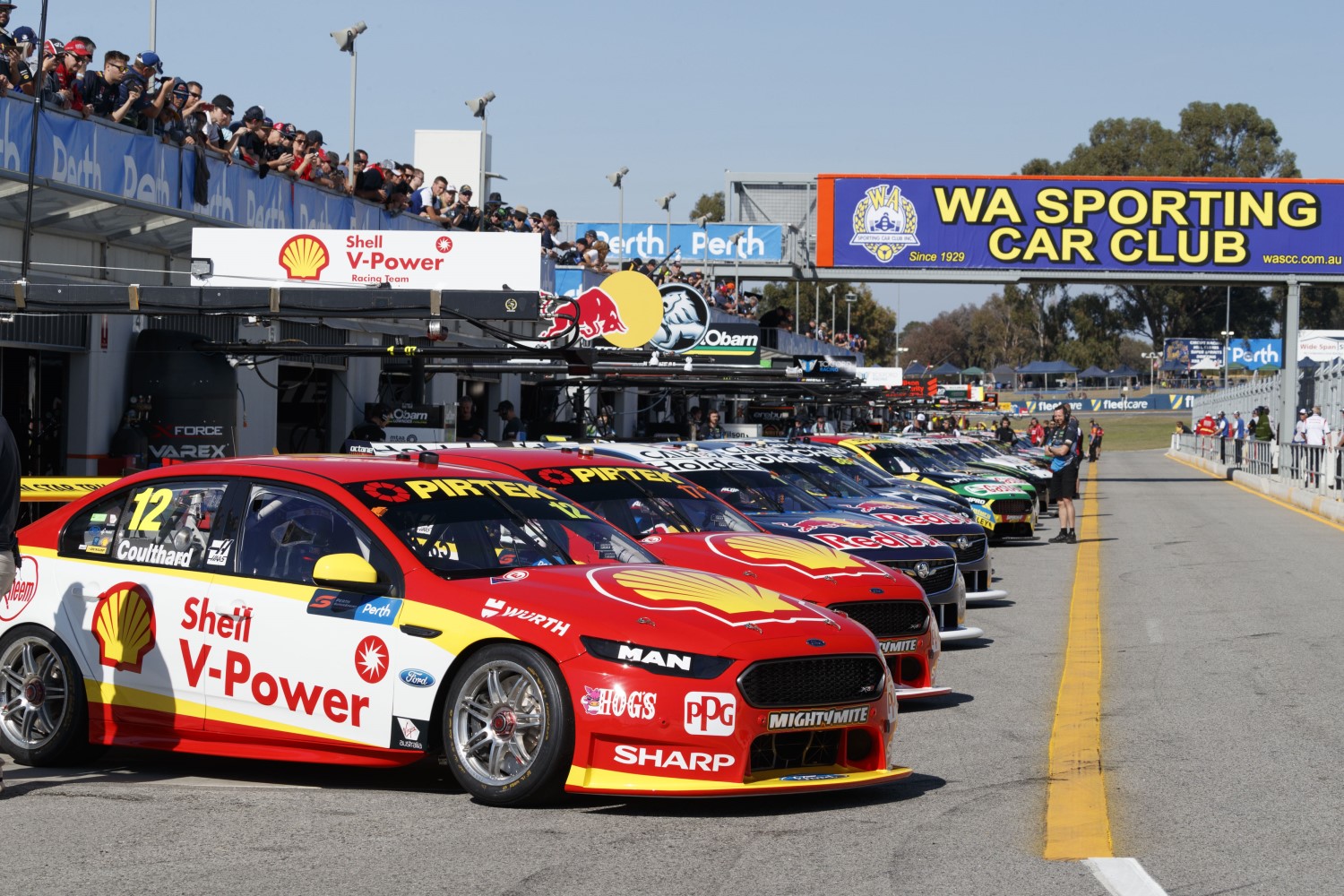 Pit lane in Perth
Less than a second separated the top 25 cars on the short Barbagallo track.
With the benefit being in the top ten for tomorrow's three-part qualifying session, the short lap times added to the pressure around the top bracket with many in the second session outside of the morning times before putting on fresh rubber.
De Silvestro was one of those until she posted a lap which was just four tenths of a second slower than McLaughlin, putting the Harvey Norman Nissan Altima in the ten.
"We almost had to look twice but we got through," she said, adding Supercars was the hardest Championship she had competed in amongst successful stints in IndyCar in the US and Formula E.
"It's so tough here in Supercars. In IndyCar I had really good days and good seasons but I haven't really done that here yet. This is great confidence for me and the team."
Waters and the entire Tickford Team have struggled this year, also gaining a confidence boost.
"We have struggled a fair bit as a team the past few events. I know it's only practice but it adds some confidence to the team. We were happy with that," he said.
"It's good to be competitive, it shows you are actually going okay to be competitive for once."
Drivers to miss out amid a frenetic finish include 2018 race winners Reynolds, Scott Pye and Craig Lowndes, who wound up at the foot of the times.
Whincup was outside the top 20 with 10 minutes remaining, but leapt up the order to take fourth as the lead Holden, ahead of top rookie Anton De Pasquale.
Mark Winterbottom and Chaz Mostert in sixth and eighth joined Tickford team-mate Waters in the top 10, along with Tim Slade in seventh, Shane van Gisbergen in ninth and De Silvestro in 10th.
It was in the morning session when Nissan Motorsport's Andre Heimgartner pipped Scott Pye in the first practice session ahead of Lowndes and McLaughlin in the top four.
Matt Brabham drove the in first session in his role as co-driver to Lee Holdsworth in the PIRTEK Enduro Cup later this year in the Preston Hire Commodore.
MCLAUGHLIN QUOTE: "It's a nice feeling to come to a track that I enjoy, and that we go well at as a squad, and it's exciting to have both cars in the top three. We're feeling good as a team, we stuck to our plan all day and I finally put it all together on the last lap, so it's a nice start to the weekend."
Friday Results
| | | | | | |
| --- | --- | --- | --- | --- | --- |
| Pos | No. | Driver | Car | Time/Gap | Session |
| 1. | 17 | Scott McLaughlin | Ford | 54.8871s | P2 |
| 2. | 6 | Cameron Waters | Ford | +0.0180s | P2 |
| 3. | 12 | Fabian Coulthard | Ford | +0.1477s | P2 |
| 4. | 1 | Jamie Whincup | Holden | +0.1957s | P2 |
| 5. | 99 | Anton De Pasquale | Holden | +0.3106s | P2 |
| 6. | 5 | Mark Winterbottom | Ford | +0.325s | P2 |
| 7. | 14 | Tim Slade | Holden | +0.4318s | P2 |
| 8. | 55 | Chaz Mostert | Ford | +0.4462s | P2 |
| 9. | 97 | Shane van Gisbergen | Holden | +0.451s | P2 |
| 10. | 78 | Simona De Silvestro | Nissan | +0.4616s | P2 |
| 11. | 9 | David Reynolds | Holden | +0.4859s | P2 |
| 12. | 23 | Michael Caruso | Nissan | +0.4882s | P2 |
| 13. | 8 | Nick Percat | Holden | +0.4960s | P2 |
| 14. | 2 | Scott Pye | Holden | +0.5157s | P2 |
| 15. | 230 | Will Davison | Ford | +0.5177s | P2 |
| 16. | 15 | Rick Kelly | Nissan | +0.5424s | P2 |
| 17. | 19 | Jack Le Brocq | Holden | +0.5767s | P2 |
| 18. | 18 | Lee Holdsworth | Holden | +0.6545s | P2 |
| 19. | 33 | Garth Tander | Holden | +0.6738s | P2 |
| 20. | 25 | James Courtney | Holden | +0.6948s | P2 |
| 21. | 7 | Andre Heimgartner | Nissan | +0.7621s | P2 |
| 22. | 21 | Tim Blanchard | Holden | +0.8006s | P2 |
| 23. | 888 | Craig Lowndes | Holden | +0.8977s | P1 |
| 24. | 35 | Todd Hazelwood | Ford | +0.9052s | P2 |
| 25. | 56 | Richie Stanaway | Ford | +0.9237s | P2 |
| 26. | 34 | James Golding | Holden | +0.9417s | P2 |