Q&A with Danica Patrick at Indy Wednesday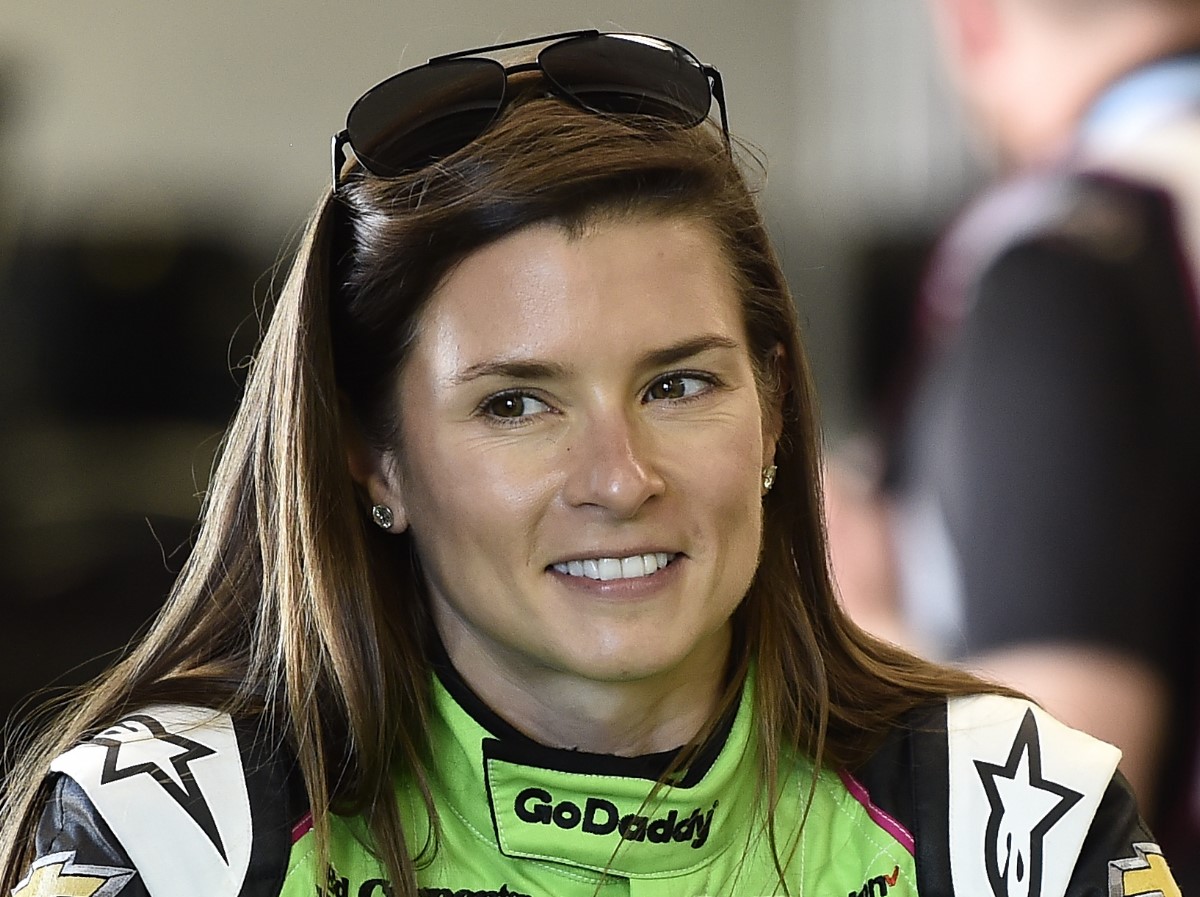 Danica Patrick enjoying the moment
DANICA PATRICK, NO. 13 GO DADDY ED CARPENTER RACING CHEVROLET, met with members of the media at Indianapolis Motor Speedway during the manufacturer test day on the 2.5-mile oval and discussed her first two days of driving the Chevrolet-powered car and memories of past Indy 500 efforts. Full transcript:
WHAT WAS IT LIKE THE FIRST FEW LAPS YESTERDAY?
"Absolutely horrible. I felt very uncomfortable. I felt like all my workout efforts have not really been helpful because I could not turn the wheel it was so heavy. It's much better today. The first couple laps today I got flat out so it's much different today than it was yesterday.
YOU SAID YOU WANTED TO GET THAT REFRESHER OVER WITH SO YOU COULD HAVE FUN AGAIN. ARE YOU STARTIG TO HAVE FUN ON DAY TWO?
"Were those my words? I said I wanted to get yesterday over with so that I could get on with the job and get comfortable and start to feel the car and work through simple changes. So that's what we've done today. The yellow came out when I first went out; I went past the start-finish line, lifted in (Turn) 1 and was flat out through (Turns) 3 and 4 and the yellow came out, so I was feeling really good right off the bat. As soon as I went back out, I was flat out and have been since, so everything has felt really good. It's just a matter of working on little feeling I have as well as trying things, because quite honestly it feels pretty planted so it's just small little changes and kind of feeling how the tires go over the course of the 20-some laps. There's no point in rushing. Even sitting on pit lane after doing 20-some laps, I was like 'Let's be mature. Let's go back, let's make sure everything is where we want it to be and be methodical and come back out here.' That's what we did, made a couple other changes before lunch and everything is running smooth."
DOES IT FEEL LIKE HOME?
"It does because I'm staying at my parents' house. So that's really helps you feel like you're at home. She is helping feed my dogs and feed me dinner and all kinds of things. It always feels like home here at Indy. The track feels so familiar. Everything from the walk to and from pit lane … I'm just waiting for the Alley Cats to show up."
DOES IT FEELS LIKE A RELIEF TO HAVE THE FIRST DAY UNDER YOUR BELT?
"Oh, yeah. Definitely having yesterday done felt much better. I slept much better last night. The stress of the anticipation of yesterday, and not necessarily so much of a 'I'm so excited' sense but 'I'm nervous how is this going to go' sense was weighing on me a fair amount heavier than I knew. I cold see it popping up in other ways. I slept much better last night and thankfully today is running rally smooth so far. Today was about building confidence, not breaking it, so even if all I do is drive around with really nominal changes all day and just kind of keep feeling it and feeling it, that is a successful day today because that is building confidence and not breaking it."
DOES THE STEERING STILL FEEL A LITTLE HEAVY?
"The steering feels a tiny bit heavy. When I took off after even doing my install check yesterday, I accelerated in first gear and I was like, 'Oh, shoot.' It still feels heavy as you get going up to speed, but the thing is once you turn into the corner it doesn't. It's just that straightaway low downforce. These cars have enough downforce to drive upside down, so they have a lot of load through the wheel. I'm also use to power steering in stock cars and I don't have that anymore, so all the IndyCar fans out there might find this warm and fuzzy but everyone would always ask me if I had a hard time driving those big, ole' stock cars and if they were really physical. I was like, 'No.' They are way easier than an IndyCar to drive."
DO YOU FEEL ANY MORE PREPARED FOR THIS THAN DAYTONA?
"I would say from a preparation standpoint, on the car side with Ed (Carpenter) and the whole team I feel more prepared on that side of things. This is a well thought-out, timed, planned, full-fleged effort. Daytona came pretty quick and the team did a great job massaging the car, and I felt we were competitive in the race. We weren't the fastest car but we were competitive. I feel it was still a good effort, but this is one that had more time to go through the details and be prepared.
HOW DO YOU LIKE THIS CAR COMPARED TO THE ONE YOU USED TO DRIVE IN INDYCAR?
"Seven years is long enough to forget what things felt like. But I will say that just the little things of helmets, belts. This isn't a popular thing to say, but you didn't have to run the belts that tight in stock car. You didn't have to worry about your helmet. You didn't have to worry about the padding that much. It was all like just fine. In IndyCar, it's all critical. You probably know the old stories of Dario (Franchitti) where he changed something a sixteenth of an inch of padding and gained two-tenths (of a second). That didn't happen to me. But you do need those kinds of things to be comfortable. All those things are really critical, so I was much more comfortable the first time I arrived at Indy 13 years ago, but it was already on race No. 5 of the season so I had already ironed out those kinks. We're still working through that but rest assured that when we come back here we'll be as ready as humanly possible."
THIS IS A TWIN TURBO WHERE BEFORE YOU HAD A DIFFERENT ENGINE
"Is that why I feel it going so fast? It's a twin turbo? I did text Dario and say 'Well, that was a bit of a shock.' It definitely felt like there were 14 turbos on it."
DEREK DALY CELEBRATED 30 YEARS TALKING ABOUT THIS PLACE
"I'm 36 so that could make me old. There are plenty of kids around here that weren't even born 30 years ago so maybe ask them what's that like. I've been around for a while and as you can see I have some grays now so big difference."
WHAT'S UP WITH THE GRAY HAIR?
"I'm just not trying to go for the overall dye. We're just like an aging group. In the drivers meeting I was last minute and the front row filled in with all the guys that I remember, and I'm like 'Oh, here's the dinosaur group,' or at least that's what I called myself anyway. We've been around a while. Some longer than me."
WHAT'S THE BIGGEST FLASHBACK YOU HAVE WHEN YOU COME INTO THIS PLACE AFTER BEING AWAY FOR SO LONG?
"What I really think back to is that feeling that I had the very first time that I was here where I went out and I was like 'I can't believe I am this fast. Let's not screw it up.' So we would be very methodical in that sort of like almost unbelievable feeling of I don't know how I'm here right now but I'm so fortunate. I didn't let myself get cocky in all of that. In the beginning I was feeling super humble. That memory of how good it was in the beginning when I drove for Bobby (Rahal) was … My first rookie orientation was a lot easier than yesterday."
DID YOU GET A CHANCE TO RUN IN ANY TRAFFIC TODAY?
"I never saw a car other than coming in and out of the pits. As far a towing goes, all that stuff I remember. If you can see a car it's helping you. I never saw a car so speed is legitimate. Then again, seeing a car can definitely upset the car and get you much looser or tighter."
THERE'S A SENSE THAT YOU MISS THIS A LITTLE BIT
"Oh, I remember watching the Indy 500 the first year I wasn't in it and I missed it. I remember that feeling. And as time wore on I missed that relevancy of being in the game and being someone like before the race of 'Who do you think is going to win today?' My name did not pop up in NASCAR. Then that first Daytona 500 when I was on the pole, and other than that most of the races weren't like that. I missed being relevant, so I'm going to try to be that here this month. It's going to be hard because everybody is really good and I wasn't for a while. The car seems like it has some good, natural speed and we're not really pressing the issues too much. So, just again, build confidence and not break it today and come back in a couple weeks and see where we go."