Chevys fastest on manufacturers test day at Indy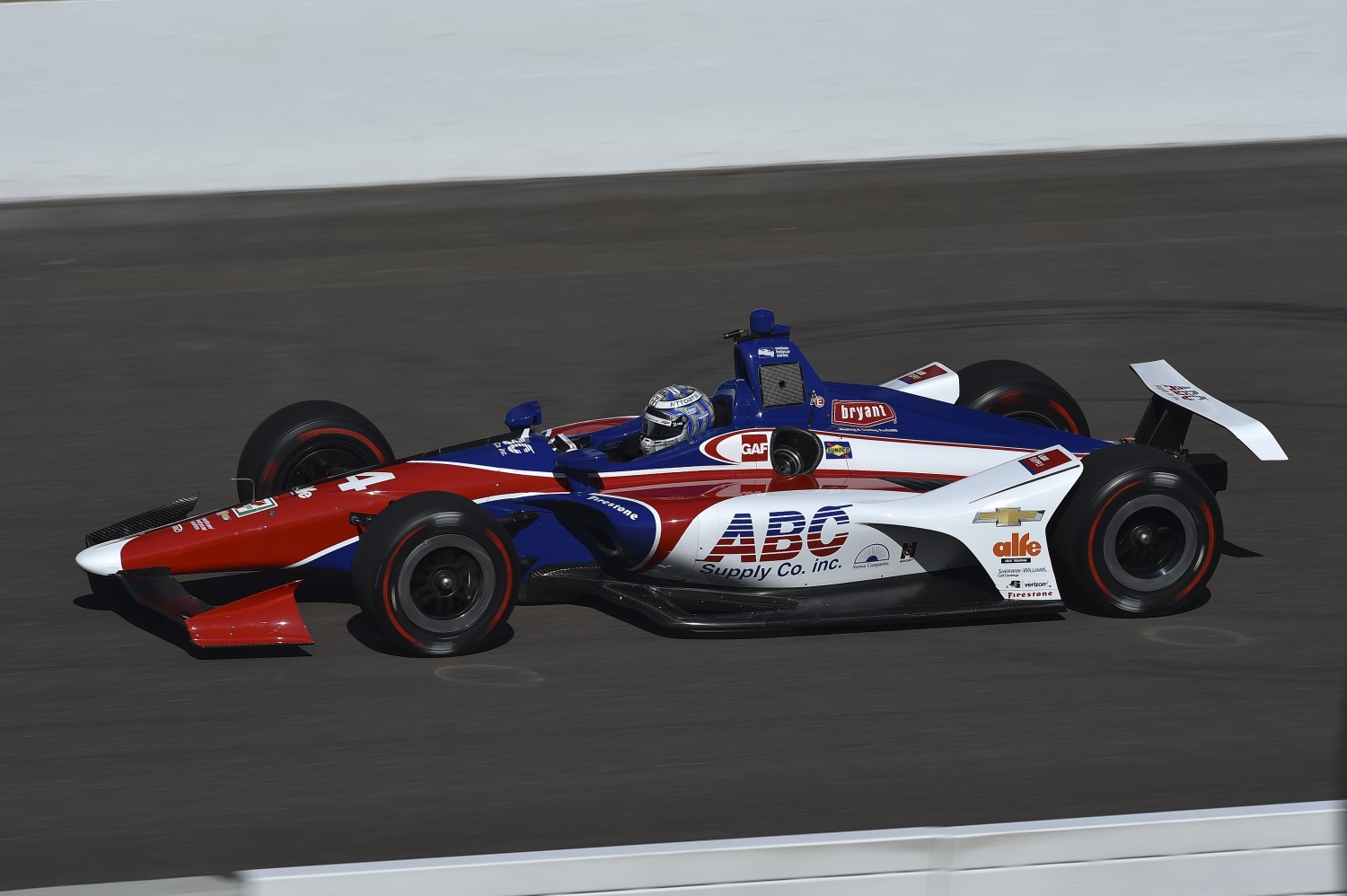 Tony Kanaan
Tony Kanaan scooted through Gasoline Alley on a golf cart Wednesday as if he were still running the fastest lap during testing at Indianapolis Motor Speedway.
Lunch hour during the manufacturer's test meant heading home early for Kanaan, who two days after posting the top speed (226.680 mph) in his No. 14 ABC Supply AJ Foyt Racing Chevrolet was running similar laps. Windy conditions prompted his team to call it a day early. Ed Carpenter was second with a 224.466 mph best.
Gabby Chaves was third at 223.658 mph.
Although satisfied with the work completed, Kanaan cautioned not to read too much into the speeds. It's just testing, fellow drivers concurred.
What's important at this early stage of the process leading up to the 102nd Indianapolis 500 presented by PennGrade Motor Oil is that the redesigned cars with new universal aero kits were handling well on the famed 2.5-mile oval. Kanaan, the 2013 Indy 500 winner, admitted he was concerned about that entering this week.
"The downforce level for this place, when they changed the car they kept it pretty similar from last year, at the minimum," he said. "It's not something that's unfamiliar territory for us. When we run in race trim, it's close to what we qualified in last year. For all the tracks, this is the one that's the least amount of difference.
"I haven't really run in traffic yet, so I won't be able to tell you how it behaves. But so far, it's been OK. There's always stuff to learn. I'm confident we have a good starting point, but this is just a day and a half of testing. A lot of people aren't there yet. We still have a lot of work to do. It's going to get tougher."
Four-time Verizon IndyCar Series champion Scott Dixon, the 2008 Indy 500 winner, said race teams were running different boost levels so nobody should jump to conclusions about which cars are quickest.
"Everybody is doing totally different stuff, man," said Dixon, who sat on the "500" pole last year as well as in 2015 and 2008. "You've got six or seven miles per hour just from turning the boost up. I don't think we'll really get a good idea of speeds until we get to Fast Friday."
That's the day before qualifying, when cars are in qualifying trim and typically putting up the month's best speeds. Practice for the "500" begins on Tuesday, May 15. Chip Ganassi Racing managing director Mike Hull suggested another ideal day for getting an accurate barometer on which cars are the quickest.
"We'll all see the proof of acclimation probably on that Monday when we run after qualifying weekend, that five-hour scrum that we have," Hull said. "That's a cool day. That is the best day for a fan. You have all these sticker tires you've run throughout the week that don't have a lot of laps on them that you're not going to use in the race, and you save them for that day. Everybody is out there matching fuel with tires. They run for five hours. It's like watching a race. It's a terrific day.
"You can see what's going to happen in the race if you pay attention that day. If you're sitting over there on one of those grassy knolls, I think you'll see an awful lot of what's going to happen on race day."
As for now, Dixon expects speeds to be similar to last year based on the aero kit having similar drag levels and the expected incremental improvement in performance from engine manufacturers Chevrolet and Honda as well as tire manufacturer Firestone.
Based on Monday's test, when more cars were on track, Dixon expressed some concern that the draft between cars might be larger, which could keep the field bunched.
"Hopefully not too packed up," said the New Zealander, who drives the No. 9 PNC Bank Chip Ganassi Racing Honda. "A pack race around this place isn't too much fun."
James Hinchcliffe, who won the "500" pole in 2016 for Schmidt Peterson Motorsports, came away encouraged from his practice.
"The big thing is it's been very predictable," he said of his No. 5 Arrow Electronics SPM Honda. "It hasn't done anything weird. It doesn't seem to have any super quirky characteristics yet, nothing that's thrown us some big curve balls.
"There's always the kind of get-to-know-you phase with a new car in trying to figure out what she likes and what she doesn't and where her sweet spot is. That's what we're going to be doing over practice week. First impressions are really good." Phillip B. Wilson/IndyCar