Karam Enjoys his Return to IMS Tuesday in Testing for Indy 500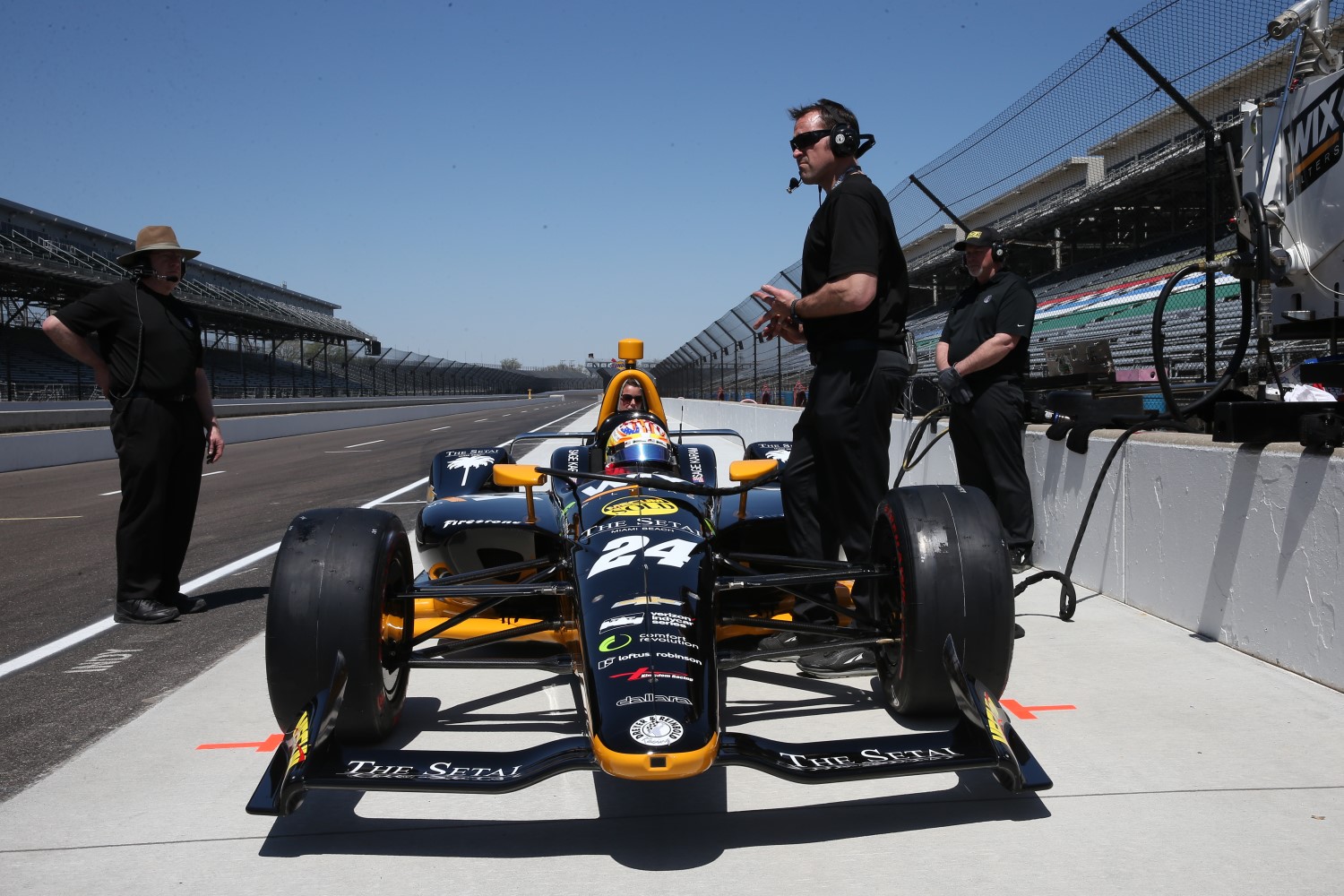 Sage Karam on pit lane
Young Sage Karam, entering his fifth Indianapolis 500, made his first appearance since last May at the famed Indianapolis Motor Speedway Tuesday when the famed two-and-half mile oval was open for a testing session with veteran Indy 500 racers. The 102nd Indy 500 is scheduled for Sunday, May 27.
Driving the pretty No. 24 WIX Filters/Dreyer & Reinbold Racing Chevrolet Dallara under a sunny sky, Karam debuted an all-new chassis Tuesday with new bodywork, brakes and electronics in running 45 laps with a best speed of 218.600 miles per hour.
With rookie drivers testing early in the day, Karam joined Danica Patrick and Jay Howard in "refresher" runs for the Indy 500 veterans in the afternoon in their return to the "World's Greatest Race Track" in preparation for 200-lap classic.
"It was a really good day for me," said Karam after the three-hour test session. "This is the most comfortable I have been here at Indy in the very first day of running. I haven't been in an IndyCar since last May here. In fact, I haven't been in a race car since last October in sports cars. It's been a long wait. I'm so excited to get behind the wheel. This is a new car, so it's a big challenge for myself and the team. We had to work out all of the little kinks today in just three hours. So, it is a tall task in the refresher program.
Sage Karam
"We ran a number of laps today and I feel good as we got through so much information. We are extremely pleased how the WIX Filters Chevrolet ran today. Usually, the cars don't feel the best after a refresher day. But this is the best I have ever felt after day one. The car felt good coming through the refresher speeds and even better when we added speed. I'm anxious to get to the Speedway in a few weeks to getting ready for the greatest race in the world."
Dreyer & Reinbold Racing, which has entered and qualified 37 cars in the Indy 500 dating back to 1999, has run single-car entries in the Indy 500 for the past six years after being a multi-car operation through 2011. This year, DRR will campaign two cars for the Indy 500 with J.R. Hildebrand in the No. 66 Salesforce/DRR Chevy. Hildebrand was on hand Tuesday to oversee Karam's IMS runs.
"We had a really solid day," said Dennis Reinbold, DRR team owner. "We got a lot accomplished. Sage was comfortable in the car right away and that is important on the first day out with the new car, new brakes, new body kit and the new electronics. And that is something you always want to hear from your driver that he is comfortable. We went through all of the refresher phases. We are looking to start the May practice runs ready to go. It was great weather today and we hope that is duplicated the first week of practice. We have a long list of things we need to sort through that week. We know what to prepare for before when we come back here."
Karam will take the No. 24 WIX Filters/DRR Dallara IndyCar for the first official practice runs on Tuesday, May 15, at the famed oval. Qualifying for the 102nd running of the Indy 500 is set for Saturday, May 19, and Sunday, May 20. The start for this year's Indianapolis 500-Mile Race is scheduled for 12:15 p.m. EDT on Sunday, May 27.