Latest F1 news in brief – Tuesday
Bottas drove beautifully in Baku

Media gives Bottas boost after Baku

'Veerstappen' admits 'too eager' in Baku
Gasly accuses Magnussen of being the 'most dangerous' driver in F1
Formula One approves aerodynamic rule changes for 2019
Media gives Bottas boost after Baku
(GMM) Valtteri Bottas has been given a boost by one of the most respected newspapers in formula one.
Italy's La Gazzetta dello Sport gave the Finn the highest ranking of all the drivers in Baku — 8 out of 10, equaled only by the impressive Sauber rookie Charles Leclerc.
That is despite the fact that Bottas was distraught after retiring from the lead with mere laps to go due to a puncture.
"He told me it really hurts," Mercedes team boss Toto Wolff said.
But Bottas' performance was at least impressive, as well as timely, given the way the 2019 'silly season' is shaping up and with his expiring contract.
"Was he the best? Yes, because he was the only big name that did not make any mistakes during the race," La Gazzetta dello Sport said of Bottas.
"He is proving more than just a support act for Hamilton," the magazine added.
Indeed, Lewis Hamilton even held up the podium proceedings on Sunday as he dashed to commiserate with Bottas prior to lifting the trophy he said his teammate deserved.
"It was a moderate race by Lewis," agreed former F1 driver Robert Doornbos, speaking to Ziggo Sport Totaal.
"You can only say that he was in the right place at the right time, but he was very honest about that afterwards," said the Dutchman.
"I don't think he'll be putting that one on his highlights DVD."
'Veerstappen' admits 'too eager' in Baku
Some call him Max 'Crash'stappen and other Max 'Veer'stappen for the way he veers all over the road to block drivers trying to pass
(GMM) Max Verstappen has admitted both he and teammate Daniel Ricciardo may have been "eager" to go wheel to wheel in Baku.
The pair were slammed by their furious Red Bull bosses after crashing out of Sunday's Azerbaijan race.
Many think Ricciardo was to blame as he rear-ended Verstappen, but F1 legend Niki Lauda said it was the Dutchman with "70 per cent" of the fault, by moving under braking.
Before the crash, the pair diced extensively for track position, and Verstappen told Ziggo Sport that "It was I think good to watch on television".
As for the crash, the 20-year-old said he is not listening much to all the post-mortems in the media.
"It's so much easier to judge afterwards and from the outside than when you're driving at 320kph," Verstappen said.
He said there is therefore little anger when looking back at the incident now.
"Yes you're sorry that you didn't finish," he said. "And the worst thing is that it's with your teammate.
"It doesn't even matter whose fault it is, as teammates you just don't want to crash with each other. Of course the team was not happy about it, but we were not that happy about it either."
However, Verstappen said both he and Ricciardo will have learned lessons from Baku.
"Maybe, yes. We were also racing well too, but unfortunately that time it didn't work. We may have to be less eager when we are racing together," he said.
Gasly accuses Magnussen of being the 'most dangerous' driver in F1
Kevin Magnussen. Between him and Romain Grosjean that's quite a driver lineup the anti-American Haas team has
Toro Rosso driver Pierre Gasly has labelled Haas rival Kevin Magnussen the "most dangerous" driver he's ever raced against, with video footage released by Formula One showing the jaw-dropping collision between the pair at nearly 200mph.
The pair dropped down the order and out of the points after a heart-stopping moment four laps from the checkered flag as the race restarted following the final safety car period, with Gasly furious at what he perceived to be a deliberate move to block him from passing on the run to Turn One.
Magnussen accepted fault for the high-speed accident, but claimed that he was unable to see the rapidly-approaching Toro Rosso that had gained an advantage from using the large slipstream on offer down the Baku straight.
"I had so many vibrations in the car that the mirrors were useless, I couldn't see anything at all," said Magnussen, who went on to receive a 10-second time penalty that dropped him to 13th – one place behind Gasly – as well as two penalty points on his license, which took his tally to eight inside the last 12 months. Should the Dane reach 12 in the space of a year, he will receive an automatic one-match ban.
Gasly was furious with Magnussen after the race, not least because he felt the second-generation F1 driver blocked him deliberately in practice on Friday, and he let his words fly in a scathing verbal attack on his rival.
"Kevin is the most dangerous guy I have ever raced with," Gasly said. "He literally put me in the wall at 300kph at the re-start and completely ruined the race. I would have been in the worst case P10 at the last restart, so this is one thing.
"The safety car came out, we pitted and were P11. I knew points were on the table. I was going to pass him just before the safety car line one, went on the side, and he just put me in the wall right in the middle and took half of my floor out.
"Both my front wheels went in the air, broke my right mirror and bent my steering as well. After that I was just trying to survive until the end of the race. There was almost no point to race after that."
Despite the Haas driver accepting the blame, Gasly has no intention of talking it over with Magnussen.
"Honestly I don't care about all this. I knew exactly what he was doing, and he put me in the wall," Gasly said.
"He's been always like this. He's been always racing hard. I don't mind racing drivers which are hard, but like this is just way over the limit. You don't put someone in the wall at 300kph."
Watch the footage here.
Formula One approves aerodynamic rule changes for 2019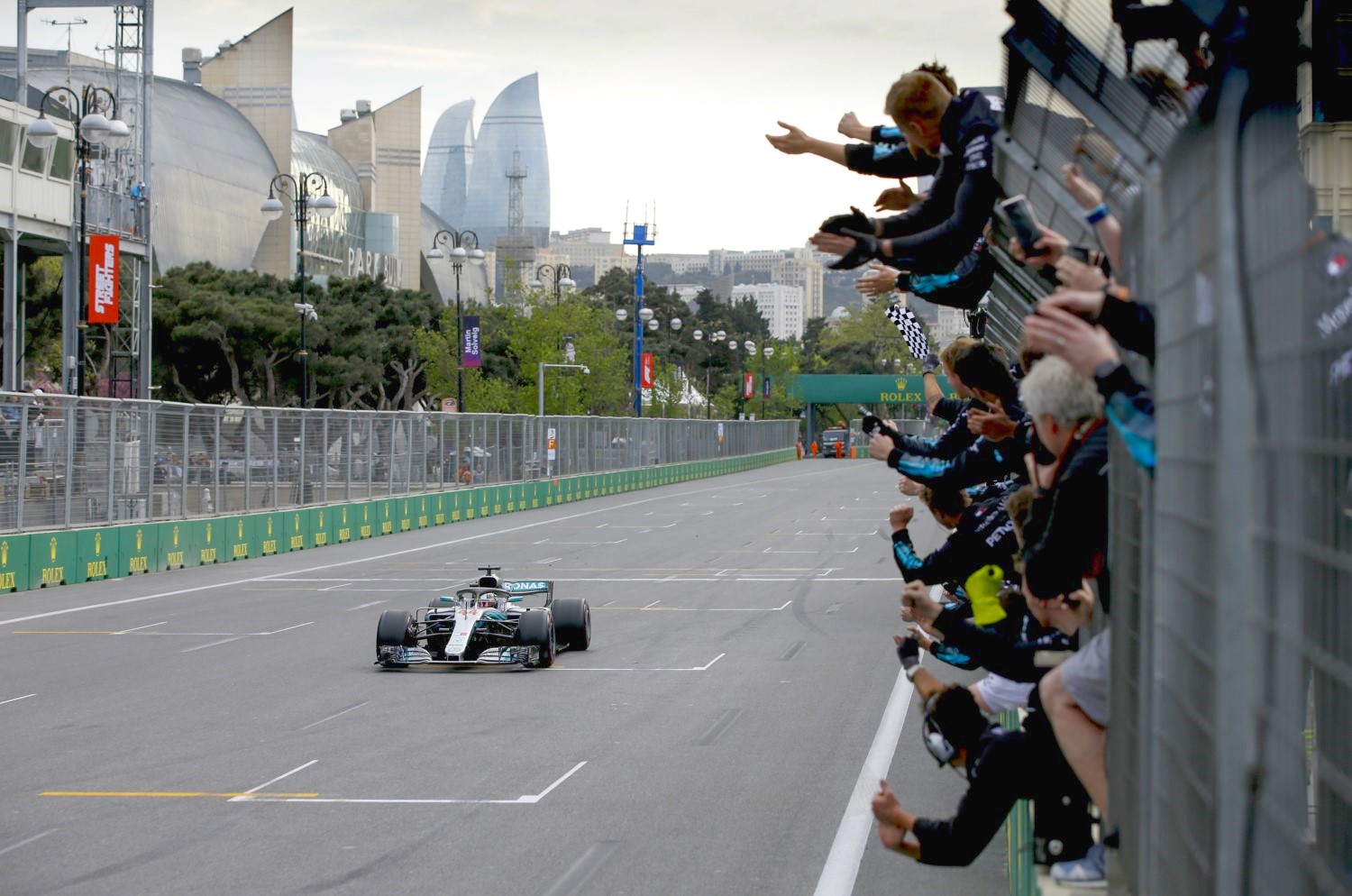 Baku proved that F1 overtaking is not an issue if the straight is long enough
Formula One has approved aerodynamic rule changes for 2019 aimed at promoting closer racing by making it easier for cars to overtake, the sport's governing body said on Tuesday.
The measures include a simplified front wing with a larger span, front brake ducts without winglets and a wider and deeper rear wing.
The International Automobile Federation (FIA) said its Formula One commission, Strategy Group and World Motor Sport Council had approved the changes.
The changes should reduce turbulence for cars that are following each other, and come after criticism of the lack of overtaking in some races.
The FIA said the vote, on the last day before unanimous agreement is required for any 2019 regulation changes, followed research carried out by a majority of the teams and backed by commercial rights holders Liberty Media.
"These studies indicated the strong likelihood of a positive impact on racing and overtaking within F1 and as such have now been ratified for implementation in 2019," the statement added.
"The approved changes are separate to the ongoing work being undertaken in regard to defining Formula One's regulations for 2021 and beyond."
Motorsport.com suggested several teams, including Ferrari and Red Bull, had been opposed to the proposals but were outvoted.