Indy Open Test Driver Quotes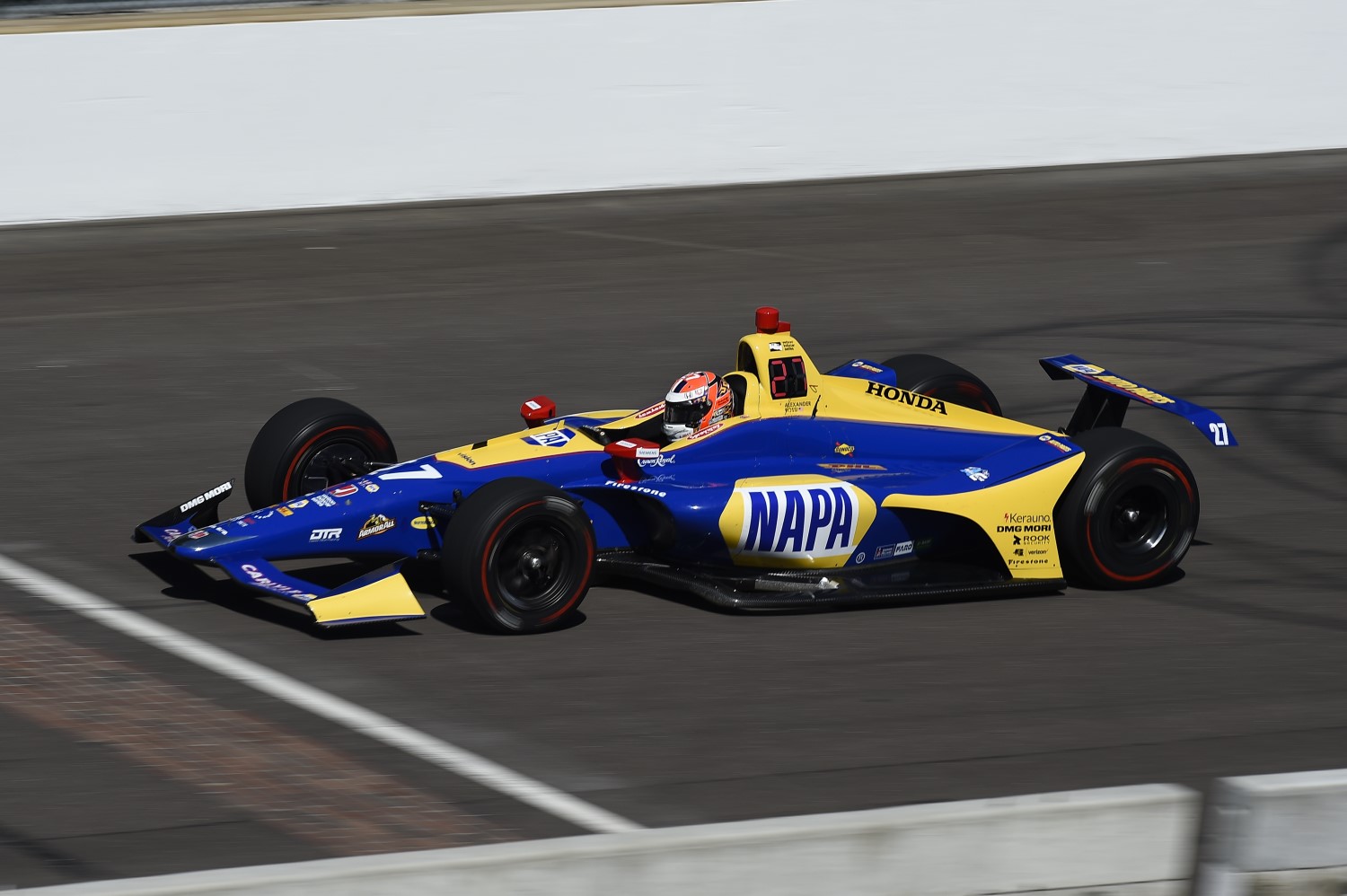 Rossi and Hunter-Reay could not find any speed on Day 1
JOSEF NEWGARDEN (No. 1 Verizon Team Penske Chevrolet):
(About the windscreen test he completed at the end of the day):"It was fascinating. It was totally different for an open-wheel car. You're not used to having a windscreen that big in front of you, but it was interesting to try it out. The most interesting thing to me was the visor changes (on his helmet). Going from a fully-smoke visor to a clear visor was better. It helped with the visibility and the clarity. There's small improvements to be made, especially with the clarity with the visors and the perception to see through it. It was easy to make it work, I didn't have any major issues with it, and I think INDYCAR did a nice job."
HELIO CASTRONEVES (No. 3 Pennzoil Team Penske Chevrolet): "Great day today to be back at Indianapolis. To be back in an Indy car – my Pennzoil Chevy – plus the new car. What a day. We ran a lot and felt we started to build a foundation to new setups. We will regroup and look at what my teammates did and comeback with an even better plan to achieve the big dream of (Indianapolis 500 win) No. 4."
JAMES HINCHCLIFFE (No. 5 Arrow Electronics SPM Honda): "Solid first day in the Arrow Electronics car. Obviously, we still have a lot to learn with this new car, and we have many days left to try and figure it out. We had a test plan where we had some big-ticket items that we wanted to knock off; we weren't necessarily going for outright speed today. We got those items ticked off, so a pretty smooth day for us, and I'm happy with how we've started."
SCOTT DIXON (No. 9 PNC Bank Chip Ganassi Racing Chevrolet): "I think most teams are probably just running through their test items trying to understand the new aero kit that we have here and how it works in traffic or by yourself. There's a list of things that we need to try and check off. But so far, so good, everyone is running really fast and it's a perfect day, even here in April."
WILL POWER (No. 12 Verizon Team Penske Chevrolet) : "(Testing was) good. It is definitely different, and we went through a lot of changes today, but it feels the same when you get the balance right. Pretty productive day for the Verizon Chevy team with all four cars trying things. So now, we have to go digest the data and see what works best. With four cars, you focus on your own car and keep working until you find what works best and what you struggle with. Then you go to the engineering trailer and get all the data from all four cars and what worked and what didn't. That is why multiple cars work so well."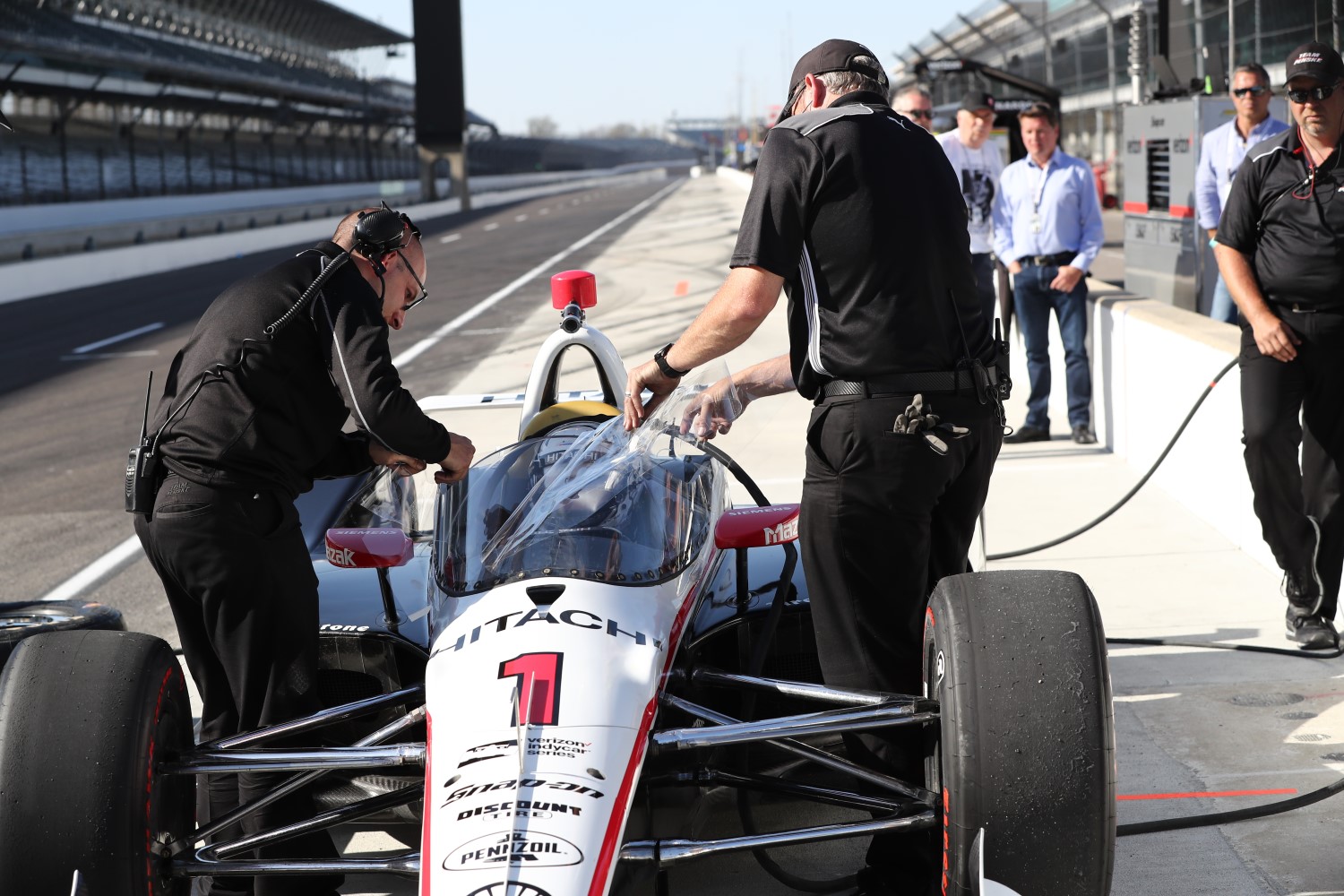 Team Penske removes experimental tear-offs from the windscreen of Josef Newgarden's car during the windscreen test at the Indianapolis Motor Speedway
TONY KANAAN (No. 14 ABC Supply AJ Foyt Racing Chevrolet): "I know it sounds like every year we come back the first day, everybody has a huge smile on their faces. I love it. I love this place. I mean, it's magical. I wish we could do this every race. But awesome to be back. For me, one of the things on my bucket list. A.J. (Foyt, team owner) is not here, so I have not driven the golf cart into pit lane. But if that will happen, garage No. 1, that's pretty cool. A lot shorter from Gasoline Alley to the garage, too. A lot of new things for me that I hadn't experienced in the past year. So happy to be back. It was a beautiful day out there. Got a lot of laps in, a lot of learning to do…ready to come back Wednesday." (About reaction to 2018 car on a superspeedway): "I think it was pretty smooth. You saw everybody came up to speed pretty fast, which is pretty remarkable, in my opinion. To me it was a lot quicker down the straightaways, which was quite fun. It was like back in the day. You definitely feel the speed going down the straightaway. You have to hang on into the corners. A little bit different, to be honest, but fun. I don't know what to expect running in traffic. I didn't do a lot of running in traffic yet. I'll wait till a couple days from now that we will do some racing stuff. We concentrate today on understanding the car and trying to get a feel for how the car behaves. To do that, I prefer to do it on my own."
GRAHAM RAHAL (No. 15 United Rentals Honda): "I think it was definitely a good, solid start for us. I think the car (with the new aero kit) is going to race really, really well. I am definitely pleased with what I saw. Overall, I think it is going to be plenty quick. It's still early days for sure, but all signs point us in the right direction. As a team, I think we had a really good, solid day. As you always do at Indy, we had times that we didn't feel all that great about the situation, and in the race running at the end the United Rentals Honda felt really strong. We'll see. It's great to be back at Indianapolis Motor Speedway. Obviously, we had such a beautiful day today, so it was a great way to kick off the month of May."
ED CARPENTER (No. 20 Ed Carpenter Racing Fuzzy's Vodka Chevrolet): "Today was a good start to what I consider to be the start of the Month of May! We were able to get through the bulk of our test list and I feel we are off to a good start. There are certainly some areas to improve on, but for the first day in a new car, the Fuzzy's Vodka team did a great job and we came here prepared to go."
SPENCER PIGOT (No. 21 Preferred Freezer Services Chevrolet): "I feel we had a good day today. We got through pretty much all of the changes we had planned, it's always nice to be able to tick off those boxes and get a head start before we come back for official practice. We made some good improvements and were able to go fairly quick at the end of the day. Overall, I'm happy with the Preferred Freezer Services Chevy and I'm excited to see what we can do next."
SIMON PAGENAUD (No. 22 Menards Team Penske Chevrolet): "Always such a pleasure to drive here. Having the opportunity to be one of those drivers to hit the track 240 mph, it's pretty cool. We did a lot of work today. It was really a good day of testing. Great day, great conditions for testing, as well. Universal aero kit is quite different. It behaves quite a bit different to what we've been used to the last few years. But overall, it's quite decent. The car is very stable. It sucks up pretty well on the straightaway. I think the racing is going to be interesting. You can see the times. Makes a big difference, too. Overall, I think it's still early days to tell how your car is going to behave in traffic. We're just scratching the surface at the moment with what we need to go out and try to win the race. Very good first impression. Like I say, we didn't made a lot of different changes. We had something quite radically different this afternoon than this morning. We're going to go back to the shop and study all that with the engineers and try to figure out the sensitivity of the car. That's the biggest key."
CHARLIE KIMBALL (No. 23 Tresiba Chevrolet): Honestly, I don't think you could have scripted a better first day for the No. 23 car at the Indianapolis Motor Speedway. It's the first time Carlin has ever run on a superspeedway, it's brand new bodywork…mechanically, we were really safe, really conservative all day long. We started to tune and get some lap speed out of it towards the end of the day. Honestly, it gives us a really good foundation moving forward. We've got a day on Wednesday, we'll work through some more details, work through some more information, and then we'll be in good shape when we come back here to start the month of May."
TAKUMA SATO (No. 30 Mi-Jack / Panasonic Honda): "We had a very productive day today. We learned a lot for the first time (with the new universal aero kit), obviously, learning a new superspeedway package at Indianapolis Motor Speedway. Talking about IMS, it's just an unbelievable feeling and experience (to run here). It doesn't matter what car or which number you are in, because the moment I did an installation lap, I flashed back to last year (to his Indianapolis 500 win). It's so nice to be part of Indianapolis Motor Speedway. It's been a great day with gorgeous weather. We can't ask for better than that. We did try quite a few directions to see which one works best, and I think Graham (Rahal) and I are both happy and I think we gathered a lot of good data, so it was a good day."
MAX CHILTON (No. 59 Gallagher Chevrolet): "Very impressive first day for a team that has never driven an Indy car on the hardest track in North America. We had a really smooth day and made good changes. Every time we made a change, it was better. We never took a change off the car. It was a really nice, solid first day with no issues. Fingers crossed we can have more of that Wednesday and come into the month of May with some speed behind a rookie team."
JACK HARVEY (No. 60 AutoNation/SiriusXM MSR w/SPM Honda): "A lot has happened since I was here last year when I met Michael (Shank) and now we are back this year with Meyer Shank Racing and Schmidt Peterson Motorsports. It's a brand new car from what we raced last year and honestly today we just wanted to dot the "i"s and cross the "t"s. But we had a really great day. The time sheet didn't reflect how well I felt that we were doing but we all finished the day feeling confident in what we learned. There's something special here for me – I won the Freedom 100, it's the home of racing in America, I live in Indy. But really this is where Michael and I started our adventure and our relationship. I am just super excited for May because it brings back all sorts of emotions."
GABBY CHAVES (No. 88 Harding Group Chevrolet): "Feeling really positive finishing P4 in both practice sessions today for the open test. The No. 88 crew has worked so hard the past few months for the 2018 season and hasn't had the chance to show it. I know we're able to fight against these guys, so what better way than during the month of May. This is going to be fun."