Andretti goes 224 mph to top morning times at Indianapolis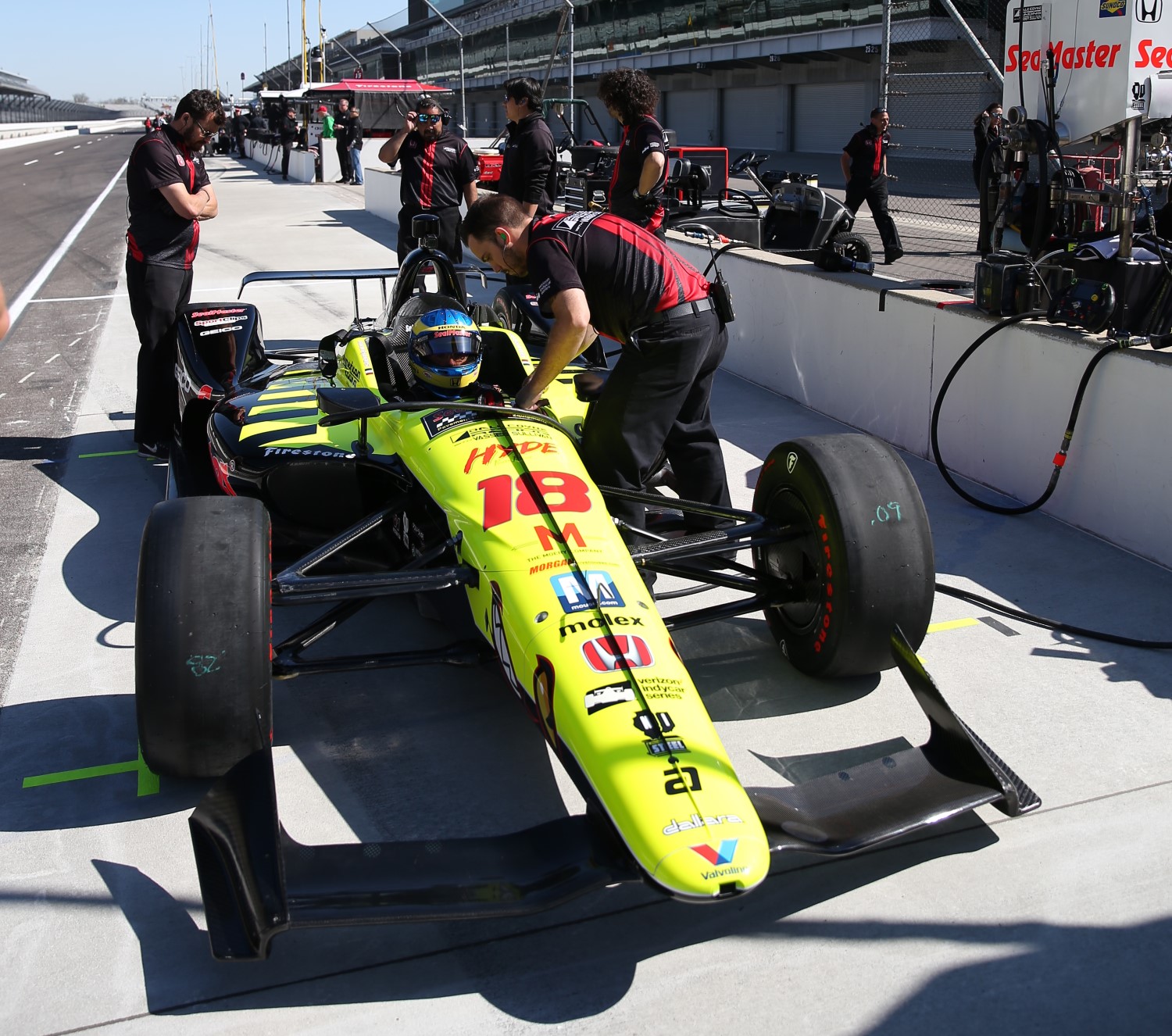 Bourdais was 11th quick in the morning
Marco Andretti led a Honda 1-2-3 atop the timesheets at almost 224 mph in the 2-hour morning practice for the Verizon IndyCar Series open test for all full-season veteran drivers. It will be followed on Tuesday by a day set aside for Indy 500 rookie orientation and refresher testing for veterans out of an Indy car for at least a year. Wednesday is reserved for manufacturers Chevrolet and Honda to test with a select number of drivers.
The April 30-May 2 testing dates rekindled memories of days gone by at IMS, to a time when the track opened for practice on May 1 and the race ran on May 30 for a true "Thirty Days in May."
Takuma Sato was 2nd quick in his #30 Rahal Honda and Scott Dixon third in his Ganassi Honda.
Testing will resume after lunch break.
AM Results
| | | | | | | | | | |
| --- | --- | --- | --- | --- | --- | --- | --- | --- | --- |
| Pos | No | Name | FTime | Diff | Gap | Laps | FSpeed | Engine | Team |
| 1 | 98 | Marco Andretti | 40.179 | –.—- | –.—- | 12 | 223.997 | Honda | Andretti Herta Autosport |
| 2 | 30 | Takuma Sato | 40.294 | 0.1148 | 0.1148 | 30 | 223.359 | Honda | Rahal Letterman Lanigan Racing |
| 3 | 9 | Scott Dixon | 40.323 | 0.1437 | 0.0289 | 20 | 223.199 | Honda | Chip Ganassi Racing Teams |
| 4 | 88 | Gabby Chaves | 40.388 | 0.2089 | 0.0652 | 31 | 222.838 | Chevy | Harding Racing |
| 5 | 28 | Ryan Hunter-Reay | 40.408 | 0.2292 | 0.0203 | 14 | 222.727 | Honda | Andretti Autosport |
| 6 | 15 | Graham Rahal | 40.420 | 0.2407 | 0.0115 | 17 | 222.663 | Honda | Rahal Letterman Lanigan Racing |
| 7 | 20 | Ed Carpenter | 40.504 | 0.3244 | 0.0837 | 24 | 222.203 | Chevy | Ed Carpenter Racing |
| 8 | 10 | Ed Jones | 40.539 | 0.3599 | 0.0355 | 29 | 222.008 | Honda | Chip Ganassi Racing Teams |
| 9 | 5 | James Hinchcliffe | 40.602 | 0.4225 | 0.0626 | 29 | 221.666 | Honda | Schmidt Peterson Motorsports |
| 10 | 22 | Simon Pagenaud | 40.648 | 0.4692 | 0.0467 | 32 | 221.411 | Chevy | Team Penske |
| 11 | 18 | Sebastien Bourdais | 40.678 | 0.4988 | 0.0296 | 27 | 221.250 | Honda | Dale Coyne Racing |
| 12 | 27 | Alexander Rossi | 40.682 | 0.5026 | 0.0038 | 26 | 221.230 | Honda | Andretti Autosport |
| 13 | 14 | Tony Kanaan | 40.739 | 0.5598 | 0.0572 | 9 | 220.919 | Chevy | AJ Foyt Enterprises |
| 14 | 21 | Spencer Pigot | 40.740 | 0.5606 | 0.0008 | 28 | 220.915 | Chevy | Ed Carpenter Racing |
| 15 | 3 | Helio Castroneves | 40.770 | 0.5914 | 0.0308 | 35 | 220.748 | Chevy | Team Penske |
| 16 | 60 | Jack Harvey | 40.800 | 0.6208 | 0.0294 | 32 | 220.589 | Honda | Meyer Shank Racing |
| 17 | 26 | Zach Veach | 40.836 | 0.6566 | 0.0358 | 15 | 220.395 | Honda | Andretti Autosport |
| 18 | 1 | Josef Newgarden | 40.838 | 0.6588 | 0.0022 | 36 | 220.384 | Chevy | Team Penske |
| 19 | 12 | Will Power | 40.871 | 0.6916 | 0.0328 | 39 | 220.207 | Chevy | Team Penske |
| 20 | 59 | Max Chilton | 41.205 | 1.0257 | 0.3341 | 24 | 218.421 | Chevy | Carlin |
| 21 | 23 | Charlie Kimball | 41.241 | 1.0622 | 0.0365 | 27 | 218.228 | Chevy | Carlin |