Verizon IndyCars Hinchcliffe wins Charity Race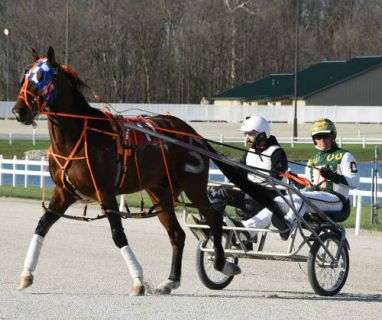 James Hinchcliffe – with John DeLong for International Waldenstrom's Macroglobulinemia Foundation
Earlier this evening, Verizon IndyCar's James Hinchcliffe and harness racing driver John DeLong won Hoosier ParkRacing & Casino's first-ever IndyCar celebrity horse race for charity. Hinchcliffe accepted a $1,500 check for his charity, International Waldenstrom's Macroglobulinemia Foundation. A $500 check was presented to the remaining drivers' charities.
The charity race, coined Celebs in the Sulky, began at 6 p.m. and was sponsored by FLAT 12 Bierwerks. Four IndyCar and harness driver duos competed wire to wire on Hoosier Park's 7/8-mile track.
The race results are as follows:
First Place: James Hinchcliffe – with John DeLong for International Waldenstrom's Macroglobulinemia Foundation
Second Place: Robert Wickens – with Ricky Macomber for Make A Wish America
Third Place: Alexander Rossi -with Sam Widger for Find Your Grind Foundation
Fourth Place: Zach Veach – with Trace Tetrick for Riley Children's Foundation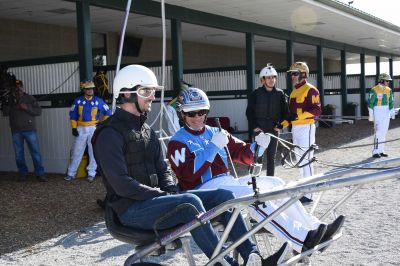 Alexander Rossi -with Sam Widger for Find Your Grind Foundation
"I have to compare it to a funny car, because in a funny car there's this giant explosive thing right in front of you. It's a little nerve-wracking," said Hinchcliffe.
"I have to give a lot of respect for the animals, and what they feel. I've watched a lot of horse races, but never harness. To see how their bodies move…it was pretty awesome," Rossi noted.
The race was followed by a public autograph session with the drivers. Race fans all across Central Indiana came out for the event.
"We are honored to have these four world-famous Verizon IndyCar drivers compete for charity on Hoosier Park's oval of speed," said Rick Moore, Hoosier Park's vice president and general manager of racing. "Along with being outstanding representatives of their sport, they are incredible advocates for their causes. We certainly hope to make this a tradition in celebration of the Indianapolis 500."
Each of the four celebrity drivers will compete in this year's Indianapolis 500, held at the Indianapolis Motor Speedway on May 27. For more information about the Verizon IndyCar Series, visit www.indycar.com.