Ty Dillon, Jamie McMurray Lead Practice Sessions for 49th GEICO 500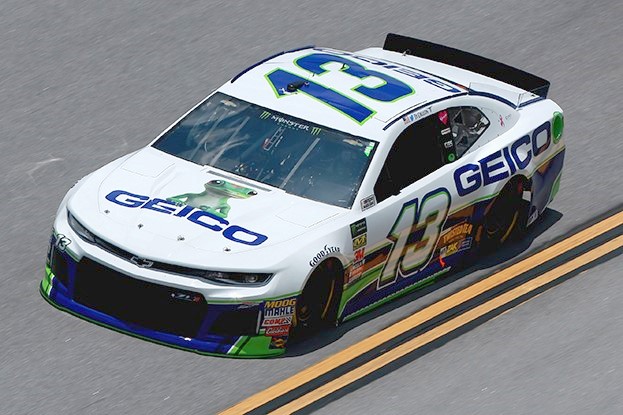 Ty Dillon, driver of the No. 13 GEICO Chevrolet, led the first practice for Sunday's GEICO 500 with a fast lap of 202.959 mph at Talladega
TALLADEGA, AL – The Monster Energy NASCAR Cup Series returned to Talladega Superspeedway on Friday, with a pair of practice sessions for Sunday's 49th GEICO 500. Those sessions were led by Ty Dillon and two-time Talladega winner Jamie McMurray.
Dillon led the first session in the No. 13 GEICO Chevrolet with a fast lap of 202.959 mph on the 2.66-mile tri-oval. McMurray, driving the No. 1 DC Solar Chevrolet, led the second session, at 203.975; Dillon was second-fastest in the second session.
McMurray's fast lap was followed a lap later by a dramatic backstretch incident in which he spun, was hit by Ryan Newman's Chevrolet, and rolled several times before coming to a stop. Cars driven by Dillon and Daniel Suarez also were involved. No drivers were injured, but all four will have to use back-up cars and as a result will start the GEICO 500 at the rear of the field.
Defending race champion Ricky Stenhouse Jr. (No. 17 Fifth Third Bank Ford) was 29th-fastest in the first session, at 191.180. He improved to 18th in the second practice, thanks to a lap of 201.834.
Only four drivers have won the GEICO 500 in consecutive years: David Pearson (1972-74), Buddy Baker ('75-76), Dale Earnhardt Jr. (2002-03) and Jeff Gordon (2004-05).
On Sunday, Stenhouse will try to become the fifth.
Stenhouse's victory last year was his first in the Monster Energy NASCAR Cup Series. That is his Talladega highlight thus far and the biggest indication – but not the only one – of a consistent comfort level. In nine Talladega starts, Stenhouse had three top-five finishes and five top 10s while having completed 99 percent of the race laps run. It's also worth noting that his only other Monster Energy Series victory came at the other massive tri-oval on the series schedule, Daytona International Speedway. (July 2017, Coke Zero Sugar 400.)
His GEICO 500 victory in 2017 is part of an overall recent Ford dominance at Talladega; Fords have won six of the last seven races here.
"I'd like to continue that streak of Ford being in Victory Lane and I'd really like to back up what we did here last year with qualifying on the pole and winning the race," Stenhouse said.
"We always feel very confident in our race cars when we come here. … I do think coming into Talladega with a thought process of 'I really enjoy this place and I feel like I can win' … it definitely helps the race go a little better."
Fr8Auctions Qualifying for the GEICO 500 is set for Saturday at 12:05 p.m.
Competitors in the NASCAR Xfinity Series' Sparks Energy 300 will qualify at 10 a.m. Saturday with the 113-lap/300-mile race to follow at 2 p.m. Four drivers will compete in the Sparks Energy 300 for the Dash 4 Cash NASCAR Xfinity Series program to win a $100,000 bonus – Elliott Sadler, Christopher Bell, Matt Tifft and Austin CIndric.
On Friday, there were two practice sessions for the Sparks Energy 300. Cole Custer (No. 00 Haas Automation Ford) led the first session with a fast lap of 194.125 mph; the second session was led by Shane Lee (No. 3 Childress Vineyards Chevrolet), at 187.938.
Also Friday, it was announced that the ARCA Racing Series presented by Menards has been acquired by NASCAR. The series held its fourth race of the season on Friday afternoon at Talladega, the General Tire 200.
"It's fantastic that we're going to be working together going off into the future," said NASCAR Vice Chairman/Executive Vice President Jim France. "Both organizations have a great history, with great championships. We've shared a lot of teams and drivers over the years. That will continue in a major way."
The ARCA Racing Series will continue to operate under its current structure through the 2019 season.