Video: McMurray Talladega wreck, NASCAR slows cars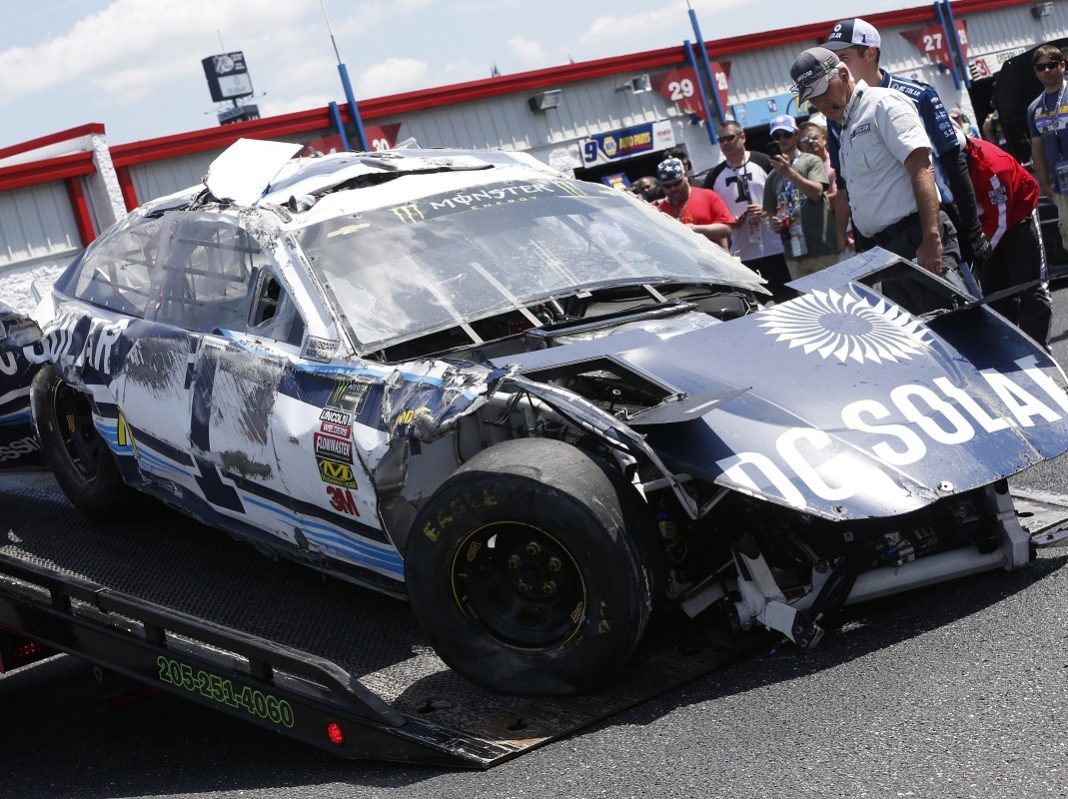 What's left of McMurray's Chevy
NASCAR is reducing the size of the restrictor plate openings for the Monster Energy NASCAR Cup Series from seven-eighths of an inch down to 55/64 of an inch for the remainder of the race weekend at Talladega Superspeedway.
The change will be in effect for both Busch Pole Qualifying on Saturday and the GEICO 500 on Sunday at the 2.66-mile, high-banked tri-oval.
Officials from the sanctioning body made the move after exceedingly fast speeds were posted in the draft during Friday's two practice sessions, with Ty Dillon leading the opening round at 202.959 mph and Jamie McMurray pacing final practice at 203.975 mph.
McMurray then went for a wild ride later on in Happy Hour, losing a left-rear tire going down the backstretch and spinning in front of Ryan Newman, who hit McMurray's door and sent the Joplin, Mo., native tumbling end-over-end down the straightaway.
After rolling over six times, McMurray's No. 1 DC Solar Chevrolet Camaro ZL1 came to rest, with McMurray climbing out unhurt and later being checked and released from the infield care center.
A spokesperson for NASCAR said the change was "absolutely a safety issue," and also cited the series' tendency for reaction any time a car lifts off the race track or goes airborne.
JAMIE MCMURRAY, NO. 1 DC SOLAR CAMARO ZL1 – Involved in a multi-car accident in final Monster Energy NASCAR Cup Series practice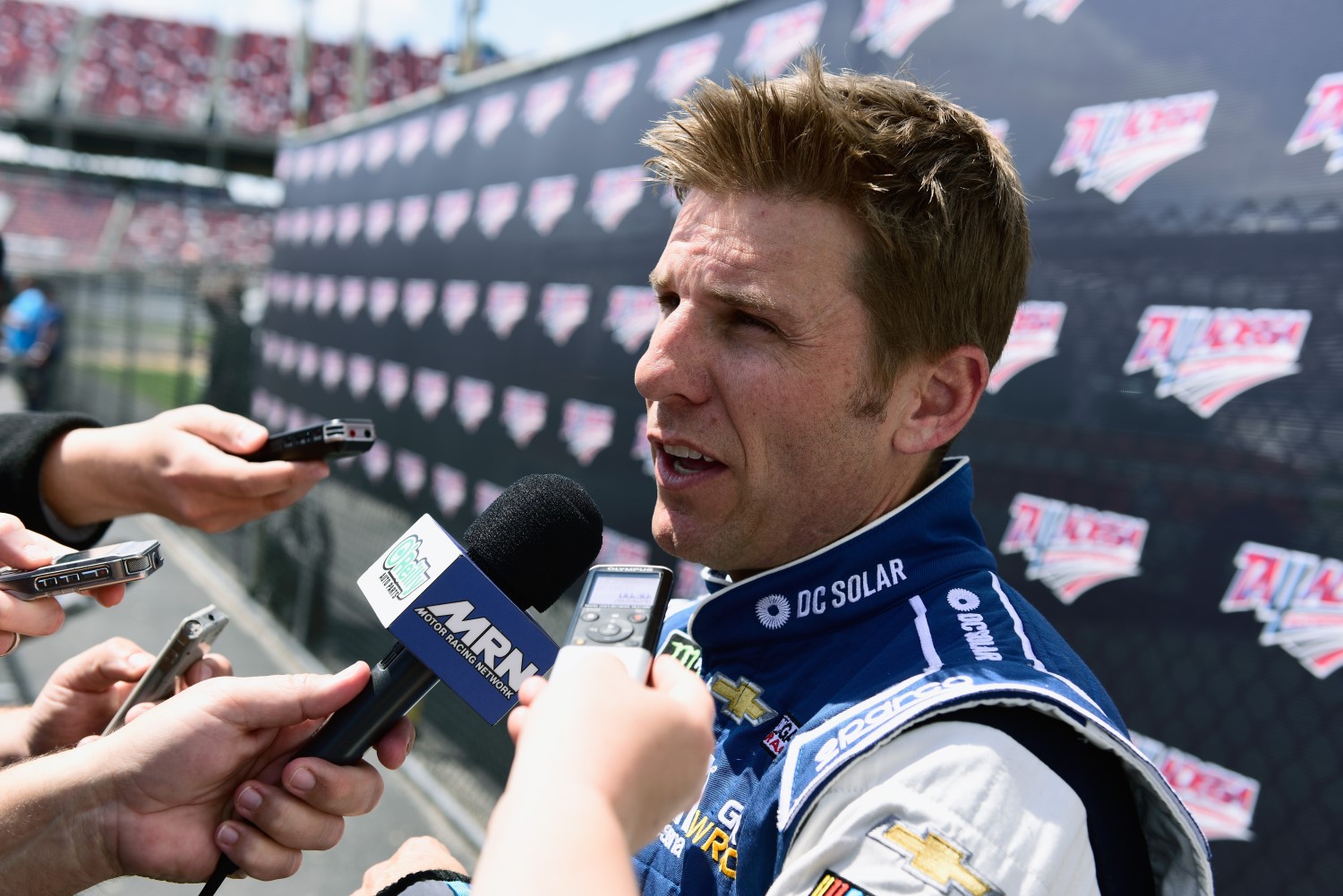 Jamie McMurrary – shaken but ok
WHAT HAPPENED?
"I think that we blew a left-rear tire. That is what it sounded like. I heard the tire start to come apart and you are kind a long for the ride. The car, I think, it turned to the right and then kind of back to the left and I obviously was in the front of that draft and then once it starts rolling you don't have any control. You can't tell what is up and what is down you are spinning so fast. I was just thankful. Honestly, the whole time it's flipping I was like, just please land on the right way up so I can get out. You just never know if there is going to be a fire. We literally had only run four or five laps so you know you have a full tank of fuel and so to get out upside down I've never done that, but it's a challenge when you watch guys try to do that. So, I was just thankful that the car landed on all four."
YOU HAVE NEVER BEEN UPSIDE DOWN LIKE THAT BEFORE?
"No, I've been lifted up before, but I have never like barrel rolled like that. Ironically, the impacts were much less than I expected you are just getting beat around. The biggest struggle is that you can't tell where it's come from. So, if you blow a tire out or something you kind of know how to brace yourself for that and what you are going to feel. I mean, it was spinning so fast at once point that I couldn't tell what was up and what was down."
DID YOU THINK WHEN IS THIS GOING TO END?
"Yeah, like it just wouldn't stop right. Like as it started rolling the impacts weren't that bad I'm like I just want it to stop rolling at this point. And I was just thankful no one else hit me you know while you are upside down or when you come to a stop."
WHEN YOU ARE IN THE CAR IS IT LIKE IN SLOW MOTION?
"It goes really slow and when I realized I was going to flip I actually shut my eyes because I'm like I don't really want to see what is getting ready to happen and then it seemed like forever. I opened my eyes a couple of times and I'm like I don't know if I'm going up or down or when it's going to hit next. I was just thankful when it finally… a couple of times I thought it was going to stop and it just kind of kept going."
ARE YOU PROTECTED VERY WELL IN THERE?
"Yeah, you know your head is fairly tight in the headrest. It's kind of driver preference of how tight you are in there. Mine is really tight. My head doesn't hurt at all which I'm thankful for. When you know how you are going to hit, you brace yourself for those hits. When you can't tell which way, you are going you can and it's almost like getting hit when you don't see it coming. Those hurt the worst. I'm just glad it landed the right way up so I could get out."
WHAT WAS GOING THROUGH YOUR MIND WATCHING THE REPLAY?
"I wasn't counting the rolls, but when I first started rolling I thought it felt like a lot more than that and then it just kept playing and I'm like, yeah, that is what it felt like right there."
RYAN NEWMAN, NO. 31 CATERPILLAR CAMARO ZL1 – Involved in a multi-car accident in final Monster Energy NASCAR Cup Series practice
WHAT HAPPENED?
"I think the No. 1 car just cut a left-rear tire or something and turned sideways in front of me and had nowhere to go and no time to adjust. So, hit him and flipped his car over unfortunately. It could have been a really simple deal, but instead we have a car airborne and flipped over. We will get another Caterpillar Chevrolet ready for tomorrow's qualifying and most importantly the race on Sunday."
TY DILLON, NO. 13 GEICO CAMARO ZL1 – Involved in a multi-car accident in final Monster Energy NASCAR Cup Series practice
HOW DISAPPOINTING IS IT TO GET CAUGHT UP IN A WRECK SINCE YOU HAD A FAST CAMARO ZL1 IN THE FIRST PRACTICE:
"Yeah, I just hate that we don't get to take that car that had so much speed in practice to the race, but I think we can duplicate it with our back-up car. I think that our set-up was really good and I think we can be just fine going to the race. Just unfortunate to tear up a race car. Nobody's fault really, Jamie (McMurray) had a flat left-rear and kind of a scary ride there, but our Camaro was fast. Hopefully, our back-up Camaro ZL1 is just as fast. I feel like it will be and we will have a good race."