IndyCar race rained out, will run Monday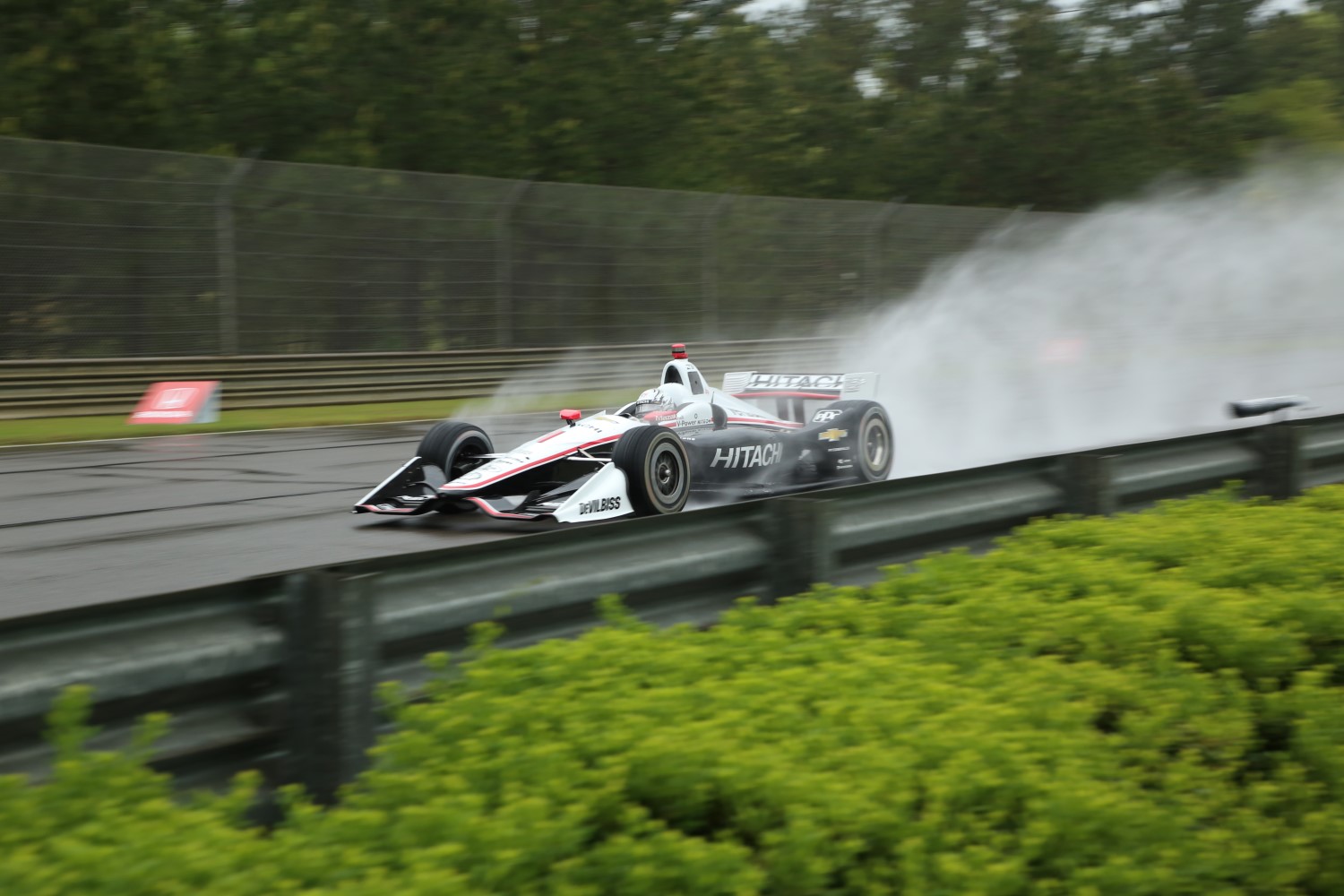 Only Newgarden had a clear view out front
Persistent rain showers today at Barber Motorsports Park forced Verizon IndyCar Series officials to postpone today's Honda Indy Grand Prix of Alabama following the completion of 22 of a scheduled 90-laps. The race is scheduled to resume tomorrow at 12 p.m. EDT.
The race ran for 22 laps, including two red-flag periods but the conditions were just too bad to restart the race a third time. Several drivers spun in the wet conditions, and Will Power damaged his car when he aquaplaned in the pit straight and spun into the inside pit wall.
The race will run at noon ET Monday (11:30 am ET and air on NBCSN) with Josef Newgarden leading. With a clear view out front he has led all the way from pole so far.
The race is scheduled for 90 laps or two hours, whichever comes first. When lead-lap cars cross the start/finish line for Monday's resumption, 23 laps will be complete and about 75 minutes will remain on the race clock.
The drivers who gambled and made a pit stop to change tires and refuel, like Marco Andretti and Simon Pagenaud, may have a decided advantage on Monday.
During the second red flag of the Honda Indy Grand Prix of Alabama presented by America's First, Hinchcliffe admitted to NBCSN's Kevin Lee on the live race telecast that he was no longer a rookie of sorts.
"I always maintained that I knew at some point in my career it would happen," Hinchcliffe said. "There's a great story from Toronto in 2014 when poor Carlos Munoz is sitting in the car just begging to be let out (during a red flag when drivers had to remain in their cars). We're under red-flag conditions, same kind of deal. He finally said, 'Sorry, guys. I can't hold it.' They said, 'You can't get out.'
Hinchcliffe joins the wet club
"He pees in the seat. Not 30 seconds later, Race Control comes over the radio and says, 'All right, drivers out. We're done.'"
At today's race, a red-flag stoppage was ordered on Lap 19 but drivers again were told by INDYCAR to stay in their cars.
"Well, I was sitting there during that first red, and I was begging to get just three minutes," Hinchcliffe said of his plea to make a restroom run. "That's all you need. Three minutes, (steering) wheel off (to get out of the car) to wheel on."
Hinchcliffe's request was denied and, following a 37-minute red flag, cars were restarted and sent back on track.
"We got going again and my legs were shaking," he said. "I had to go so bad. I was like, 'I can't drive a race car like this.'
"So under caution, it took me a full lap (to relieve himself). It was one of the least comfortable experiences of my entire life, but I can officially say I've joined the likes of Will Power and Dario Franchitti and others who have peed themselves in their suit.
"So, you're talking to a man who just wet himself."
Lap 22 Standings
| | | | | | | | | | |
| --- | --- | --- | --- | --- | --- | --- | --- | --- | --- |
| Pos | No | Name | Laps | Diff | Pits | Led | ST | Engine | Team |
| 1 | 1 | Josef Newgarden | 22 | 0.0000 | 0 | 22 | 1 | Chevy | Team Penske |
| 2 | 18 | Sebastien Bourdais | 22 | 1.3064 | 0 | 0 | 3 | Honda | Dale Coyne Racing |
| 3 | 28 | Ryan Hunter-Reay | 22 | 2.6093 | 0 | 0 | 4 | Honda | Andretti Autosport |
| 4 | 27 | Alexander Rossi | 22 | 2.9759 | 0 | 0 | 8 | Honda | Andretti Autosport |
| 5 | 5 | James Hinchcliffe | 22 | 5.4061 | 0 | 0 | 5 | Honda | Schmidt Peterson Motorsports |
| 6 | 26 | Zach Veach | 22 | 8.2149 | 0 | 0 | 11 | Honda | Andretti Autosport |
| 7 | 6 | Robert Wickens | 22 | 8.6011 | 0 | 0 | 10 | Honda | Schmidt Peterson Motorsports |
| 8 | 30 | Takuma Sato | 22 | 9.5396 | 0 | 0 | 18 | Honda | Rahal Letterman Lanigan |
| 9 | 9 | Scott Dixon | 22 | 9.7084 | 0 | 0 | 6 | Honda | Chip Ganassi Racing Teams |
| 10 | 10 | Ed Jones | 22 | 11.0157 | 0 | 0 | 12 | Honda | Chip Ganassi Racing Teams |
| 11 | 20 | Jordan King | 22 | 11.5317 | 0 | 0 | 19 | Chevy | Ed Carpenter Racing |
| 12 | 21 | Spencer Pigot | 22 | 12.2354 | 0 | 0 | 17 | Chevy | Ed Carpenter Racing |
| 13 | 15 | Graham Rahal | 22 | 14.8024 | 0 | 0 | 15 | Honda | Rahal Letterman Lanigan |
| 14 | 98 | Marco Andretti | 22 | 15.7709 | 1 | 0 | 7 | Honda | Andretti Herta Autosport |
| 15 | 22 | Simon Pagenaud | 22 | 16.6175 | 1 | 0 | 9 | Chevy | Team Penske |
| 16 | 59 | Max Chilton | 22 | 20.1127 | 1 | 0 | 13 | Chevy | Carlin |
| 17 | 32 | Rene Binder | 22 | 21.2347 | 1 | 0 | 22 | Chevy | Juncos Racing |
| 18 | 4 | Matheus Leist | 22 | 22.9673 | 3 | 0 | 21 | Chevy | AJ Foyt Enterprises |
| 19 | 88 | Gabby Chaves | 21 | 1 LAPS | 2 | 0 | 20 | Chevy | Harding Racing |
| 20 | 14 | Tony Kanaan | 21 | 1 LAPS | 2 | 0 | 23 | Chevy | AJ Foyt Enterprises |
| 21 | 19 | Zachary Claman De Melo | 20 | 2 LAPS | 2 | 0 | 16 | Honda | Dale Coyne Racing |
| 22 | 12 | Will Power | 16 | 0.8735 | | 0 | 2 | Chevy | Team Penske |
| 23 | 23 | Charlie Kimball | 10 | 42.4056 | | 0 | 14 | Chevy | Carlin |