Sunday at Barber (2nd Update)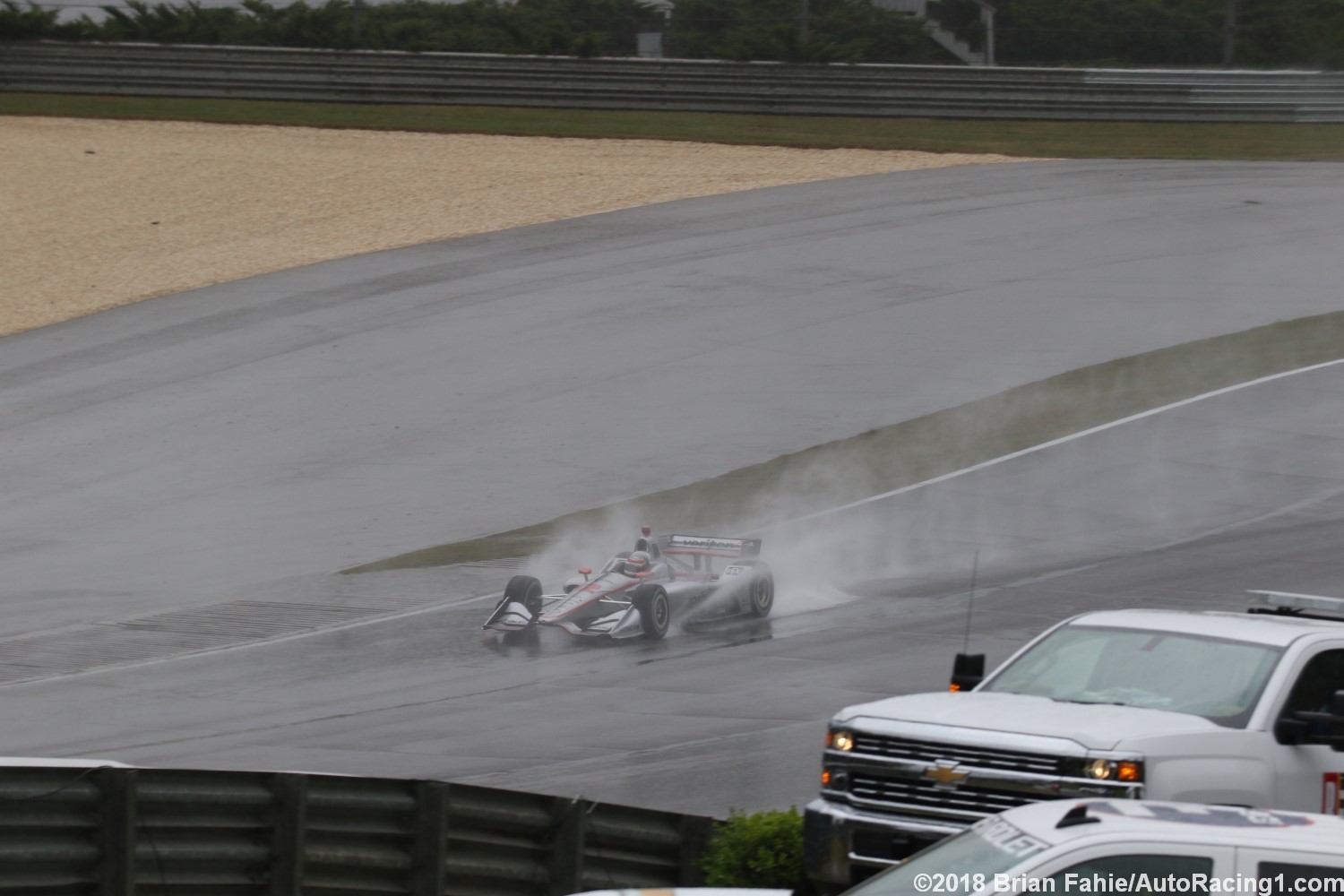 Will Power in the rain before he crashed
UPDATE As the rain falls much harder in Birmingham, the IndyCars sit covered up in pit lane. The drivers have been drying out in their garages.
IndyCar is monitoring weather conditions and are working on track conditions. The current cell over us could be gone in 15-20 minutes. We will have another update at 4:30 pm central time.
IndyCar is trying to do all they can to get this race run today under safe conditions, but AR1.com predicts the race will be called today and run Monday.
CHARLIE KIMBALL, NO. 23 TRESIBA CARLIN CHEVROLET, sidelined by off-track contact with the wall on lap 10: WE EVENTUALLY DID SEE THAT CONTACT BETWEEN YOU AND ED JONES, WHAT DID YOU FEEL?
"I was just going through the corner and he ran into the back of me. Apparently the stewards reviewed it and no action taken and I vehemently disagree with that because when you are driving your race, especially in the wet, you have to be conscious of where the cars are. Yeah, its hard to see, but at the same time its just a dumb move. He is not a rookie anymore and he needs to not be making rookie mistakes like that."
WHAT IS THE VISION LIKE OUT THERE?
"It's pretty tough, especially down some of the straights. Once it got spread out and the wind picked up, it was blowing a lot of the spray off, but we were starting to get a lot of hydroplaning down the front straight. Especially out of (turn) five and back into eight…..the car was moving around a lot. As the Firestones wore a little bit…..when they were new, the grip of the car was really good. But now there is heavier rain, and especially under caution, it will puddle up a little more. It was big on that restart and you saw Will (Power) get into the wall. I totally understand it with the puddles on the front straight."
WILL POWER, NO. 12 VERIZON TEAM PENSKE CHEVROLET, sidelined by contact with wall on lap 16:
WHAT HAPPENED ON YOUR INCIDENT WILL?
"I could not see a thing. And I had just one car in front of me. It just hydroplaned on me and was out of control. I just can't believe they went green on that with how bad it was and the amount of standing water. So yeah, very disappointing. But to me, very dangerous."
DID THE DRIVERS SAY ANYTHING ABOUT NOT GOING GREEN THERE?
"I don't know. We were talking about it and my spotter said it was getting bad. You can see it was getting really bad and I kept saying to Roger (Penske) that I can't see a thing in front of me. I couldn't even see my hand in front of my face."
ARE THE PUDDLES EVERYWHERE OR JUST WHERE YOU GUYS WERE STARTING RIGHT THERE?
"Just various spots. And they always seem to be sitting in the worst spots. They were in our various high speed areas and on the back straight as well. It's the last thing we needed, very disappointing, and kind of disappointed that we went green."
HOW FRUSTRATING HAS THE START TO 2018 BEEN FOR THE ENTIRE 12 TEAM?
"It has been very frustrating. I mean, I don't know what you do in that situation. Because if you completely back off, somebody will hit you and it becomes really dangerous. If you try to keep throttle in it, you will do like I did and just spin. It's just a really difficult situation to be put in. Just frustrating and we will move on to the next one."
04/22/18 The new time for the IndyCar drivers start your engines is 2:01 pm central time. It started to rain here about 9 am and it is raining off and on.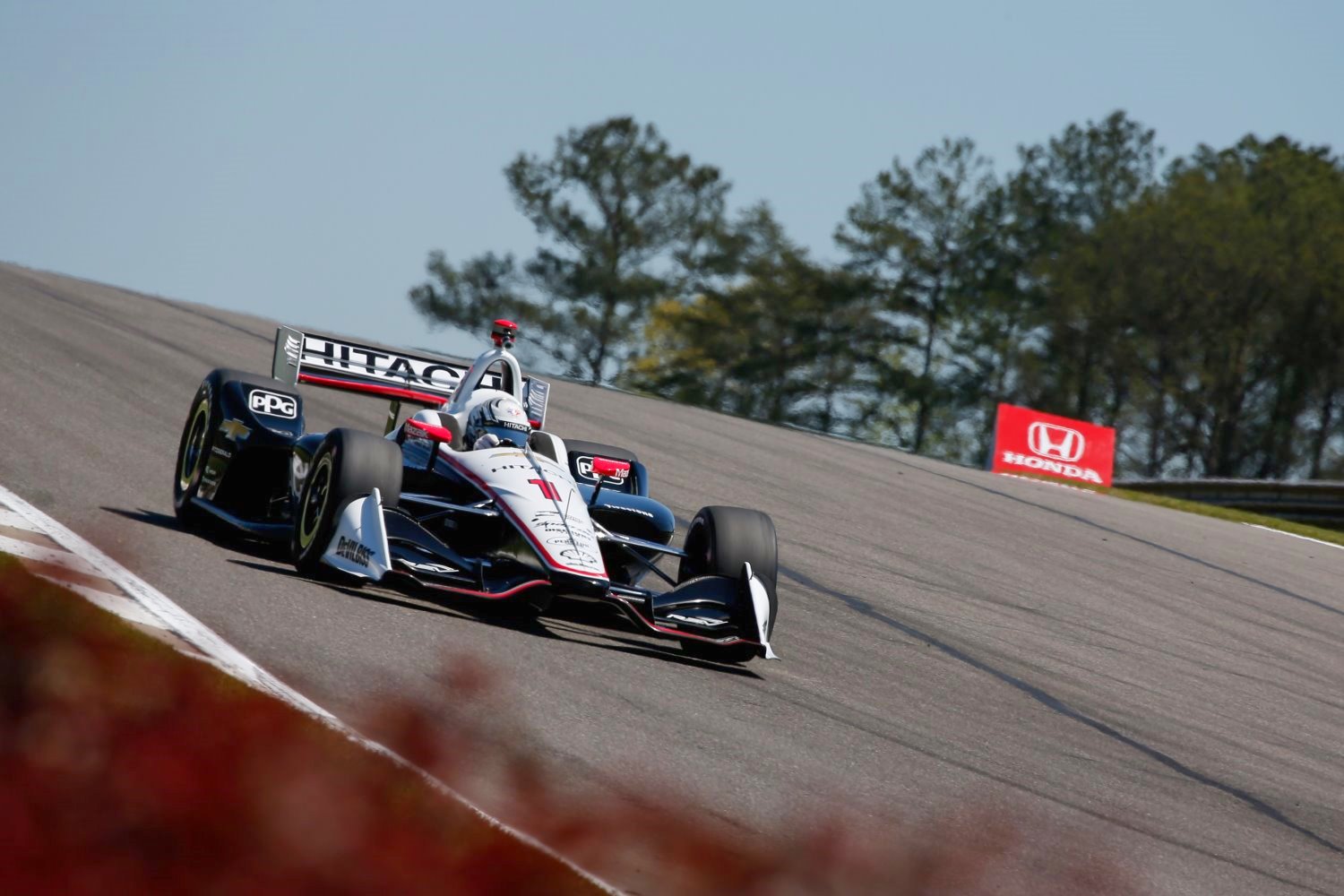 Today's race in the rain will be a challenge
04/22/18 Good morning from Barber Motorsports Park. Rain did not happen during the night. It is cloudy and 60 degrees here now. The band of weather coming this way is pretty huge with thunderstorms expected to start around 6 pm. Birmingham also has a wind advisory this afternoon starting at 1 pm local time. Winds are expected to be 15 to 25 MPH with gusts up to 35 MPH.
AR1 posted a rumor last night that IndyCar may move the start of the race up to try and avoid the worse of the thunderstorms. The only option would be to start around 2 pm due to the television coverage.
Driving in the rain with the new car will be a challenge for all the drivers in the paddock. In the post qualifying press conference, Ryan Hunter-Reay, the only Andretti Autosport driver to advance to the Firestone Fast Six, had this to say about his race setup. "We'll see what happens tomorrow. If it's going to be raining, it's going to be a guessing game setup-wise. No one has driven the new car in the rain but Helio Castroneves. So we are not sure what it is going to be like."
Sebastien Bourdais, in the No. 18 Team SealMaster Honda for Dale Coyne Racing, will be starting the race in the second row. Bourdais commented on his race strategy, "I think you can win from anywhere if it rains and we get going. I think it will be pretty exciting. Starting from the front always helps, spray and all, so hopefully we can just get a clear run and get some good points."
The pole sitter, Josef Newgarden, added his thoughts for racing in the rain. "To get in the Fast Six, it helps a lot. If it's going to be wet all day tomorrow, you're going to want to be out front. There's no guarantee for that. You can go backwards fast. You're relying on peripheral vision to get around the racetrack. Just depending on how aggressive the rain is, it will be a benefit to be all the way up front."
To add to the complexity of the rain setup is the fact that there is no morning warm up today. Normally on a road or street course, there would be a 30 minute warm up before the race. The drivers decided that they wanted extra time for practice and they were given 15 minutes extra practice time on Friday afternoon with pit stop practice following that practice for 8 minutes.
AR1 will keep you posted as the day unfolds.
Lucille Dust reporting live from Barber Motorsports Park