Patricio O'Ward Sweeps Alabama Race Weekend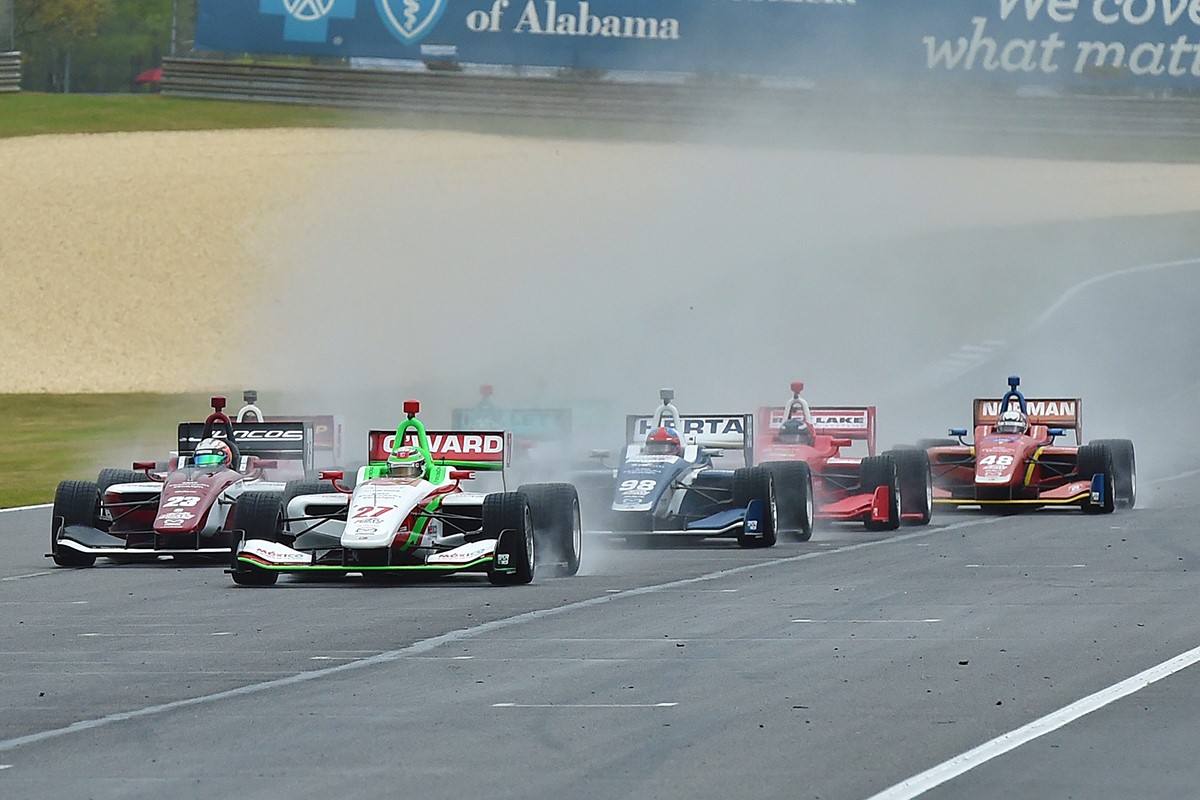 A very wet start
Young Mexican Patricio "Pato" O'Ward was in a class by himself this morning for Andretti Autosport, making light of treacherous conditions as he swept to victory in the Mazda Grand Prix of Alabama Presented by Cooper Tires.
Only Victor Franzoni, from Sao Paulo, Brazil, aboard Juncos Racing's Soul Red Dallara-Mazda IL-15, was able to keep O'Ward in his sights. Last year's winner of the Pro Mazda Championship Presented by Cooper Tires finished a strong second, 5.8325 seconds adrift after 30 laps around the tricky Barber Motorsports Park road course. Colton Herta finished a distant third for Andretti Steinbrenner Racing.
Conditions this morning were dramatically different to yesterday, with a cloudless sky replaced by a heavy overcast. Indeed, a brief shower shortly before the start ensured everyone would start on wet-weather Cooper tires.
It seemed that no one had informed O'Ward, who took off confidently from pole position and immediately began to build a gap over his pursuers. The 18-year-old from Monterrey, Mexico, completed his second lap with an advantage of almost two seconds over Franzoni, with Santiago "Santi" Urrutia, from Miguelete, Uruguay, already an additional five seconds behind in third and clearly struggling on the treacherously slippery race track.
As O'Ward made his escape and Franzoni did his best to keep him in sight, the focus instead shifted to the battle for third. Herta was the first to pounce, sneaking past Urrutia under braking for Turn Five with six laps in the books. A couple of laps later, Aaron Telitz repeated the maneuver on his Belardi Auto Racing teammate to move into fourth.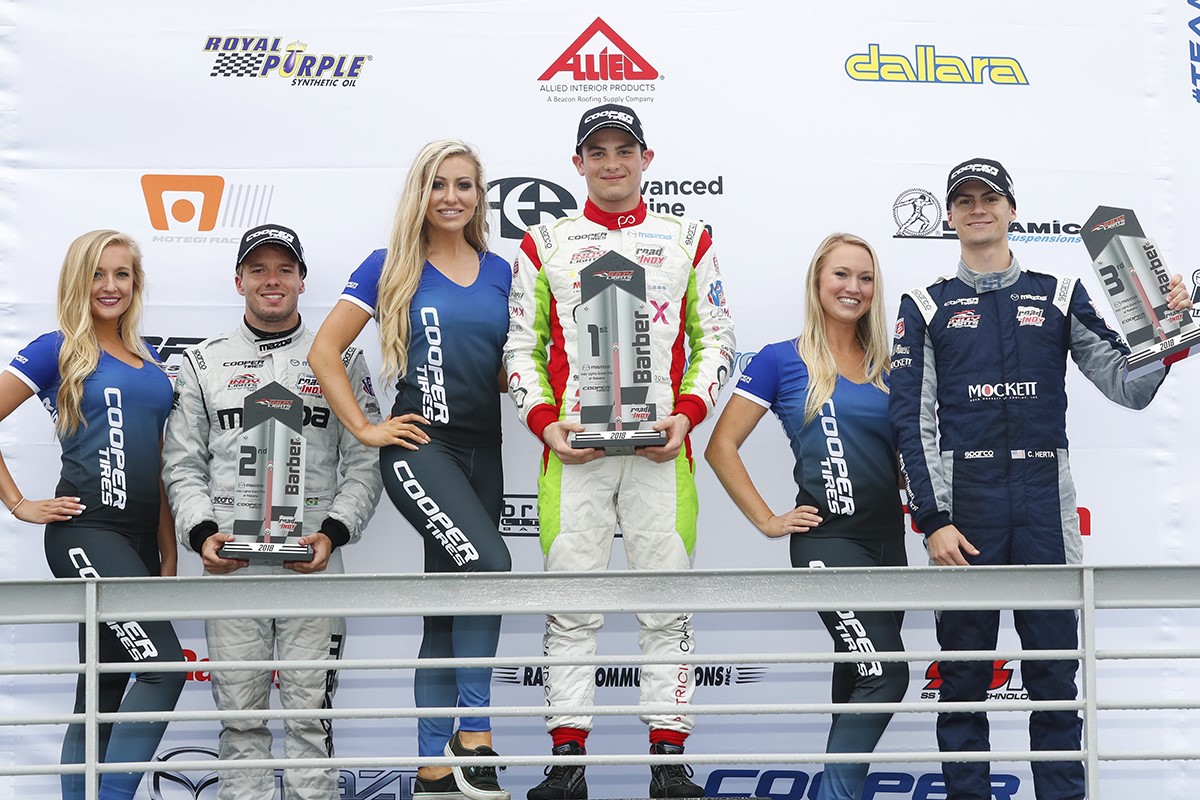 From left, Franzoni, O'Ward and Herta
Telitz, from Birchwood, Wis., was bound and determined to make up for a dreadfully disappointing opening to his sophomore Indy Lights campaign. The 2016 Pro Mazda champion had been involved in a pair of incidents last month in St. Petersburg, and his luck didn't get any better yesterday when he was taken out by a spinning Dalton Kellett on the very first lap. With all the dramas that had already unfolded, the gritty Telitz was relieved to secure his first finish of the season. He also took home the Tilton Hard Charger Award.
Urrutia next slipped into the clutches of Andretti Autosport teammates Kellett, from Stouffville, Ont., Canada, and Ryan Norman, from Cleveland, Ohio, but held his ground to maintain fifth place at the checkered flag.
O'Ward's perfect weekend has enabled him to move into the lead of the Indy Lights Presented by Cooper Tires point standings with four of 17 races in the books. He now holds a 16-point edge, 110-94 over Urrutia, as the series heads next to Indiana for the Royal Purple Synthetic Oil Grand Prix of Indianapolis supporting the Lupus Foundation of America on May 11-12.
In the Pro Mazda Championship presented by Cooper Tires, Harrison Scott (RP Motorsports Racing) drove to his first series victory. Scott inherited the lead on Lap 21 when Andres Gutierrez (Team Pelfrey) went off course. A full-course caution was ordered shortly after and Scott won the race under yellow.
Patricio "Pato" O'Ward (#27 Riverina CDMX Mexico City Mazda-Andretti Autosport Dallara-Mazda IL-15): "I'm really surprised how much grip the track had. I actually thought I had a problem early, because I thought there was no way the track had that much grip! Victor put some pressure on but after the first few laps, I got into a rhythm and really pushed the Cooper tires hard. Once I had a big gap, I could back off a little bit because I didn't want to end up in the kitty litter. This feels great. It feels like 2016 (when O'Ward won six of his first seven Pro Mazda races, including both Barber events), but now, I have the chance to write a different ending."
Victor Franzoni (#23 Mazda Motorsports-Juncos Racing Dallara-Mazda IL-15): "I'm so happy to get my first Indy Lights podium! We've been fourth or fifth and now we got up to second. This was my first time in the Indy Lights car in the rain, and definitely my first time in a car this fast in these conditions. Second was my best qualifying of the year, which was great, but I was slow early in the race and couldn't catch Pato after that. But we've broken through now and gotten our first podium so from now on it will be different so I'm excited to see what happens the next few rounds."
Colton Herta (#98 Andretti Steinbrenner Racing Curb Mazda Dallara-Mazda IL-15): "It was difficult because it wasn't super wet, but it wasn't really dry. There was no point during the race that we could have switched to slick tires. I was behind Santi for a while and by the time I got by, Pato was gone, so there was no point to really push it to try and reach him without a yellow. We didn't get the conditions quite right so I had a bit of understeer but I'm happy to bring the car home and get third-place points."