Power keeps Team Penske on top at Barber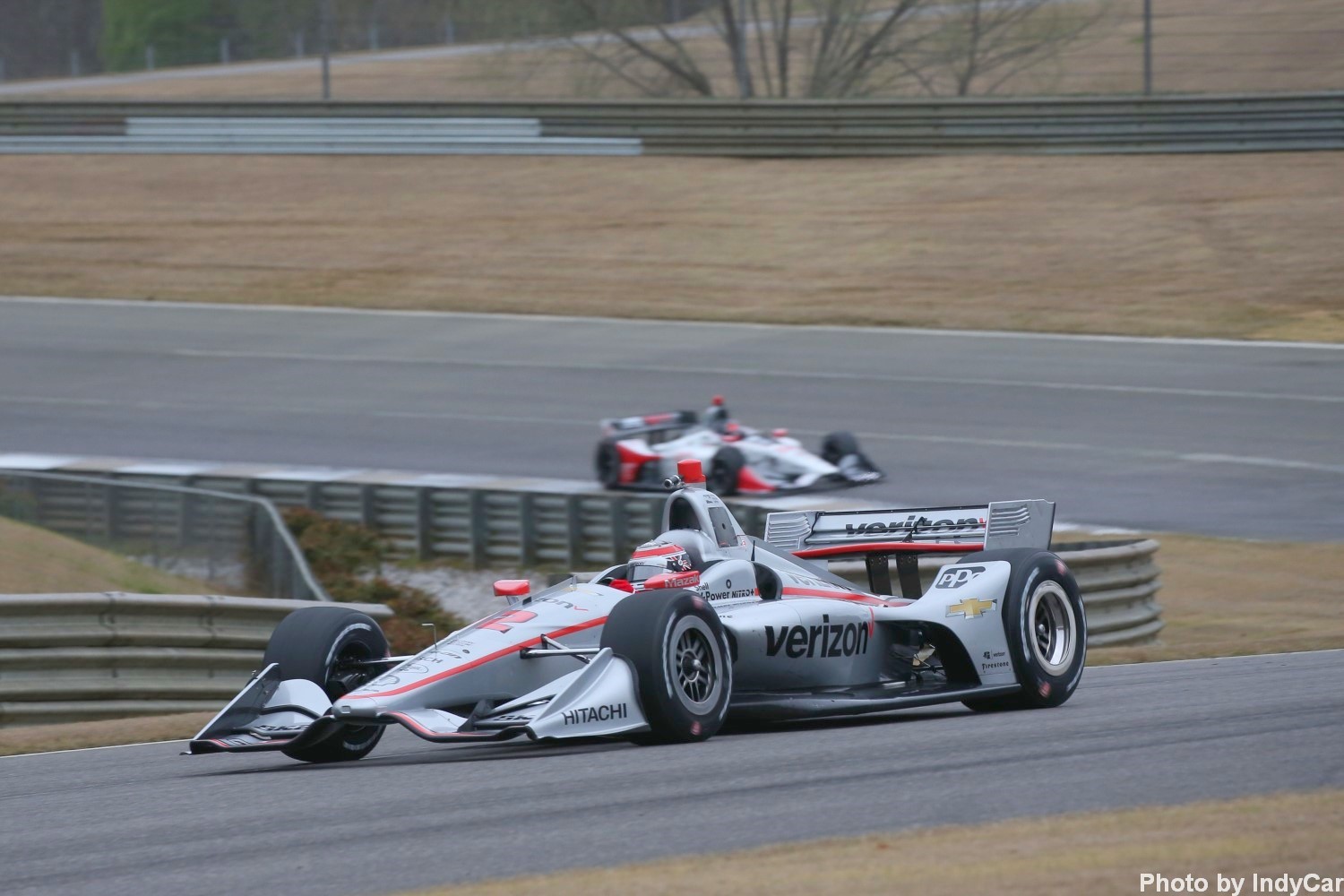 Will Power
Will Power and Penske Chevy teammate Josef Newgarden were fastest in the two practice sessions Friday for the Honda GP of Alabama and Power repeated the feat Saturday morning in the final practice before qualifying.
Power's lap of 1m07.3430s was 0.22sec faster than Robert Wickens in the Lucas Oil Honda.
The Hondas of Scott Dixon, Ryan Hunter-Reay and Alexander Rossi rounded out the top-5.
Results
| | | | | | | | | |
| --- | --- | --- | --- | --- | --- | --- | --- | --- |
| Pos | No | Name | FTime | Diff | Gap | FSpeed | Engine | Team |
| 1 | 12 | Will Power | 1:07.343 | –.—- | –.—- | 122.953 | Chevy | Team Penske |
| 2 | 6 | Robert Wickens | 1:07.563 | 0.2203 | 0.2203 | 122.552 | Honda | Schmidt Peterson Motorsports |
| 3 | 9 | Scott Dixon | 1:07.737 | 0.3945 | 0.1742 | 122.237 | Honda | Chip Ganassi Racing Teams |
| 4 | 28 | Ryan Hunter-Reay | 1:07.741 | 0.3977 | 0.0032 | 122.231 | Honda | Andretti Autosport |
| 5 | 27 | Alexander Rossi | 1:07.810 | 0.4672 | 0.0695 | 122.106 | Honda | Andretti Autosport |
| 6 | 1 | Josef Newgarden | 1:07.820 | 0.4768 | 0.0096 | 122.088 | Chevy | Team Penske |
| 7 | 22 | Simon Pagenaud | 1:07.857 | 0.5137 | 0.0369 | 122.022 | Chevy | Team Penske |
| 8 | 20 | Jordan King | 1:08.007 | 0.6638 | 0.1501 | 121.753 | Chevy | Ed Carpenter Racing |
| 9 | 18 | Sebastien Bourdais | 1:08.022 | 0.6788 | 0.0150 | 121.726 | Honda | Dale Coyne Racing |
| 10 | 5 | James Hinchcliffe | 1:08.085 | 0.7425 | 0.0637 | 121.612 | Honda | Schmidt Peterson Motorsports |
| 11 | 30 | Takuma Sato | 1:08.136 | 0.7927 | 0.0502 | 121.522 | Honda | Rahal Letterman Lanigan |
| 12 | 15 | Graham Rahal | 1:08.144 | 0.8011 | 0.0084 | 121.507 | Honda | Rahal Letterman Lanigan |
| 13 | 23 | Charlie Kimball | 1:08.182 | 0.8386 | 0.0375 | 121.440 | Chevy | Carlin |
| 14 | 59 | Max Chilton | 1:08.255 | 0.9122 | 0.0736 | 121.309 | Chevy | Carlin |
| 15 | 26 | Zach Veach | 1:08.292 | 0.9494 | 0.0372 | 121.243 | Honda | Andretti Autosport |
| 16 | 98 | Marco Andretti | 1:08.339 | 0.9956 | 0.0462 | 121.161 | Honda | Andretti Herta Autosport |
| 17 | 14 | Tony Kanaan | 1:08.437 | 1.0937 | 0.0981 | 120.988 | Chevy | AJ Foyt Enterprises |
| 18 | 4 | Matheus Leist | 1:08.516 | 1.1731 | 0.0794 | 120.848 | Chevy | AJ Foyt Enterprises |
| 19 | 88 | Gabby Chaves | 1:08.659 | 1.3165 | 0.1434 | 120.595 | Chevy | Harding Racing |
| 20 | 10 | Ed Jones | 1:08.769 | 1.4261 | 0.1096 | 120.403 | Honda | Chip Ganassi Racing Teams |
| 21 | 19 | Zachary Claman De Melo | 1:08.793 | 1.4495 | 0.0234 | 120.362 | Honda | Dale Coyne Racing |
| 22 | 21 | Spencer Pigot | 1:08.880 | 1.5374 | 0.0879 | 120.208 | Chevy | Ed Carpenter Racing |
| 23 | 32 | Rene Binder | 1:09.515 | 2.1716 | 0.6342 | 119.112 | Chevy | Juncos Racing |