Latest F1 news in brief – Friday
Schumacher and Barrichello at USGP in 2005

Barrichello blocked from seeing Schumacher

Renault right to take Sainz 'risk' – Prost
Ferrari will fix smoking engine – Whiting
Rosberg tips Hamilton to end 2018 slump
Budget cap good for F1 – Grosjean
No racing for Kvyat in 2018 – Ferrari
Boullier: We aimed too low
Renault says 'substantial' engine upgrades will close gap to frontrunners
Barrichello blocked from seeing Schumacher
(GMM) Rubens Barrichello says he was blocked from trying to see his old teammate Michael Schumacher.
The pair were at Ferrari between 2000 and 2005, but in late 2013 Schumacher injured his brain in a skiing accident.
"I tried to find a way to visit him, but they said to me 'It will not do you or him any good'," Barrichello told Brazil's Globo.
"So I don't have any news," he added.
Renault right to take Sainz Jr. 'risk' – Prost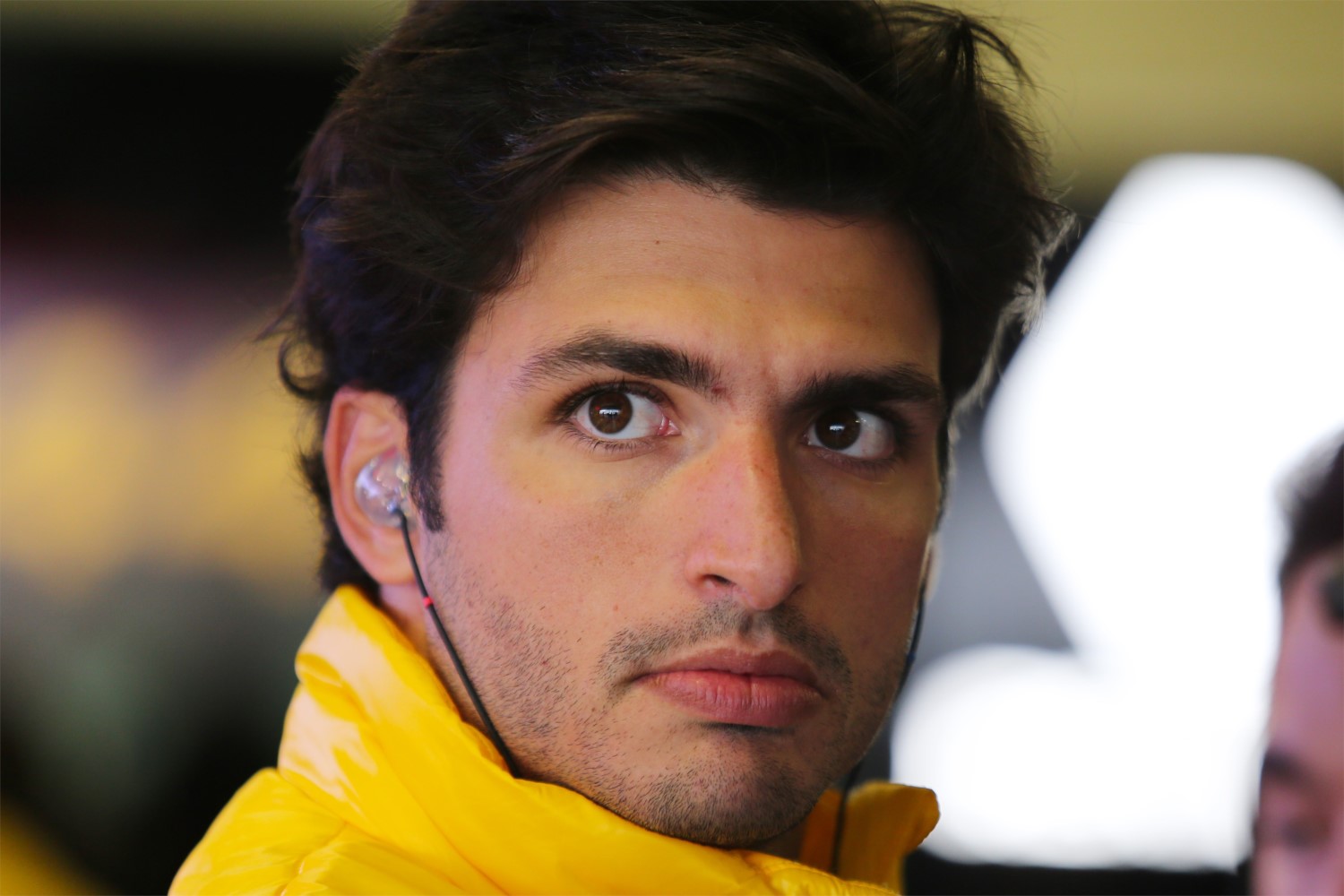 Sainz Jr.
(GMM) Carlos Sainz Jr. has been a positive addition to the Renault team.
That is the view of team advisor and F1 legend Alain Prost, amid speculation the French team might try to retain Sainz for 2019.
Renault signed the Spaniard for this year only, despite the fact that Red Bull could pull him back into their family to replace Daniel Ricciardo.
Prost told Italy's Autosprint: "We knew taking Sainz would be a risk. But it is important to take this kind of risk to advance the team.
"It was a positive decision for the team and for Nico (Hulkenberg), because you can see how it has raised his (Hulkenberg's) level even further."
Ferrari will fix smoking engine – Whiting
The Ferrari smokes when started
(GMM) Charlie Whiting says the FIA will not intervene over the issue of Ferrari's smoking engines.
While arguably now with the most powerful engine in F1, Ferrari's 2018 power unit smokes excessively when it is fired up.
"We suffocate in our garage every time they start it," Mercedes' team chairman Niki Lauda told Auto Motor und Sport.
"The FIA should look into it."
However, F1 race director Whiting said that despite the smoking, checks have shown that Ferrari's engine is not consuming more oil than it is permitted to.
As for the smoking, he added: "I'm sure they'll sort that out."
Rosberg tips Hamilton to end 2018 slump
As soon as he signs the Mercedes contract his car will become fast again
(GMM) Nico Rosberg thinks his former Mercedes teammate Lewis Hamilton will bounce back from his current performance slump.
Although the reigning world champion, Hamilton looked out of form all weekend in China.
"It's a typical Lewis phase," said Rosberg, who was paired with Hamilton at Mercedes between 2013 and 2016.
"When things do not work out perfectly, he starts to lose his head and motivation a little and struggles for a while," the retired German told Globo.
"You could see from his interviews that he was really suffering and didn't really understand what was happening.
"Usually it's one, two or three races, and those are races where you, as his opponent in the championship, need to capitalize.
"Sebastian (Vettel) couldn't do that in China and that was a big setback for him because Lewis always comes back so strongly," Rosberg added.
Budget cap good for F1 – Grosjean
Romain Grosjean
(GMM) Romain Grosjean thinks the proposed budget cap will be good for formula one.
The Haas driver thinks that if the massive spending of the top teams is curbed, the entire grid will close up.
"I love the idea of the budget cap," the Frenchman is quoted by Brazil's Globo.
"I'm a fan of MotoGP and if you look at the championship, Crutchlow is number 1 and Zarco third. It's incredible because someone different can win in every race.
"I would love to see that in formula one. One race it's Mercedes, the next it's Ferrari and then Red Bull, and then Force India and maybe Haas," Grosjean added.
"It's great for the show when you never know who will win. You want to watch it because it's exciting until the last lap."
No racing for Kvyat in 2018 – Ferrari
(GMM) Ferrari is keeping Daniil Kvyat so busy he has no time to race elsewhere.
That is despite the fact that, since he was snapped up by the Italian team following his Red Bull ousting, the Russian driver has had a very low profile.
But he's apparently been working hard in the Ferrari simulator, and this week he will make his debut in one of the Maranello team's F1 cars for a Pirelli tire test at Fiorano.
Asked if Ferrari will let Kvyat race in another series in 2018, a spokesman told Russia's Championat: "At the moment he is completely concentrated on his work in the simulator."
Boullier: We aimed too low
Eric Boullier
While Fernando Alonso proclaimed that Melbourne would be McLaren's weakest race of the season, going on to declare that the Woking outfit was targeting Red Bull, in reality the season opener was the team's best performance of the year thus far.
While in Melbourne the Spaniard and teammate Stoffel Vandoorne both finished in the points, Alonso coming home a strong 5th, in Bahrain, where both Red Bulls were eliminated early on and Kimi Raikkonen also retired, the Woking pair finished 7th and 8th. Last weekend, Alonso scored the team's sole points by bringing the MCL33 home in seventh once again.
Though the two drivers are well matched in terms of performance, thus far neither has made it through to Q3 on Saturday afternoon, in both cases Melbourne being the best qualifying result thus far.
Team boss Eric Boullier insists that the root cause is one-lap pace, the performance of the Red Bulls and Renault highlighting the difference between the Woking outfit and its rivals. Indeed, the Frenchman believes that in setting its initial targets, the team set them too low.
"The car has matched all the targets so maybe that means maybe the targets were not the right ones," he said, according to ESPN. "We need to revise, in terms of ambitions, what we need to achieve.
"Obviously we have the same engine as Renault and Red Bull and we are behind so there is no hiding that fact," he continued. "We need to understand why we are slow in qualifying, why we are better in the race and why we are behind the other Renault teams, full stop.
"There were obviously some questions asked in Bahrain," he admits, "there is still an ongoing process because we have to address it and we will address it and we are about to address it.
"The car is still very balanced," he insists. "If you listen to the drivers they are happy with the balance of the car. Whatever you try and setup the car reacts accordingly so a bit more understeer, less understeer, more oversteer, one tenth better here, one tenth slower here so I think we have a good understanding of the car.
"I think the car has no nastiness, if you want, in terms of the design. We just need to make the car faster around the corner and in the straight line."
However, the Frenchman insists this isn't simply about an aero fix.
"Well this is obviously one of the issues. Our top speed is not the best one because we are bottom in the ranking but it's not the only one. It's not as simple as this, you know.
"If it were a question of just driving the car it would be easy to fix so we have to address, I'm going to use the word fundamentally, all aspects of the car to make sure we are where we should be.
"We didn't turn up in Australia with the car we wanted because we were delayed for some reasons," he admits. "A lot of parts are on the way to hit the track, for logistic reasons it's very likely it's going to be Barcelona and from that
Renault says 'substantial' engine upgrades will close gap to frontrunners
Abiteboul says Renaults will improve, but how much will Mercedes and Ferrari improve?
Renault says it has plans to introduce "substantial" developments to its power unit throughout the 2018 season which it's confident will allow it to completely close the gap to rivals Mercedes and Ferrari.
Renault chose to focus on reliability over performance during the off-season following a spate of failures last year but is now confident it has tackled those problems and can instead focus on boosting outright power.
According to Renault F1 boss Cyril Abiteboul, the planned developments could be worth upwards of half a second per lap in race conditions, prompting hope that it can edge closer to its opponents.
"We are talking about a substantial amount of in-season development," Abiteboul is quoted as saying by Autosport. "It is more than the gap we have now, in my opinion, from the top teams, certainly in the race at least."
The first developments are set to be introduced at next month's Spanish Grand Prix, focusing on power management and qualifying, though the major hardware upgrade won't happen until Renault introduces its second engine of the season, potentially in Canada.
"We have more stuff coming in terms of engine power from race five onwards," he added. "There are a couple of improvements in the way we are operating the engine and that's more in qualifying.
"There will be more coming, but obviously the next proper improvement will be with hardware upgrade [but] that's not going to be before we introduce power unit number two, which I hope will be as late as possible."